The Wedding Guide
Part 1: Choosing a Date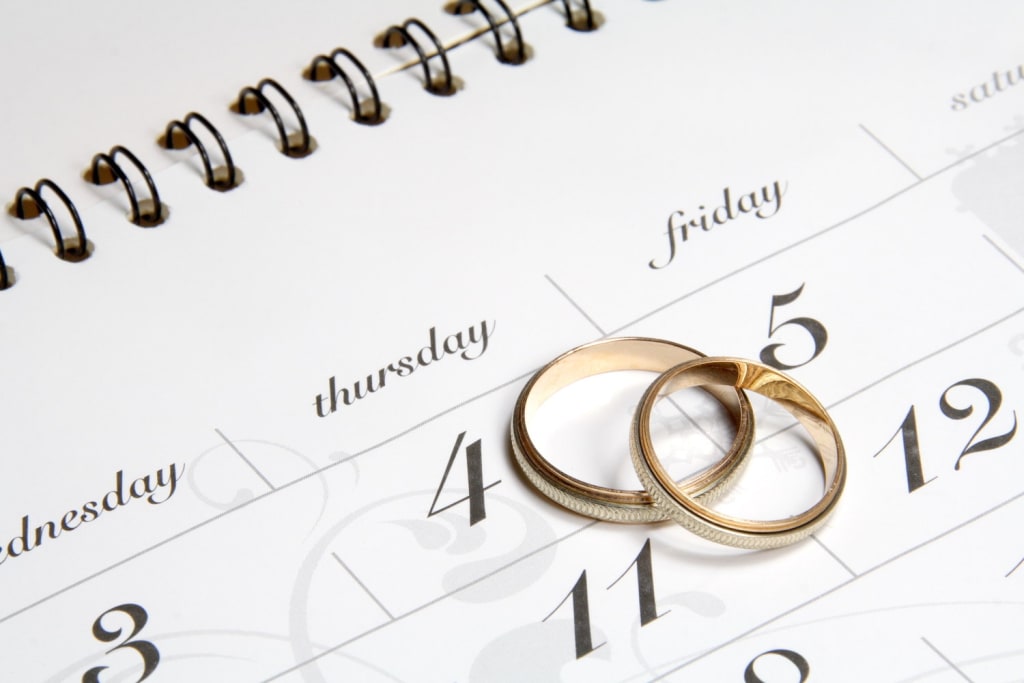 Anyone who has been part of a wedding, or planned a wedding, knows how completely consuming it can be. There are so many tiny details that most first time wedding planners, or brides do not even know about until they are knee deep in fabric swatches, and buzzing from a wedding cake sugar high. There are countless ways to go about planning such a monumental event. Now with the help of websites such as Pinterest, the bride or planner is just one click away from an endless thread of "perfect" wedding gowns. Making the choices all the harder when there is so much to work with. That is part of what makes it so daunting to undergo. So many choices to make, and of course there is the unsolicited opinions of those nearest, and dearest to the happy couple. The entire process can be draining, and downright unpleasant, as the nitty gritty details start to swallow the bride, or planner whole. Of course, there are websites such as the Knot, Zola and The Wedding Planner, but even these sites can seem overwhelming; causing any bride, or planner to have a full on melt down.
As I have gone through the past year and a half planning my wedding, I have wanted nothing more than a simple guide book to break down the entire process for me, providing me with information on what steps to take first, who to invite, or not invite, what kind of decorations to consider, and so on. A little less than six months away from saying, "I do," I present the first part of my Wedding Guide; a series of articles focused on the entire wedding process from the moment I picked the date for my wedding, all the way to the moment the last guest leaves the venue. While the guide will be based purely on my opinion, and experience, the goal is that other brides, or planners can use the guide to ease some of the anxiety wedding planning brings. Many of the details of my wedding can easily be replaced with details from another bride's dream day.
First thing to do: Choose a date…
In my case the moment my fiancé slid the ring on my finger, signifying we were engaged, I was already being asked if we had a date picked out. The mere mention of the question at that point made my head spin. I had barely wrapped my mind around the fact that I would be getting married. I was never one of those brides who had their whole wedding mapped out by the age of thirteen, which made the entire planning process all the more overwhelming.
When my fiancé proposed, it was not a total surprise, but I also was not ready to present a slide show on my ideas for the wedding. This seemed odd to many of my family members, and friends at the time. To be honest I was in no big rush to begin planning the wedding, and neither was my fiancé.
All the movies depict this stage as being one of nervousness, and the point of no return. As if the moment the couple starts to consider a date for the wedding they are locked in. One partner starts to show signs of getting cold feet when they will not talk about picking a date, or the bride/groom fears that if they pick a date they can never change the chosen date.
Though in all reality choosing a date for the big day does not have to be like the movies. For my fiancé and I, it was probably the easiest part of planning our wedding. After a few weeks had passed we finally settled on a date. It was a casual and easy conversation.
We thought about…
The dates of any major holidays we celebrated–We both agreed we did not want to share our anniversary with the excitement of a holiday or birthday.
Our favorite time of the year–We thought about the aesthetic we wanted for our wedding. My fiancé is an artist. He thinks through color.
We just went with what felt good–There was no real rhyme or reason, we just liked the idea of a fall wedding. We chose September since it was not too close to the holiday season.
*Bonus–Something we did not consider at the time, but might have benefited from was considering the "busy" season for weddings.
I knew I did not want a late spring or summer wedding. I did not want to be that traditional. Though I realized later that the price of things such as the venue, cater, dresses, flowers and cake all fluctuated depending on the time of year. Some prices went up during "busy season." Though there were also more deals, and packages offered for such a time.
The conversation went very smoothly for my fiancé, and I. When we told a few close family members, we received some criticism. Which in going through this process is difficult to avoid. It seems the entire world feels like they have a stake in the wedding, so they should have a say in how it goes.
Through each stage of the planning process it is important to remember that it is not their wedding. Keeping in mind what is important to the couple, as well as the reason for getting married in the first place.
Once the date is chosen, the real planning can officially begin. Without a date, or even a rough estimate, other vendors will have a difficult time working with the couple. Therefore the first step in planning a wedding should be choosing the date for the special day!