How to Plan a Wedding on a Budget
You can have the wedding of your dreams, even without the dream budget, when you learn how to plan a wedding on a budget.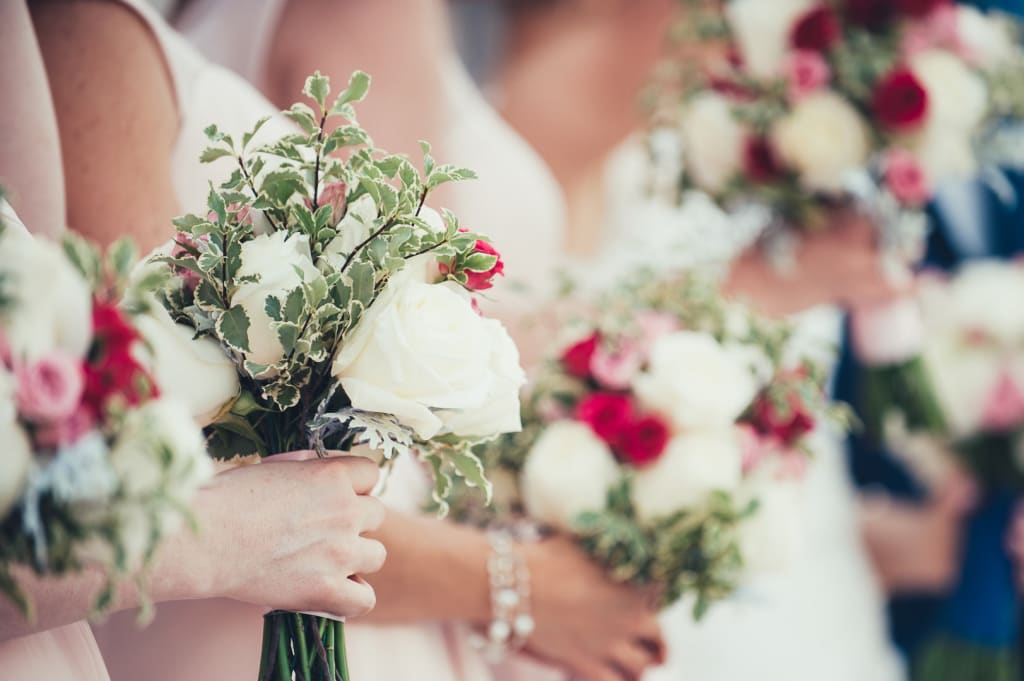 The day you have always dreamed of is right around the corner, but the perfect ceremony and reception does come at a cost. From choosing the perfect stationary for your wedding to picking the venue and photographer, the dollar signs start to add up. But having a wedding that looks and feels like a million bucks doesn't have to cost that much. There are many ways to save money when you are trying to plan a wedding on a budget.
Get creative with DIY projects to make your real wedding come to life, choose your location & date precisely, incorporate some of your own B.Y.OB. and maybe even rethink your wedding menu. With these fantastic tips, none of your guests will believe cost was ever a factor. So go ahead— plan your budget and stick to it—we will help you find out how with our top 10 tips to plan a wedding on a budget.
DIY is your new BFF.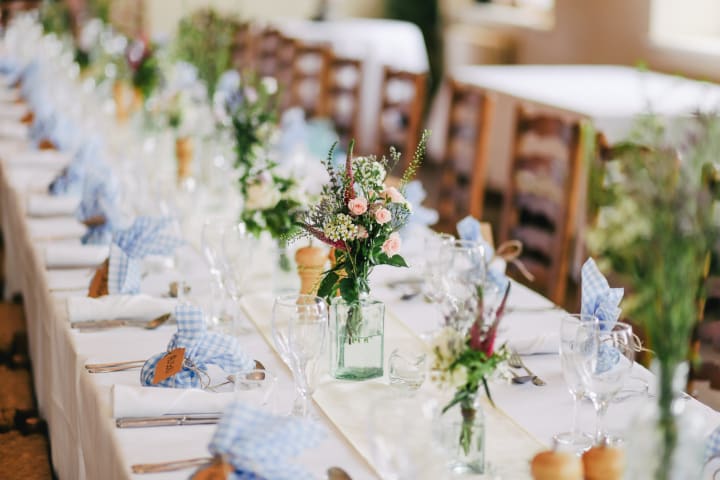 Yes you read that right—"do it yourself" will become your new "best friend forever" when it comes to planning your dream wedding! Not only is it less expensive (yay!) but it also is much more unique and exclusive to your wedding needs. Instead of purchasing pre-made décor, centerpieces, wedding invitations, consider creating your own! When you plan a wedding on a budget, it makes your special day so much more unique and fun! Nothing is cookie-cutter compared to other weddings. Your guests will love seeing your special touch.
Get your bridesmaids in on the fun too. Have full on craft days where you invite the girls over and get to designing. Turn a DIY project into a wine night to make it even more entertaining and enjoyable. You and your bridesmaids can put together gorgeous flowers for centerpieces or plan out beautiful wedding "save the dates" cards.
Think carefully about who you're inviting.

Oh the highly anticipated guest list. It's important to figure out exactly who you are inviting and why… Close childhood friend? Beloved sorority sister you spent your best college years with? Elderly neighbor you grew up next door to? The third cousin you feel obligated to send an invite to? The list goes on and on. It's difficult to choose which family and friends will, and unfortunately will not, get an invite.
However, you must face the facts. It's impossible to invite every person you have ever met when you plan a wedding on a budget. Simply making a list making can help you organize your thoughts during the wedding planning process. Start listing out the people who MUST be of attendance. Next start brainstorming who you are on the fence about. Making your wedding guest list more visual will help tons!
Remember: location, location, location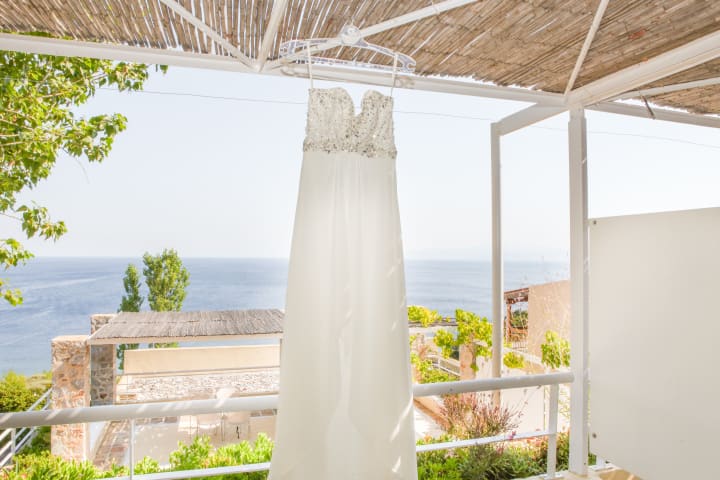 If you've heard it once, you'll surely hear it again. Location is vital - especially when you plan a wedding on a budget. As much as we agree with this, it's also important to address the many options you have to explore for your wedding venue. This is one part of your wedding that you can cut major costs in and save money. Don't hesitate to talk with a family member or close friend who lives on a beautiful chunk of real estate. This might be the perfect wedding venue.
Another key tip—Saturdays are much more expensive days to rent out venues so think about setting your wedding date for a different day of the week. Season is another price factor! Summer is much more expensive than other times of the year. Consider having a pretty autumn wedding as the leaves change color, a magical winter wedding as the snow falls or a spring wedding as the flowers begin to bloom!
B.Y.O.B. is an option.
That's right, bring your own booze… maybe. This doesn't mean you are putting the pressure of B.Y.O.B. on each individual guest. Instead check with your venue if you can bring in your own alcohol. Many wedding venues jack up the prices for alcohol and your budget will drain very quickly due to this. When you plan a wedding on a budget, it never hurts to ask if you can bring your own booze to the bar. This doesn't mean you have to bring everything. Maybe just provide the more expensive liquor yourself and the purchase wine and beer from the venue.
Ask about all-inclusive wedding packages.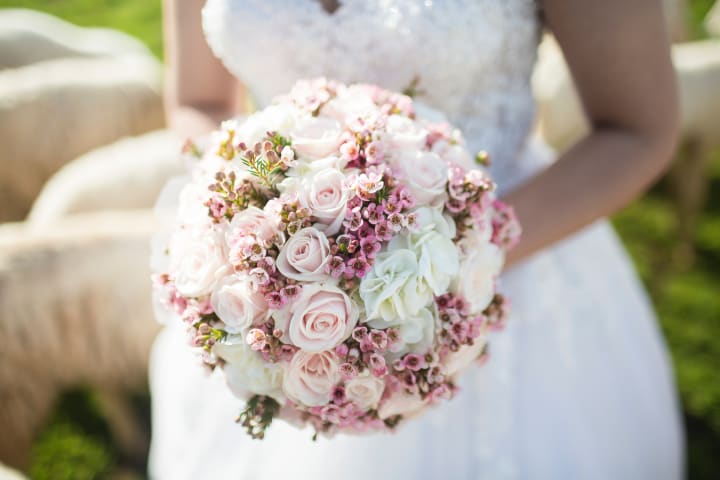 Inclusive wedding packages do exist and work perfectly when you have to plan a wedding on a budget! Hunt far and wide for the best wedding deal you can possibly get. Do not settle or overpay for your venue, catering, cake, floral arrangements etc.
Some venues have packages that include your decorations, cake, food, alcohol, entertainment, etc. For example you might find an awesome beach wedding package that includes a minister, photographer and beach location. If you're looking for an indoor wedding and reception, many packages exist with an all-day ballroom rental, tables, staff and even clean-up services (an included clean-up ensures no family member is stuck cleaning post-party)!
Find out if their are discounts for bundling some of your wedding necessities. It's always best to ask around to find the best wedding specials and packages when you plan a wedding on a budget.
Feed your hungry guests on a budget.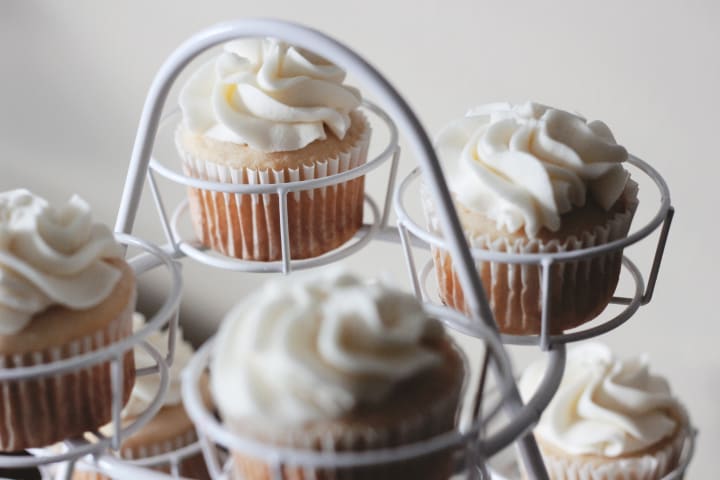 Catering is expensive, especially when you are trying to plan a wedding on a budget. A full-course meal for each guest will debilitate your budget very quickly. Instead of serving full meals to your wedding guests, think about making your own food. Make dishes that are easy to cook in large batches. Have family and friends help you cook to relieve the stress, too.
If you're not the chef type, you still have other options. Many brides choose to serve heavy appetizers and desserts instead of a huge (and expensive) meal. Think outside of the wedding cake box... you don't have to get a traditional wedding cake. Serve cute mini cupcakes in different flavors or wedding-themed cake pops.
What are your favorite snacky starters and sweet treats? Maybe a self-serve nacho bar is more your style, a breakfast-for-dinner waffle bar, a pizza buffet or a savory and sweet snack table. Your guests will be excited to try out your most beloved apps and desserts. Plan a wedding on a budget with these fun alternatives to the typical (and boring) wedding food.
Choose your tunes wisely.

Wedding music and entertainment can become expensive when you plan a wedding on a budget. Live bands or DJs can often become very expensive. Think about other ways you can have great tunes without breaking the bank. If your family or friends have any ties to bands or DJs, do not hesitate to talk with them about performing for your big day. Another method to plan a wedding on a budget is by hiring a young, up and coming DJ or student musician to perform at your beautiful wedding. They will cost less but sound just as good!
Look like a million bucks without spending it.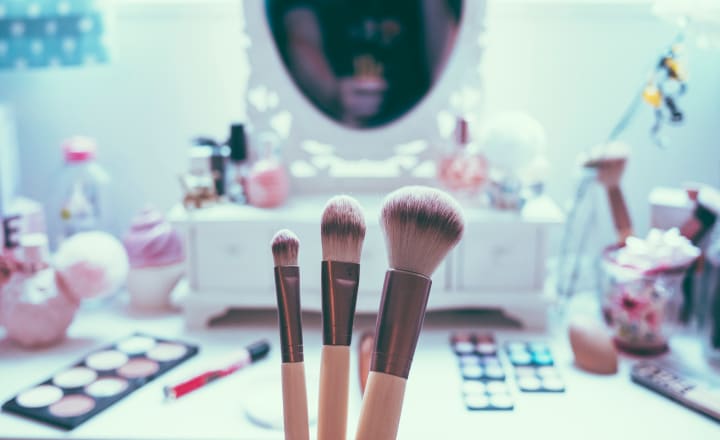 It goes without saying… you want to look perfect for your wedding day! And of course, your wedding party wants to look perfect too! You can look fantastic while keeping in the fine lines of your budget. Instead of hiring professional makeup artists for you and all your bridesmaids… consider doing your own makeup!
Maybe you have a close friend who loves to follow the best beauty YouTube channels or maybe your sister's contour is always on point. Put these makeup savvy girls on makeup duty for your big day! This same rule applies for doing your wedding hair! Take full advantage of your friend's skills if they're great with a curling wand and hairspray. Another option is to visit your local department store cosmetic counter and get a free makeover. It's a fantastic way to learn tons of makeup tips and tricks.
Save $$$ on wedding favors.

Of course, you want to thank your amazing bridesmaids with gifts of appreciation. They're your besties and have been there for you for your entire life, especially now for this super important moment. Avoid dishing out loads of money on intricate presents or expensive jewelry. Opt instead for DIY gift baskets or a cute handmade gift. You can personalize them for each bridesmaid to make them extra special.
Save big bucks on wardrobe.
Wedding attire is costly, save money by steering clear of anything custom when you plan a wedding on a budget. Give yourself enough time to shop around so you don't have to settle on something you don't love AND to avoid paying more than expected to make sure dresses arrive in time.
For the bridesmaids: Set out shopping days where you can visit several stores and hunt around for a good deal. Check out all the sale racks, too! You may just find true gems in the rough.
For the boys: Opt for renting a tux as opposed to buying one. Many stores will even give group discounts for multiple rentals. This helps to knock out the whole bridal crew in one sweep.
Congrats on your special day!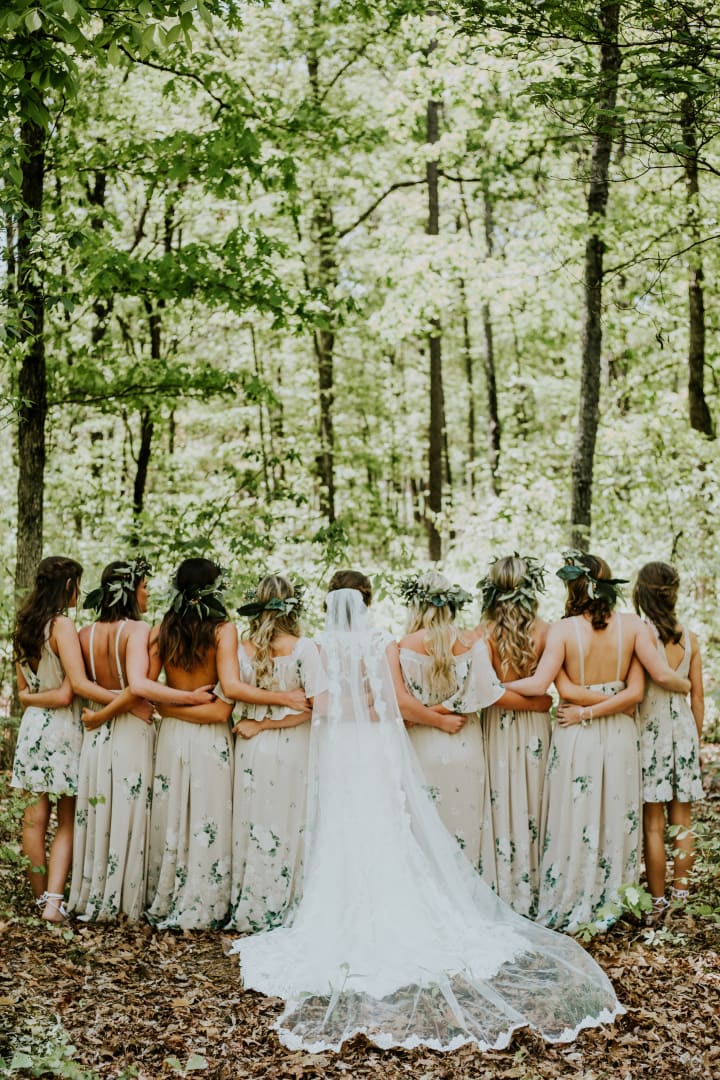 Your wedding day will be magical with our trusted and true tips and tricks… the best part is you still get to plan a wedding on a budget! With DIY methods and taking creative advice, you can do much more with a lot less money. Congrats on your special day!