Best Winter Wedding Cocktails
If you are dreaming of cozy winter wedding cocktails, choose the ones that will get your celebration rocking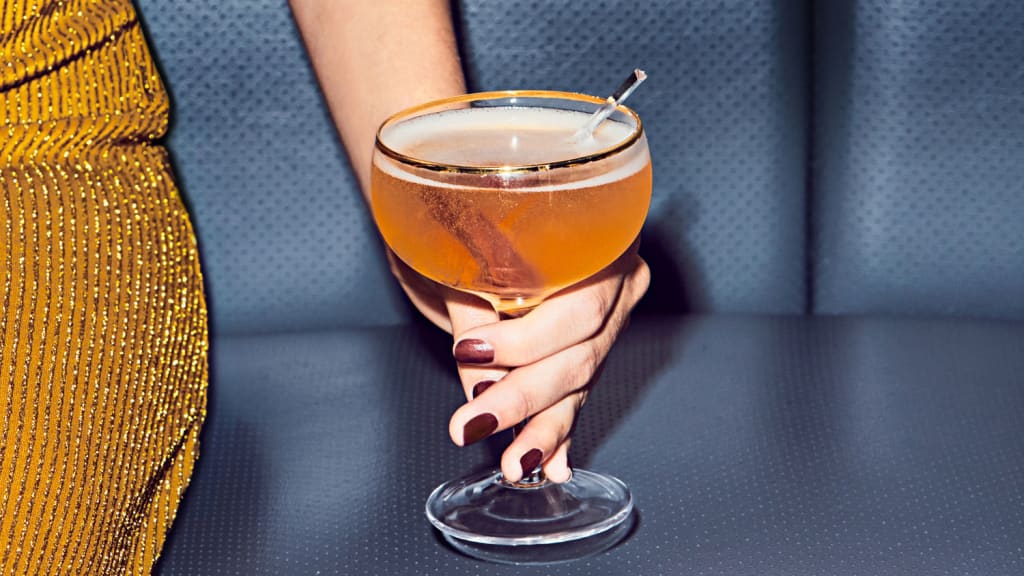 Source
Face it, planning for one of the most wonderful days of your life can be stressful, almost overwhelming. You want your day to be special, but you also want your guests to have a great time. Choosing the right alcoholic beverages can be insurmountable with all the choices and variations, and picking the right ones can mean make a memorable evening for your guests.
The key to a great winter wedding celebration is great cocktails with a combination of warm, rich flavors and light thirst quenchers, something for all tastes. Ditch all the crazy specialty drinks and exotic contraptions and go with the basics. There's a reason these drinks have stayed around for decades. Everyone will love the holiday spirits and your winter wedding cocktails will be the hit of the event!
Champagne Cocktail
Yes, you must have champagne at a wedding, but it doesn't have to be boring. As the guests arrive, start the reception off with an easy-to-make champagne cocktail to take the chill off. There are a lot of varieties out there, but this one is a basic, classy winter cocktail.
Ingredients:
2 dashes Angostura bitters
1/3 oz. Cognac
5 oz. Champagne
1 sugar cube
Maraschino cherry, orange or lemon slice
Add a dash of Angostura bitter onto a sugar cube and drop it into a champagne flute or coupe.
Add the cognac and gently pour in the chilled champagne.
Garnish with an orange or lemon slice and a maraschino cherry.
Serve straight up; without ice.
Irish Coffee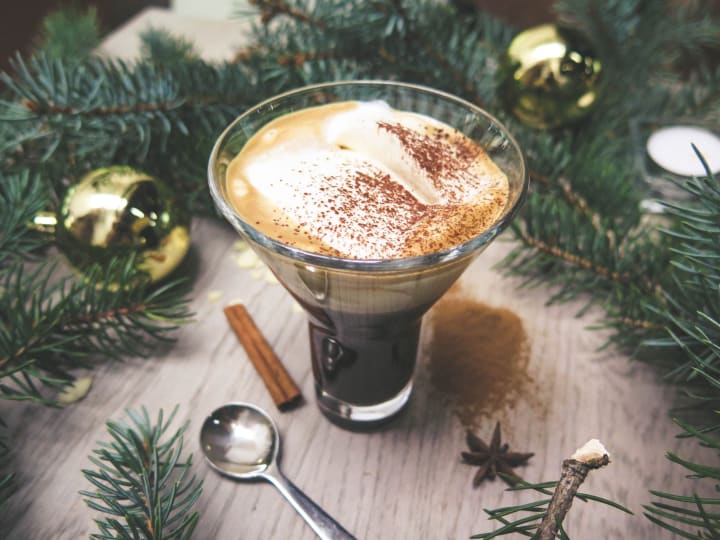 For those who may still need a little more heat, serve up an irresistible Irish coffee. The original Irish coffees used sugar, but when Irish cream came along, no one could resist the taste and texture. Be sure and use sugar in the whipped cream, though, for a smoother overall flavor. This is definitely a comfort intoxicant, a necessity for winter wedding cocktails.
Ingredients:
5 oz. hot coffee
1 oz. Irish cream
1 1/2 oz. Irish whiskey
1/2 oz. creme de cacao
Whipped cream
Dash of cinnamon
Make sure the coffee is hot and fresh and pour into a mug or a glass coffee cup.
Add the liqueurs to the hot coffee and top with whipped cream and a sprinkle of cinnamon. There's no better way to kiss the cold goodbye.
Hot Buttered Rum with Cider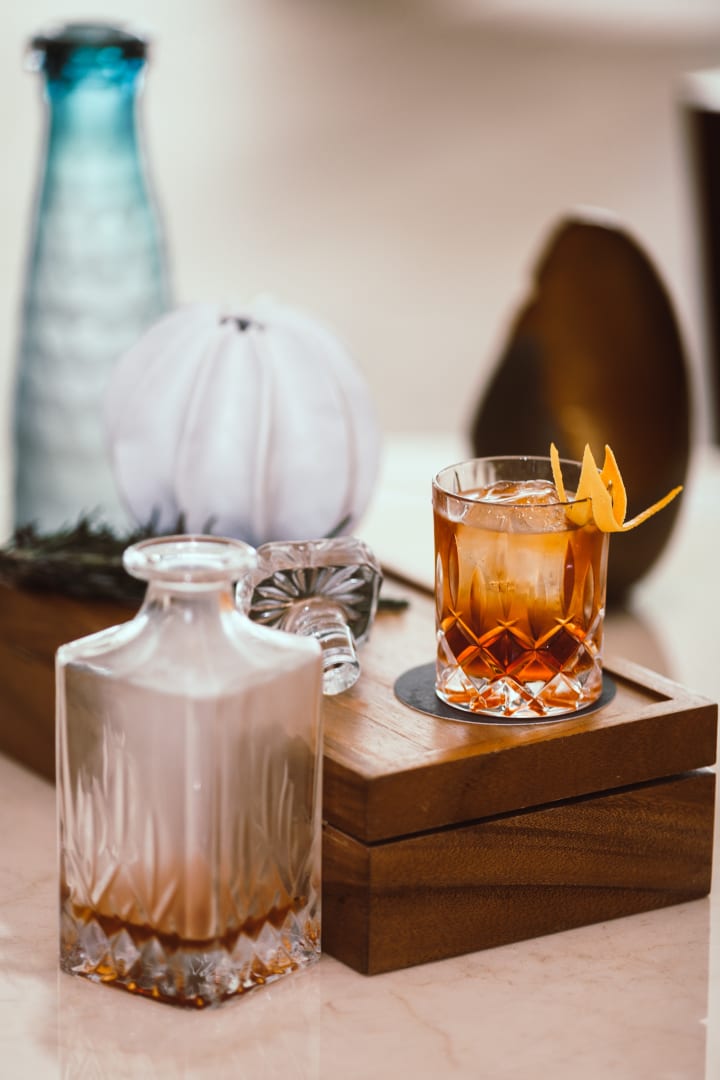 If you're expecting a crowd, you could also have a big pot of Hot Buttered Rum with Apple Cider simmering in the background. Nothing warms up the atmosphere like cinnamon and nutmeg in the air. Hot Buttered Rum is an old favorite, but when you spice it up with the winter spices in the apple cider, you have a winter wedding wonderland.
Ingredients:
Half-gallon (64 ounces) all natural apple cider
1 stick (1/2 cup) unsalted butter, cut into tablespoons
1/4 cup dark brown sugar, packed
1-1/2 teaspoons ground cinnamon
1 teaspoon ground nutmeg
1/4 teaspoon ground cloves
1/8 teaspoon salt
Rum (a shot for each glass)
Cinnamon sticks
Heat the apple cider in a large pot, then stir in the butter, brown sugar, cinnamon, nutmeg, cloves and salt. Continue stirring until the butter is melted and the sugar is dissolved.
Ladle the buttered cider into mugs or glasses.
Top with a shot of rum and garnish with a cinnamon stick, if desired.
Moscow Mule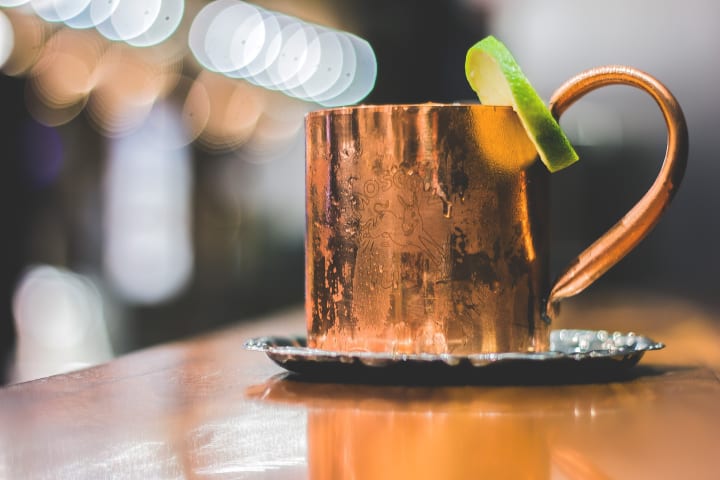 For those guests who have all the heat they need, try something fun and festive, like a Moscow Mule in the best copper Moscow Mule mug. Of course, you don't have to have the copper mug; it just adds a little pizzazz. It's unclear where the copper mug with this drink originated. Some say it was used to keep the drink cold longer, and others say it was used to advertise vodka, but as far as winter wedding cocktails, this one is light and refreshing and goes well with most hors d'oeuvres.
Ingredients:
4 oz. ginger beer
1 1/2 oz. vodka
1/6 oz. lime juice
Mix it all together and serve on the rocks with a slice of lime.
Sweet Old Fashioned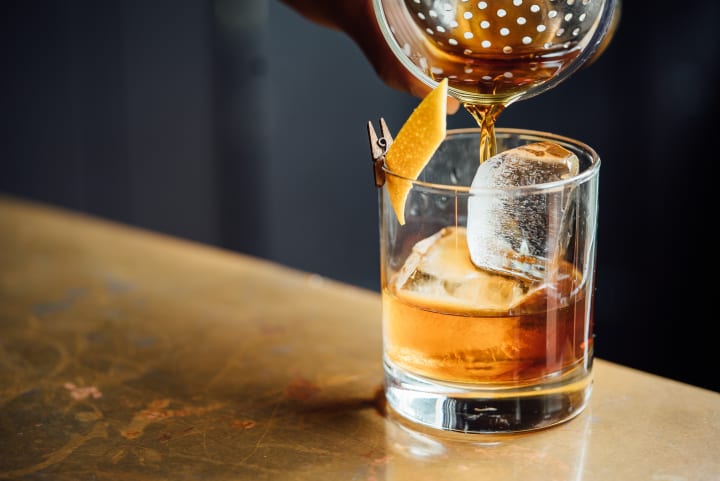 For those who just want a time proven adult beverage, you can't go wrong with a Sweet Old Fashioned. If you haven't tried it, watch out; you might get hooked. This recipe takes the traditional Old Fashioned and adds the vermouth of a Manhattan and a hint of sweetness. If you don't like the sweet stuff, just leave out the simple syrup and drink up. The secret is in the muddling.
Ingredients:
1 oz. whiskey
1/2 oz. vermouth
1/3 oz. simple syrup
2-4 drops Angostura bitters
2 oz. ginger ale or 7-Up
2 maraschino cherries and a slice of orange, muddled
To make your own simple syrup, heat equal parts sugar and water until the sugar is dissolved. Better yet, try a popular substitution of maple syrup, which adds a richness of flavor for winter wedding cocktails.
Add the bitters and mash with the cherries and a slice of orange to muddle. Then add a little ice and stir lightly.
Pour the whiskey, vermouth and ginger ale or 7-Up in and stir some more. Then garnish with an orange slice and cherry, if desired.
Mojito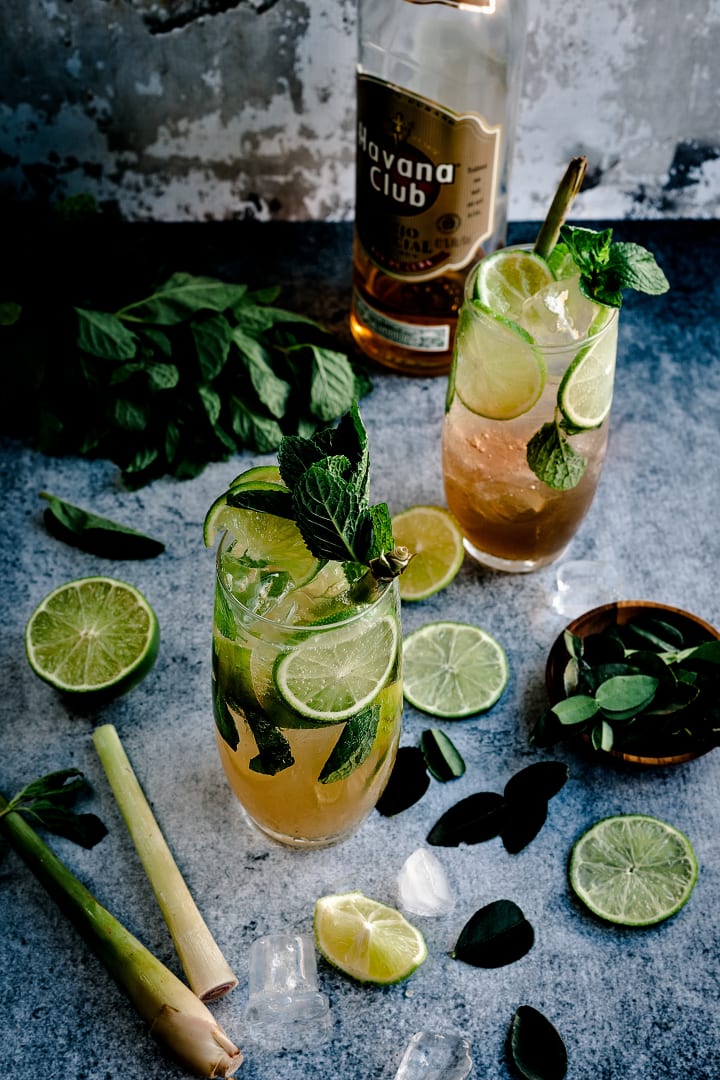 Another light and refreshing drink for your winter wedding is the Mojito. This cocktail is the traditional Cuban highball, but you can add almost any kind of fruit to it to make a great citrus brew. Make sure you give this drink a good shake and serve it in a chilled glass.
Ingredients:
1 1/2 oz. white rum
6 leaves of mint
Soda water
1 oz. fresh lime juice (can also use lemon juice, or both)
2 tsp. sugar
Muddle the mint leaves with the lime juice and sugar.
Add the rum, soda water and some ice, put it all in a cocktail shaker and shake it several times.
Pour it in a chilled glass and top it off with a lime or sprig of mint.
Mulled Wine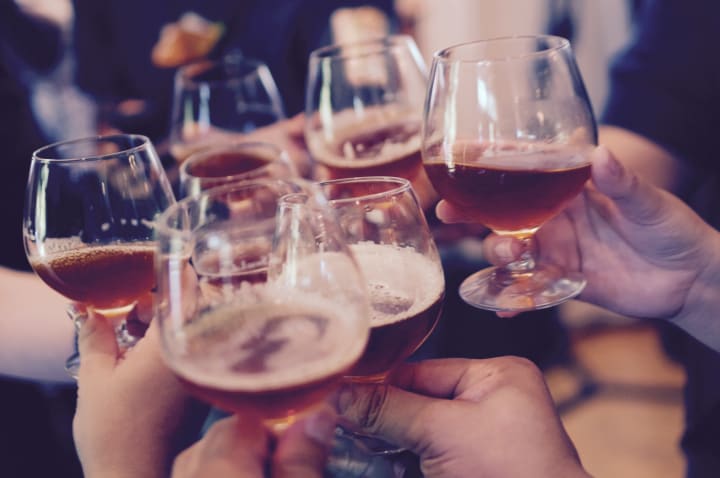 Served throughout many countries during the winter, mulled wine is among the favorite winter wedding cocktails, and can easily be made into your own signature cocktail. Some of the older recipes use port wine, but you might want to use less sugar if you use port. The standard is red wine. Also, maple syrup is a great substitute for sugar in mulled wine and enhances the spices.
Ingredients:
1/3 cup sugar
1 T. whole cloves
4 cinnamon sticks
1 whole lemon rind
1 whole orange rind
2 bottles of red wine (or wine of your choice)
8 ounces Spanish brandy (or dark rum if you have it)
freshly grated nutmeg
Add all ingredients except the brandy (or rum) to a sauce pan and heat to a simmer without boiling. Let it simmer for 20-30 minutes, then remove from heat and let it sit a while. Note: It is better to do this the day before and let it sit overnight.
When ready to serve, add the liquor and heat to a simmer.
Strain the wine into cups.
Garnish with freshly grated nutmeg.
Rum and Fruit Punch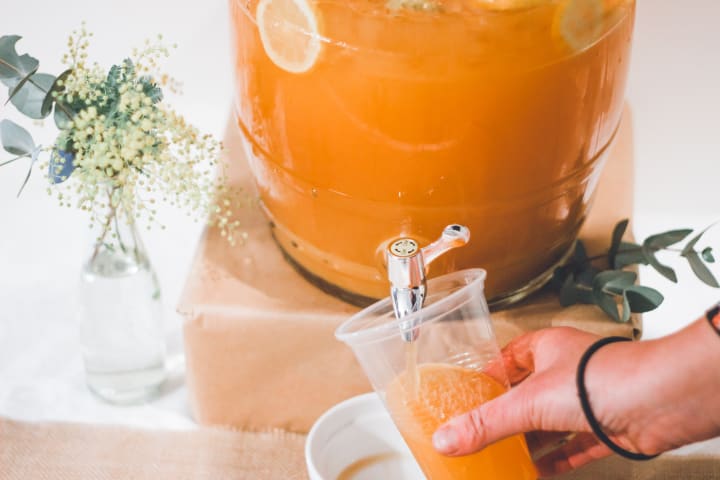 Who says punch is all about lime sherbet and ginger ale? Rum and Fruit Punch is an old favorite and ideal for winter wedding cocktails. The Benedictine, made from 27 herbs and spices, gives this punch a unique flavor. If you haven't tried Benedictine, you're missing a truly savory treat.
Ingredients:
2 1/4 oz. Jamaican Rum
1/4 oz. kummel
1/4 oz. Benedictine
1/2 oz. fresh orange juice
1/2 oz. fresh pineapple juice
1/2 oz. fresh lemon juice
Brandied cherries
Orange slices
Add all ingredients to a cocktail shaker. Add ice and shake well.
Pour into glass or goblet filled with large ice cubes.
Garnish with brandied cherry or orange slice.
Sangria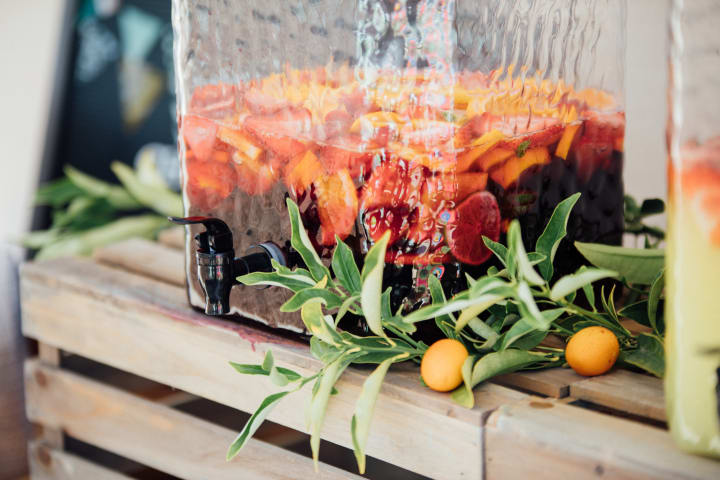 Another great winter wedding cocktail that you can make ahead of time and serve to a big crowd is sangria. There are many variations of sangria, but this one combines the wine and fruit with brandy to bring out the flavors. The best wine to use with sangria is a fruity, dry wine.
Ingredients:
1/2 cup brandy
1/4 cup lemon juice
1/3 cup frozen lemonade concentrate
1/3 cup orange juice
1 (750 milliliter) bottle dry red wine
1/2 cup triple sec
1/4 cup sugar (optional)
1 lemon, sliced into rounds
1 orange, sliced into rounds
1 lime, sliced into rounds
8 maraschino cherries
Club soda (optional)
Mix the first 7 ingredients together and pour into a punch bowl.
Add the fruit slices and cherries to float on the top.
For a fizzy sangria, add club soda just before serving.
Chocolate Martini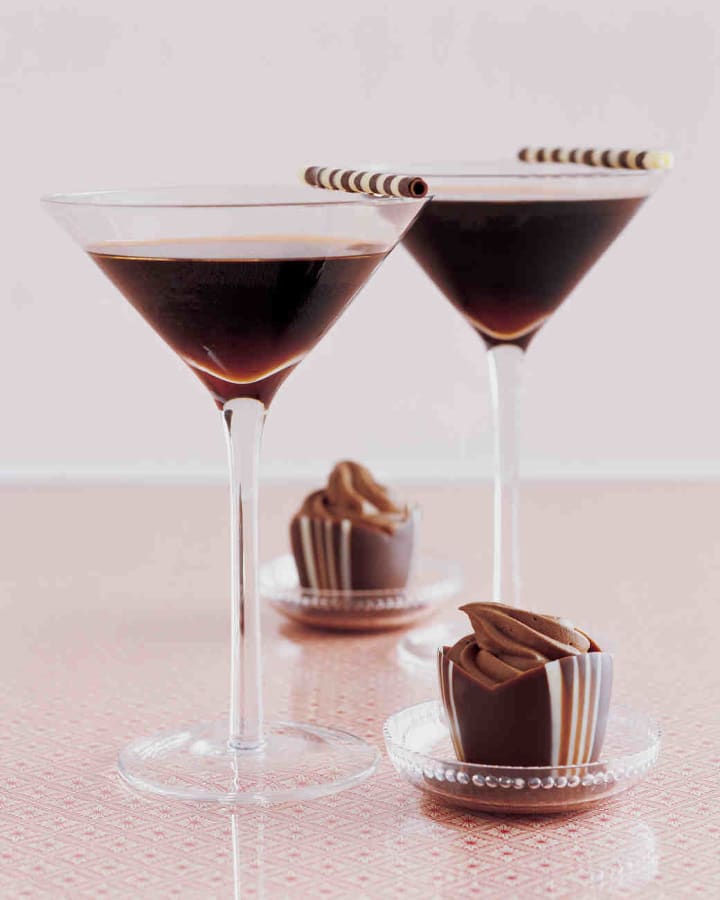 One of the most decadent wedding cocktails for the colder months is a chocolate martini. If you like creamy and chocolaty, it's the perfect drink. If you're a coffee lover, throw in a shot of espresso. Either way, your guests will remember it long after your special day as one of the best martini variations they've tasted.
Ingredients:
1 1/2 oz. chocolate liqueur (dark or white)
3/4 oz. vodka
1 1/2 oz. creme de cacao
1 oz. heavy cream
Shaved chocolate
Combine ingredients with ice in a cocktail shaker.
Shake until chilled.
Strain into a chilled martini glass dipped in shaved chocolate.
food and drinks
About the author
Wannabe bartender and whiskey connoisseur. Enjoys exploring new food pairings for any type of drink. Sometimes I travel to different countries with my friends... :)
Reader insights
Be the first to share your insights about this piece.
Add your insights