12 Unique Flower Girl Baskets
You want your wedding to be something special and customized for you, so why shouldn't unique flower girl baskets be part of the plan, too?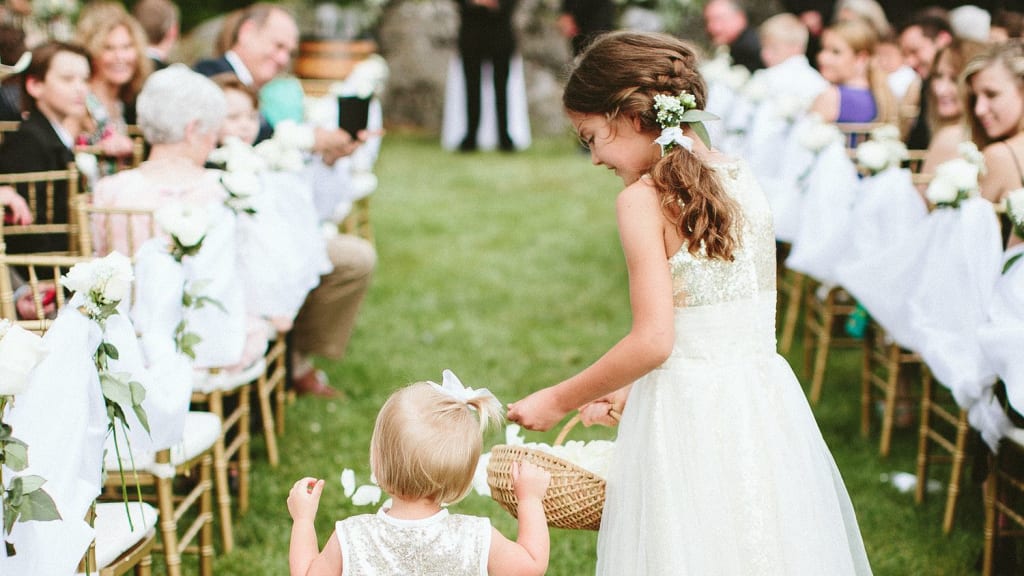 When you're planning your wedding, you want it to be a big day for you and your partner. Everything about the wedding should reflect both of you, the things you like, and the things that make you both individuals. There are a lot of small details to sort out, like choosing a ring bearer and a flower girl, and it's easy for your flower girl's basket to be an afterthought.
However, if you plan ahead, you can look into beautiful, unique flower girl baskets and nab one that fits the theme of your wedding perfectly. The wedding ceremony has a lot of moving pieces and things to keep track of, but the flower girl basket is one of those details that can be taken care of well in advance.
Is nature a big part of your wedding? This moss covered basket is perfect, especially if you're thinking about using real flower petals rather than silk ones. The choice is up to you, but with either option, this moss basket is a perfect compliment. The moss is artificial, so you don't need to worry about it turning brown, but it still looks realistic enough not to seem cheesy. This basket will work with just about any color scheme or wedding theme since it's so simple and suitable for flowers.
How do you throw a uniquely themed wedding? It takes some thought, but it's not too hard. If one of the themes you have is to include bolder colors here and there, rather than just the typical white and pastels, then perhaps your flower girl's basket should follow the same design convention. If she's wearing a lighter colored dress, pairing it with this basket that's as red as the color of love is a perfect way to really make it pop.
This rattan flower basket is very rustic and unique. Rustic weddings remain as one of the very big trends right now, so if you're stumped, this might be one of the best flower girl basket ideas for you. It adds a natural touch to your event, and looks great in both outdoor ceremonies and indoor ones. However, if you are going for a garden-themed wedding, it'd be even more perfect.
Lillian Rose has a ton of unique flower girl baskets that don't break the bank. The theme of this basket is pretty unique, too, with the camouflage color scheme. Don't be deterred by the name, there aren't any odd splotches of dark and light green anywhere on this basket. The front has an image of fall leaves and a classy feather, which evokes a retro feeling. If you're having an autumn wedding ceremony or you want a little bit of an old school vibe, this basket is perfect. After all, the bride and groom should get whatever they want on their big day.
This burlap flower basket may sound odd, but it has a charmingly simple design. This is a great basket to grab two of so that one can be used by your flower girl and another can be used either by your ring bearer, if you really want to switch things up and make your ceremony unique. The material is on the rough side, but that's burlap for you. The muted colors will blend in with a variety of color schemes, but if you're doing a rustic, western, or southern themed wedding, it's an absolutely perfect match.
Here's something a little more industrial for the modern wedding ceremony. If you're going for more of a sleek, modern looking wedding, this very unique flower girl basket might be the perfect fit. This is a bigger basket, so you may wish to line it with some white satin or similar material to make sure your flower petals don't fall out prematurely. That may sound like a drawback, but if you want really unique flower girl basket ideas, this is about as individualized as it gets.
This is the closest we're going to get to one of your typical, white satin flower girl baskets. If you want one of those, there are plenty of wedding websites out there that have tons of them; but those who are searching for unique options shouldn't have to conform because other products aren't as easy to get their hands on. This basket does have a traditional color scheme, but the design is beautifully modern, and it has a sweet meaning for the bride and groom with the love birds on it.
If you're wedding dress shopping and want a basket that goes well with your dress, choosing a simple and unique design like this one could be the perfect solution for you.
As you're figuring out what to consider when booking a venue for your wedding, you may just decide, "Phooey, I'm having a beautiful beach wedding."Personally, I had my heart on a beach wedding even before I started looking into regular, brick-and-mortar venues. If the beach is meaningful to your relationship or if you both just love a nautical getaway, this basket accentuates the look beautifully.
To take this idea and setting to the next level, you could also have your flower girl tossing a mix of flower petals and small seashells to incorporate that beach theme even more intimately into the wedding ceremony. If you do this, make sure your shells are very small though! No big scallop shells or anything that'd be jarring or hard to toss.
This birch basket is incredibly unique, while still being elegant and lightweight enough for even the youngest flower girl to handle easily. The basket is square shaped, which makes it a very unique choice. If you wanted to, you could use a second of these baskets to be your card box, so that your recipients will have somewhere unique to place their well wishes to you and your partner.
This is absolutely one of the cutest flower girl baskets I've ever seen. It's perfect for a rustic wedding, though it's classy enough to work for many other themes as well. This basket has a burlap rose, capturing a rustic look with a strong spirit of romance to go along with it. Since roses are the symbol of love, if you're highlighting them as one of the prominent flowers in your floral arrangements, this basket will be a great complementary touch.
The star design on this basket is unique and beautiful, but there's just one catch. These baskets are less than six dollars each, which is great, but they're only sold as a set of twelve. Your first thought may be that you absolutely aren't going to have a dozen flower girls, and I'd agree with you, but consider other decorative uses for those extra baskets.
You could use one as your wedding card box—we're thinking outside the box here, so who says a box has to be a box? You hang them up somewhere to hold party favors or use them to hold your arranged flowers. It'd be a pretty beautiful way to have some consistency in the decorations you use for your wedding.
If you still want that traditional basket look but want the basket to be something special and customized to your wedding, you can always weave your own basket.
This tutorial starts at the very beginning, getting wood from a tree, but there's no need to go that DIY if you don't want to! You can also buy basket weaving materials from Amazon or just about any arts and crafts store out there to supplement your creation.
Whether you decide to go handmade or to purchase one, you've got plenty of choices to find unique flower girl baskets that will fit the theme and look of your wedding perfectly. Think about your theme and what makes your wedding uniquely yours as you choose a basket for your flower girl. There are always a lot of choices to make when putting together your dream wedding, but try to enjoy these little ones along the way as much as you can.