10 of the Most Memorable and Heartfelt Marriage Quotes to Use for Your Nuptials
To help express your love on your special day, here are some of the most memorable and heartfelt marriage quotes to tie into your vows.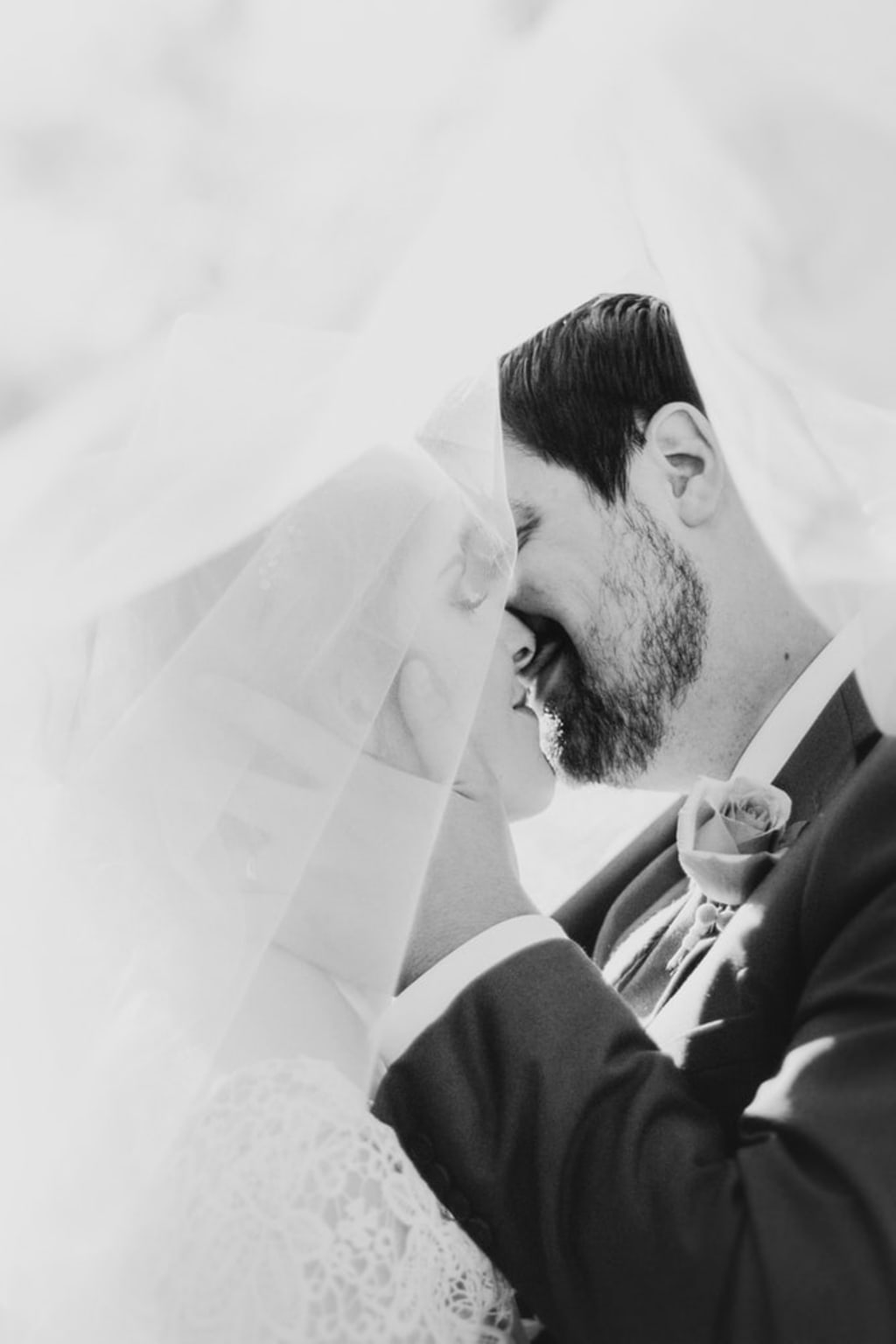 Finding the right person, the one you want to spend the rest of your life with, is no easy task, and when wedding bells finally sound, a celebration of your unique love is needed for the occasion. Whether they be on your invitations, incorporated into your decor, or are written into your vows, the truth about wedding planning is that these words, more than anything else, are wildly important in expressing your undying love for your significant other. They reaffirm why your wedding is symbolic of something much larger than a pretty white dress or a fancy reception with friends and family. Whether you're looking for something lighthearted to show your sense of humor or something profound and poetic, certain quotes can help you revel in the love that you're choosing to honor on your special day. The most memorable and heartfelt marriage quotes will memorialize your wedding, and put your love on full display.
"Marriage is not just spiritual communion, it is also remembering to take out the trash."—Joyce Brothers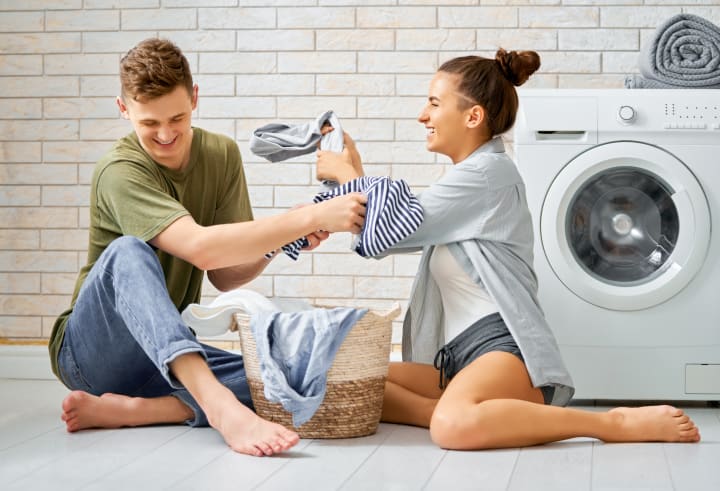 This humorous quote is sure to bring a touch of levity and laughter to your nuptials, but it also speaks to the reality of marriage after the fun and liveliness of the wedding has died down. Marriage is commitment to taking on the nitty-gritty of the everyday, and yes, that includes the not-so-glamorous task of taking out the trash. However, as this quote shows, taking on the smaller, less desirable intricacies of life becomes much easier when you add a little bit of humor, and at the end of the day, a great marriage is one that can push through the little things with laughter.
"All you need is love. But a little chocolate now and then doesn't hurt."—Charles Schulz
Yes, the beloved Peanuts writer has weighed in on love, and his sentiments are as humorous and sweet as you'd expect. This quote is sure to earn you some laughs from anyone attending your special ceremony, and some lighthearted relief is a great way to add to the already intense emotions of the day. And at the end of the day, it reminds us that love really is everything we need, but chocolate is sure to help on those days when loving isn't quite so easy. That right there just might be the secret of a happy union.
"Where there is love there is life." —Mahatma Gandhi
Sometimes simpler is better, and this Ghandi quote proves that you don't have to rely on flowery words or long-winded prose to get your point across. It's really as simple as it sounds; love incomparably enriches our lives, and what better occasion to highlight a sentiment such as this than your wedding day? To fall in love is to experience life, and your wedding marks the start of a new and exciting journey that you and your spouse are willing take together. Ghandi's short-but-sweet sentiment is the perfect way to remind yourself that your nuptials begin a brand new chapter for you and your partner; one that will be full of love, and therefore, full of life.
"If I know what love is, it is because of you." —Herman Hesse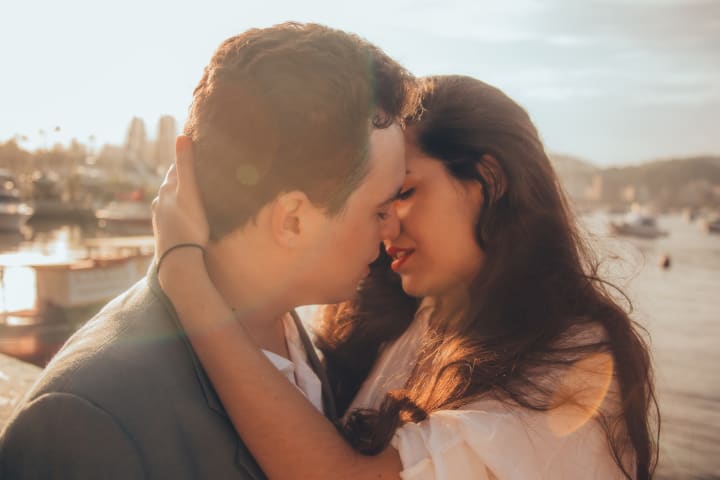 Another simple quote that drives right at the heart, poet Herman Hesse succinctly explains how love comes with its own learning curve, and when we find that special someone who shows us how to love, it's something worth celebrating. This quote is short and to-the-point, but it speaks volumes about how transformative a relationship can be. These words can perfectly summarize how important your husband or wife is to you, and it can remind them of how your relationships has taught you new things not only about yourself, but about love. The words of this esteemed German writer and painter are strikingly poignant, and they're the perfect addition to any wedding ceremony as a reminder of how your significant other has shown you the true power of love.
"Love recognizes no barriers. It jumps hurdles, leaps fences, penetrates walls to arrive at its destination full of hope." —Maya Angelou
Maya Angelou is a renowned poet, and her heartfelt meditation on love explains why she is so widely beloved. This quote is simultaneously romantically hopeful and realistically honest; it reminds us that hope is limitless, but also that it encounters challenges along the way. While your nuptials are obviously celebrating the joy and happiness that love brings you and your partner, it's okay to address that there will be difficult times ahead. In fact, it makes it all the more romantic to vow to work through the difficult times together because you trust that your bond is strong enough to withstand anything. Maya Angelou's words perfectly declare the power of love to overcome adversity; and as such, they're perfect for showcasing your special day.
"I love you without knowing how, or when, or from where. I love you simply, without problems or pride: I love you in this way because I do not know any other way of loving but this, in which there is no I or you, so intimate that your hand upon my chest is my hand, so intimate then when I fall asleep your eyes close."—Pablo Neruda
For those of us who do gravitate to the full-blown romantic, poetic declarations of love, this Pablo Neruda quote is a beautifully written sentiment that communicates how deep our love can be. This is the type of quote that could easily be worked into your views, and there certainly won't be a dry eye in the house after words as tender and intimate as these are spoken. If you're looking to find the words to communicate how your bond intertwines you and your partner, then these words from Neruda's 100 Love Sonnets are the perfect way to summarize how close you feel to your new spouse.
"What greater thing is there for two human souls, than to feel that they are joined for life—to strengthen each other in all labor, to rest on each other in all sorrow, to minister to each other in all pain, to be one with each other in silent unspeakable memories at the moment of the last parting?"—George Eliot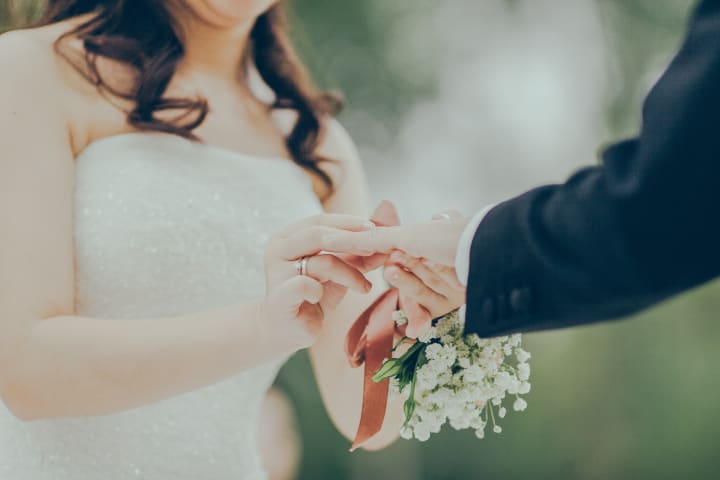 This George Eliot quote is an elegant and powerful summary of the commitment that marriage requires. To be a good wife or husband, one needs to offer continual support through all of life's hardships, to stand by their spouse through thick and thin, and to love someone for a lifetime. This is the commitment that marriage embodies, and as Eliot so eloquently puts it, it endures until "the last parting." Her words celebrate the union that a wedding entails, and the quiet beauty of this quote make this a great choice to include in your nuptials.
"Happy is the man who finds a true friend, and far happier is he who finds that true friend in his wife."—Franz Schubert
What better way to celebrate the incredible relationship you've built up than by recognizing that, at its core, a marriage is also a friendship? This quote is a lovely way of celebrating that your partner will be more than a "husband" or "wife," they'll be a best friend, a close confidant, and a support system through anything life throws at you. It's vital to remember that friendship is a key part of a happy marriage, and including this quote in your nuptials is a great way of letting your spouse know that you cherish their friendship enough to commit to working at it for the rest of your life.
"Happy marriages begin when we marry the ones we love, and they blossom when we love the ones we marry."—Tom Mullen
This quote speaks to the ongoing process of marriage, the continuation of the love story that is celebrated on your wedding day. It not only recognizes a happy beginning to the brand new chapter in life that your nuptials commemorate, but it emphasizes that this special day is the beginning of a lifetime of learning to love your spouse. A happy marriage is about much more than the wedding day; it's about every day that follows, every moment you choose to love your spouse unconditionally over and over again. A key component of a happy marriage is finding new ways to love your spouse, and this quote is the perfect way to declare that your marriage will succeed because you will continue to fall in love with your partner.
"A great marriage is not when the 'perfect couple' comes together. It is when an imperfect couple learns to enjoy their differences."—Dave Meurer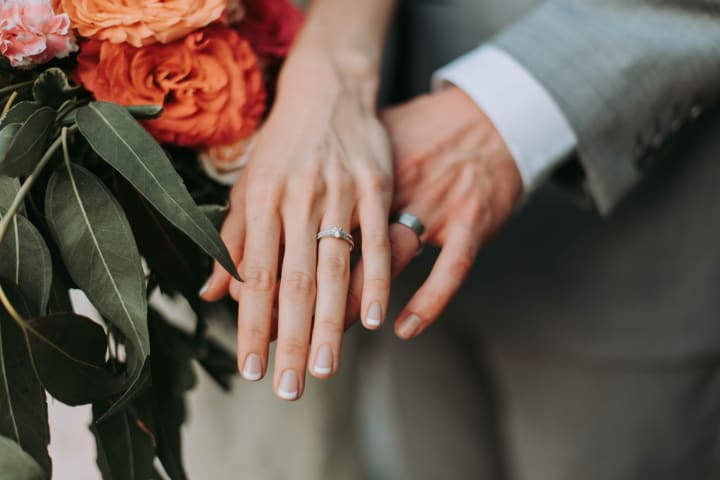 Humor writer Dave Meurer takes a more serious approach with this insightful quote about dealing with imperfections in a marriage. Again, addressing imperfection during your nuptials might not seem like the most celebratory way to declare your love, but recognizing that love isn't always easy and continuing to choose love even when times are tough is really the most romantic sentiment of all. This quote perfectly addresses that any marriage will have its flaws, but working through your differences is part of the commitment you're willing to make because you love your partner. These words are a great addition to your nuptials for their candor and the loyalty expressed in the willingness to embrace your flaws in the name of love.
These inspiring quotes can help you express all the incredible emotions that your partner makes you feel, and each one could add something special and unique to your wedding, no matter if you're going for an elaborate, lavish ceremony or you're hosting a wedding on a budget. However you choose to incorporate them, they can be a great way of summing up those feelings that can be so hard to put into words, and they're sure to make your special day exceptionally memorable. Hopefully these memorable and heartfelt marriage quotes make their way into your nuptials and help you celebrate a momentous day filled with joy, hope, and a whole lot of love.