10 of the Most Beautiful Bridal Bouquets
Find inspiration in these 10 beautiful bridal bouquets.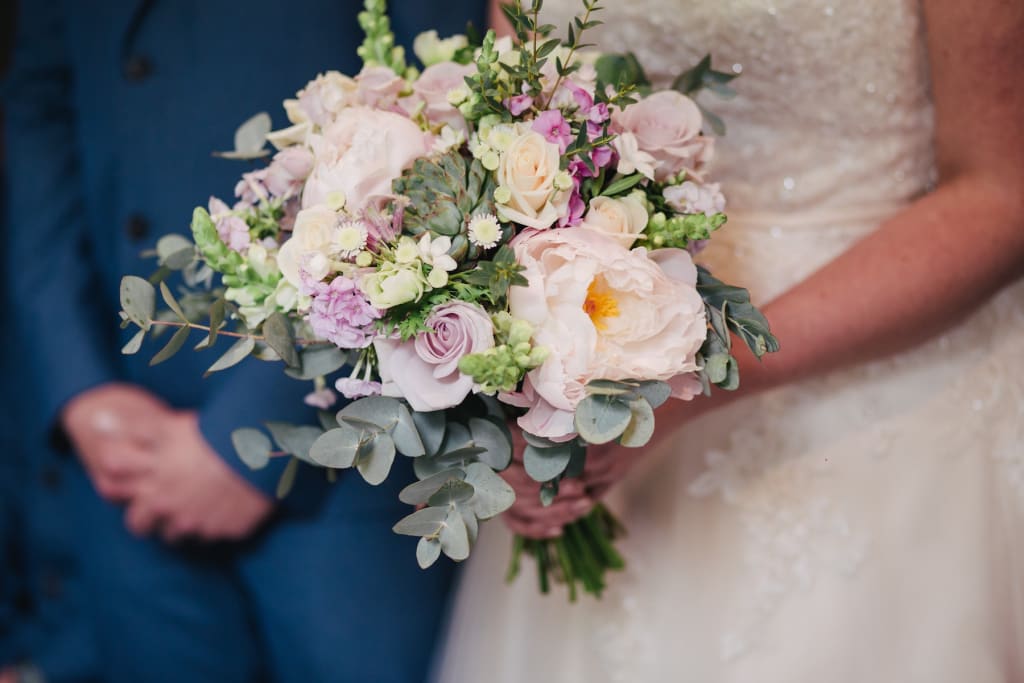 Whether working with a floral designer or arranging the flowers yourself, beautiful bridal bouquets are a wonderful representation of the romance, beauty, and joy of a bride's wedding day.
The choices of arrangements, material, flowers, and greenery are abundant. Narrowing down the perfect bouquet for you may feel a bit overwhelming. But, we hope our top ten beautiful arrangements here will help you choose the perfect bridal bouquet for you.
Cascading Bouquet
A cascade bouquet is one of the most traditional styles accompanying a bride down the aisle. Although this arrangement style has been around for a very long time, it experienced the height of fame as a bridal bouquet when it was used in the wedding of Princess Diana.
Any type of flower, though larger size ones are a popular choice, form the bulk of the bouquet. Those flowers are framed by foliage and smaller flowers that seem to trail, or drip down the bottom of the bouquet, creating a cascading effect.
For a contemporary twist on this style of bouquet, consider using non-traditional materials such as cotton blooms, sweet peas, dusty miller, or seeded eucalyptus leaves.
Presentation Bouquet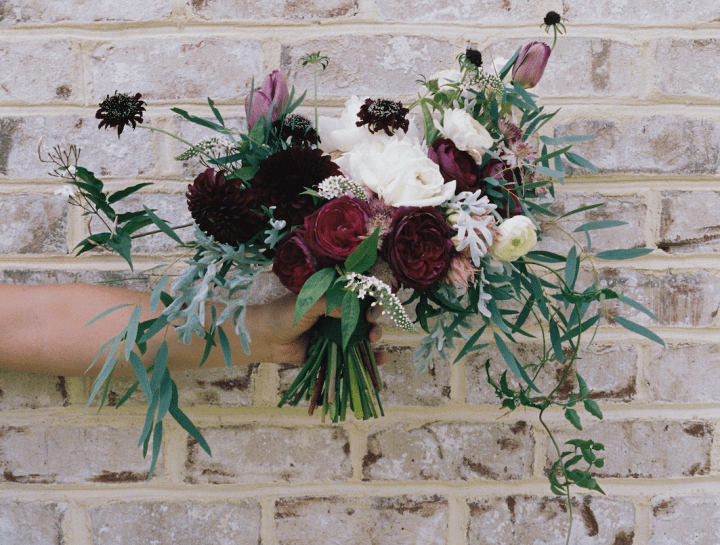 A presentation bouquet brings the focus in on the arrangement rather than the shape. It can be quite a stunning accessory while walking down the aisle. Because a beautiful bridal bouquet arranged in a presentation style can be incredibly unique and intricate, many brides choose this style to compliment a simpler, minimally designed bridal gown.
Presentation bouquets come in a variety of shapes and sizes, featuring a lot of different kinds of flowers and foliage—such as hypericum berries, sage, and jasmine vines—within the bouquet itself. Presentation bouquets can be as unique as the bride herself and used as a tool of unique expression on her wedding day. The presentation bouquet is a favorite among many contemporary floral designers.
Round Bouquet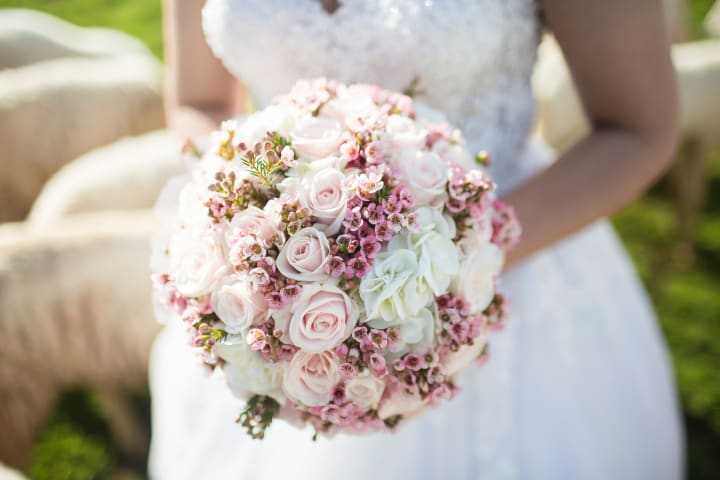 Although not as prevalent as other bouquet options, round bouquets are stunning in their simplicity and modernity, definitely qualifying as one of the wedding trends for 2018. These perfectly shaped spheres of flowers typically feature small to medium bloom size, often consisting completely of one flower variety such as tea roses. Monochromatic themes are most popular using just one color palette, but they can be just as stunning when made from flowers in a variety of bridal colors.
When considering what kind of flowers to arrange in your round bouquet, make sure they are the kind that can stand up to a lot of manipulation and handling. A perfectly round bouquet takes time to construct, and a sturdy flower will hold up much better than some of the more delicate ones that are better suited for a free-form arrangement.
Pretty Peonies Bouquet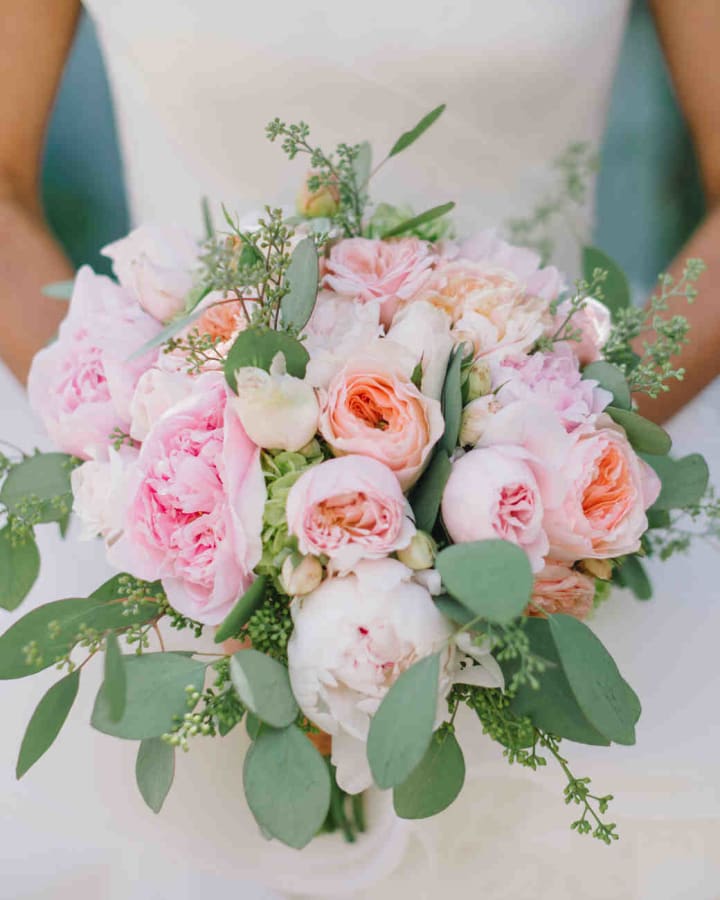 While it can be a delicate flower, peonies are a stunningly romantic way to celebrate a wedding. Choosing peonies brings focus in on the femininity and beauty of the bride on her wedding day. They can be arranged together in a gorgeous peony-only statement bouquet, or with other accent flowers as part of an ensemble of flower color and texture.
If you live in an area where peonies are in season around the time of your wedding, you'll have no problem finding these beautiful blooms at their peak. They're a perfect choice for outdoor garden or vineyard affairs.
Paper Flower Bouquet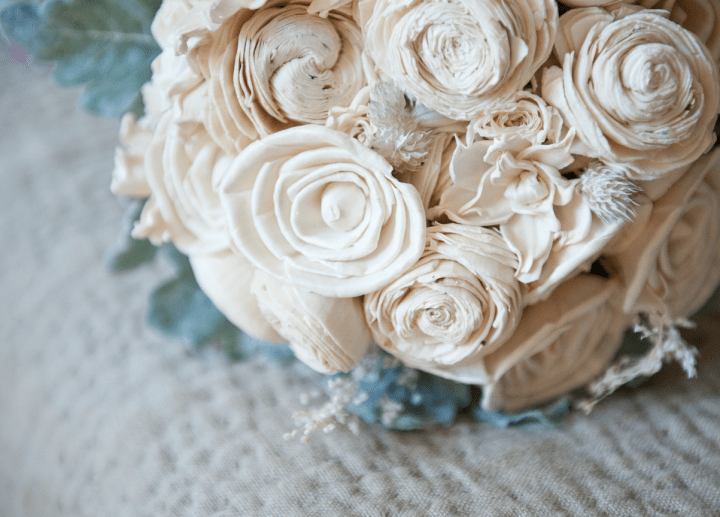 Paper flower bouquets can be just as beautiful as standard ones, and much easier to work with if you're planning a wedding on a budget. Beautiful bridal bouquets arranged with paper can be made months in advance, leaving the DIY bride to fret over things other than the freshness of her flowers.
Paper flowers can be purchased in a variety of colors, sizes, styles, and textures, and can be arranged and rearranged for as long as it takes to create the perfect bouquet. Consider using paper flowers for all arrangements in the wedding, and a great deal of stress will be lifted for the many brides who plan and arrange all the wedding details themselves.
Hand Tied Bouquet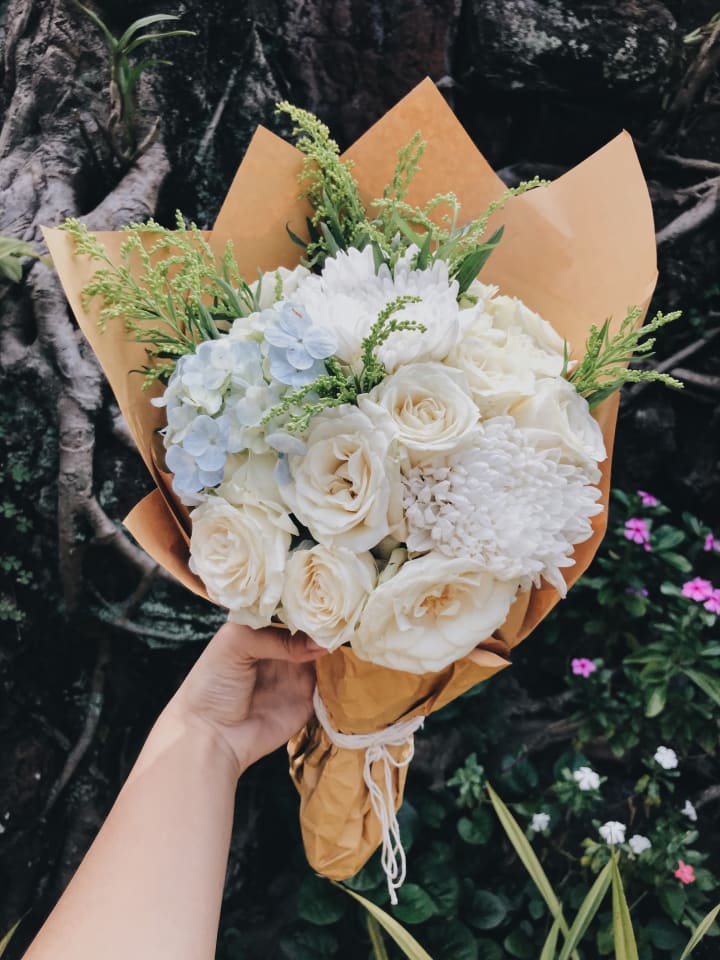 The sky's the limit with hand tied bouquets. Wrapped in anything from rope to twine, paper, or ribbon, hand tied bouquets fit well into rustic, outdoor, or backyard weddings. In recent years, many brides have chosen to use more natural elements in their wedding design, and hand tied bouquets fit in perfectly with that theme.
Hand tied bouquets are wonderful options for those choosing to use a large variety of flowers including peonies, ranunculus, spray roses, hydrangea; and different foliage colors and textures including non-traditional sprigs and sprays. They also help to bring a feel of casual freeness to a wedding as opposed to more formal bouquets typically found in indoor venues.
Freeform Bouquet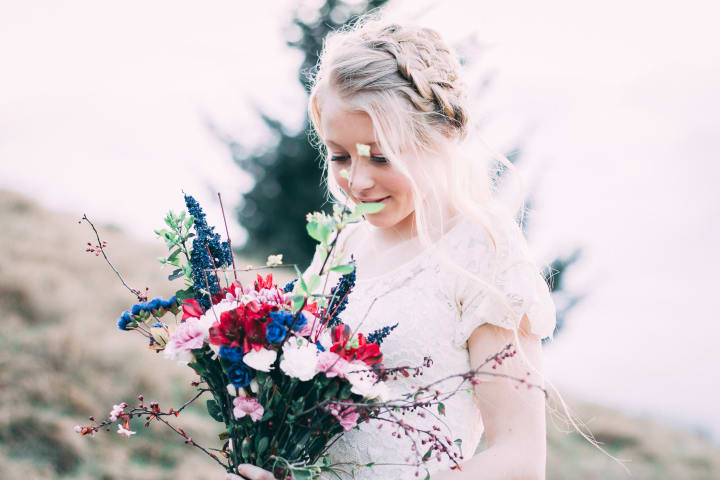 Freeform bouquets can be as wild as you are, with no limits to the creativity you put in its design. These type of bouquets are great for a variety of wildflowers and unruly sprigs and greenery. The bohemian nature of this bouquet lends itself well for use in rustic outdoor weddings. These beautiful bridal bouquets can be incredibly visually appealing, easy to arrange, and surprisingly affordable, depending on the flowers and foliage used.
These type of bouquets are great for the bride choosing to pick her own flowers at a PYO flower farm a couple of days before the wedding. While you save a good deal of money by going to a PYO flower farm, you'll never know what you'll walk out with. Freeform bouquets work well with any flower, so it won't matter if you don't find exactly what you're looking for.
Classic Lily Bouquet
There is nothing better than a formal lily bouquet to bring sophistication to a wedding. Lilies make a simply timeless statement when presented alone, in a small group, or bound with an elegant wrap. Lilies are versatile enough to be carried in any formal or informal wedding, whether it be outdoor or indoor. And they go well with most wedding dress styles.
The variety of lilies available can either be overwhelming or a bride's dream depending on your outlook. You can find them in a huge variety of colors, which means they are a great choice for wedding designers who are working with a specific color palette.
Fall Bouquet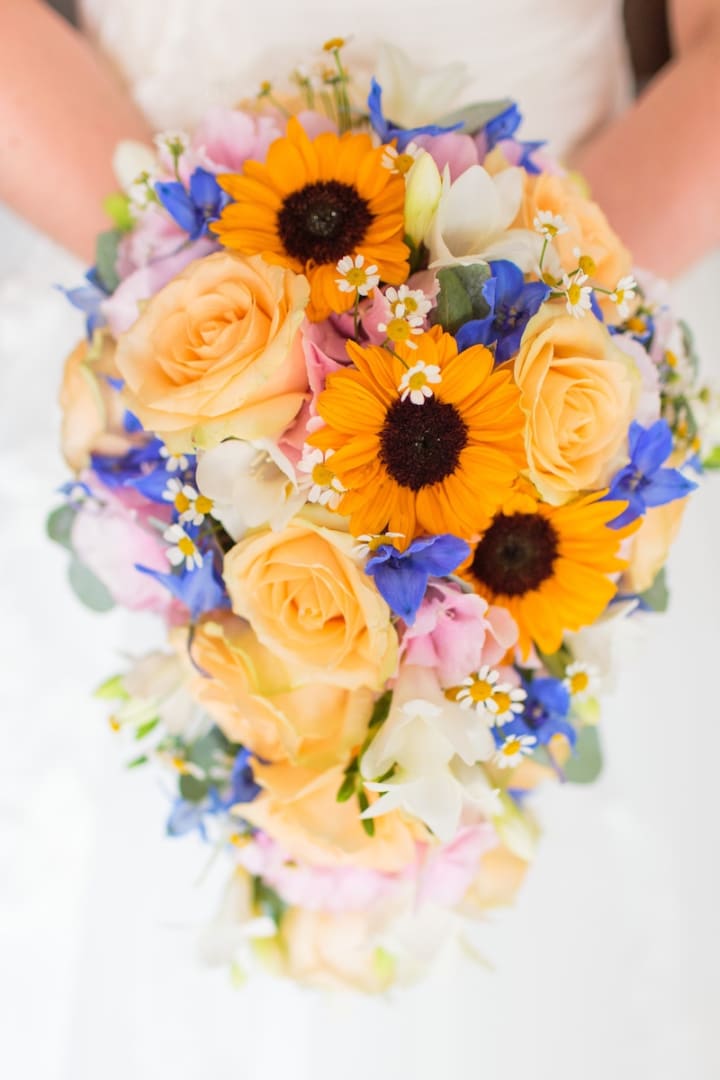 As summer comes to a close and the first fall flowers start to appear, the unique theme of a fall wedding can easily be accentuated by a bridal bouquet of in-season flowers. Sunflowers and chrysanthemums are both incredibly bright and cheerful and come in a variety of sizes and colors.
Choosing a bouquet and other floral arrangements with colorful fall flowers such as these sets a tone of casual fun and laughter for the vibrant wedding and reception you're hoping to have.
The Rose Bouquet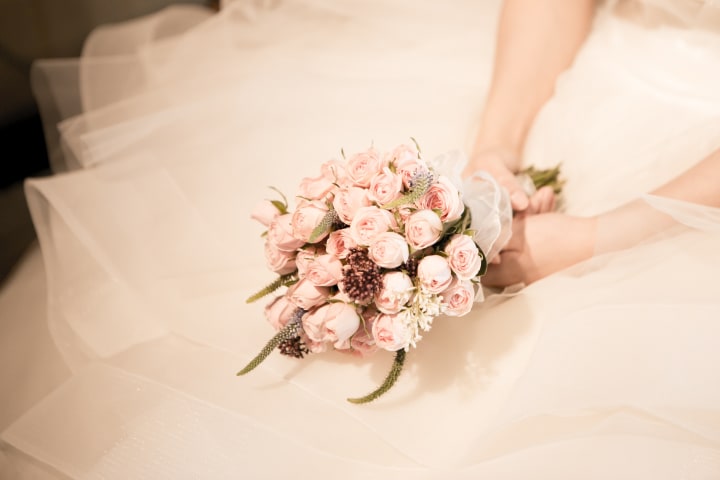 Like the lily, a simple rose bouquet is both elegant and timeless. Roses are the ultimate symbol of romance, so it only makes sense that they're featured so heavily in the most romantic and intimate of weddings.
Of course, roses come in a variety of colors and sizes, but they are most often arranged in large groupings of the same type and color, with a small number of accent flowers or foliage.
Because of their popularity, not only in weddings but for special occasions too, florists usually provide a wide variety from which to choose—such as spray roses, garden roses, English roses, Grandiflora roses, etc. And although they are a more expensive flower, they aren't as expensive as some of the other varieties of flowers that are popular today and make truly beautiful bridal bouquets. After choosing, all that's left to do is prepare for all the wedding photos you must have taken with your beautiful set of flowers.