Weekly Reading #38 for 2021 Mirror Dragon Tarot
Reading for 9-20 thru 9-26-21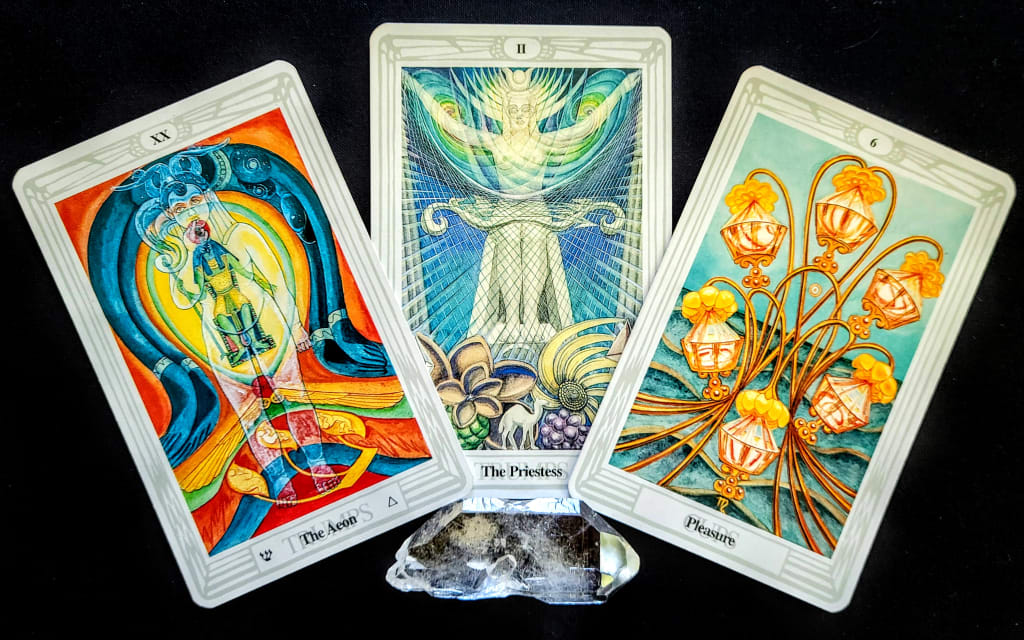 Thoth Tarot Deck
Free Weekly Reading #38 for 2021
Each week when I do these readings I set up my reading space with black fabric (for the photo, mostly but it also allows for and smooth, calm space to focus on the cards) make sure I have undisturbed quiet time; dogs are out, husband is at work/play/store/whatever, phone is off, etc… I begin with a quick grounding meditation and settle into a centered peace to ask for guidance in choosing the cards which will be most appropriate for the week ahead. I shuffle the cards with my intent in mind and spread them in a dealer's "ribbon spread". Then with eyes closed, I ask for the Center card, the West card and finally, the East card, reaching out to the spread, touching the cards and choosing the one that feels most fully under my finger tip, then sliding them into their positions. Before opening my eyes I return to a calm, centered state and do my best to sense whether the three cards I've chosen are the most fitting for the highest and best for all involved. Only then do I turn them face up and photograph them for the reading. There are times when I see the three cards before me and groan or breathe a sigh of relief but I always use the cards I've selected "blindly".
That said;
The Center card this week is The Priestess.
Humans the world over have been trying to define an inner knowing that there is a spirit or being or higher force outside of us since the brain developed an ability to acknowledge something greater than our physical selves. Along with recognizing that sense of guidance and calm, we humans have looked for ways to share the experience with others. The tripping points arise when we look to assign human rules or command-ment-s or the idea that the way one person, or even a group of people, sees it is the only way it can be experienced. When we begin to attach structure and substance to something much larger than any words can convey we trap it, winnowing it down into bits and bytes of its grandeur. It's like trying to define love. Explaining the way love feels only gets us so far. Conversational words don't have the capacity to express the feelings. It's why we have music, art, poetry and all things created to surpass the written and spoken word. I see The Priestess as the representation of that grand, cohesive force we've labeled Spirit, God, Buddha, Universe, etc. She is the knowing before words break it down into bite size pieces.
The West card is The Aeon.
The Aeon represents new birth, a new beginning, a new era. The energy of this card signals an awakening of sorts. When this card comes up expect a change in perspective. Whether it's a new job, a new love, a new understanding or simply a change in perception, the realization of a different way to interpret and express our desires, make things look new this week. Even if it seems that nothing in your life has made any big change, take a bit of time to consider what feelings are present in the way you respond to those around you or circumstances that arise. Do you feel confident in an interaction which has been challenging in the past? Is there a situation that's been acceptable "forever" but now seems irksome? Is there a desire or itch to change things up? Though changes can be frightening as they shift us onto unfamiliar ground, in my experience, they're often liberating and enlivening. The liberating and enlivening parts may have to be seen in hindsight but they're there. Really. I promise.
The East card is the 6 of Cups.
I'm pleased to see this card here. It gives me the hope that whatever outcome we find via this new perspective of reawakened understanding we find in the connection to that higher force; Spirit, Universe, God or the term that makes the clearest connection for you. The six of Cups represents good friends, support, good conversation, convivial interactions with friends, family and whoever we interact with this week.
In conclusion:
The Priestess nudges us to reconnect with that greater force, that macrocosm, we're all part of. To let go of the silly stuff, the mundane and petty, and shift the way we see things. When we can pull our heads up to look above petty squabbles and materially based anxiety, a clearer path will often appear as if by magic. The Aeon suggests that that new way of seeing over the potholes and rocks in our path allows us to navigate the challenges with grace, strength and cooperation. And the Six of Cups shows that calm, honest, uncluttered and enjoyable interactions reveal the success we have in working our way gently through challenging situations. This week, whether the new point of view comes naturally or is thrust upon you, take a calming moment to realign with the bigger picture, our connection to Spirit and the macrocosm of existence is key.
Have an enlightened week.
Light, Tory
TIP for the week:
Your journey molds you for the greater good, and it is exactly what it needs to be. Don't think that you've lost time. It takes each and every situation you encounter to bring you to Now. And Now is right on time.
Paraphrased from-- Asha Tyson
For personal readings please go to www.MirrorDragon.com
Feel free to share
spirituality
I'm an intuitive Tarot card reader. It's my day job and I love it. My journey began in 1977 when I had my first card reading. I was astounded and inspired so I bought my first deck, began to learn and I'm still astounded and inspired.
Receive stories by Victoria LaPointe in

your feed