Unhealthy Habits to Avoid for Healthy Aging
What habits to drop if you're looking to age gracefully and in a healthy manner.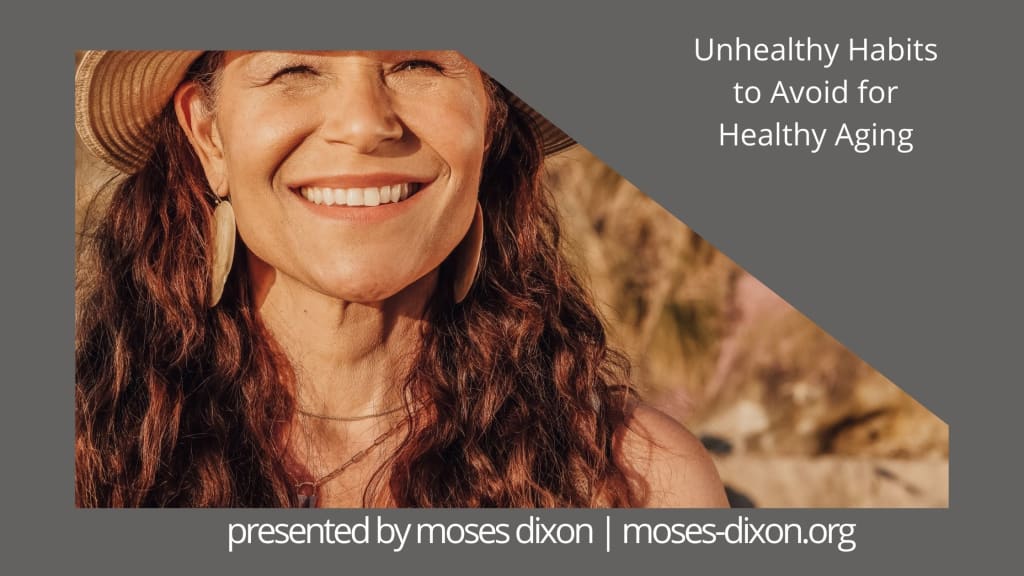 As we age, it's more important than ever to maintain a healthy lifestyle. Eating right, getting enough exercise, and avoiding unhealthy habits are crucial for staying healthy as we get older. This blog will delve into some of the most common unhealthy habits that can lead to health problems later in life. If you want to stay healthy as you age, it's essential to be aware of these behaviors and avoid them.
Unhealthy Habit: Persistently rubbing eyes can lead to fine lines and dark circles around the eyes
When you're tired, it's tempting to rub your eyes in an attempt to wake yourself up. However, this habit can lead to premature aging around the eyes. The skin around the eye is delicate, and rubbing it can damage the collagen and elastin that keep it smooth and youthful-looking. So if this is a habit your catch yourself frequently doing, try to break the habit by keeping your hands away from your face.
Unhealthy Habit: Lack of adequate sleep affects skin renewal
Inadequate sleep can take a significant toll on your skin. When you don't get enough sleep, your body doesn't have a chance to renew and repair the skin properly. This can lead to wrinkles, dark circles, and a dull complexion. To help keep your skin looking its best, it's essential to get enough sleep.
Unhealthy Habit: Using straws when taking drinks can lead to fine lines around the mouth
Sucking on a straw can cause the skin around your mouth to wrinkle and form fine lines. If you use straws often, try to cut back and see if you notice a difference in the appearance of your skin.
Unhealthy Habit: Stress releases cortisol, leading to skin breakdown
When you're stressed, your body releases the hormone cortisol. This hormone can break down collagen and lead to skin problems such as acne, wrinkles, and dullness. To keep your skin looking its best, it's essential to manage stress effectively.
Unhealthy Habit: Depending on makeup for sunscreen exposes the skin to aging
If you rely on makeup to provide sun protection for your skin, you may be putting your skin at risk for premature aging. Makeup does not offer the same level of protection as sunscreen, so it's vital to apply sunscreen underneath your makeup.
Unhealthy Habit: Ignoring your hands and neck can lead to UV damage and premature aging
The skin on your hands and neck is thinner than your face, so it's more susceptible to damage from the sun. If you don't protect these areas with sunscreen, you may notice wrinkles, age spots, and other signs of premature aging.
About Moses Dixon
A passionate interdisciplinary collaborator, Moses Dixon is a fierce community and economic development advocate living and working in Worcester, Massachusetts, as the CEO of the Central Massachusetts Agency on Aging. Recently, he graduated from the State University of New York at Binghamton in New York, where he completed his Doctoral degree in community and public affairs.
Moses Dixon is building a career focused on advocating for members of his community, especially those who have been disenfranchised and marginalized. As a hopeful and upbeat person, he uses his motivation and positive attitude to locate and address issues impacting senior citizens, communities of color, and the homeless population. Above all else, Moses strives to effect positive change for those in need in his community.
Moses Dixon has also been published throughout his academic career. In 2009, he published "A Qualitative Analysis of African Americans' Role in Preparing Future Leaders" with the National Conference on Undergraduate Research through the University of Wisconsin at La Crosse; in 2011 – along with eight other authors – he published "Youth and Young Adult Homelessness in Worcester, Massachusetts"; and in 2013, he published "A Strategic Overview of The Proposed Slots Parlor in The City of Worcester, Massachusetts Green Island Area" through Clark University.
About the Creator
Living and working in Worcester, Massachusetts, Moses Dixon is the CEO of the Central Massachusetts Agency on Aging, who believes heavily in building and developing his community for the benefit of all of his neighbors.
Reader insights
Be the first to share your insights about this piece.
Add your insights