Tutela Training System-Bringing the Best Version of Yourself to Reality
Visiting Tutela Training isn't just a trip to the gym, it's therapy, personal training, and a place where everybody knows your name!
Tutela Training Systems created by Justine Fruzzetti & Vimeo Create
6 months ago, after years and years of joining (and than quitting) dozens of weight loss facilities and programs, I finally stumbled upon a new one. Ironically, located no more than 2 miles from me. It was a business I saw almost everyday yet never took the time to actually check it out. I was too busy visiting the pizzeria, sushi, bagel, and liquor store that were also located in the same shopping mall. While I may have never "really looked" at it, I most certainly always heard it. "Heard it" you may be asking? Yes, I heard it, and so did the rest of the mall. With beat bumping music, men and women cheering, and the clank of iron over and over again, I am still astonished how I lived here 5 years without discovering this hidden gem that is TTS?
You see, no matter what words I use, pictures you see, or Vimeo I create, it still does no justice to what this small gym nestled in good ol' Clark, NJ embodies. Trust me, I hear the annoyance from my friends and strangers who have to listen to me go off on a "I LOVE TTS" rant whenever fitness is brought up in a convo. Shit, sometimes the topic doesn't even have to be fitness, it can be a song, movie quote, or daily life advice. Point being, if the opportunity fits, I plug it. Not to help sell memberships or anything like that, but simply because that is how I feel, and I am willing to bet most of all their members would agree!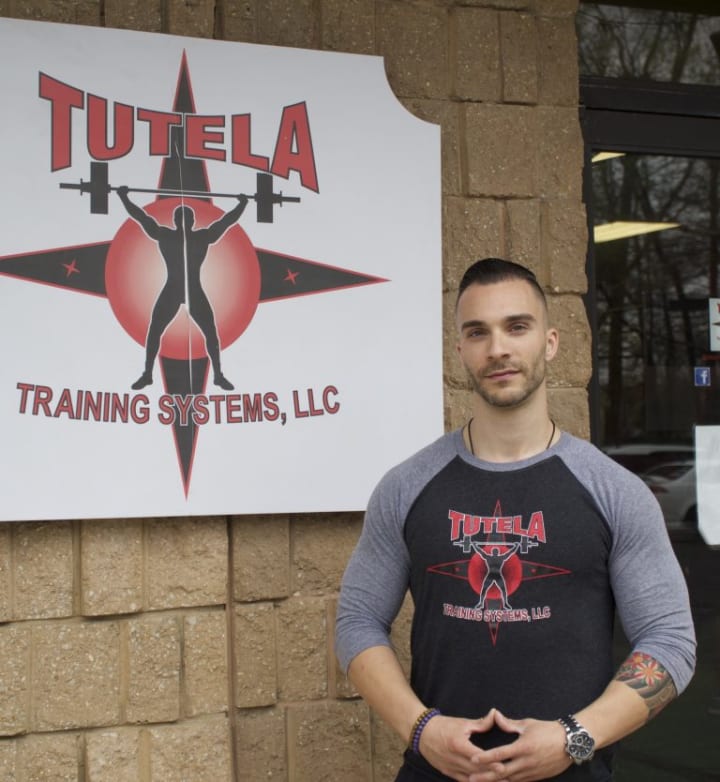 OK, ENOUGH WITH THE SAP LET'S GET TO THE PROGRAM
OK, so back in 2009, Chris Tutela of New Jersey was a self-contracted personal trainer. He hadn't always dreamed of being one, in fact his younger years were quite the opposite. However, after growing up surrounded by turmoil and bad decisions, Chris decided to turn his life around. He took his family's experience with addiction and disorder and used it as fuel to turn his than chaotic life into one of impeccable health and fitness. In 2012 Chris finally had his chance to take his knowledge and passion and open up the doors to his first and only business, Tutela Training Systems, or as we call it TTS! Chris told me, "I learned that you are able to transform whatever you don't like about your life into something better. You don't have to be depressed or unhealthy. I learned that training and nutrition were the gateway to change and I wanted to show the world how."
There mission is to show people how to be the very best version of yourself. Trust me, you will hear that phrase repeated in your face as you struggle with your last rep. It is a combination of nutrition, education, and 45-minutes of intense strength training, and not just lifting dumbbells' but all-out to-the-max how-in-the-hell-can-I-do-that, work out. Where you push yourself to a point you didnt know possible. Trust me, just a few years ago I was on the Zumba train and HATED weight lifting. In fact, due to past injuries, I couldn't get more than 10 pound weights over my head. Now? Well, now I am well into my 20 and 30-pounds weights and I couldn't be more proud. I know what you are thinking, "she must look big, like a body builder" and the answer to that is ABSOLUTELY NOT. However, that is part of the mentality change you will make. No longer was it, lose weight as fast as possible, deal with my injuries because pain is beauty. For the first 4 months, I barely lost weight, but what I gained was immeasurable. Not only did my strength improve, it impressed the shit out of me. I felt good! I felt strong! I FEEL BAD ASS! The weeks where I would skip working out came to an end as well because you bet your ass if I am not there, I am getting calls and texts inquiring my where abouts and encouraging me to get back. What about when an old injury flares up? No excuse there either, because Chris, Ruben, and James are there to modify every exercise to work for me, giving me just as hard a workout as everyone else without the danger. These custom routines change weekly to monthly with challenges along the way. Always striving to beat your last. On the floor and can't get that last rep in? Well than be prepared for 10 other members and your trainer to stand around and cheer you on giving you a boost of strength you didn't know existed. Strolling in at 8 p.m. and utterly exhausted? Well don't you worry because the bass of the Rocky soundtrack or techno and even explicit DMX, will have your ass up and ready to rock.
HOW CAN WE HELP
Listen, whether you are a pro-athlete or average Joe (and trust me they have trained both) TTS treats everyone the same. No matter age, gender, knowledge, or body type, each and everyone of us are trained with the same passion, each and every single day. However, COVID-19 has not been kind. Businesses around the world are suffering and many of the places so dear to our hearts, may not be there to open their doors when all of this is over. This cannot happen to TTS. It cannot. Not only will it effect the lives of the trainers that have dedicated their lives to us, but the 160 plus members that make the effort to get there everyday. To push ourselves to a stronger, more confident, and better version of ourselves. Despite the doors being closed, Chris and the team have not slowed down. In fact, I feel like I see and hear from them more now than ever. Quite the opposite of most businesses I would say. Even those providing online classes, TTS does that tenfold. Currently, they are offering a 4-week virtual coaching program called Stronger as One Challenge, where they coach you live, in your home with no equipment. In addition to those three training days per week everyone receives weekly nutrition coaching sessions with Chris, a private Facebook group for motivation and accountability (and trust me, they do), weekly challenges, and conditioning routines to do anywhere, anytime. They are also offering unlimited virtual yoga with & Flow Yoga and virtual classes for children, 3x a week. Seriously, what else could you ask for? That is why I urge you, if you are in the area or not, to take this chance at home to change your life. To allow Chris and his team to transform and motivate you into the better version of yourself. Check out their website today at https://tutelatraining.com !