This Is The Dark Side Of London -Lockdown Confessions
There is always something going on in the capital. Cities like London are unusual and exciting, but all that glitter is not gold.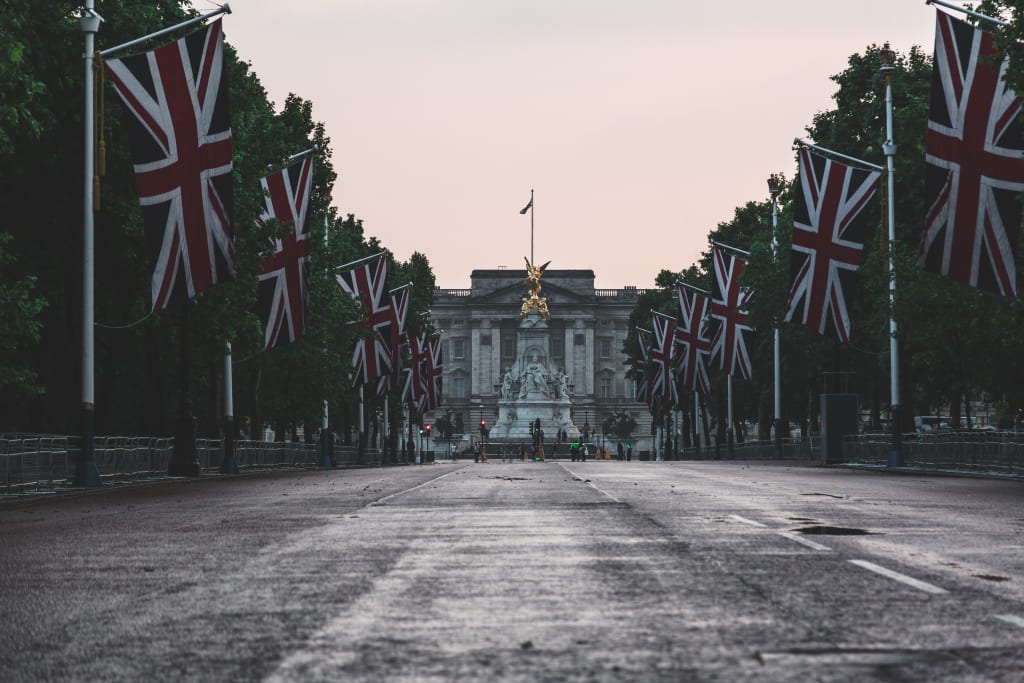 Photo by Matt Antonioli on Unsplash
London is a city of opportunities. It's a paradise for job seekers, explorers, art admirers, culture enthusiasts and adventurers.
If you're a millionaire, life in London is good. If you're an ordinary person, living in the capital is not always easy. If you are broke or poor, life is a struggle.
From the outside, everything is beautiful. Buildings, monuments, bridges, parks and the classiest cabs on earth. It's easy to fall in love with the views from Waterloo bridge. It is hard to believe London has lots of ugly too.
There is always something going on in London. The world is your oyster. And of course, big cities like London are unusual and exciting, but all that glitter is not gold.
The COVID-19 pandemic has shone a harsh light on inequality. Those living paycheque to paycheque in unsecured jobs are in a much different position to those in salaried jobs they can do from home.
Severe gaps in wealth, health and work went from being chronic problems to critical ones. Other inequalities have become even more significant in a time of social distancing.
Covid-19 had made the dark side of London even darker.
Properties for rent in London are not cheap.
When looking for a room for the first time, you may question whether prices are for a room or the whole flat, per week or month. It seems too expensive to be right.
Forget the British comedies where everybody seems to live in Bloomsbury or Notting Hill. That is more like an exception than the rule.
Moving from one flat to another is quite common. High tenant turnover is the norm. In London, people come and go.
But that's not the worst. The actual problems start if you lose your job and don't have much saved. It's not hard to find people who saw their life quickly fall into a "vicious circle" of drug addiction and homelessness.
I met people living in hostels sharing a room and one bathroom with sixteen other people.
We should all be social distancing and staying indoors over the next few weeks. It is ok if you live in a big house. The reality for many people around the UK, particularly in London is that it is proving to be hard.
Last night I saw this post on Facebook:
"I would like to share the story of my very traumatic morning that I had today. I mean, who knows it might be a helpful insight for some of you.

One of my flatmate's got the virus mid-March, we all isolated and things seemed fine. Luckily she managed to get over it without the need going to hospital"....

Last week one of our other flatmates' developed dry cough out of nowhere. He informed us so we started isolating again.

As he works for NHS he was offered a test for Covid. On Wednesday evening, our flatmate informed us that the test came out negative. I was obviously super pleased for him. I also just checked if he is feeling ok. All seemed to be fine.

However, yesterday I noticed strange noises (moaning, growling) coming out of his room (it sounded as if he is massively struggling and in pain). One of his friends came round later in the afternoon only outside of the house, of course, to drop him some food supplies.

The noises started again from his bedroom and went through the whole night. I woke up at 5am thinking to myself this is clearly not ok he must be in some kind of trance or totally out of it. I messaged him no response, I then knocked on this door and again he did not respond.

I decided to call 999 at this point. No problem getting through and I was told that someone will call back to check what the symptoms are. I received the call, I explained the situation and then I was told to go into his room. (Mind though i don't really know this guy because we are a house of multiple occupations so not your traditional flatshare situ).

I decided to call 999 at this point. No problem getting through and I was told that someone will call back to check what the symptoms are. I received the call, I explained the situation and then I was told to go into his room. (Mind though i don't really know this guy because we are a house of multiple occupations so not your traditional flatshare situ).

I wish whoever I was speaking with advised me to put a mask and gloves on before entering his bedroom!! That sadly did not happen, and I was not thinking clearly as was in a kind of panic mode. I saw the flatmate half on the bed half not, being totally delirious, not making any sense and not breathing properly. I was then asked to pass my phone over to him and to check his temperature (again not sure if this is best practise when dealing with covid patient, plus putting myself at great risk)

The person on the phone asked my flatmate if he wants an ambulance to which he kind of responded "No"

I had to intervene and say he is clearly not with it and does not know what is he saying. They then asked him what month/date/year is to which he responded all incorrectly. I almost had an argument on the phone trying to explain he simply needs medical assistance. It should not work like this!!!

Based on this, finally, the ambulance was called.

The ambulance arrived checked his temperature, which was over 40 degrees and his lungs capacity was below 50% meaning have I not called the ambulance he would most likely have DIED this afternoon. He went straight into ICU.

Please bear in mind he is in his mid 20's and doesn't seem to have any underlined condition, and HIS TEST CAME OUT NEGATIVE (I'm glad I trusted the gut instinct that was telling me "negative my ass", I don't believe it)

All of this has been a super traumatic experience as you can imagine, I'm still very much shaken by it and also getting all emotional and teary. However, also massive eye-opener!

By a girl living in London
The BMG poll for The Independent exposed the scale of hardship across the country following from the lockdown measures to stop the outbreak.
Young people and ethnic minorities are taking a disproportionate financial and employment hit from the pandemic, the pool revealed.
Commuting
Working in the city may look cool and exciting on the outside, but many City workers are stressed, unfulfilled and underpaid. Take a walk in the city on a working day and try to look into their eyes.
Occasional 'acts of aggression' can be part of your daily commute to and from work. Soon enough, you get punched in the face with a fist, a briefcase or any other available body part or object.
Nothing to worry about. You may have been attacked by a person trying to cut competitors, trying to get on the train.
A rush-hour train is a place with non-existent physical personal space. People create personal safety bubbles, avoiding eye contact and making travel time personal. Don't-you-dare-to-disturb-me policy.
Doctors warned that the London Underground could be a "hotbed" for coronavirus.
"In general, if an initial case is in a densely populated area, then the risk of sustained person-to-person transmission following is higher," said Dr Robin Thompson of Oxford University.
"This is exacerbated by the fact that London is a transport hub, and the underground could provide a network to spread the virus quickly," he added.
Yet, London commuters should "go about their business as usual", they told us.
London's Mayor said he was doing everything he could "to keep transport workers and passengers safe". Yet, on 13 April, Sadiq Khan confirmed 21 transport workers have died after testing positive for coronavirus. They include 15 bus workers.
London is a place of romance.
Yet many Londoners feel disillusioned by the lonely city that takes energy and sentiments away. This makes London a place of indulgence, one-night stands and the general commitment-phobia.
Distances in London are so big and life so busy. You need to book two weeks in advance to catch up with a friend. When the day comes, either party is allowed to feel tired enough and end up postponing.
Parties in Central London tend to be overcrowded and overrated, being gatherings of too many random people.
There are millions of them, they come from practically every part of the world, but they tend to come and go.
London is a city of no commitment. There are so many companies, males, females, flats, bars, temptations and places to go. Sometimes it's easier to move on. Moving to a more exciting option is easier than making an effort in fixing existing problems.
As government scramble to contain the Covid-19 pandemic by limiting public life, those who are alone have had to accept that they might not spend time with anyone else for a long time.
I know because I'm one of them.
Weeks into the lockdown, my everyday life in London goes on, but it feels strange. I feel lucky to have Sam, my crazy cocker spaniel, for company and ability to go for walks when others cannot.
But it's hard not knowing when I'll see my friends or family, who live hundreds of miles away.
You will find them all on the London tube
The beautiful, the exotic, the weird, the extraordinary, the colourful, the depressed and the depressing.
If you like observing people, you'll never be short of variety. People tend to avoid eye contact, so don't worry that anyone might catch you staring.
You'll see a lot of tension and frustrated gestures. If you see people who are relaxed and with a healthy glow on their faces, they're tourists (none of them is around at the moment).
Sometimes the traffic, anonymity, stress, competition and emotional indifference get you.
Not everyone ends up making money in London.
And for one that achieves it, there are hundreds sacrificing everything for not much in return.
Covid-19 pandemic will change the way we live forever.
The virus itself doesn't discriminate, but the system does, and that has left many communities extremely vulnerable both on health and economic grounds.
Life in London will still be exhausting.
You may either love it, hate it or both. But, no one is indifferent to London.
humanity
I write about politics, society and the city where I live: London in the UK.