This Is One Of The Most Active Cities Suddenly Turned Into A Beautiful Ghost Town
Our once-buzzing metropolis is suddenly tranquil indeed. There's something peaceful and at the same time unnatural about it, as London is famously jam-packed at any time.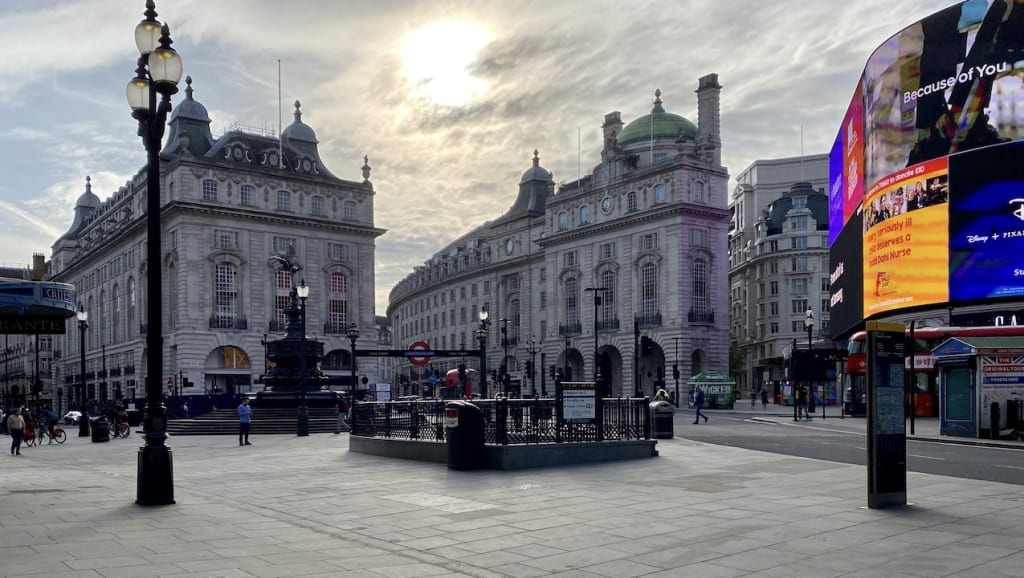 Piccadilly by Anton Black
I heard that nineteen people had been arrested and a further ten fined after a group gathered to protest against coronavirus lockdown restrictions in Hyde Park, on Saturday.
So, armed with a face mask, camera and my protection dog Sam (my fearless cocker spaniel) I went to see with my own eyes what was happening in central London.
I went for a socially distant stroll through central London and caught this moment in our history of a city like no other.
From Haymarket, Piccadilly Circus, Chinatown, Regent Street and Oxford Street with barely a soul in sight, to deserted central London world-known parks, Buckingham Palace, Horse guards parade, House of Parliament and the London eye, I saw London like never before.
Walking through the streets, famous London landmarks are deserted.  Restaurants, bars and clubs — some of my favourite spots — are closed or boarded, and there are no shops open, except for grocery stores and some supermarkets.
The buzzing city I know and love usually is bustling with commuters and tourists. Now it has transformed into an eerie and hauntingly silent ghost town, with only empty buses and some rare black cabs breaking through far much less polluted air.
I usually struggle to get through the crowds here. On this sunny Sunday, however, I only a couple of souls made an appearance. Even the pigeons. took shelter. They are staying home, I guess.
Part of London's theatre-land's beating heart, a bus and a man on a bike displaced thousands of tourists, business people, and film crews who normally riot up and down the busy streets.
The eeriest place
A bare Piccadilly Circus. Although the lights of the famous neon lights still shine strong, the steps of the Statue of Eros are empty; no singers or street performers are entertaining the crowd, all the stores, restaurants, bars, and theatres, closed. It is the cleanest I have ever seen it, with no rubbish in sight or newspapers thrown-away.
No buses, taxis or cars roared up the famously busy Oxford street and secondary roads, with the exception of the solitary walker, Bond Street remained lifeless.
Oxford Street, long considered Europe's busiest shopping street, was the definition of a ghost town.
No cars, buses, or taxis roared up the street's famous curves, and except for the lone homeless man, John Nash's legacy avenue remained lifeless.
Rainbow flags continued to flutter. The only bit of normality I saw in the area. The bars pubs and cafes of Old Compton Street are sealed shut, with my favourites Cecconi's and Cafe Boheme boarded up.
The air was so pure in Green Park that I could scent the daffodils that say something because the daffodils don't actually smell much. Green Park, which attracts crowds of people on a sunny Sunday, is mostly empty in every direction you look.
While the Queen remains in self-isolation at Windsor Castle, her London HQ stands unscathed, with the two guards at a considerable distance from each other looking very lonely.
They continued social distancing also when two different guards arrived to release them. Near the gates, a couple, probably self-isolating together, took the opportune selfie with the eerily silent palace as background. The sounds of ambulances shouting from a distance are almost comforting.
I've associated Westminster with the art of protest, gatherings of wanderlusters, and the bells of the Abbey. On a sunset walk from the parks, a couple or so cars, buses completely empty, and a family (not social distancing, that's for sure), and two police officers manning the gates of Westminster are the only signs of life I met.
The streets around Parliament are empty, usually crowded with tourists, street vendors and stressed London commuters.
The famous red buses in London keep looping Parliament Square – but they are completely empty beside a driver.
How much life in London has changed in just a few weeks is hard to comprehend if you don't see it. One of the world's busiest cities has pressed the pause button.
I don't know when we will hit play again, but you can be sure life won't be as it was.