The Weather Outside is Frightful
Health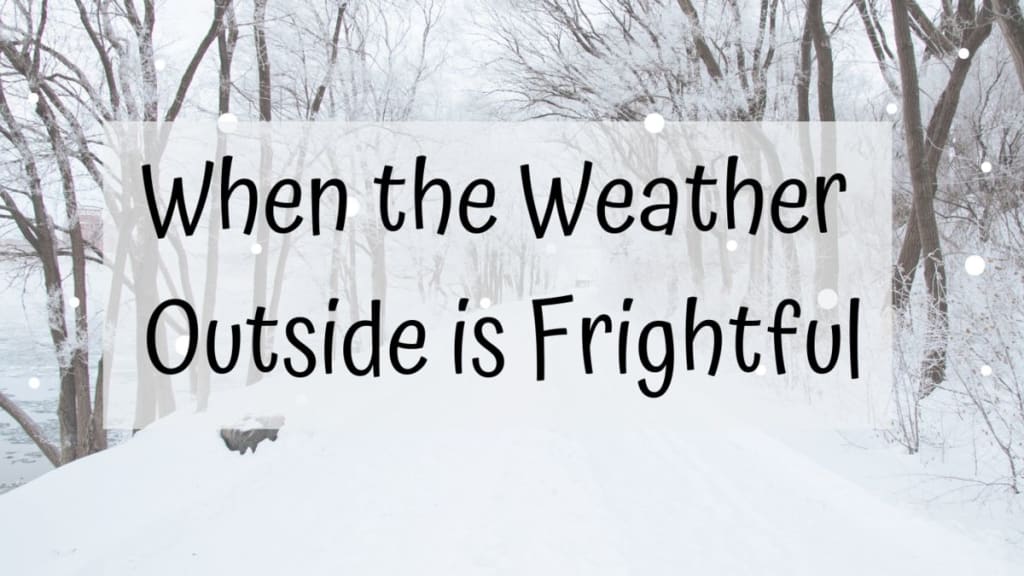 Even if you like to workout outdoors, the bad weather doesn't have to ruin the fitness regimen you've been enjoying since the spring. There are rules to observe while exercising outdoors in severe weather, as there usually are.
The effects of excessive exposure to the cold include frostbite, earaches, weakened immunity, and hypothermia—all of which are very undesired and easily preventable. Therefore, the first step in getting ready for safe winter activity is wearing correctly. Layering is the first guideline for suitable attire. Even though you've undoubtedly heard it before and it may seem obvious, it bears repeating. Even though you'll warm up via exercise, it's not a good idea to start out in shorts when it's freezing outside. One issue with not clothing warmly is that your muscles may struggle to warm up, which means they won't be as supple as they should be, increasing your risk of injury. Another issue is that you won't have enough energy for an effective exercise since your body will use a lot of energy attempting to keep you warm. Start your exercise with plenty of muscle covering, but don't go overboard. It will be challenging to take off layers that must then be carried for the duration of the exercise unless you are bicycling with a backpack or have disposable clothes. Finding a balance between wearing conservatively and dressed warmly is a problem. Also keep in mind that sweating is a typical workout side effect. Don't begin stripping off simply because you begin to perspire. Keep in mind that you would embrace perspiration as a sign of a successful exercise if you were exercising in a warmer environment.
Determining the severity of the weather is a crucial step in getting ready for outdoor activity. Going outdoors is the greatest option for doing that. Although it may seem simple, many individuals get ready in their cozy homes and immediately go outdoors to begin their workout. You can determine whether you are suitably clothed after three minutes of exposure, although it is usually preferable to do so in your backyard rather than a block from your home. So, to make sure you're dressed warmly enough, I advise you to go outdoors in the clothing you've chosen to wear and walk about for a while. To make sure the chilly air doesn't seep in through any holes in your clothing, swing your arms and circle around. Shaking your head helps prevent your ears from getting too much cold air in them, which can cause earaches. Additionally, take several deep breathes while observing how the chilly air affects your nose, lungs, and throat. I advise putting on a scarf or turtleneck if inhaling deeply hurts, since it will cover your mouth and nose and warm the air you breathe in. To avoid wishing for warmer gloves, open and close your hands while waving them in the air. Decide if a hat is necessary by keeping in mind that the bulk of our body heat is lost via the tops of our heads. Check to see whether there is any wind, if there is any cloud cover, and if the sun is shining brilliantly. Then, if required, return inside and change into new clothing.
The sun sets considerably sooner today than it used to, which is a third consideration for safe winter activity. Make sure you are visible to oncoming traffic if you decide to exercise in the evening or late afternoon. Put on light-colored clothing or a reflective orange safety vest over your existing clothing. Having reflector strips on the heels of your shoes is another smart move.
Additionally, there are a variety of methods to stay active inside when it's warm, like treadmills, stationary cycles, indoor pools, etc. Check to see if your local gym has a three- or six-month membership, or invest in some equipment for your house – you never know when the summer heat will be at its worst when you'll need it again.
Making exercise a priority is the key to keeping up a program, regardless of the season—spring, summer, autumn, or winter. The chilly weather won't prevent you from working out if exercising is actually one of your top priorities. Let it snow, let it snow, let it snow as long as you're exercising safely. It doesn't matter if you do it indoors or outdoors.
Reader insights
Be the first to share your insights about this piece.
Add your insights