The Importance of Elbows in Both Self-Defense and Competition Fighting
#ElbowsWinFights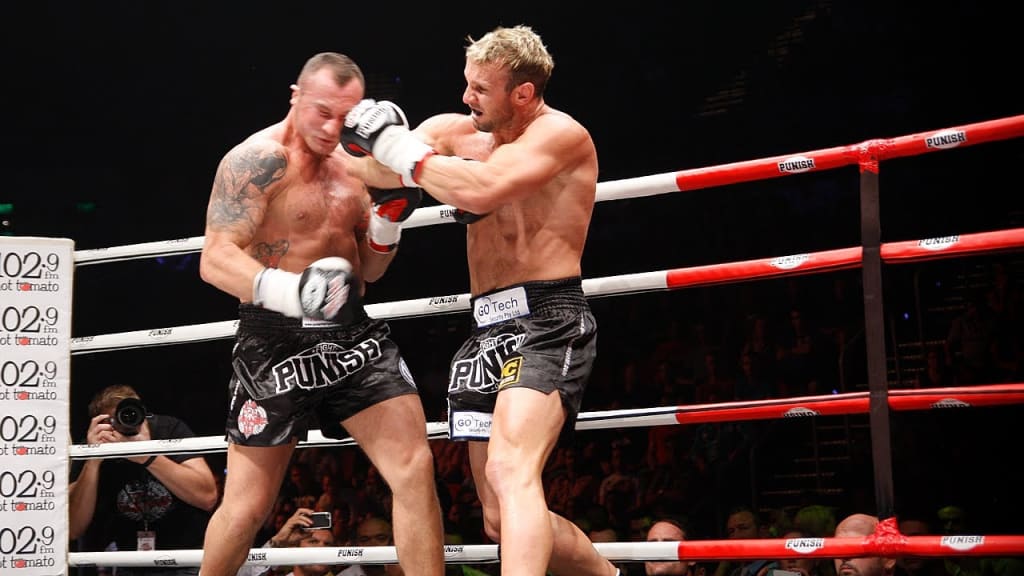 In today's world, where self-defense knowledge can save your life and possibly others around you, it's good to know the tools at your disposal, especially the ones that can stop an assailant in their tracks and get you out of harm's way fast. Perhaps the most efficient of these tools is the elbow. Whether you are fighting professionally as a Thai boxer or mixed martial artist, or just want to feel safer in the street, schooling yourself in elbow strikes is almost essential.
Few strikes have the damage potential of a proper elbow. The most common result of landing one is a cut, usually above the eye or on the head somewhere. Even for someone fighting on a professional level, seeing, smelling, and tasting your own blood is unnerving, to say the least. It dwindles confidence and invokes fear in whoever is opposing you. In short, other than say, a well-placed knee, there is no swifter way to end a fight or physical confrontation as we've been shown many times in mainstream MMA.
Even those who consider themselves ground fighters or grapplers can benefit from training in elbow strikes because if you can do it on the feet, chances are you'll be pretty good at doing it on the canvas as well. Elbows can inflict maximum damage with minimal effort, making it the ideal weapon for any kind of in-fighting or close quarters combat. Other martial arts like Krav Maga and Shotokan Karate put the elbows to use and most law enforcement and military combat training programs incorporate them, proving again that elbows are indispensable weapons when honed properly.
Muay Thai - The Origins of the Elbow Strike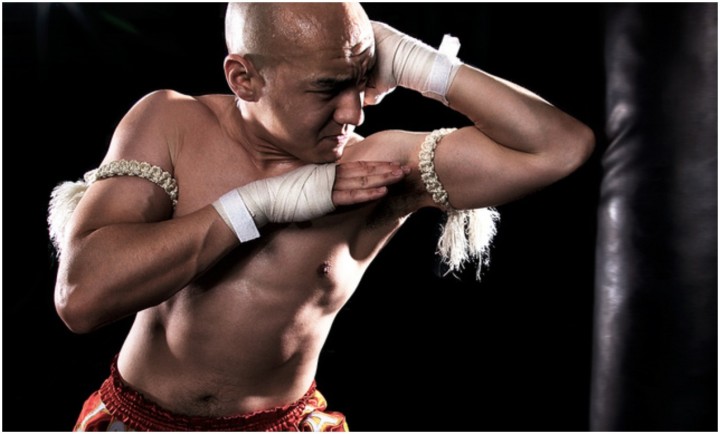 There are many that would argue on the actual origin of the elbow strike and truth be told, who really knows? It's a question with many answers from many different parts of the world. As far as elbows employed in competition though, there is no argument that Muay Thai has staked it's claim here. The traditional Thai word for elbow is "Sok," with many distinctive variations of the technique having disparate names. Different elbows are intended for particular results such as cutting or rendering unconscious. Here is a list of the eight traditional Thai elbow strikes:
Sok Ti - Slashing Elbow
Sok Ngad - Uppercut Elbow
Sok Tad - Horizontal Elbow
Sok Tong - Downward Elbow
Sok Chieng - Diagonal Elbow
Sok Sab - Chopping Elbow
Sok Ku - Double Elbows
Sok Klab - Spinning Elbow
There are many competitive forms of fighting and martial arts that also work for self-defense but many are limited to one set of skills. Muay Thai teaches movements that, if harnessed, allow you to strike from just about any angle with any one of your eight weapons: hands, elbows, knees and feet. This is why the monicker "Art of Eight Limbs" is so often used in reference to the ancient craft. Western boxing, for example, is a complex science of punching and slipping, while Muay Thai has remained a form of art where spirituality, hardship, and the search for something more alchemize into a brutal form of combat that provides stability for an entire nation.
Elbows in High-Level Mixed Martial Arts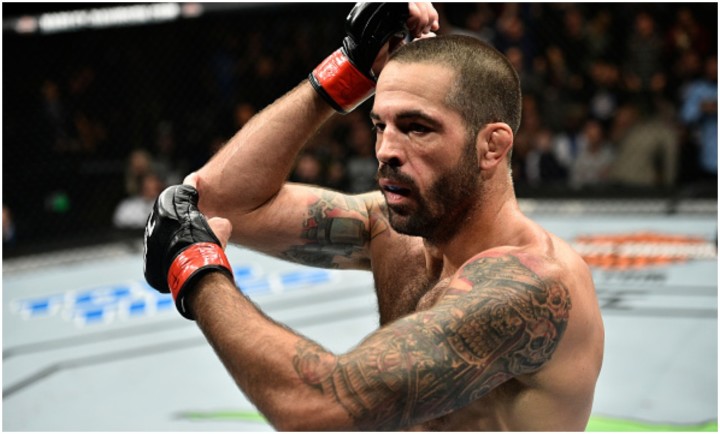 Mixed martial arts has made leaps and bounds in terms of commercialization and mainstreaming, giving way to some epic ESPN highlights or fan-made reels. More and more you are seeing the high-level guys utilizing elbows to finish fights. Most recently... and stunningly was UFC veteran Matt Brown, who leveled his opponent (literally) with a remarkably fast and violent elbow to the temple, otherwise known as a Hellbow. The knockout was immediately followed by a celebratory strut around the Octagon, pointing at his elbow in tribute to the fight-ending appendage (pictured above).
Thai stylist and former longtime UFC champion, Anderson Silva has shown us several times just how calamitous a perfectly timed elbow can be to an opponent. A good percentage of fighters on the professional MMA circuit make the journey to Thailand from around the world to sharpen their striking while enveloped in paradise but it's a pricey flight for most. A select few of the top Thai coaches and former competitors have made their way here to the US to pass their knowledge on, where there is a strong market for it. Following in those footsteps is now retired Aussie Thai boxer Nathan Corbett, who will be coming stateside soon for an extended seminar tour with the ultimate goal of being the go-to elbow and clinch guy for the top-tier competitors in mixed martial arts.
In the video below, aforementioned MMA vet, Matt Brown talks briefly about his love of the elbow and how watching Carnage throughout his career inspired him to start sharpening his own.
If you want to learn... learn from the best!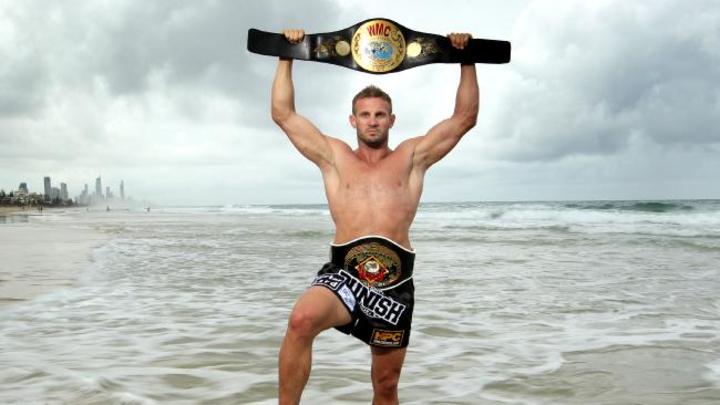 Carnage does not restrict his teachings to fighters. Anyone willing to learn and invest time in bettering themselves through the discipline of fighting can book a private session, or round up some friends and do a group workshop. Whether you've never thrown a punch or kick in your life or you're a pro, Nathan can show you the way. His smooth Aussie accent doesn't hurt either. If you follow his exploits and travels already, you know he also incorporates principles and movements of Yoga into his regimen, which works to balance the rough and tumble of Muay Thai and makes it more approachable for women and even the older crowd trying to stay motivated and in shape.
It's kind of cliché, but they don't call him Carnage just because it sounds intimidating and cool at the same time or because he's a fan of the famous Spidey villain. All but a dozen or so of his wins come by way of bloody KO or referee stoppage due to cuts from elbows. One of the best strikers in the world, Nathan is now 100% focused on building his brand and name in America while inspiring others to accomplish their goals and be the best striker, and person, they can be. A big part of his program covers mindset and mentality, both for fighters and the average Joe looking to toughen up. Carnage will also be doing international seminars over the next three years in the UK, Spain, Italy, Asia, Mexico, South America, and more.
Mr. Corbett offers motivation to sharpen your elbows in the form of the video below, explaining why you should start honing your own God-given weapons ASAP. Carnage will most likely be in your city or area at some point. Should you have a desire to book a seminar, private session or small group workshop with the Elbow Master, it's only an email away. For bookings and other inquiries, please send an email to [email protected] Oss!
athletics

David Herbert
NYC based aspiring TV writer and novelist, former combat sports reporter and writer now managing and working with some of the biggest names in professional kickboxing and Thai boxing. Comic nerd, Koga ninja and animal lover.
See all posts by David Herbert →