The Curious Case of a Marine Veteran COVID Survivor
I Survived COVID!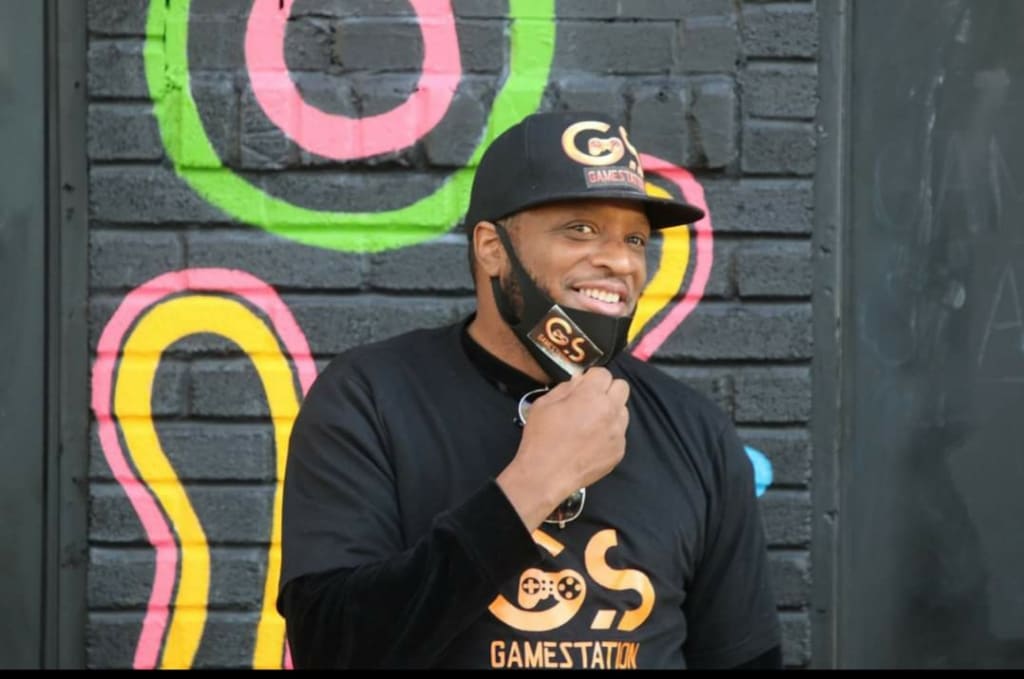 Chris Ricks at mural unveiling. GameStation 4 months after leaving hospital
The curious case of a COVID Survivor.
A veteran's journey through the Pandemic.
2020 was a crazy year. My wife and I recently opened our first business, GameStation, a modern arcade and event space in Queens Village, New York, months before the global pandemic.
Business was great and we were excited to see what the summer had in store for us. When I am not at GameStation, I work as an electrician with my father. I became an electrician in the late 90s while in the Marine Corps.
In February, I became ill after a job. I thought nothing of it until I started throwing up. I had a high fever and was extremely nauseated. I was weak and could barely move. My brother took me to the urgent care center where they couldn't figure out what was going on, they eventually took me to a nearby hospital. After several hours, the hospital diagnosed me with a stomach flu and sent me on my way.
Two months later while working on a different job site, I once again became ill. I became very hot and dizzy, I had shortness of breath and confusion. I called my wife and told her how I felt, she told me to come home and get some rest.
Still dizzy, confused, nauseated, lightheaded, with hot flashes, I jumped into the car to head home. I pushed the button to start the car and immediately began to vomit all over the car. I took a picture and sent it to my wife. Then I started on my way.
The next thing I remember is waking up in the hospital more than a month later with my wife telling me they thought I wasn't going to make it. By "they," she meant the hospital. Throughout the course of my stay after waking up, she would visit me and tell me bits and pieces of my ordeal. She said she couldn't tell me all at once because she didn't know how I would handle it.
She started to tell me and showed me pictures of me being in a coma. My fingers were swollen up like sausages, my face was bruised, and blood residue sained my face, my feet were swollen and covered with layers of dead skin, my lips busted and swollen beyond recognition, I had blotches of hair missing from all over my head. I didn't know the person in the pictures. I was in a coma for more than a month, I had pulmonary embolisms bilaterally in my lungs, the hospital gave me a drug called TPA. This drug is what's known as a clot buster. One of the side effects? It causes a brain bleed.
She told me how I kept complaining of a severe headache and how the nurses would ignore me. When they finally came t, they merely gave me Tylenol. My wife as a nurse asserted that in order to know a patient has a brain bleed after being given TPA, a symptom to watch for is a severe headache. My wife said she pleaded with the hospital to give me a CT scan to verify that everything was ok. They gave me the COVID test ten times, they did X-rays but not a CT Scan. When they finally did, they discovered that I indeed have a brain bleed and at that point of discovery, the brain bleed had already cause damage. I lost total vision in my left eye and 60% in the right.
After the brain bleed, I aspirated into my lungs and things took a turn for the worse. I was placed on a ventilator and induced coma. During this time, my problems magnified. My lungs collapsed. They told my wife I would need a double lung transplant. This was something unheard of. They began to tell her to prepare herself and my kids for my death.
She persisted. After the lungs collapsed, my kidneys failed, and I was placed on dialysis. She was told I would need a double kidney transplant. This too was unheard of. I might be able to get one kidney but two is nearly impossible. I would probably be on dialysis forever which will shorten my life expectancy and my quality of life would never improve. Again, she was told that I was very sick and not improving and for her to prepare herself and the kids for my death.
My wife recounted, each time she would visit, something else went wrong. After the kidney failure, the left side of my heart failed. Again, she was told, prepare herself and the kids for my death but she persisted. She would visit me daily and play my favorite music and sing to me while in a coma. She had the kids talk to me every day even though I could not respond to them. She remained optimistic and persisted day in and day out. She brought pictures of my family and posted them on the wall. Her logic? She wanted the hospital staff to treat me life a person and if they saw me with my wife and five kids, it would compel them to treat me like a human.
Time dragged on and I showed no sign of improving so she had a tough decision to make. They decided to pull the plug. She said if I didn't breathe on my own, there would have been a different author to this story.
I woke up! My voice was gone form the extended intubation, I couldn't walk, I couldn't eat. I had to relearn all of these basic things we take for granted. I noticed that my vision was bad, the doctors assumed it was probably a side effect of one of the meds and it would go away.
The next few weeks was a nightmare for me. They took me off the PTSD meds I was taking, and the nightmares began. She told me I kept seeing dead Marines all around me while I was wide awake, but it wasn't the stories I used to tell her it was more gruesome. I kept those from her, but no medication management allowed for much of it to come out. I went through withdrawals because I didn't have the meds in my system. It was a frightening experience, but I met every milestone I needed to meet so that I could be discharged. One doctor told me, that it's impossible that I'm alive right now. Everyone knew I wouldn't make it out of the hospital alive.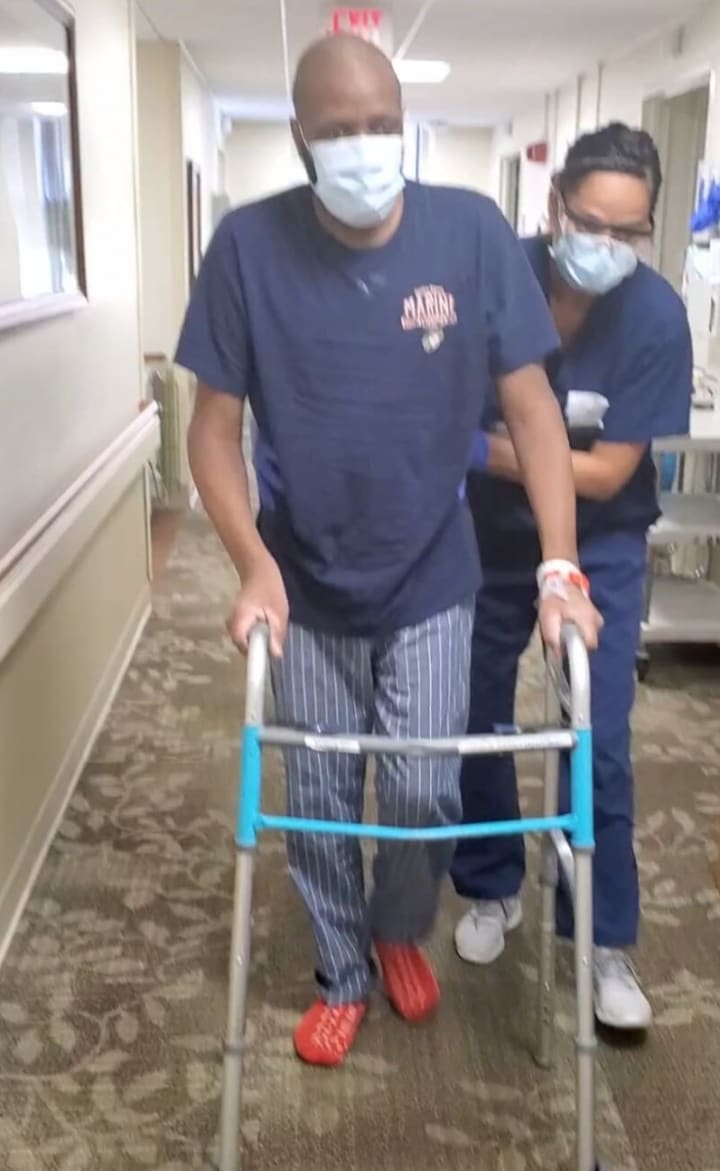 I saw on the news where so many people had the same ordeal that I had and had gone through but were met with a different fate. A friend of mine was also hospitalized for COVID, he didn't make it. I questioned existence, why did I survive, and he didn't. Why did I survive and so many others didn't?
Over the course of the next few months, I started to walk, speak more, eat more, and gain weight (I lost almost 40 lbs). I was determined to get back to my business. I hadn't been there in months, the stores and shops closed down and no business was opened except essential businesses. Months passed and the Landlord needed payment.
A Facebook group called the BlaQue Resource Network, helped my family with food and supplies while I was hospitalized and during my recovery. They came to the rescue again creating a fundraiser to help us pay some of our bills. Some of my Marine Corps vet buddies also created a fundraiser to help us in our time of despair.
Although the funds collected were not enough and we still struggled with GameStation, the BlaQue Resource Network has been with us each step of the way.
Thanks for listening, you can view more of my work by clicking on my name Chris Ricks and reading other articles I've written.
Reader insights
Be the first to share your insights about this piece.
Add your insights