Ten Percent Happier partners With Dalai Lama on Meditation Training
Free 10-day meditation challenge with The Dalai Lama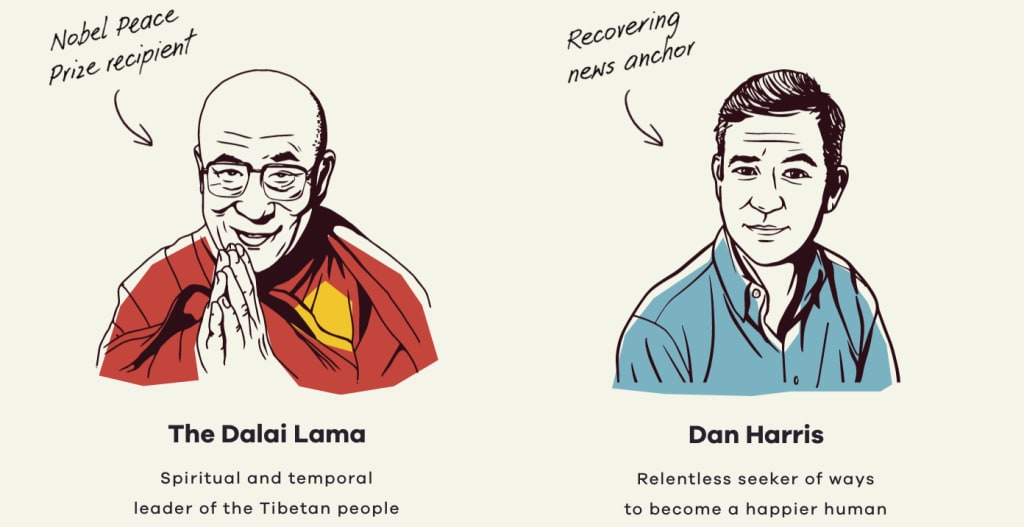 Several studies on the effectiveness of antidepressants came to a similar conclusion that, no doubt, upset the pharmaceutical industry. Antidepressants were no more effective — and sometimes less so — at treating anxiety and depression than meditation and mindfulness.
Suddenly, meditation and mindfulness were legitimate tools in the treatment of anxiety and depression.
That's why on January 9th, Ten Percent Happier and The Dalai Lama are launching The Dalai Lama's Guide to Happiness, a free 10-day meditation challenge featuring practices that have been cultivated and refined for thousands of years, and are now being proven by science.
With wisdom and guidance from both The Dalai Lama and Ten Percent Happier founder + Mindfulness Expert Dan Harris, The Dalai Lama's Guide to Happiness confronts the question: if the purpose of life is to be happy, how do we go about achieving that? Over the course of 10 daily lessons, Dan + His Holiness employ a suite of meditation skills that will help listeners achieve happiness that goes beyond individual pleasure-seeking to include collective well-being, joy, and meaning.
The 14th Dalai Lama (spiritual name Jetsun Jamphel Ngawang Lobsang Yeshe Tenzin Gyatso), known as Gyalwa Rinpoche to the Tibetan people, is the current Dalai Lama. He is the highest spiritual leader and former head of the country of Tibet. He is also the leader and a monk of the Gelug school, the newest school of Tibetan Buddhism, formally headed by the Ganden Tripa.
This project is a true collaboration, with Jade Weston, a Ten Percent Happier Meditation Teacher, being heavily involved in developing the lesson content.
If you don't know, Ten Percent Happier is more than just a podcast or business to founder Dan Harris.
Harris has assembled an impressive career at ABC. He joined ABC News in 2000. He anchored World News Sunday from 2006 to 2011 and frequently anchored World News, ABC World News Tonight weekend editions and Nightline. In August 2021, Harris announced that he would be leaving ABC News to focus on his meditation company, which is Ten Percent Happier.
After having a nationally televised panic attack, Dan Harris knew he had to make some changes. A lifelong nonbeliever, he found himself on a bizarre adventure involving a disgraced pastor, a mysterious self-help guru, and a gaggle of brain scientists.
Eventually, Harris realized that the source of his problems was the very thing he always thought was his greatest asset: the incessant, insatiable voice in his head, which had propelled him through the ranks of a hyper-competitive business, but had also led him to make the profoundly stupid decisions that provoked his on-air freak-out.
Eventually Harris stumbled upon an effective way to rein in that voice, something he always assumed to be either impossible or useless: meditation, a tool that research suggests can do everything from lower your blood pressure to essentially rewire your brain.
Harris's epiphany was the catalyst to his founding of Ten Percent Happier — the podcast, the app, and the meditation training.
Listeners can join the Dalai Lama meditation challenge here.
For skeptics, Harris may be hawking lifestyle habits for a price. Or, he may be advocating for tools that can help all of us cope more effectively with life. I think that the fact that Harris made drastic and wholesale changes to his life leads me, and possibly you, to the latter conclusion.
In a world where recent research shows that antidepressant medications may be no more effective than mindfulness and meditation, Harris's predilection for such holistic therapies may be onto something.
About the Creator
I am a South Jersey-based author who is a writer for the Pod-Alization podcast blog on Substack, Ear Worthy on Medium, Podcast Reports on Blogger, Auditorily on Vocal and The Listening Post on Tealfeed.
Reader insights
Be the first to share your insights about this piece.
Add your insights