Sukku Coriander Coffee
Sukku Coriander Coffee Coriander seed removes flatulence and corrects flatulence, indigestion and indigestion.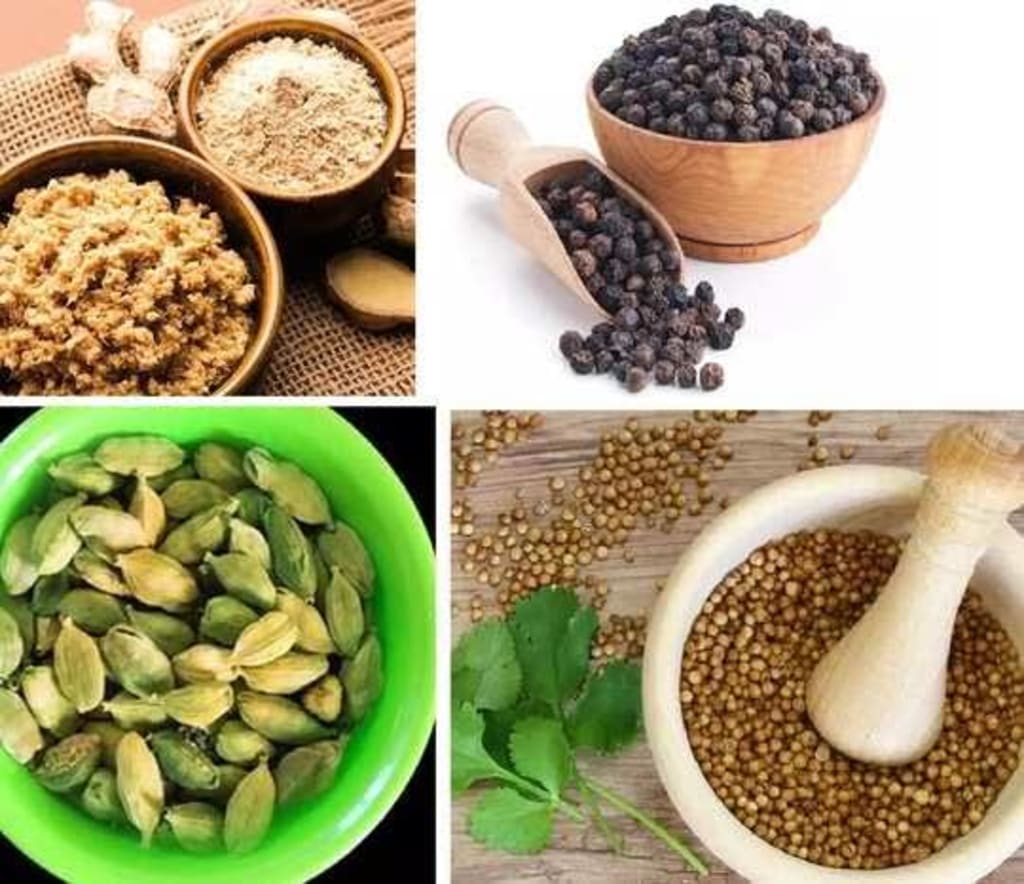 Start writing... Coriander seeds remove flatulence and cure flatulence, indigestion and indigestion.Prevents the accumulation of fat in the body ... Pepper prevents indigestion, diarrhea, constipation and acid secretion. It also prevents the accumulation of fat in the body.People with digestive problems and those who think they need to lose weight can get rid of it quickly if they make a habit of drinking Sukku Malli coffee after a meal.What is Sukku to many in today's fashion world? That remains to be heard. In Tamil Nadu, most households in urban and rural areas make hot water once a week and give it to everyone in the house, from children to adults.At parties, ceremonies, office parties and many other occasions, people suffering from indigestion after consuming 200 ml of this hot water once a week will avoid the accumulation of unwanted fats in the body and will give freshness and vitality.Sukku hot water is available in shops like small hotels in the villages. Or we can make it ourselves at home.Boil a small amount of zucchini in small pieces or powder in water and add any required amount of jaggery, cashew or black currant (jaggery) and strain it.If you make a decoction of Sukku along with Saranavar, pepper and Thippili and drink it, you will get rid of colds and coughs.Morning Evening Off Drink: Sukku coffee helps those who struggle between habit, habit and interpretation. Satisfies the desire to eat hot. A finish occurs because it is salty and sweet. This Sukku coffee is suitable for morning and evening drinks.Powder Product:Sukku, coriander and cumin are the three main ingredients. Sukku, cumin a fold weight. He can change the sizes to suit his taste. You can add anything you want, such as flowers, roots, bark, spices.Coriander seeds, also known as ' Taniya ', are over 5000 years old. It is found in our medical notes. The use of solitude is widespread throughout the Asian continent. It has been a good medicine since time immemorial.Even now, if someone at home has a cold, cold or cough, they make and drink tea mixed with sesame. Also coriander comes from use before milk, tea, coffee.Nutrients in sesame seeds.100 g of sesame seeds total 18 g, saturated fat 1 g, sodium 35 mg, potassium 1,267 mg, total carbohydrates 55 g, fiber 42 g, protein 12 g, vitamin C 35%, calcium 70%, iron 90%, contains 82% of magnesium.it is low in fat, protein and carbohydrates. It also contains 8% fiber and 2.9% calcium. Likewise when the body gets protein, carbohydrates and fats through other foods it helps our body get it in the right proportions.Coriander has been shown to be effective in counteracting the ill effects of Salmonella, a bacterium that causes infections. Salmonella bacteria can cause foodborne illness.Coriander has phytonutrient properties and anti-oxidant properties. This is the main reason why it gives us medical benefit. It also gives the body the ability to fight against the moving organs.Coriander contains the essential oils Linalool and Geranyl acetate. These are also the main reasons for the medical uniqueness of Coriander. It is these molecules that provide the antioxidants that protect the body's cells.Coriander tea.Drinking taniya daily as tea will give us the full benefits. People with diabetes can control their diabetes by soaking 10 grams of sesame seeds in water overnight and drinking that water in the morning.When making sesame tea, you can soak 20 sesame seeds overnight in the morning and add the required amount of tea and cumin to the water, boil it lightly and mix it with sugar, black currant or honey for sweetness.Benefits of Single Thank you for all
diet
About the author
Reader insights
Be the first to share your insights about this piece.
Add your insights