Springtime and Rune Magick: The Runic Book of Days [Book Recommendation]
A brief book recommendation for those interested in Norse Shamanism along with a personal revelation inspired by The Runic Book of Days by S. Kelley Harrell.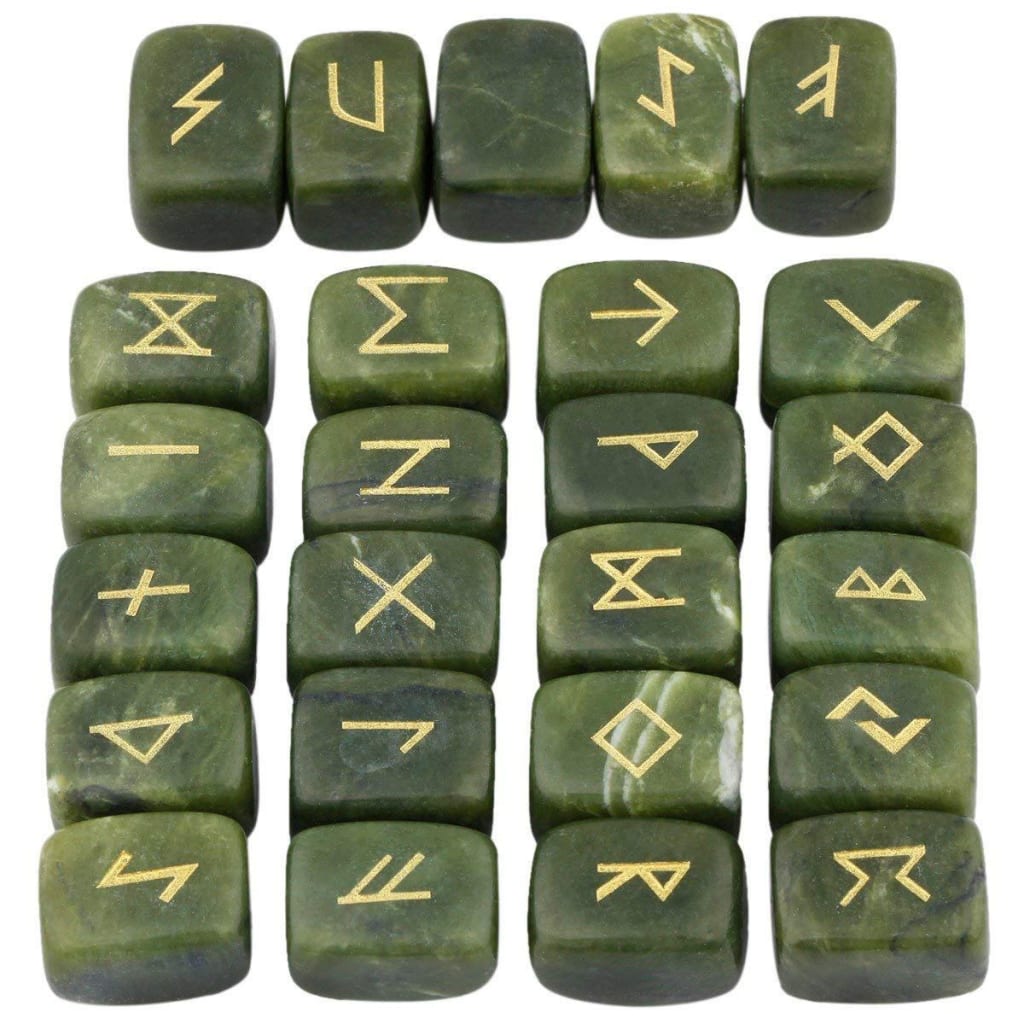 Green Nordic Rune Stones sold by The Spiritual Monk
I'm in a position where I must bet on myself or bet on a system that may or may not take care of me. I know for a fact that if the system doesn't have art or doesn't let me create art, I'll die. I've idealized death too many times to go there again. That was another risk. Another circumstance. Another chaotic instance of thrill and torment, but at least in art that torment tears me to pieces that I can reassemble and make into a new creation. Art provides rebirth beyond death or circumstance or consequence.
This is from my recent blog post on Wordpress where I was contemplating a certain transition I'm going through. As a pagan, I did my best to tap into some inner wisdom, but the panic set in faster. A whole winter of contemplation and meditation, but I still go into panic mode over, what I feel is, the most mundane things. Now spring is here and one source that has guided me through the figurative and literal seasons of change is the Runic Book of Days by S. Kelley Harrell, a wonderful guide to rune magick and how to apply its wisdom daily.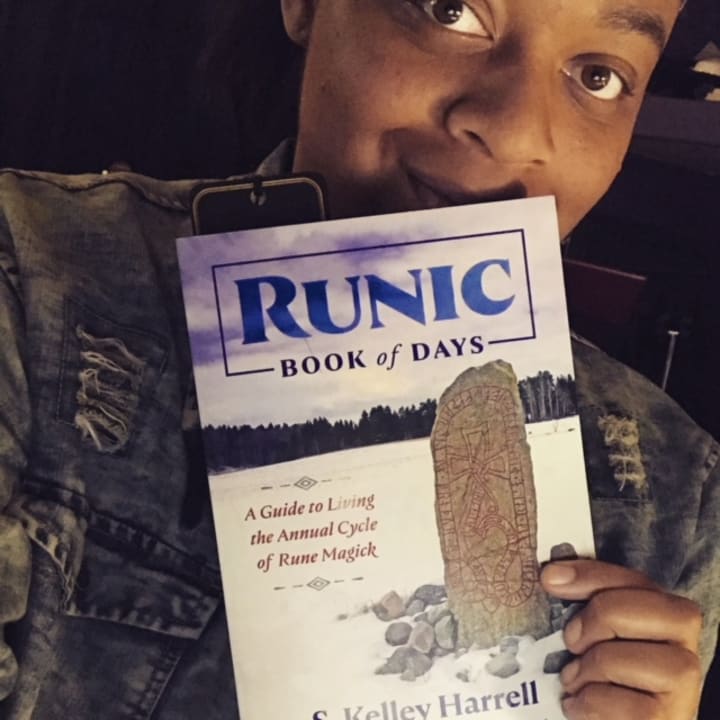 I bought the book last fall. Initially, I used it as a reference to help me just learn the runes daily. A little later, I applied the runic calendar guidance to my daily life, down to the daily affirmations. This really helped in November, after I did a daily tarot drawing for Samhain (a part of it you can see on my Instagram). The runes during fall and winter adamantly encouraged reflection and contemplation. My first affirmation was for the rune Nauthiz: "From the middle/I see myself/On all sides." Instantly, I felt there was no escape from facing every aspect of who I was and it was thrilling. Many of us shy away from facing our deeper issues, but I knew that was exactly what I needed; something that would push me into the depth of my psyche and challenge me to pursue equilibrium. About every 15 days introduced me to a new rune and a new affirmation, brought greater insight on the Sabbats with devotionals, and provided incredible introspection I didn't really ask for, but certainly needed. That is why this book is incredible.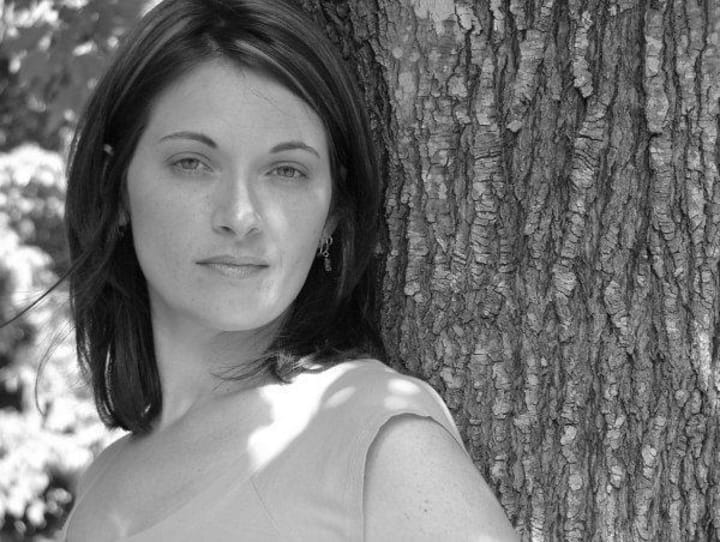 The way Harrell writes about each rune and how they correlate with different times of the year reveals how honest rune magick is. I mean, it is a guide for daily living, so it should be honest, but how many self-help books have you read where they sugarcoat self-improvement with false positivity or evade telling you to face your responsibilities or be accountable for your actions? A self-help book shouldn't encourage being victim of circumstance and Harrell makes very sure of that. I'm not necessarily saying that the author made a tough love book based off of the Norse runes. Harrell has dealt with the gritty honesty of runes herself as she states in her introduction: "For me the runes are a direct connection to wisdom—that rich infinite pool of awareness tended by the ancients. Where meditation and engaging spirit guides might leave room for ego to creep in and confuse, with the runes there's room for none of that," (2018). With Harrell's grounded explanations of the runes, I have transitioned from autumn to winter, and am now enjoying spring with greater confidence. I'm finding myself too aware to regress into old habits that coddled my insecurities. The rune Berkano, linked to Ostara, is a time of healing and relishing in it. Although it may seem common knowledge to feel revitalized after surviving a harsh, bittersweet winter, Harrell's view on Berkano combined revitalization with accountability:
"While [Berkano] brings balm necessary to recover from battle, it doesn't force a healing process or plunge headlong into another fight. It offers no emotional attachment that would urge us to fight, flee, or freeze. We allow. We honor. We bless...Berkano honors us, recognizes how hard we've worked, forces us to be present, and expects us to give props to ourselves."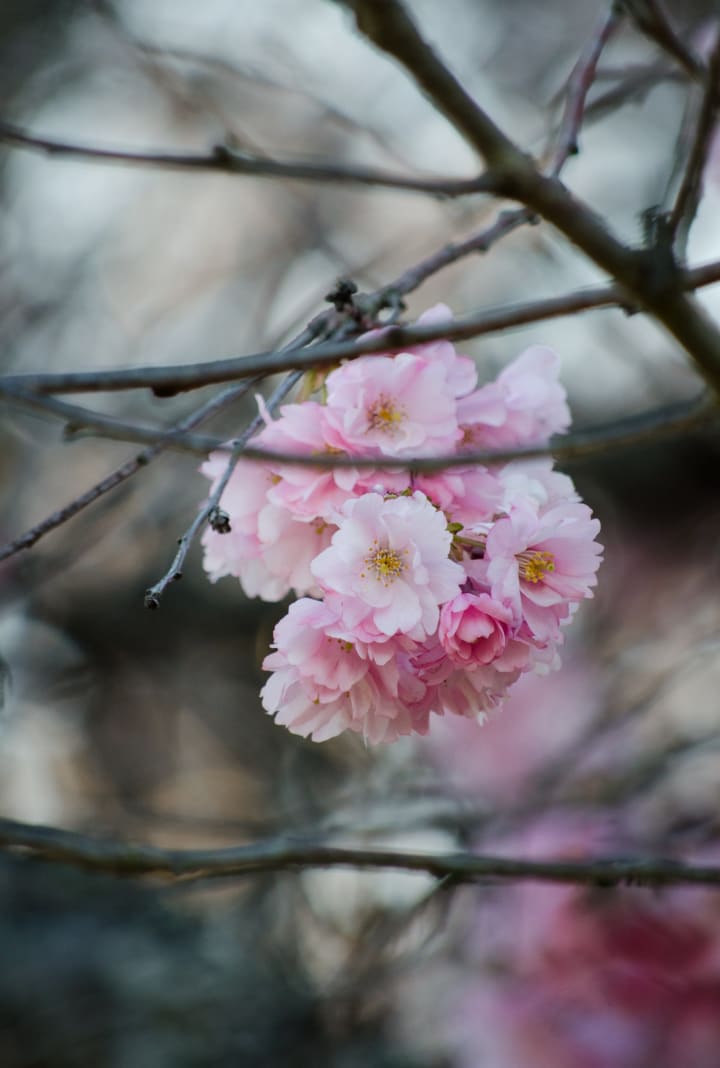 Selling yourself short or slacking off is a not permitted after connecting with the magic of Berkano and the other runes. There is a persistent compassion towards the self after each season of intimate revelation. With that, I don't just express my gratitude to Harrell for The Runic Book of Days, but also express how honored I am to have a connection with Norse wisdom and apply it to my daily life. I strongly recommend this guide for those who feel led to delve in the Norse beliefs, rune magick, heathenism, seidr, or the like. It will be made very clear to you early on if the path of Norse-based revelation is meant for you. All in all, I hope we venture through springtime with a refreshed perception, being in a place where we're proud of how much we've accomplished and how that experience will nurture more prosperity, responsibility, and accountability.
Thank you for reading.
S. Kelley Harrell is an ordained interfaith minister, practicing shaman, and she knows her Elder Futhark runes astoundingly well. You can connect with her on Facebook, Twitter, Instagram, and on her website.
If you'd like to chat with me or have any awesome recommendations, find me on Facebook, Twitter, Instagram, or my website.
spirituality
Leliel, mystic and creative spirit, loves to write about metaphysics, the occult, and literature, especially horror.
Owner of Authentikei LLC
Receive stories by Leliel - Authentikei in

your feed