Solstice 2020 + Great Conjunction Tarot Reading
Welcome Capricorn Season, and happy solar returns to all sea-goats out there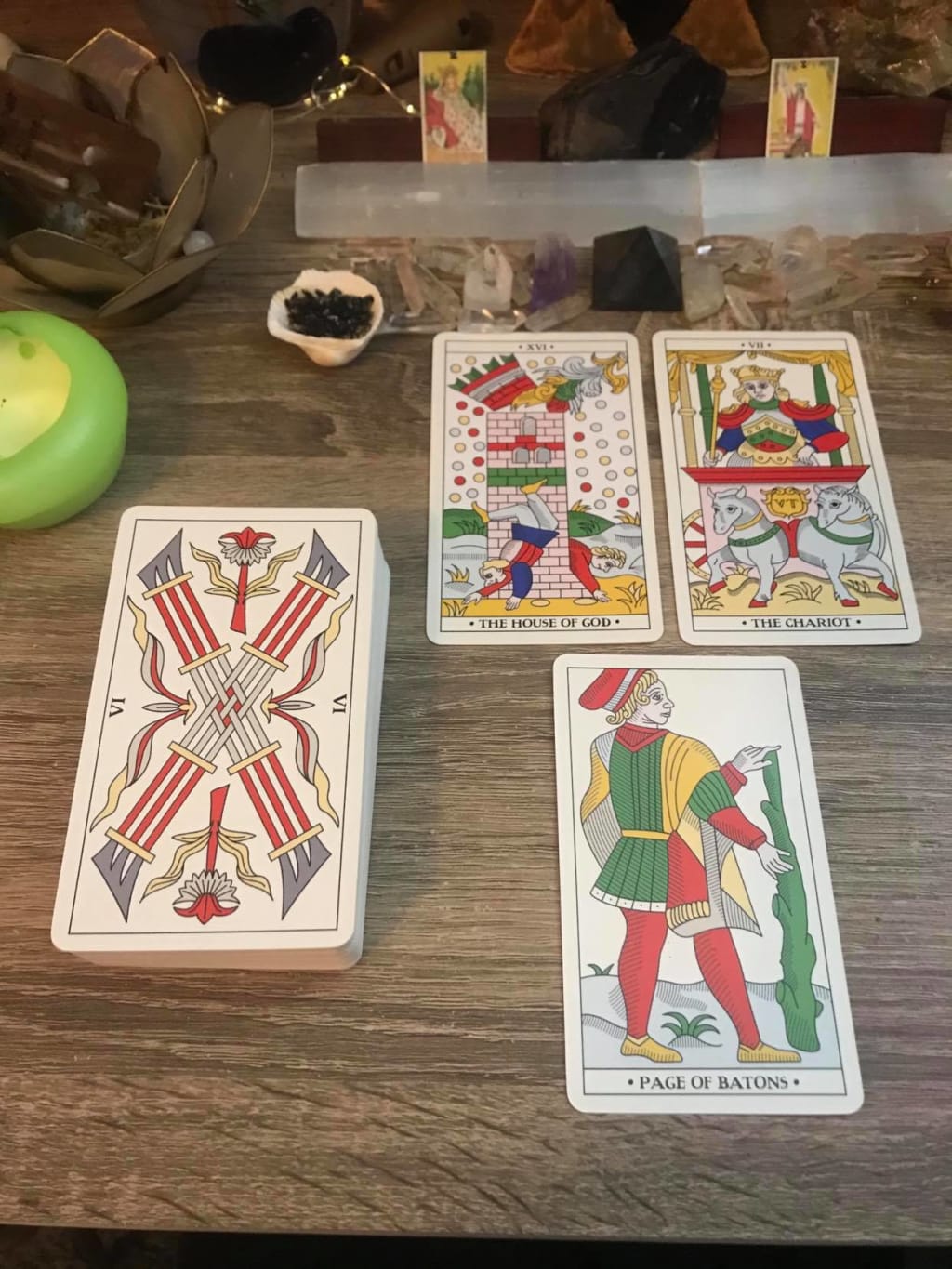 Deck: The Marseille Arcana
As a gift to myself for the holidays, my new Marseille Arcana tarot deck came in (today, even). Granted, I got the budget version and upon acquainting myself with this new deck, I noticed a few misdesignations as well as card numbers missing on the entire suit of coins *shrugs*. I got what I paid for, and just because a few small details are off doesn't mean I'm going to throw them into the flames lol (I *do* have a bag of things to burn tonight, tho).
After meeting the deck, I gave a good shuffle, asking for messages from the universe for this Solstice + Grand Conjunction and the first card that flipped over was the tower lol
What we're leaving behind: 16 - The House of God (The Tower)
Most people don't like drawing a tower in tarot, but in all honesty our lives are generally one tower moment after another, right? What we're leaving behind is a system that no longer works for us. Interestingly enough, it's called "The House of God'' in this deck, which denotes established religion, which would lead me to conclude that this card is ruled by the pope (hierophant) of this deck *scratches chin*.
A tower moment can represent great upheaval, violent endings, disaster, violence, ruin, disgrace. The tower reminds us that endings are inevitable and encourages us to rebuild after we hold space for our losses. We are seemingly emerging from the rubble and picking up the pieces, and soon will come our time to rebuild a new foundation for our new tower.
Where we're headed: 7 - The Chariot
And here's where we're told to get our asses into gear: The Chariot signifies new beginnings, new journeys, and even new means of transportation: Let's get into this new collective vehicle and move towards a more just and humane future <3 How we'll get there and to what end will be revealed to us as we heed the call of The Chariot to get our stuff together for the next leg of our journey: It's time to go (bring snacks).
Advice on getting there: Page of Batons (Wands/Fire)
The Page of Batons informs us that we're approaching unchartered territory: one of uncertainty, adventure, knowledge and experience to bring more depth into our understanding of life and the world around us. It's also suggested that this is a good time to take up a new passion/hobby or even creative projects that bring light into our lives, even if it's done in unconventional ways.
A page is enthusiastic, eager to learn and act with much energy and curiosity. There could also be a possibility for new friendships and relationships that may ignite your passions and teach you more about yourself and motivations.
Bottom Deck: Six of Batons (Wands/Fire)
This card confirms to us that even when we have tower moments in our lives, there are still aspects and things in life to celebrate and be grateful for. Sometimes it takes experiences of unpleasant upheaval to teach us very valuable lessons in life: who will stick by your side, what is worth keeping in your life, and how a certain "brand" of suffering truly feels. In the meantime: this card is also reminding us to check in with ourselves along the way: are we still holding space for people who are emerging from the rubble of the tower? Are we validating their experiences, or are we brushing them off and simply suggesting to get over themselves? Our perspectives are important to recognize, but we benefit from respecting the experiences of others as well.
Wishing you all the best and all the love from the universe <3
spirituality
Tarot, Astrology, Earthwork <3 With a focus on the future of the collective
Just a person. Descriptors just another soup of glyphs and shapes, colors and sizes that vary in texture and flavor. For you, me and all in between.