Simultaneously Here and Absent
Cute but psycho, things even out.
I had an incredible conversation with a close friend last night about my neighborhood.
I wouldn't necessarily call it a love/hate situation, but my relationship with my area is as complicated as it is complex.
Bay Ridge is as physically aesthetic as it sounds. It sits on the south west corner of Brooklyn. There is elevation to it, and the shore. Google tells me that it's where the Upper, and Gravesend Bays meet. I've never heard it referred to as either, we all simply call it the Water. There are tree lined streets, parks, and the surroundings appear to feel free to breathe from the culturally suffocating clutches of gentrification.
But then the people who live here speak, and vote, and it has become abundantly impossible for me to ignore our differences. I have heard and seen people behave in the most obnoxious manner. And we recently lost a tremendously awesomely fearless congressional representative, because the persons to my right, and left, voted for his pants on fire opponent.
I have not been to Manhattan since February. My travel to and from work has been essentially up and down the same avenue. I left the western side of Brooklyn once, to donate blood, in the neighborhood of East Midwood. It's approximately 7 miles from my front door, heading more towards the geographic center of Brooklyn.
So here I am, on a three week leave-of-absence from work. COVID, covidiots, and mask holes are getting crazy again out there, so I am limiting my risk involvement. But running is a vital part of keeping my mental health in check.
So I'm splitting the difference, and re-exploring the beautiful side of my neighborhood.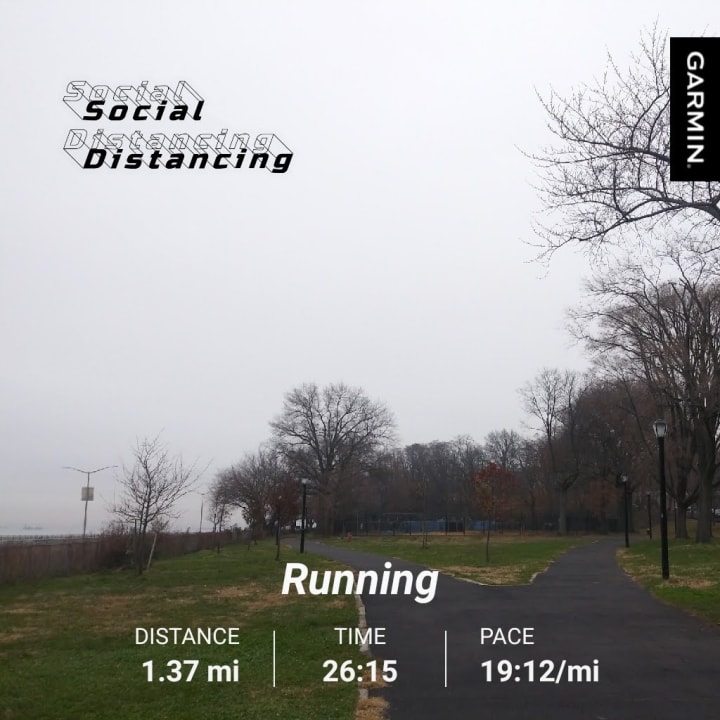 Day II, Leave of Absence
Chopra. 21 Day Meditation Experience. Day 3. Bringing the True Self Home. My true self is the source of peace and love. Shanti hum. I am peace.
Morning III, LoA
Chopra. 21 Day Meditation Experience. Day 4. Making Heart to Hart Connections. I make true connections when my heart touches another heart. Aroot perum jothi. I invoke the divine light of grace.
B-complex + L-Methylfolate 15mg.
The Shine. I am open to newness. Outside, in the rising sun.
Ran a total of 2.28 miles. Did 52 card workout for eight minutes. Bagua for 40 minutes.
Took out the garbage. Did a ton of dishes. Which is making me feel better already.
Friday
Coming Out of the Disconnect. I only feel the need to connect. Aham brahmasmi. I am the wholeness of universal existence. (Chopra, Day 5)
B-complex + L-Methylfolate 15mg.
How much I can get done in a day does not define me. I decide my self worth. I am enough. (Shine, 12/11/20)
1 hour run. 2.23 miles.
15 Questions From Mona Sharma, via the Red Table Talk
Although for some reason I counted 16. Maybe the salt and sugar thing should have been together.
How do you feel in the morning? Tired. Groggy.
Have you experienced physical or emotional trauma? Yes.
Nervousness, anxiety, worry? Yes.
What's your stress level on a scale from 1 to 10? Fluctuates. But always above 5.
Are you an emotional eater? Yes.
Do you sleep well? With meds, yes. Without, not at all.
Do you snore? I have been told, no.
Do you use any tobacco or marijuana? NO tobacco, not now, not ever. Recreational marijuana on a rare occasion. Maybe once a

month

. Edibles only.
Prescription medication. Yes. Zoloft. Ambien, when needed, which is pretty regularly. Klonopin as needed, which is rare, but need arises in clusters.
Are you constipated? I poop

at least

once a day. Usually more.
Do you know what your gas triggers are? Everything, it seems.
Decline in sexual interest? Nope, all good here.
Alcohol? Not my thing at all.
Do you like sugar? Like, yes. Love, not really.
Salt? I prefer salt to sugar. But I don't keep any in my apartment.
Do you have dry or thinning hair? A bit.
Saturday
I headed towards an area of my neighborhood where I suspected some of my running friends would be. And there they were. It was a delight to exchange a social conversation, with someone I hadn't seen in a while. She is as familiar as I am with the emotional support, which only our running shoes can provide.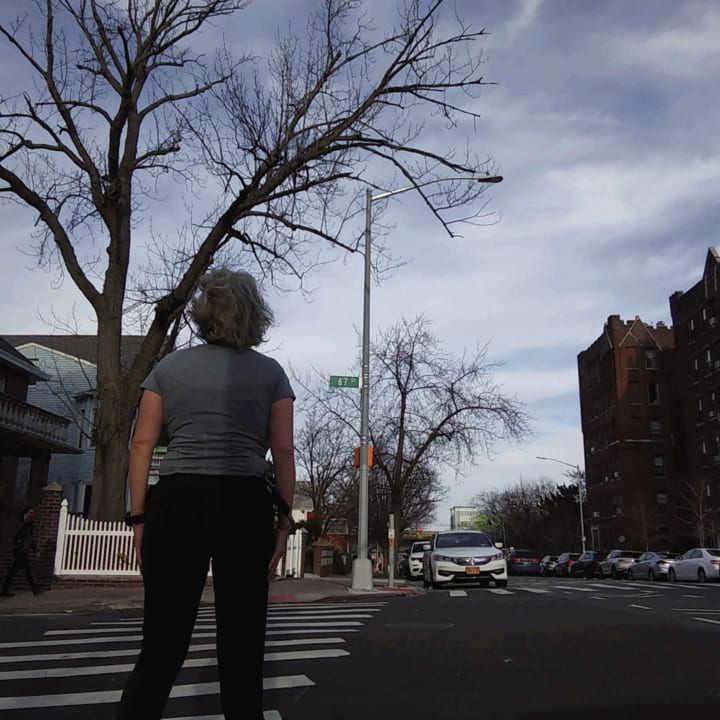 My heart is open today. It is open to acceptance. It is like cotton candy. My heart is supporting me. My heart feels like it's pulling me towards the sky. My heart visits with those I've lost.
Personal and specific conflict right now has the ability to slam my heart shut, therefore, I know I need to make a change, in order to keep my heart open and flowing. I release this conflict up into the Universe.
I know that this situation is not right for me. I know that I need to separate myself from this situation, which is scary. The unknown is scary. Asking myself "what will happen" is scary.
I am ready to take a step today in the opposite direction of my conflict. There are tools out there, which I am committed to using. It was already on my to do list for today.
I never learned to drive standard because the shifting always confused me. That's how I feel about this situation. I could simply just drive automatic the rest of my life, but where is the excitement.
I extend love and compassion to myself.
Inhale.
Exhale.
I will move forward.
(The Daily Shine, 12/14/20)