Significance Of Aadi Peruku
Aadi Perukku is a festival that is dedicated to the Cauvery river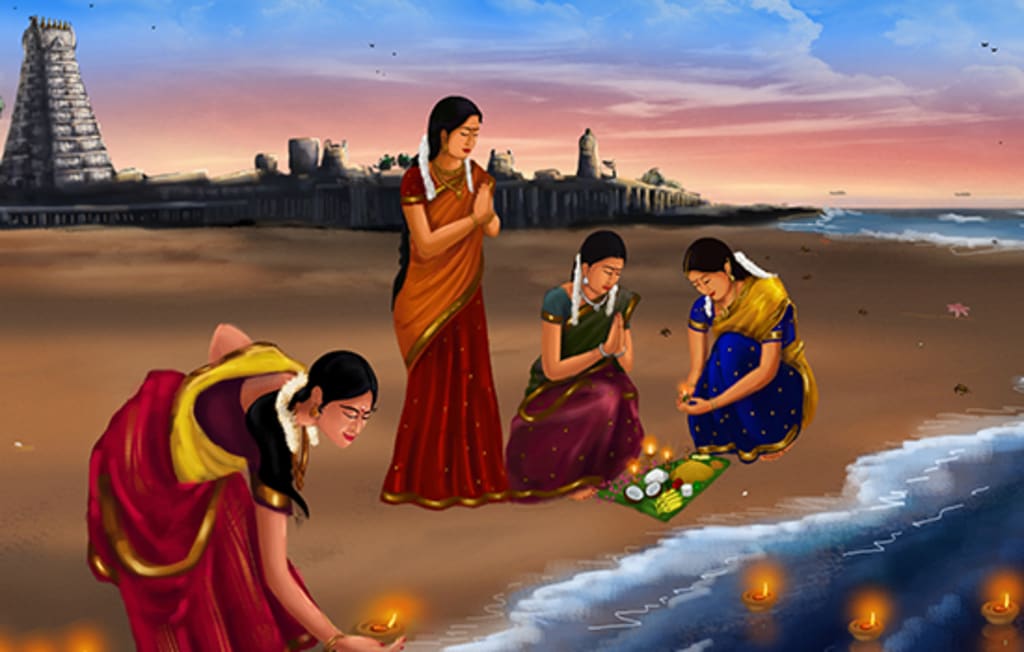 Aadi: A Very Holy Month
For Tamils, the month of Aadi (July-August) has a special place in their hearts. It is a very holy month dotted with festivals like Aadi Pirappu, Aadi Amavasai, Aadi Karthigai, Aadi Perukku, Aadi Pooram, Aadi Velli, and Varalakshmi Nombu. Women especially look forward to this month as it is an auspicious month for worshipping Amman, a form of Goddess Parvati. In fact, the month is dedicated to the Goddess.
Friday, Sunday, and Tuesday are the holiest days in this month. It is also the custom to make Koozhu, a gruel-like preparation or Pongal, curd rice, etc., and distribute it to others. Other rituals include Paal kudam Poojai (where devotees carry milk pots and offer them to the Goddess), Poo midhikkaradhu (walking on burning embers). Some perform these rituals as part of a vow after the Goddess fulfills their wishes.
Aadi is a significant month for farmers and agriculture, too. In Aadi, the next cycle begins after the harvest. People also make financial plans for their families and businesses during this month.
The first day of the month is Aadi Pirappu, which begins with Poojas and temple visits. People prepare a feast with special items like payasam and vadai. Dakshinayana Punyakalam, the night of the Gods, also commences on Aadi Pirappu, and some perform Tharpanam on this day.
The Sun changes its direction at this time, and the next 6 months mark the nighttime of the Gods. Auspicious functions like marriages, naming ceremony for newborn, valai kappu (a ritual for pregnant women), etc., are not held in Aadi.
What is Aadi Perukku?
Aadi Perukku is a festival that is dedicated to the Cauvery river. It falls on the 18th day in Aadi month. The great Tamil epic, Silappathikaram mentions Aadi Perukku. Aadi Perukku 2022 falls on August 03.
Cauvery is a river that is very important for Tamils as they depend on it for sustenance and farming activities. It is also called Dakshina Ganga or the Ganges of the South.
Significance of Aadi Perukku
The Cauvery river's importance goes beyond the economic aspect. It has historic importance, too, as it is linked to the cultural heritage of Tamils. All the fine arts in Tamil Nadu have their origins on her banks. Many famous temples are also located along this river.
Since ancient times, Cauvery has played a large role in the lives of the Tamil people. The river finds mention in ancient Tamil literature, history, and culture. If the Cauvery were to vanish, it would be a huge and unimaginable loss for Tamils. It would be like forfeiting a part of their history and heritage. So it is not surprising that Tamils venerate Cauvery and have dedicated a festival to the river.
Perukku means 'rise'. Here it signifies the rising water levels in the Cauvery and other rivers during the rainy or monsoon season. The rains are very important for agriculture, and so people worship not only the Cauvery river but also Lord Varuna, the rain god.
The festival illustrates the importance of nature in human life. If there is no rain, crops fail, and farmers will be ruined. So this is a festival that invokes nature's blessings for good fortune and prosperity.
Cauvery is regarded as Goddess Parvati, and her Amman forms or river goddesses are worshipped during Aadi Perukku. It is women who usually perform rituals and Poojas for Aadi Perukku.
Aadi Perukku Rituals
On the day of Aadi Perukku, people gather at the riverbanks for offering worship to the rivers. It is a thanksgiving ritual as their life and prosperity depend on the rivers. According to one myth, Lord Rama took a ritual bath in the waters of the Cauvery and was cleansed of the sin of Brahmahatya (as he had killed the Brahmin Ravana).such rituals also take place at other water bodies like wells, reservoirs, etc.
People visit temples, especially Amman temples, and take part in Aadi Perukku Poojas. They also do Poojas at home and offer sweet Pongal as Neivedyam. Women draw Rangolis before the house for the occasion. The entrance is adorned with Mango leaf thoranams.
Thiruvalluvar, a great Tamil scholar, has said that if the rains fail, there will be no righteousness in the world, and the world will cease to exist. Several temples in India also have sacred Tirthams in the form of ponds, wells, and tanks.
Aadi Perukku rituals make us understand the role of water in human lives and remind us that we cannot exist without it.
Aadi Perukku is also important for unmarried girls. They take part in the Poojas on the river banks and offer Karugamani (black beads), Kaadholai (palm leaves twisted to form earrings), and Kaapparisi (a sweet made of rice and jaggery). They do this to invoke the Goddess' blessings for good husbands. Married Hindu women visit the Meenakshi temple tank on this day to change the thread on their 'thalis.'
On Aadi Perukku day, women worship Goddess Parvati. They make variety rice like sweet Pongal, lemon rice, coconut rice, til rice, curd rice, tamarind rice, etc., at the river bank and offer it to the Goddess.
Devotees float Maavilakkus (lamps made of rice flour and jaggery) on the rivers. The lamps are kept on mango leaves and decorated with flowers, holy thread, and turmeric. Devotees also take a dip in the holy water and wear new clothes. Abishekam is done for Cauvery Amman. Once the rituals are complete, people spend some time on the riverbank, feasting and enjoying themselves.
spirituality
About the author
AstroVed is a #1 online astrology and remedies portal whose focus is to merge the technologies of the ancient traditions with our modern science. https://www.astroved.com/
Reader insights
Be the first to share your insights about this piece.
Add your insights