Clean Eating
No Meat May
My Month Long Journey of Vegetarianism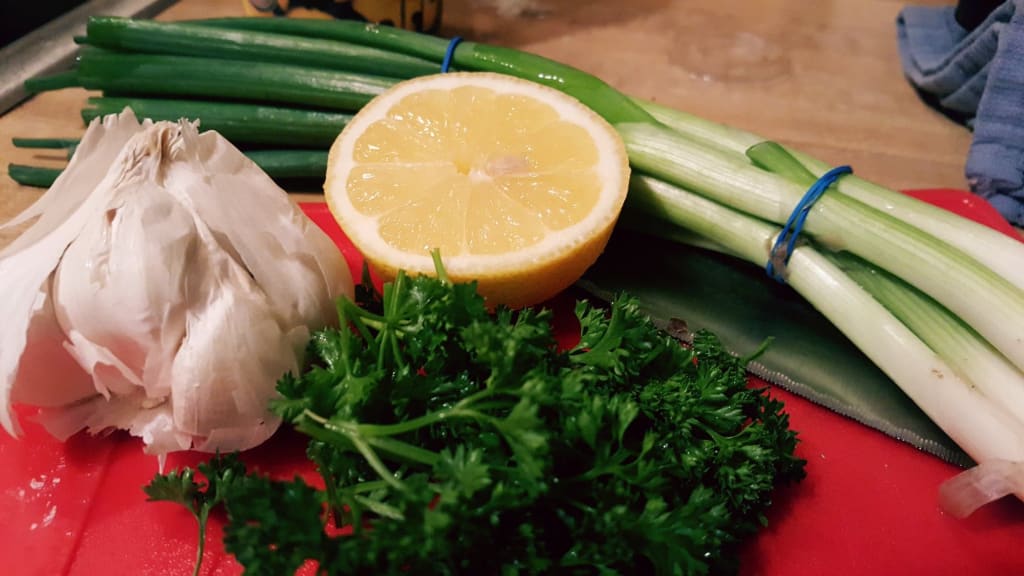 Hey everyone! Thanks for following me on this journey. My hope for this blog is to share and educate not only myself, but others. I enjoy meat, but I also know a lot of it is not good for me. I try to have a least one dinner a week meat free. I know I could do a lot better. When this challenge came up, I decided, "why not?" I like pushing myself to see what I am capable of. With that being said, this challenge does scary me a little. Will I really be able to do this? Will I feel hungry all the time? Will it cause me to snack more and gain weight? How hard is this really going to be?
That is what I hope to find out. I will be sharing with you along the way. Writing down the hardships and wins. Share the reasons why I'm doing this and give you the recipes that I use. I"ll talk about the ones I loved and the ones I will never make again. I did my research for these recipes. I found some on Pinterest, many different cookbooks, and some were given to me by family and friends. I hope you will find ones that you will want to try and end up loving.
The two biggest reasons why I'm doing this is for my health and I just want to see if I can do this. A big inspiration for all of this is my little sister. She has been a vegetarian for a couple years now and I really look up to her for that. I know just a few years back if you said you were a vegetarian you would get a weird look from people, as if you just said, "I'm from Mars." Even today people still don't seem to understand why or how anyone could be a vegetarian. Many people often say, "So what do you eat?"
I know because I was one of them. When my sister first become a vegetarian, we all thought it was just a phase. That she would run out of things to eat and get bored with it. At family gatherings she still gets the question, "So you still doing the no meat thing?" This is why I want to do this. To help people understand the why, and hopefully get people to start thinking and talking.
For a long time meat has been the centerpiece of most of our meals and Americans are one of the biggest consumers of meat. We put meat into every meal we eat. With breakfast, it's bacon or sausage and egg biscuits; with lunch, it's a turkey sandwich or meat lovers slice of pizza and at dinner, it's chicken or could be a big pot roast. Even our snacks are not left out—anyone for a slim jim, or jerky? We are raised thinking that meat has to be the center of our meals. That meat is the only way to get our protein. This can lead to lack of nutrients and an overload of unhealthy fats.
That leads into my other reason, my health. My family has a big history with cardiovascular disease. From a young age, my grandma (my dad's mom) suffered from heart problems. She went through many heart surgeries, was in and out of the hospital, and was on oxygen most of the time. My grandpa had a heart attack and our dad in his thirties had a heart attack and had open heart surgery. Going though and seeing things like that as a young kid, it's something you never forget.
Growing up we didn't really talk about eating healthy until Dad had his heart attack. Even then, I think we could have done better. It wasn't until a few years ago that I really started to educate myself on eating better. It was after a physical I had done that I learned that my blood pressure was dangerously high. That woke me up. It was time to turn things around. I don't want to follow in my family's medical footsteps.
So I'm taking this opportunity to further enhance my health. Compared with meat eaters, vegetarians tend to consume less saturated fat and cholesterol and more vitamins C and E, dietary fiber, folic acid, potassium, magnesium, and phytochemicals (plant chemicals), such as carotenoids and flavonoids. As a result, they're likely to have lower total and LDL (bad) cholesterol, lower blood pressure, and lower body mass index (BMI), all of which are associated with longevity and a reduced risk for many chronic diseases. Being a vegetarian gives you clearer skin, and helps with constipation issues. Both of which I suffer from. I'm hoping at the end of the month, I will see improvements.
I have other reasons on why I'm doing this but I will share them later on in other blogs. I now want to share with you how May 1st - 4th went. Day one, I woke up with a little bit of anxiety and feeling a little overwhelmed. What had I gotten myself into? But as the days have moved on I feel more at peace and have more confidence that I can do this. During the day, I had a field trip with work so I packed a lunch to take with me. So the only big meal I had to deal with first was dinner.
Spicy Thai Noodles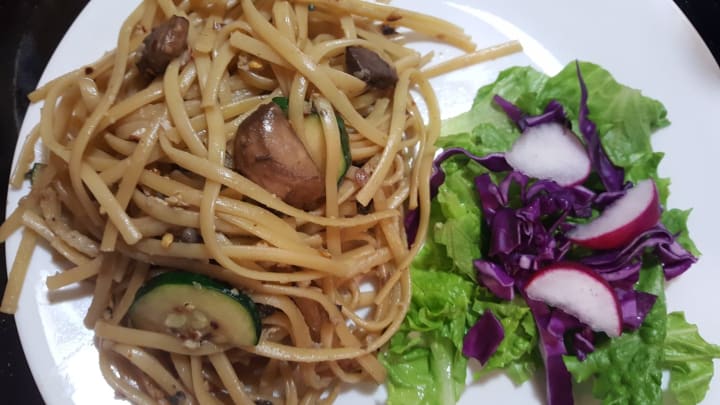 The noodles ended up being a great thing to start with. It was easy to make and was very tasty. The kids loved it and our pickiest one cleared their plate. I added a side salad to go with it. The only thing I didn't add was the cilantro—not a fan.
Ingredients
1 pound linguine
2 TBS olive oil, divided
2 large eggs, lightly beaten
1/2 tsp crushed red pepper flakes
1 zucchini, cut in half vertically, then sliced in half circles
8 ounces mushroom, chopped
3 cloves garlic, minced
2 TBS brown sugar
1/3 cup low sodium soy sauce
1.5 TBS Sriracha hot sauce (this is A LOT of spice, tone it down if you don't like spicy.)
2 inches fresh ginger, grated
1 handful fresh cilantro, chopped
4 green onions, chopped
1/4 cup peanuts, chopped
Instructions
In a large stock pot, fill halfway with water, salt, and bring to a boil. Add linguine and cook according to package directions. Drain and set aside.
In a medium bowl combine brown sugar, soy sauce, sriracha, and ginger; whisk well to combine; set aside.
Return large stock pot to stove, heat over medium heat, add 1 TBS olive oil. Add beaten eggs and red pepper flakes and stir to scramble the eggs. Once cooked, set aside with pasta.
Return large stock pot to stove, heat remaining 1 TBS oil over medium heat. Add zucchini, mushrooms, and garlic. Saute over medium high heat for 5-6 minutes or until veggies are cooked through.
Turn heat down to low, add pasta and eggs back to pot, then pour the sauce mixture over the top. Using a wooden spoon, stir well to coat pasta and vegetables with sauce. Remove from heat, add peanuts, green onions, and cilantro; stir to combine.
Serve immediately.
Day two: I had my bowl of cereal I have every morning at 5:40. On a regular morning when I get home at 9:30, Josh would make us some bacon and eggs, but this morning I made myself a smoothie with two bananas, half of an avocado, frozen cherries, almond milk, and some chocolate protein powder. For lunch, I made an awesome sandwich with the other half of the avocado, spinach, small slices of cheddar cheese, a pickle, and a slice of tomato with a little salt and pepper. For a side, I had hummus with carrots and some chips. Yummy! So for dinner I made the family chicken and they had the same side as me. For myself I made Beyond Meat's "chicken"-you can find them in the frozen section in the vegetarian part. They were ok, I dipped them a little hot sauce to give it a little flavor and heat. Then I made Indian-style spinach and baked potatoes for the sides.
Morning Smoothie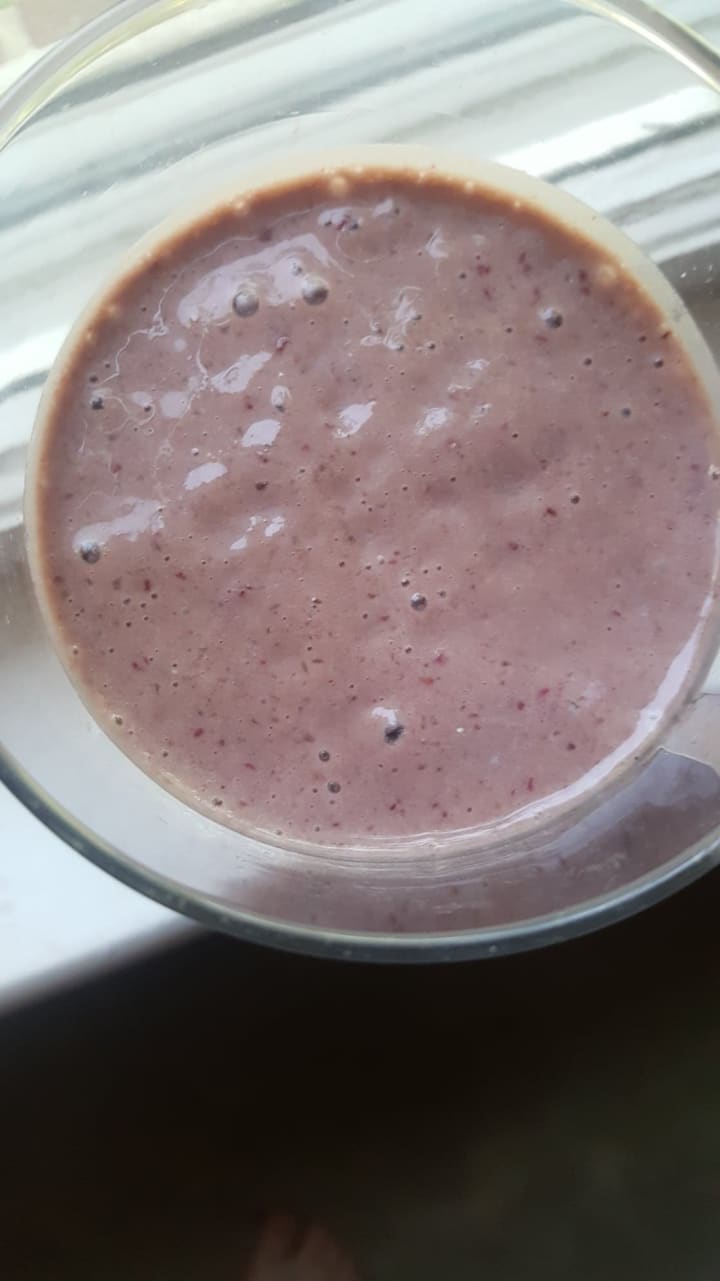 Indian-Style Spinach
2 tbs veg. oil
1 onion, thinly sliced
2 garlic cloves, finely chopped
2 tsp finely grated fresh ginger
1 tsp mustard seed
1/2 ground cumin
1/4 tsp garam masala
12 oz of spinach, washed and trimmed
1/4 cup of whipping cream
1 tbs lemon juice
Heat a large pan with oil and saute the onion until softened. Add the garlic, ginger, and all the spices and cook for a minute.
Roughly tear the spinach and add to the pan. Cook for 1-2 minutes or until wilted.
Add the cream, simmer for 2 minutes, then add the lemon juice and season with salt and pepper.
I was really looking forward to this dish. It sounded so good; however, I was not wowed. It was ok. I don't think I will make it again, but don't let my judgement scary you off. I'm sure someone will love it, it's just not me.
Dinner Two: Indian-Style Spinach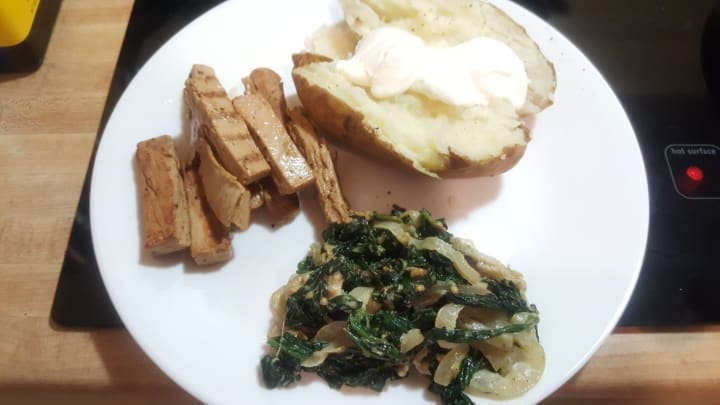 Day Three: For dinner Friday night, I made Black Bean burgers with the works. On the side, we had homemade pasta salad. The burgers were really filling and I never would have known (besides looking at it) that it wasn't made with meat. If you're looking for a good "burger" recipe, give this one a try.
Black Bean Burgers
2 (14 ounce) cans black beans, drained, rinsed, and patted dry
1 Tablespoon extra virgin olive oil
3/4 cup finely chopped bell pepper (1/2 of a pepper)
1 cup finely chopped yellow onion (1/2 of a large onion)
3 garlic cloves, minced (about 1 Tablespoon)
1 and 1/2 teaspoons ground cumin
1 teaspoon chili powder
1/2 teaspoon garlic powder
1/4 teaspoon smoked paprika
1/2 cup bread crumbs or oat flour
1/2 cup feta cheese
2 large eggs
1 Tablespoon Worcestershire sauce
2 Tablespoons ketchup, mayo, or BBQ sauce
pinch salt + pepper
Instructions
Preheat oven to 325°F (163°C). Spread beans evenly onto a lined baking sheet and bake for 15 minutes until slightly dried out.
Meanwhile, saute olive oil, chopped pepper, onion, and garlic over medium heat until peppers and onions are soft, about 5-6 minutes. Gently blot some of the moisture out. Place in a large bowl or in a food processor with the remaining ingredients. Stir or pulse everything together, then add the black beans. Mash with a fork or pulse the mixture, leaving some larger chunks of beans.
Form into patties—about 1/3 cup of mixture in each.
To bake: Place patties on a lined baking sheet and bake at 375°F (191°C) for 10 minutes on each side, 20 minutes total. To grill: Place patties on greased aluminum foil and grill 8 minutes on each side. Heat temperature is personal preference as all grills differ. Generally, black bean burgers should grill on medium-high heat about 350°F (177°C) – 400°F (204°C).
Serve with your favorite toppings.
Black Bean Burgers
Day Four: So on Saturday I was up really early for a 5k. I made myself some oatmeal and wondered how this week's food choices will affect my running and my time for a 5k. I have to say this week I have felt great! During the race, I felt light and not weighted down. I made great time on the race and didn't feel as tired as I usually do after a run like that. I have even noticed that my brain fog has lifted. I seem to be thinking more clearly, and have more energy. I'm excited to see what the next few weeks have in store for me.
So for dinner that night we went simple. We wanted to do a family night, which means an easy dinner and a movie. So we decided on pizza. I went to Food Lion because they have really big and delicious pizzas in the deli section. I got one pepperoni for Josh and the kids and got a cheese one because they don't have veggie one. I really wanted a veggie one so I diced up some onions, peppers, mushrooms, and added spinach and extra mozzarella cheese before they were cooked. I had two slices, it was so good and filling. It was all I needed.
The first week has really flown by, and wasn't as hard as I thought it was going to be. I have next week's meals all planned out. I can't wait to try them and to share them with you. I hope you have enjoyed and maybe learned something from my first blog. I have more to come this month, on this wild ride of vegetarianism.