New Moon Intention Candle Ritual
A new moon ritual to manifest new intentions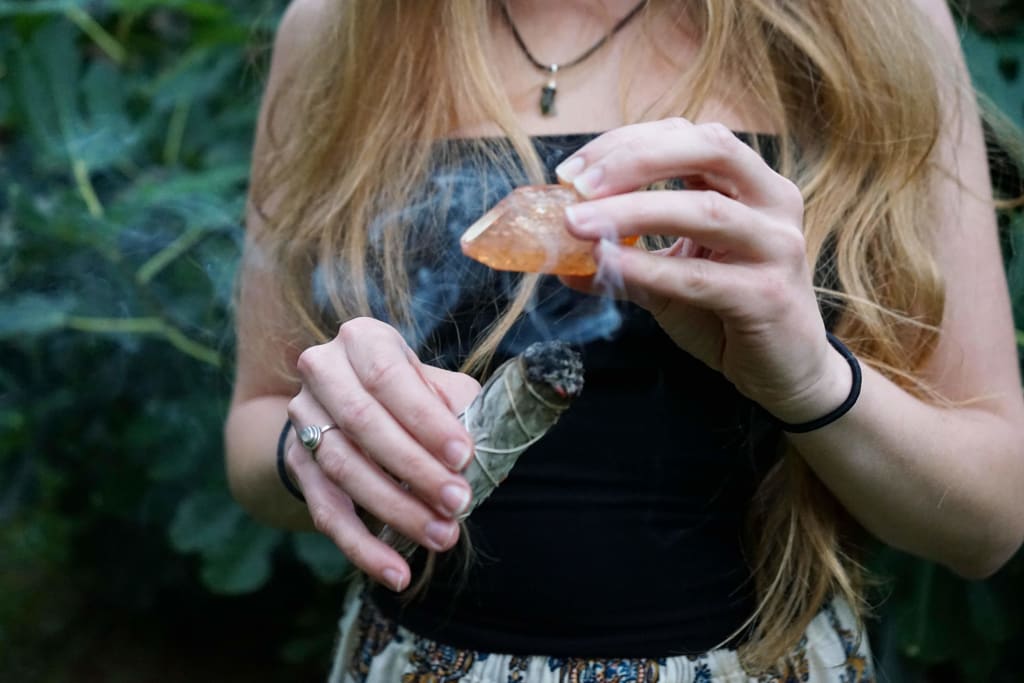 The new moon is always the most aligned time for setting new intentions to manifest into your life.
The moon affects our emotional energies and can impact our subconscious is ways we may still not understand. I like to call it our feminine energy (because the moon is a feminine sign).
This is why manifesting with the moon is so powerful and why I have a full two-week course to guide you through the process.
Based off the Law of Oneness, we are all connected and I fully believe that we are all made of the same energy found in the Universe and we are all magical.
Here is a new moon ritual to start manifesting a new intention into your life and connect to your magic a little deeper. :)

For this ritual, all you will need is -
A sage stick
A candle and something to light it
A paper and pencil
And a quiet, positive aura for your ritual
Please be sure to do this on the night of the new moon or one of it's phases (the day before or day after).

Your Ritual -

Cleanse your space with your sage stick or palo santo to creative a positive aura for your ritual and deflect any negative energies.
Use your sage stick to also fully cleanse your candle of all negative energies. It's important to not light your new intentions with any lingering energies within the object.
Sit down in your ritual space, turn off all the lights, surround yourself with any crystals or incense that you wish to and make sure you are in a quiet space.
Now take out your notebook and pencil and write down what it is that you want to manifest with this new moon intention candle. You can only choose one intention so make it powerful, make it meaningful.
Journal on why it is you want to manifest this, the feelings that this manifestation will give you and how it feels to be on your way towards it soon. Journal on anything that you need to let go of in able to achieve this manifestation.

After you are done journaling, meditate on those feelings for a while. You can choose to listen to a meditative music or sound frequency, or you can choose pure silence.
Visualize what you see your life being like once you've achieved this manifestation and the feelings that are associated with it. Create emotion behind this intention.

Once you've sparked some passion behind this manifestation, open your eyes and say outloud to yourself, something along the lines of -
"I fully commit myself to achieve _________. I accept to put this intention out into the Universe, act upon it and allow the Universe to take over. I am excited for what's to come with this new intention and I let go anything that may be in my way from achieving this goal. I know that this intention is on my way and it will come to me in divine timing."
Intention Candle
After you are done, light your candle. Light it with intention, your are lighting your manifestation into fruition.

Now, don't ever blow this candle out... Keep this candle lit until it fully goes out on it's own. Blowing out your candle is you blowing out your intention. If you worried about safety, put it in the sink or bath tub when you are away.
When you are around, put it in a place that you can see, to remind you of this manifestation seeping out into the world.
And when this candle finally goes out, trust that the Universe has received your request and will come to you in divine timing.

Love + Light
-Shawntelle

Enroll for next months moon manifestation ritual + course here.
Reader insights
Be the first to share your insights about this piece.
Add your insights