My Final Vegetarian Act
Potato, egg, and cheese on an everything bagel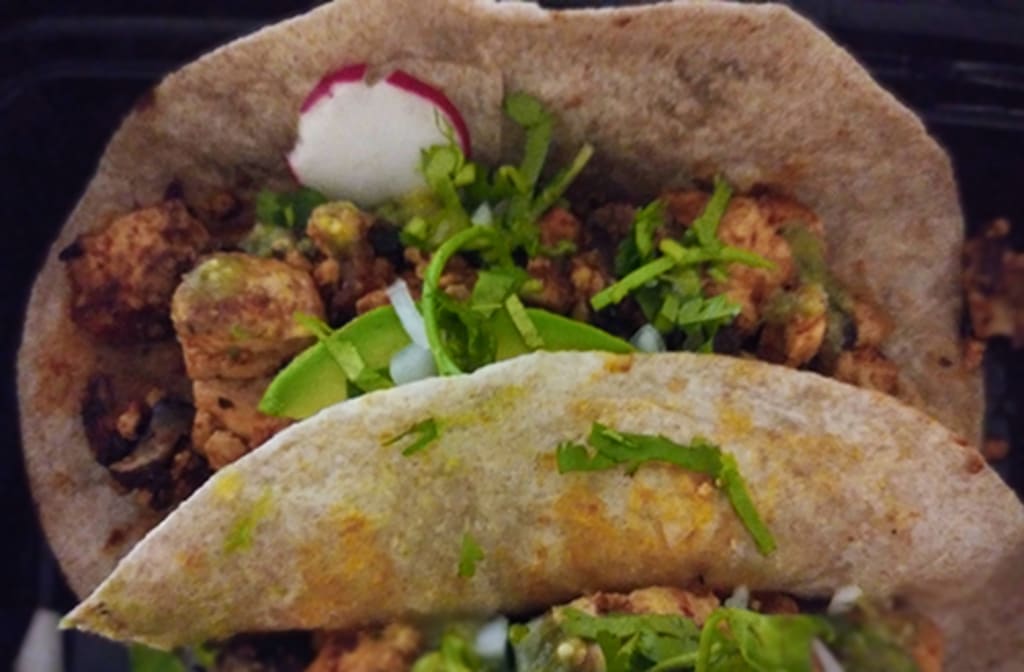 MONDAY
APRIL 14, 2020
Meditation, light, hydration movement = 5:26am
My morning movement was a tai chi video, which was saved to my You Tube playlist.
Later I practiced yoga for 18 minutes. Down Dog App. Hatha. Beginner, Level 1.
I ate two very delightful mushroom barbacoa tofu tacos, with sliced avocado from Al Vegano Vegan Mexican Grill. How much I love this place can not be measured. 9112 3rd Avenue, Brooklyn. They are on Seamless and Grub Hub.
A potato, egg and cheese on an everything bagel was the last generation food I chose to eat. And it was delicious. The bagel was fluffy and doughy, the cheese was hot and melted, over the perfectly scrambled egg. And the potatoes were hot and starchy, just like me.
I had just walked out of my first visit with with my new neighborhood doctor. She had just told me that my cholesterol, blood sugar, and blood pressure were up. She left me off with a warning, "I'm not putting you on anything . . . yet."
"Yet" was all I had to hear. I was 45 and I knew that this was my signal to turn the bus around. My dad was 62 when he walked into a pharmacy, had a massive heart attack, and died on the floor. He was there to pick up some of the 13 pills he was taking each day. And now, this is how Veterans' Day ended for a man who had served.
I had been a vegetarian since shortly after graduating from college. I got to thinking about all those chicken wings I at in Buffalo. The thought of all that flesh and bones started to freak me out. So I gave up meat, then fish, but continued to eat eggs, cheese, pizza, late night Chinese food, cookies, candy, chocolate, French fries . . . with gravy. Yummmmm, French fries with gravy.
20 years of eating like this, plus giving care to a sick boyfriend and mother, had taken it's toll on my body. I realize now that, I was taking that toll on my own body.
A few months prior to that neighborhood doctor appointment I had successfully completed a 14 day plant based challenge I had found at No Meat Athlete. I had lost seven pounds during those two weeks, but then I fell off the pizza wagon, after an argument with a potential suitor. And now I had medical proof that something inside my body was going haywire. And after that bagel egg sandwich, I was done. I dove head first into the vegan pool and just kept swimming.
Three months later, I followed up with my doctor. My cholesterol had dropped 50 points. And my biggest advocate didn't need anymore proof than that.
Oh, that's right, I am my own hot and starchy advocate.
---------------------------------------------
I do indeed miss my beloved neighborhood Pizza Wagon, 86th St and 5th Ave., in Brooklyn. And I feel like mentioning them here. If I could spend a day outside the vegan pool, that is where I would go. Last month, I was on a city bus heading home, when the driver pulled over to get a slice. Their pizza is that.
But I am not stepping out of the vegan pool. Not now, not ever. In the mean time, I satisfy my pizza glands with Screamer's. They have two locations in Brooklyn: 620 Manhattan Avenue, and 685 Franklin Avenue. Their combos are AMAZING, everything is delicious. Check out this video I made about running to their Crown Heights location, last year on 3/14, Pi day: https://youtu.be/Qmp6Qa4WZW0
And while we're on the subject of food, I I have a French fry tip as well. Pomme Frites, 128 MacDougal Street, New York City. They are outrageously great, served Belgian style. And her gravy is VEGAN!