My Experience in Italy and France Before COVID-19
I wanted to share with everyone some insight on COVID-19. Current situations are getting worse but there's still hope. I also wanted to reminisce and share my last time in Europe before these tragic events took place.
Before I get started I just wanted to let anyone know that if you're in need of supplies, a lot of people have been volunteering to help. A lot of individuals have been sacrificing their time to deliver food and necessities through your door. Check if any local stores are offering help, and if you need it don't hesitate to ask.
My condolences goes out to the people that have been affected greatly by this virus and whom weren't able to make it to see another day. My thoughts go out to all of you who are worried and afraid. Just know that I'm sending positive vibes to everyone in this world. Please be safe out there and remember to wash your hands. Stay healthy everyone!
Before talking about my journey, here are some informational things I should touch up on before continuing: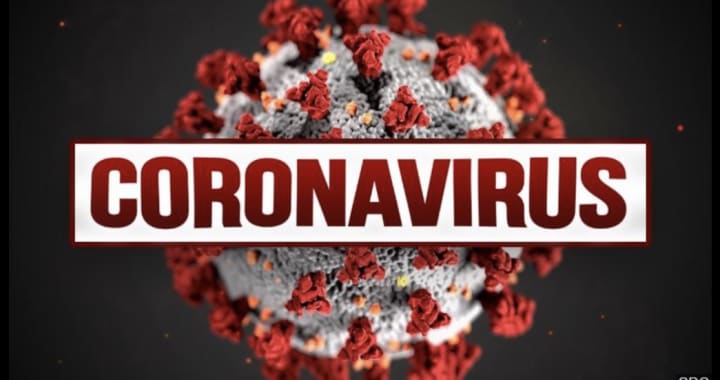 What is COVID-19?
COVID-19 is a virus strain, which was first identified in Wuhan, Hubei Province, China, and it started spreading through people in December of 2019.
What are the symptoms and how does it spread?
The main symptoms of COVID-19 generally appear within 2-14 days of coming into contact with it. Symptoms include fever, cough, runny nose, hard time breathing, sore throat. (I'll get to the difference between influenza and COVID-19 in just a minute). This virus spreads through respiratory droplets, this indicates that someone has to be within 6 feet of someone contaminated by the droplets. It's very possible for someone to come into contact with COVID-19 by touching surfaces or objects that are exposed to the virus and then touching their face with it. By face that includes mouth, nose, possibly eyes, but this isn't the main reason the virus is spreading. People who don't have good hygiene and a weak immune system are generally targets (PLEASE COVER YOUR MOUTH WHEN SNEEZING AND COUGHING! WASH YOUR HANDS AFTER!).
Is there a vaccine for it?
No, currently there isn't one. But here are some facts that's bringing hope to all of us. According to doctors in India, they've been able to cure patients with COVID-19 by using HIV drugs. Other sources have mentioned that a Chinese grandmother was cured and has fully recovered from this virus after a six day treatment in Wuhan, China. There are also rumors that there's a potential vaccine that has reached human testing for COVID-19.
What's the difference between influenza, allergies, common cold, and COVID-19?
Just as flu season started winding down in the region, COVID-19 showed up. Both influenza and COVID-19 can be transmitted in the same ways and both can present in the same ways. They share many similarities, but many differences as well. Allergies, unlike coronavirus, do not cause a fever and seldom shortness of breath. Yet the sneezing, runny nose, congestion and itchy, watery eyes are more than an inconvenience. Sometimes allergy sufferers don't know whether they're suffering from seasonal allergies, a nasty cold or even asthma that might require medial attention. I should also mention that a cold usually reveals itself gradually.
The flu can hit like an anvil. You might experience coughing with both a bold and flu, but the flu often produces a more severe cough. Cold symptoms are typically milder than flu symptoms, too. It's relatively easy to distinguish allergies from potential COVID-19 symptoms. Allergy symptoms rarely extend beyond the head — with nasal congestion, itchy eyes and sneezing — unless you also get rash. If you experience similar symptoms each year, it's probably allergies. If in doubt, check the pollen count in your area. Contact your doctor or schedule a virtual visit with a medical professional. Given heightened threat of coronavirus and the the stress on the state's healthcare system, do not go to a doctor's office, urgent care center or hospital emergency department without calling first. Safety comes first.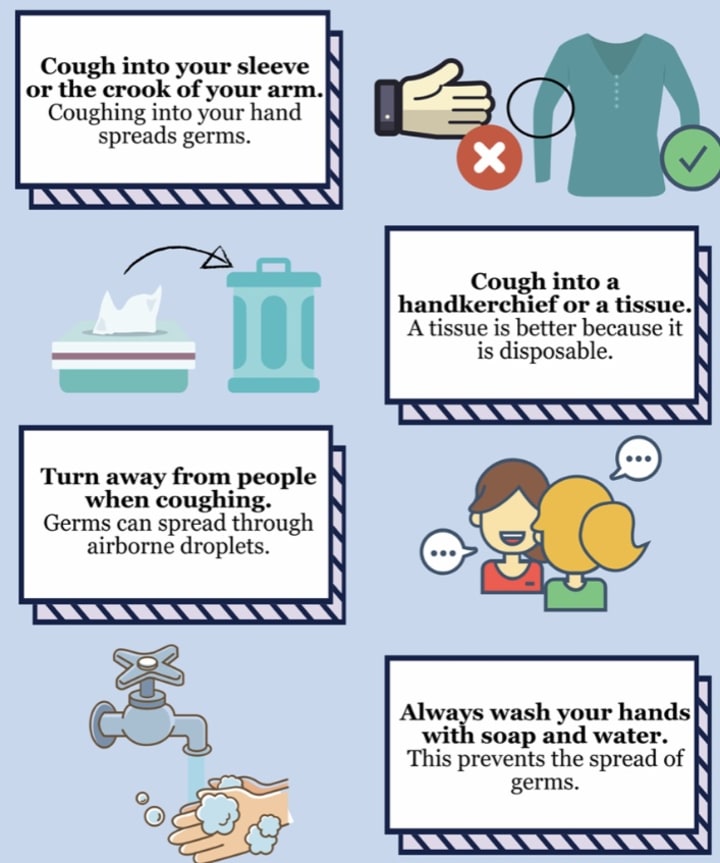 Follow these steps to secure your health and well-being:
*Stay home when you're sick, take some time to rest and recover. Your health and other people's health are at stake too.
*Avoid close contact (within 6-10 feet) from sick people. (Don't be rude about it though). Just keep your distance.
*Wash your hands, like they always taught us in grade school, sing "Happy Birthday" twice. Wash your hands with soap and water for 20 seconds. Here are some songs to can sing to while scrubbing your hands to remove Coronavirus Pathogens.
*Please avoid touching any part of your face and any surfaces with unwashed hands. If you do end up touching any surface with uncleaned hands, sanitize that area with hygienic wipes or any type of disinfectant supply.
*Cover your mouth at all cost. Proper ways to cover your coughs and sneezes is to use a tissue to cover your mouth and nose (and throw it in the trash right away). If you don't have a tissue, cough or sneeze into your upper sleeve or elbow (NOT YOUR HANDS!). And as I mentioned before wash your hands and thoroughly dry.
*Keep in mind that respiratory disease and flu season is right around the corner if not already here. CDC recommends that people affected by this to be vaccinated to prevent further spread of germs.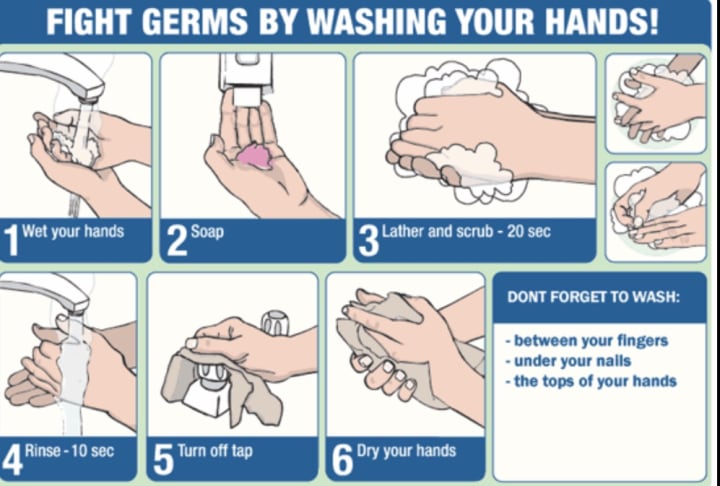 In the summer of 2019, I decided to go on a highly anticipated trip with my aunt to Europe. To be more specific, we went to Paris, France and Venice, Italy. The City of Lights and the City of Love. It was an experience that I'll forever cherish in my heart, and definitely once in a lifetime experience for me. Traveling is one of those things that you really have to get excited for and be prepared for. Being stuck in an airplane for hours isn't always fun but it's only the beginning to a beautiful adventure. I chose my dear aunt Katherine to tag along — because she's the only family member closest to my age— she's not judgmental and is overall a fun person to be around. Moving on, I'll be talking about my experiences in Europe before the biggest outbreak of the new decade occurred.
My mom has always been a germaphobe. I never minded but it did get a slightly annoying from time to time. But I'm grateful she preached the word of good hygiene. She would clean every part of each hotel we stayed at. And of course she sent me off with disinfectant wipes and other cleaning supplies with me on my trip. Before getting off the phone with her she'd remind me to wash my hands and use my hand sanitizer. But anyway, our first destination was Paris, France. My obsession for Paris was immense, hence why my birthday theme for my 15th birthday was Paris. Along with the theme of my room decorations. Paris is famous for its cafe culture, the Eiffel Tower, the Louvre, Notre Dame, the Moulin Rouge, pastries, and fashion. Paris is often seen as having beauty, elegance, and as being a boldly romantic city.
The City of Lights: Paris, France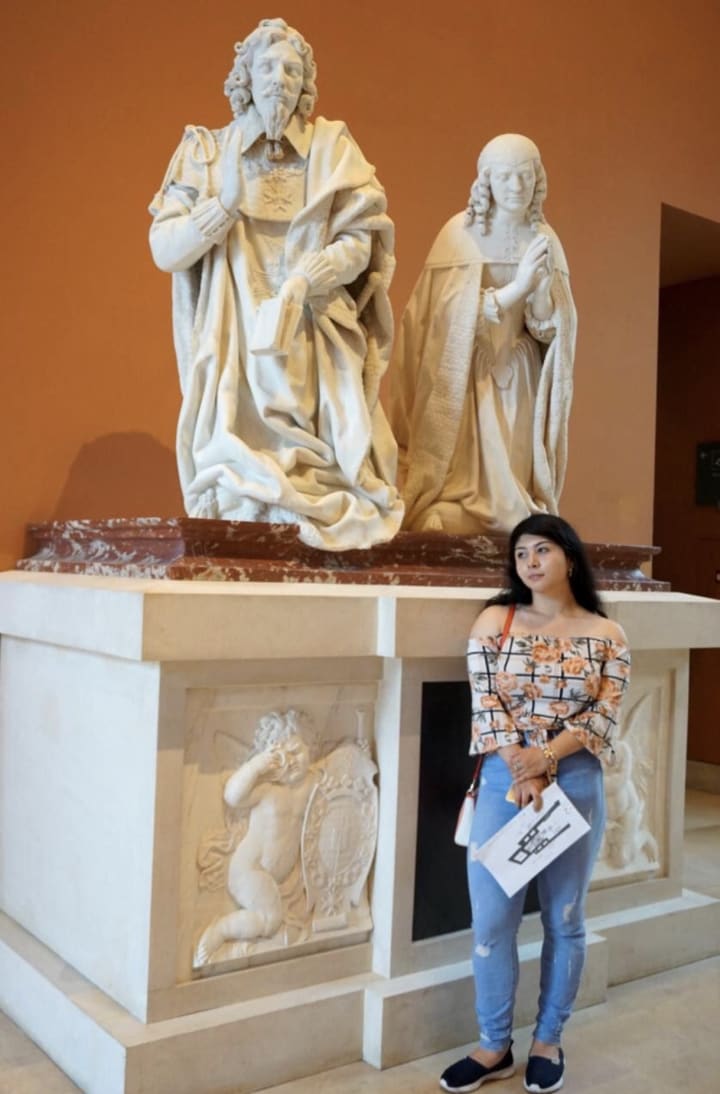 There was something about Paris that has always intrigued me, the beauty behind it and the history. Oh how I love history. It was only natural that we spent 3 weeks there. We decided to stay at 2 different hotels in different locations during our stay in Paris. It was quite beautiful. The first time we walked around the city, it was filled with cigarette smokers, people of different races, and cultures, different ages, you name it. Shops and stores were crowded. And the heatwave we experienced was extreme but we pushed ourselves to keep going. Everyday was a new experience for us. The food was ripe and delicious, it was so fresh and non-artificial. Sightseeing was part of our everyday adventures, we went to every museum you can think of and spent 4-5 hours in them— even then it wasn't enough time to see everything. And as I mentioned before, it was very crowded. If you're a history junkie like me, I recommend visiting the Catacombs of Paris.
The language was like music to my ears — although I speak the language — it doesn't compare to how fluent and peaceful it sounds from those native in the region. At night, the breeze was soothing against our skin and as we walked around in the busy streets the lights illuminated from every building. We stopped at a few restaurants once in a while, to take a few sips of their wines. I should mention that they truly have the best tasting wine ever.
Tipsy men and women laughed loudly as we passed them. Everything seemed lively and fun. We took tour buses and used Uber to transport us everywhere. Sometimes we'd use the public trains, not the best experience but it got us to where we needed to go. The Parisians are usually nice and welcoming, but from time to time we'd encounter a few rude people. Nothing, let alone someone, was going to ruin our time. And our time in Paris had ended just as fast as it started, but our journey hadn't reached an end just yet.
The City of Love: Venice, Italy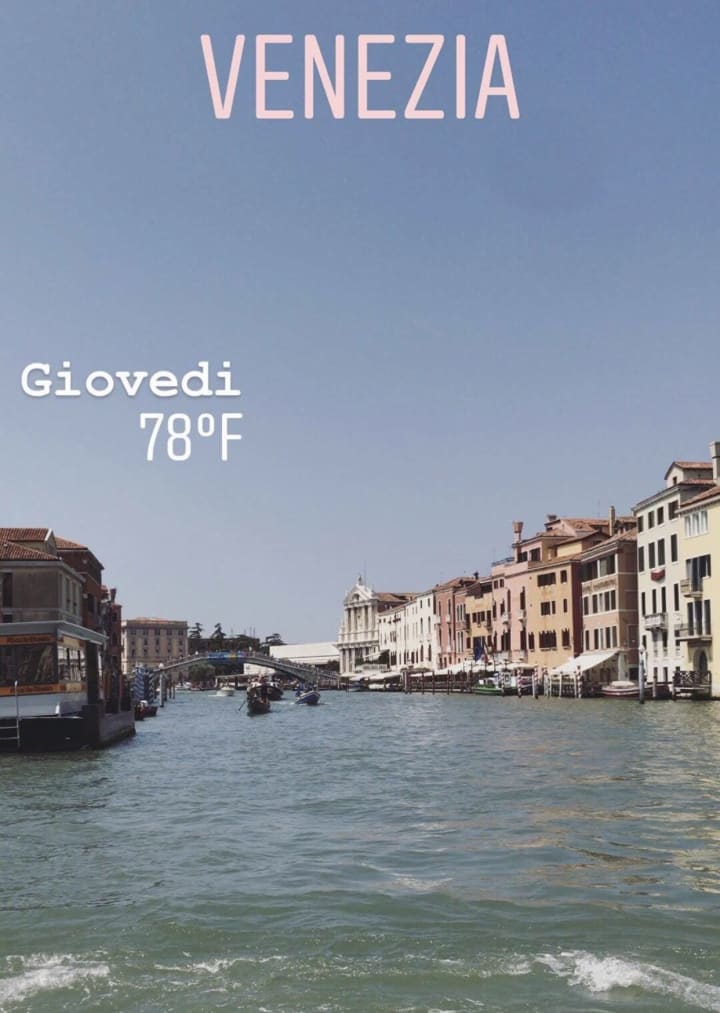 Where do I start? Venice was very lovely. It rained once while we were there but we ended up staying for 2 weeks. Just like French, the Italian language is just as beautiful maybe even more. Venice is one of the most popular and visited cities in Italy and the world. It is made up of more than 100 little islands and has 400 bridges connecting them. Venice was a major power during the Middle ages and the Renaissance. To this day it still holds importance art pieces from the Renaissance. It was known for its trade as well as arts and culture.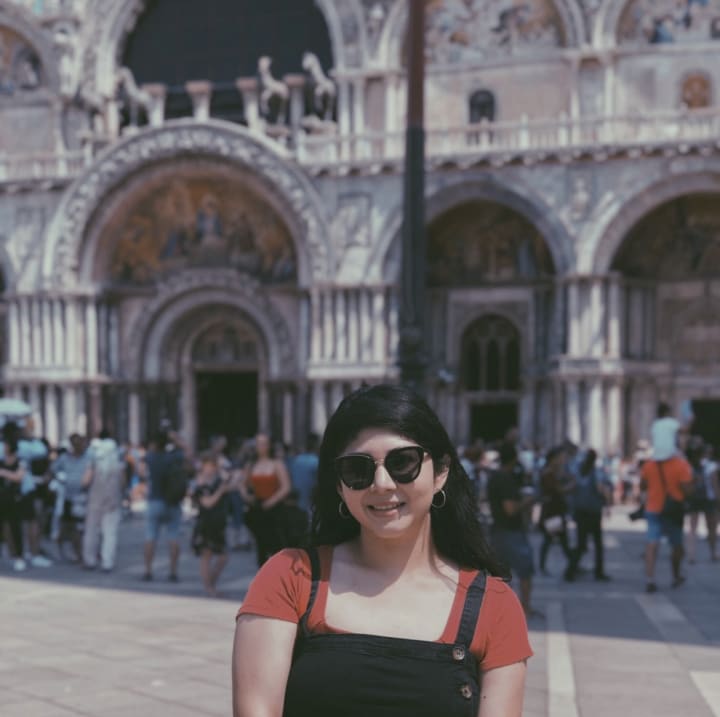 My ancestors lived here for the longest time, my great great grandfather was the head of the Marcucci family at one point before he began his mini exploration in Central America. Must be where I got my adventurous side from. I felt very in tune with the Italian culture and loved everything about it. Not only was it beyond beautiful to walk through the busy bridges of Venice, but the food was indescribable. The pizza and pastas they cooked for us were deliciously divine.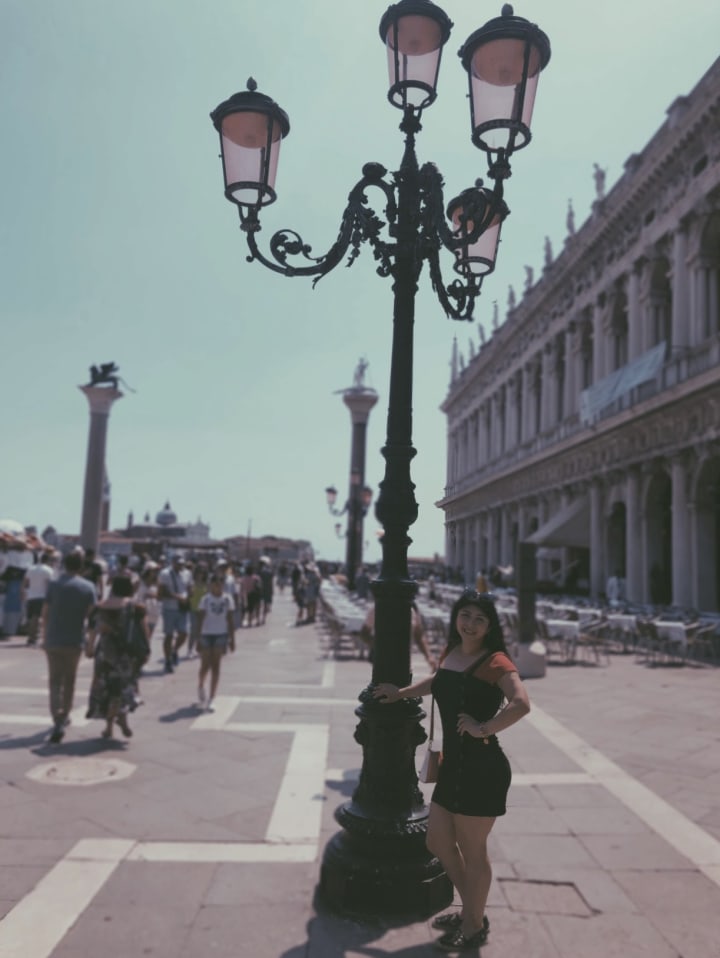 We walked into almost every church they had just to look at the art work. There were many high designer brands in each part of the city, a lot of shops and stores decorated its streets. I should add that they have many booths where you can buy souvenirs, look around a few to get the best deals. Usually the ones that are further away from crowded spaces and are less busy have better pricing. Most of the Italian people were kind to us and treated us as if we had known each other for a while. We walked around a few small towns in Venice and loved the architecture of every house. My aunt had agreed that if we had to choose a place to live in it'd 100% be Venice. Unfortunately the beauty didn't last very long. It saddens me to say that nowadays there aren't people wondering about in the once safe streets of Venice.
On a serious note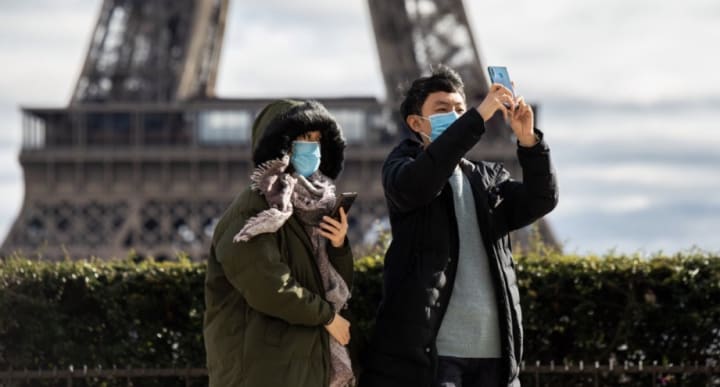 France has entered 'stage 3' - full epidemic state - of the coronavirus, which means that the virus is currently circulating actively across the territory. As a consequence, France is under lockdown as of now. Cafés, restaurants, tourist attractions, bars and non-essential shops have been ordered to close, as have all schools, colleges and nurseries. Travel has also been heavily disrupted, with many countries closing their borders, the USA banning all travel by non-US citizens from Schengen zone countries and the EU restricting flights from non-EU countries. France has more than 5,300 cases with 175 deaths, according to Johns Hopkins University data. But there's hope, 602 have recovered from this virus.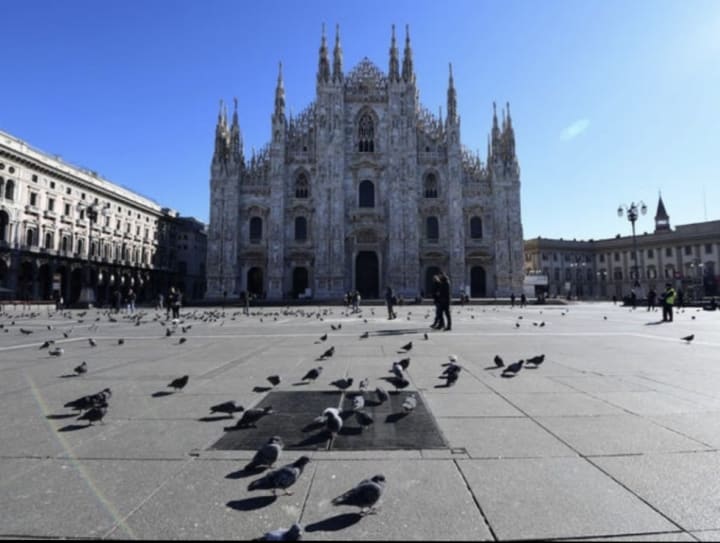 Italy has seen the largest number of coronavirus infections in Europe, with the number of confirmed cases jumping by more than 1,200 to 5,883. With cases still surging, the government has moved to the next stage - and it's a dramatic step up. It's not quite a complete lockdown - planes and trains are still running and access will be permitted for emergency or essential work reasons. But police will be able to stop people and ask why they're trying to enter or leave the areas covered. There are currently 31,506 cases with 2,503 deaths. But are 2,941 recoveries as of recent.
Through hard times we thrive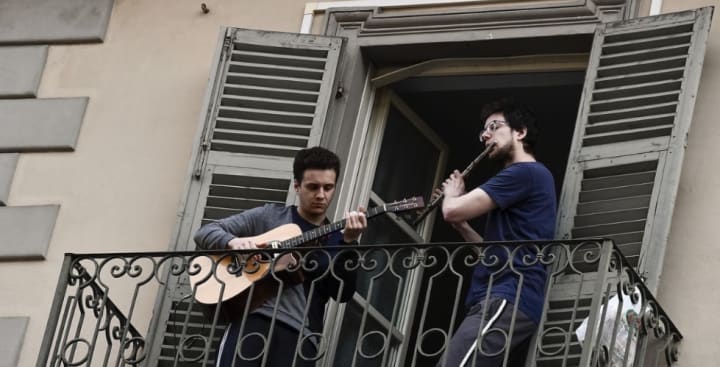 From the United States to Europe, the deadly coronavirus outbreak is forcing a growing number of people around the world to self-isolate, leading not only to widespread anxiety but some positive vibes, too. Dozens of people throughout Spain and Italy have shared videos on social media. In the videos you can find online, people are seen coming together to show their support for the emergency services. Some clapped from their windows in unison, while others stood on their balconies and let out cheers of appreciation. Songs have filled the streets in Turin as others took to their balconies to play instruments and sing.
One resident described the moment as a "free concert" and shared footage of it on Twitter. This is the time to appreciate life and celebrate that we're still healthy. Yes, it's a dark and worrying time for many, specially those who have this virus, but people are trying their best to cure them and keep them alive for as long as possible. Nurses and doctors alike have been working day and night to tend to their patients. Not to mention, the people that are currently working on a vaccine. Let's appreciate some communities that are willing to lend a helping hand. It's time for us to stand together and work with each other. Soon, things will go back as they were. These two countries, and many others affected, will no longer be under lockdown. We just need to be patient.
Spread the word, not the virus. Stay safe everyone. Fear not, this will soon pass. The human race has survived many catastrophes. We can all overcome this.
Much love!
-Brittany