Living the ASYMPTOMATIC Life
Adapting to COVID-19 Environment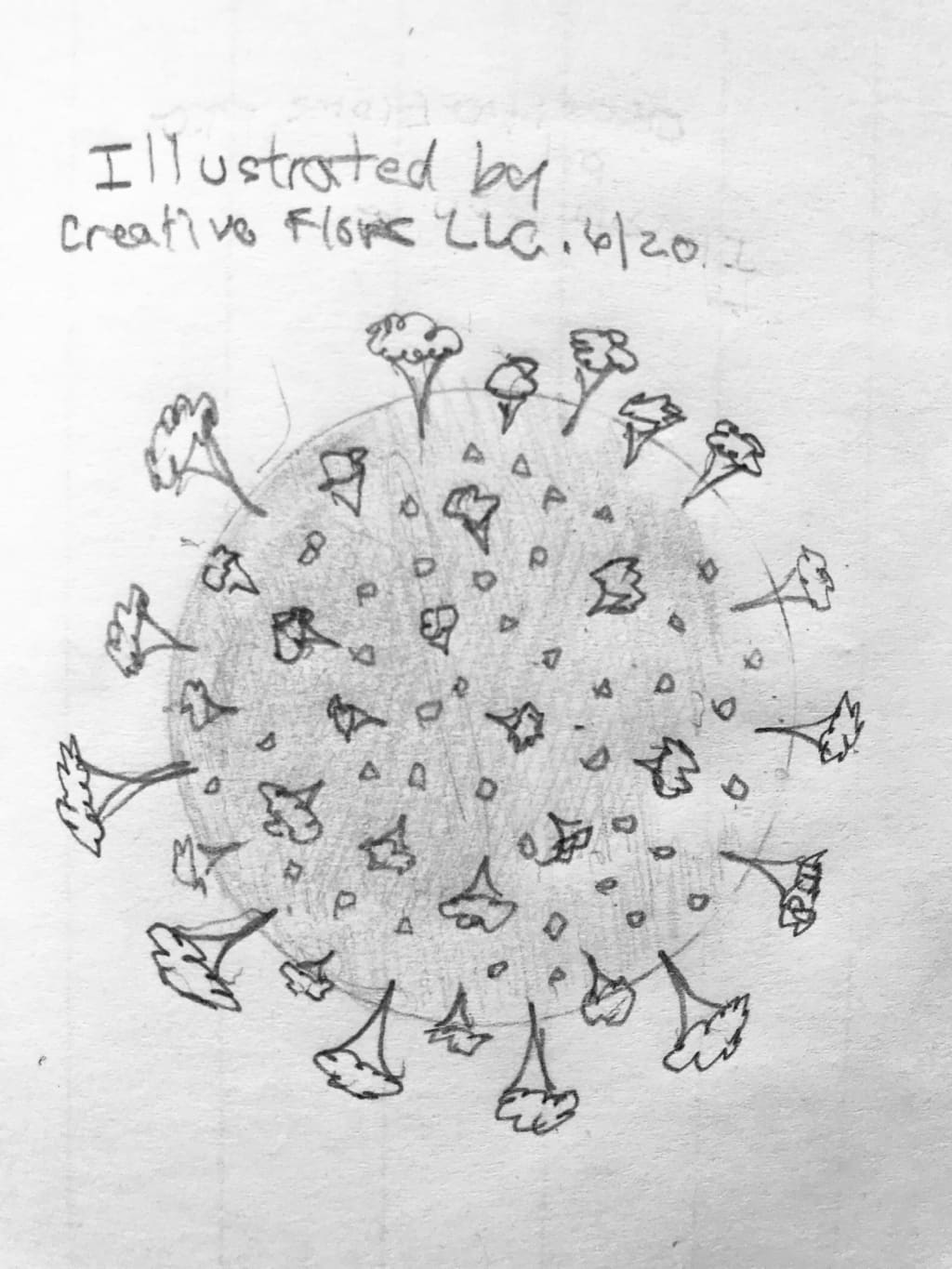 Sketched
Are you an asymptomatic person? I am and I never really gave it a second thought, before the Coronavirus took place and became a prominent factor in the United States. The domino effect began and our lives were put on hold for many of us.
As the stay-at-home order was installed from our government, I could see the drastic change in many to instantly move into survival mode, after a few days and looking at the empty streets downtown.
Many were having conversations of what it will take to get the bare basics done. I know how to fish and we will walk to get there and back. Some had the look of astonishment, argument and worry that appeared on their faces as plans were being made.
Some were remembering learning the (how to) when they were kids. In other words, you never know if and when those skills of fishing will be needed in order to feed others.
Places to take them fishing was also mentioned; creeks, ponds, lakes, etc., in order to put food on the table.
It was also discussed of walking to get from point "A" to point "B," even if that meant family members who weren't use to walking and had been in vehicles there entire lives. They were going to adapt as a family and make their character and bond stronger from the experience.
Covid-19 brought out the toughness in many who had to provide for their families and who were living from pay check to pay check all ready.
How did you do? How did Covid-19 impact your life? Or, did it have an impact on you? It boils down to adapting to our circumstances, to making it work, to survive this environment that has been put upon us either directly or indirectly.
Covid-19 made us become quickly aware of where we stood at financially, relationships, health, safety, and more. Can we pay our bills such as mortgage, rent, utilities, food and the list goes on.
Some people were waiting on their taxes To arrive when the buildings were shut down indefinitely. The employees were furloughed and/or laid off of their jobs, and many filed for unemployment benefits in various forms.
Some relatives helped other relatives or friends and even some strangers came through with financial assistance with loans or just gave it to others who were in need, in other words...paying forward. While some others were able to adapt to their environment because the virus didn't impact them financially.
It was fine for a few days to have off but when a few days turned into a few weeks, a few weeks turned into a month, and a month turned to months, restlessness started to set in with people. Then you start to think, this is going to take awhile, how am I going to provide for my family?
Family is the backbone and we are fortunate to have one that is there for you if needed. We have all taken turns when someone is at a weaken place at different times in our lives until something happens again. Any petty squabbles (drama) that had been going on prior to the Covid-19 panademic should be worked out now, in the process of working on or put in its proper place and shelf it until circumstances get better. Pointing fingers and placing blame will not help in time of needing each other. Just recognize where each persons' buttons are and that will set people off, shelve it, respectively and take a break. You might have been able to grow from those experiences and expand into a new understanding of one another, not to mention developing a better relationship out of it. The exception to this, of course, would be an abusive relationship and/or toxic environment to ones health, safety and well being. A professional of some sort (Life Coach, Family Counselor, Psychologist or something along those lines because they have the tools to help resolve in order to get to a better place).
What steps were taken to adapt to our new reality of dealing with Covid-19 for you? Unfortunately, for some that meant going out of business permanently, shutting down several locations, perhaps condensing and adjusting back to where you started from; which means operating one location or out of a truck.
The pandemic does not discriminate, and all are at risk.
Once you have adapted your mindset to make adjustments, make plans A, B, C, D to bring in income legally.
The businesses that didn't stop thriving were the stores that had groceries and we're actively hiring as well as delivery services and some shared passenger businesses, virtual jobs, lawncare, healthcare and some restaurants that were able to adapt to just carry out and curbside services.
The shared-passenger businesses were impacted as well. Being a driver and living with my everyday hypothyroid condition and it's symptoms, the company gave us directions in which to go by and adapt in order to be safe for our passengers as well as it's drivers. Kudo's to them for thinking about it ahead before weeks passed by with no solutions in site.
Those changes are to wear a mask, no one sits in the front passenger seat, all windows are open for air, hand sanitizers, wipes to keep our vehicles clean and don't pass out water bottles, magazines or anything else.
The schools had to close as well to regroup. The domino effect was cascading all over the world.
I had chosen to adapt to our circumstances inspite of being asymptomatic by going back to school taking online classes. As well as looking into my past employment history and looking at those jobs through a different view point. I created the mentality of combining and selecting skills and experiences from each one to apply to a job today that will fit my asymptomatic condition regardless of a recession or whatever the next crises will be.
With constantly fighting to have energy (Hypothyroidism) I am not as physical as I use to be, so therefore some aspects of what I do will change from those highly physical jobs and running around is draining.
Let me just mention, this is my experience with being hypothyroid, not every person who has this condition has the same experiences and/or outcomes. So, popping a daily pill for the rest of my life helps, but it's not a complete cure.
Finally, acknowledge that you have the capability to adapt even being asymptomatic to our new norm inspite of the Coronavirus trying to prove otherwise.
We can do this ADAPTING and thrive!