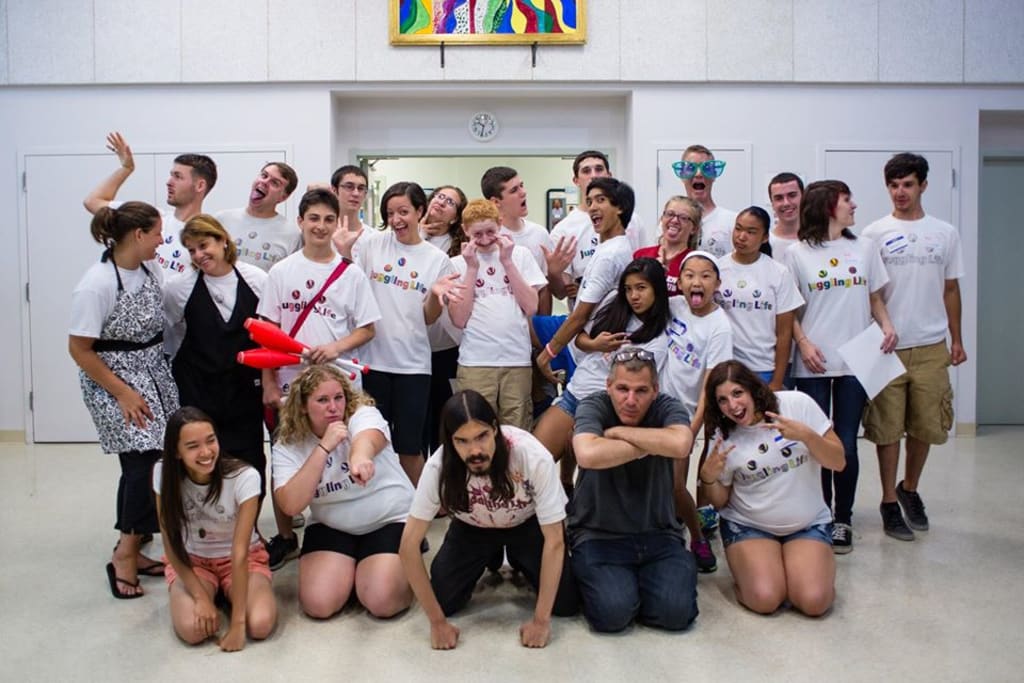 Juggling Life-a non-profit organization who puts on free events for kids with Crohn's, Colitis, and Cancer. Also, a fun and meaningful play on words for what we have to do throughout life--juggle many responsibilities at once. Sometimes it can feel overwhelming. Sometimes we feel we have it covered. Most of the time we teeter between chaos and order. Do we let it get the best of us or do we accept it for what it is?
Everyone I've met affiliated with this organization has been nothing short of awesome. Lou DeLauro, the founder of Juggling Life, first sought me out on Facebook in 2010 to play the 'rockstar' in his alien show for a summer camp program designed for kids with Colitis and Crohn's in a small town in Pennsylvania. It was a night to remember. I took a train from my then job in NYC to Newark where I was picked up by a guy named Andy Smith and driven to this camp in a red sports car. It sure felt like being a rock-star. The event was a huge success, and I'll never forget that particular show as it opened my eyes to a whole new world of doing something positive, meaningful, AND service oriented with music. Granted, I had done other one-off benefit/fundraising concerts in the past, but this felt different. After that first night, I volunteered at a handful of other events Juggling Life put on: Fashion Show in Dunellen, Alien Proposal Show in Dunellen, Camp in Pennsylvania, Camp Oasis in Blairstown, NJ, Homefront in Mercer County, NJ, and Good Morning America background street performance in New York City. Lou and a few members from the organization even came to do a free 30 minute program for those with developmental disabilities at the Arc Mercer when I worked for them between October 2010 and April 2014.
This picture above is after an event put on for kids at Homefront in Mercer County, NJ. This fun-loving, talented group of people really rose to the occasion. The kids loved it. The Director of Homefront loved it. And, I loved it! This event is where I learned how to juggle 3 balls with my hands at once. I never thought I would be able to do such a thing, but with a little bit of practice and using my brain to coordinate with my hands, I accomplished it. For many years, I had the ability to juggle a soccer ball with my feet so I knew I could juggle in some capacity. In fact, I was able to juggle for several minutes straight, even while walking up and down a soccer field. At one point in time, I was able to run while juggling a soccer ball. Yes, it was using my feet, which is a lot different than your hands, and only using one ball. But, it is not an easy thing to do by any means if you don't have the foot-eye coordination or spend the time to practice.
To this day, I still juggle egg shakers during some of the music sessions I run to show people it is possible to do, and that you can juggle with small objects around the house.
I can't thank Lou and the team at Juggling Life for building my confidence with a neat skill, which just so happens to be a metaphor for life. Plus, I made a lot of friends in the process, and was able to use my gift of music to make other people feel better. There's no greater feeling than doing what you love to do while making a difference in people's lives.