Investing in Myself, One Healthy Meal at a Time
Check out how I turn mundane health routines into delicious adventures.

Created withWW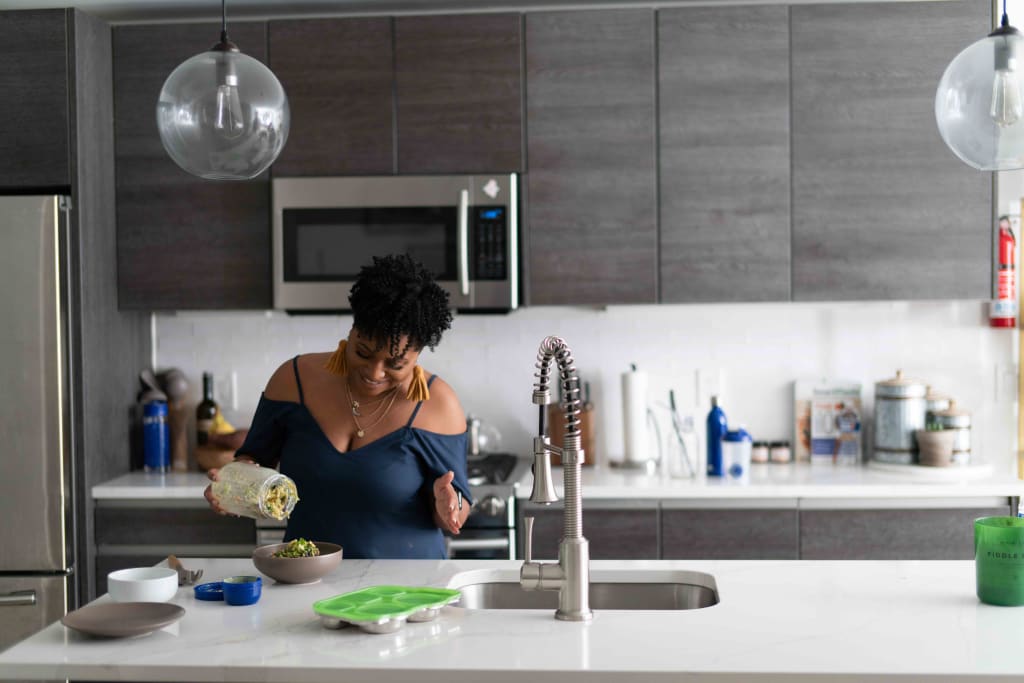 In 2019 I made one of the best decisions for myself – I joined WeightWatchers. After just a few months on the program, I started seeing results. Here's the backstory of why I joined and why I love WeightWatchers.
Before I Joined
I struggled with my weight for 20 years before deciding to pull the trigger and join. Even though I tried different things over the years, none of them really stuck or brought long-term results. After my son was born, my weight started to climb almost back to my pregnancy weight. I had to make a shift.
Once I returned to work after maternity leave, I started getting emails about my company's partnership with WeightWatchers. This wasn't anything new; I'd gotten those emails a million times over the years. I just wasn't open to it before. I thought that WeightWatchers was boring. .I thought that there wasn't an app so you would have to keep a food journal, look up foods in a book, attend weekly meetings, and weigh in – and I wanted no part of that.
But I was wrong, I learned that the WeightWatchers app has over 1 million 5-star reviews, and there was an option for an app-only membership. And on top of that, once you reach and maintain your weight loss goals, you reach "lifetime" status and your membership is free for life. I thought of the monthly fee as my self-care investment, and the free membership was great motivation. I needed to get healthy for my son by any means.
I joined, and never looked back. There was nothing boring about it because I was able to do things my way. No foods are off-limits and there are over 10,000 WeightWatchers recipes to try if cooking is your thing. The program was designed so that you can have tacos, dessert, cocktails, even your favorite fast food––and still build healthy habits. I could do any type of activity I enjoyed to get my body moving, so I chose things like outdoor walks, dancing, and strength training. When I need to get back on track or shift my mindset, I always find the encouragement I need with the weekly content on the app or during a virtual workshop.
Meal Prep on WeightWatchers
As a busy mom who works full-time outside of our home, I like to keep it simple and consistent during the week. I hard boil eggs, and cook chicken, salmon, shrimp, etc. for my meals for the week. I also wash and slice any fresh fruit or veggies, and cook any veggies I'll be eating for the week. This way I can mix and match and have plenty of options to choose from. On the weekend, I get a little adventurous and try more recipes when I have more time to spare.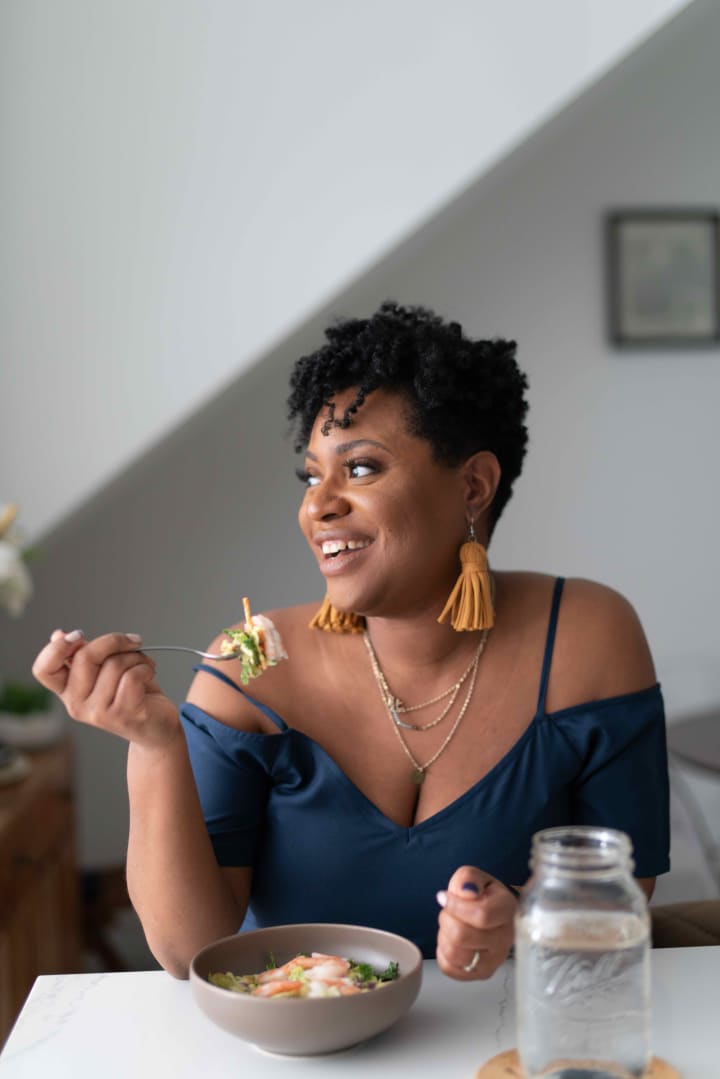 I also try to find alternatives to things I love that traditionally would have high Points values. I use sugar-free coffee creamer, unsweetened almond milk or water in my smoothies, and reach for sparkling water instead of sodas. I also use zero calorie sweeteners to add in my coffee and smoothies as well, like monk fruit.
What I Eat for Breakfast
For breakfast, eggs are my go-to. I hard boil a dozen eggs on Sunday in my pressure cooker to last me the entire week. I usually eat 2 hard boiled eggs along with fresh fruit and a cup of coffee with sugar-free coffee creamer. Another breakfast fave is a smoothie. I add collagen peptides and a protein powder, mixed with water and some unsweetened almond milk or oat milk, and frozen fruit. If I have a smoothie for breakfast, I usually save my hard boiled eggs for my salad for lunch.
On the weekends when I have time to cook, I will make mackerel or salmon cakes (canned mackerel or salmon, diced bell peppers and onions, and an egg to bind) in my air fryer to go along with scramble eggs and fresh fruit. WeightWatchers also has an amazing shrimp and grits recipe that I enjoy making for the entire family. It's so flavorful and the true epitome of soul food, and everyone loves it.
What I Eat for Lunch
Most days I have a large salad for lunch made with romaine, arugula, and dandelion greens, cherry tomatoes, cucumbers, bell peppers, and celery. I top my salad with salmon or shrimp, a hard boiled egg or two, pumpkin seeds, and some simple salad dressing made of olive oil, lime juice, white wine vinegar, and whatever herbs I throw in. If I don't have that, I'll usually just bring leftovers from dinner.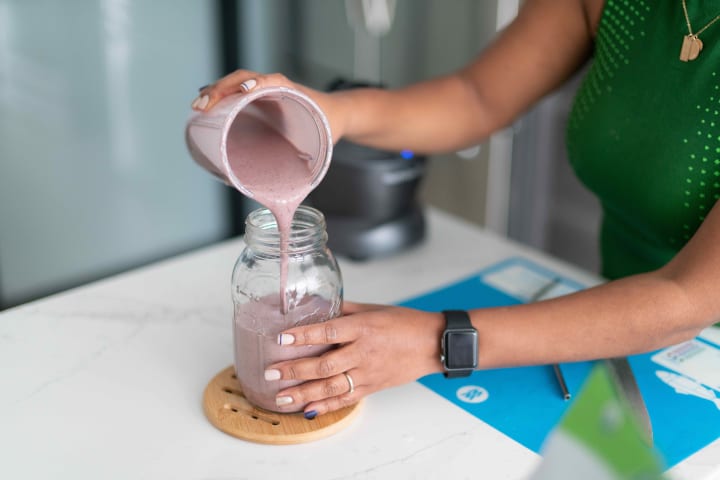 What I Eat for Dinner
For dinner, I have lean protein like salmon or shrimp, along with some stir-fried veggies and either quinoa or brown rice. I love to roast broccoli, cauliflower, bell peppers, and onions on a sheet pan and have that as my side veggie. I also like to sauté fresh whole green beans. Sometimes I'll cook cabbage or collard greens in the pressure cooker. Another veggie option is cauliflower fried rice, which I love to pair with shrimp or bay scallops.
WeightWatchers also has lots of other sheet pan or one dish recipes that I keep in rotation so my weekly meals never get boring. I also plan to eat out once or twice a week with my family or with friends!
What I Snack On
Between meals and after dinner I love to snack. I like to eat fresh fruit along with nuts or a small protein shake. I'd rather enjoy a snack I love in a smaller amount, then a snack that tastes bland in a larger amount.
If there is a treat that I'm craving like ice cream, I check the serving size and see how many Points it is. If it's over 5 points, I start with half of a serving and see if that takes care of the craving. Oftentimes it does. If not, and I have Points to spare, I go for it and enjoy every bite.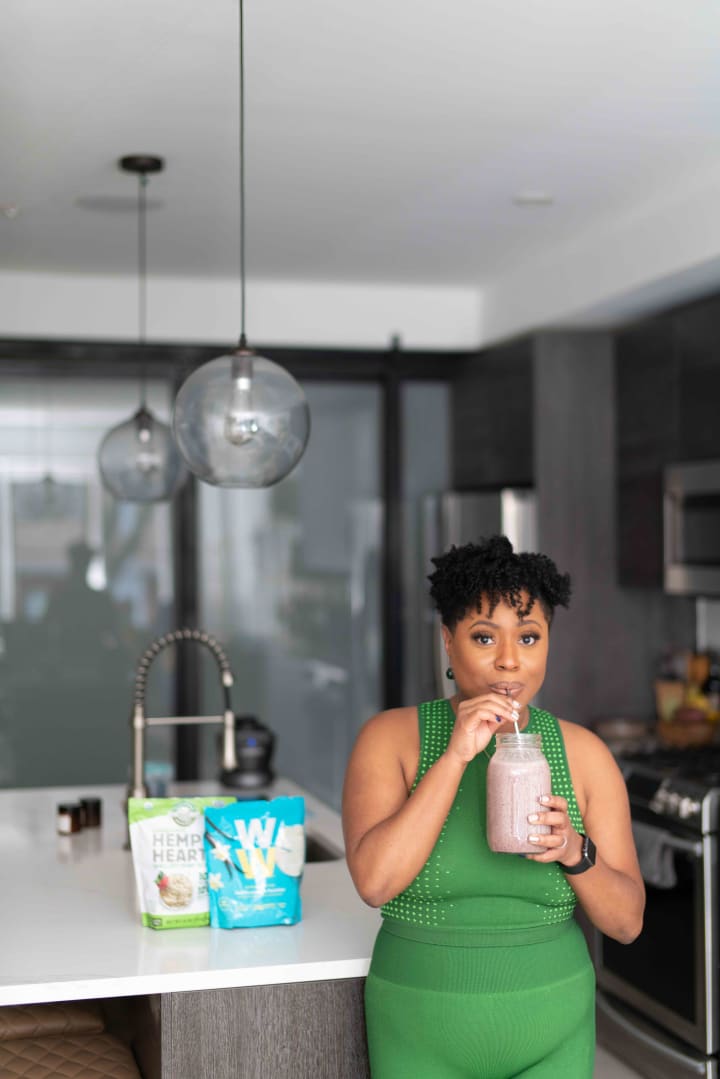 That's pretty much what I eat on a weekly basis on WeightWatchers. It's never boring, but also simple enough to not be overwhelmed with my busy lifestyle. Whatever your lifestyle calls for, you can lose weight while still eating the foods you love on WeightWatchers.
Reader insights
Be the first to share your insights about this piece.
Add your insights