In 2020, How Do We Talk About HIV?
With COVID-19 health dominating conversations worldwide, now more than ever, I want my friends, both HIV positive and negative, to feel equally deserving of love.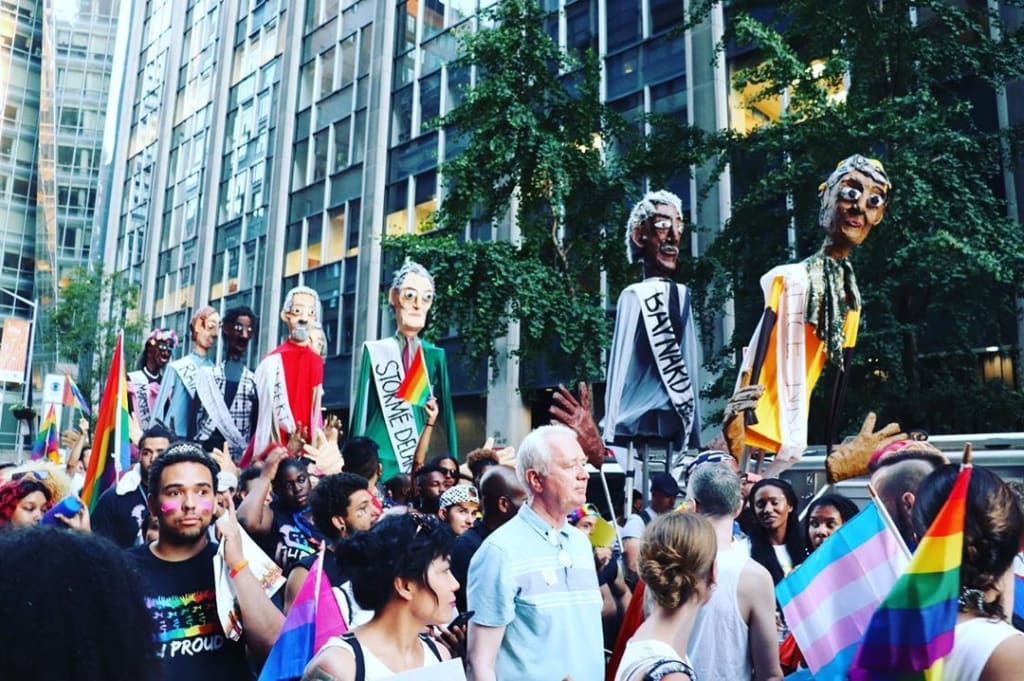 @Pride_Puppets
Author's note: A previous version of this piece was published on The Huffington Post in 2017. With so many significant changes to the fight against HIV/AIDS in terms of the success of PrEP, new information about what it means to be undetectable, a dizzying array of political issues, the arrival of the coronavirus pandemic, and through it all an additional 2 million new HIV cases globally, I felt that now more than ever, this piece needed to be updated and reshared. While cases of sexually transmitted infections have most likely fallen temporarily as social distancing have been put in place to drastically varying degrees depending on location, it is to be expected they will return along with previous social norms.
My proposal is that as we fight to end COVID-19, let's not lose ground against another virus that has helped build the social, political, and scientific infrastructure that we all desperately need and benefit from today.
-Andrew Sotomayor, May 2020
Full disclosure: grown up conversations ahead.
I was talking to a guy on a dating app. He seemed pleasant at first. Good looking. He unexpectedly asked if I was into "barebacking," and if I was "clean." I replied that I'm negative, and on PrEP, but I choose to use condoms, and I avoid using the word "clean" to refer to not having a sexually transmitted disease because the term perpetuates a negative connotation that makes my friends who are HIV positive feel bad. He replied that he was looking for something different...and blocked me. 
Life tip: Don't be that guy. 
HIV positive friends of mine have described negative interactions with guys that made them feel like "damaged goods," but also how dramatically things have changed because of modern medicine. While Prince Charmings are elusive (and obviously, I'm not referring to that guy), and I'm fine with that, I'm up late writing this because there's a big question I've struggled with for a long time.
I brought up this question when we interviewed fashion designer, Project Runway veteran, and HIV equality activist Viktor Luna during an episode of the Soapbox Dirty podcast (Feb 9th, 2017), and discussed everything from stigma, to transmission, prevention, and pos/neg relationships. I fact checked our recording with a medical professional before releasing the episode because I really wanted us to get this right. Health experts and the Center For Disease Control say the risk of contracting HIV from someone who is positive, on the right antiretroviral therapy regimen for them, and currently has an undetectable viral load has "effectively no-risk" of sexually transmitting the virus. With that said, it is still recommended that individuals take their own preventative measures when having sex with partners who's HIV status or viral load is unknown.
Additionally, condoms are 98-99% effective against HIV transmission when used regularly. Plus, PrEP / Truvada is incredibly effective at prevention when taken regularly, though doctors still recommend using condoms as an additional level of protection against HIV and because it offers no protection against any other the STDs. Many insurance programs cover it, and Gilead, the manufacturer of the drug, even has a program that will cover insurance co-pays. With the arrival of Descovy, there are now even more options than ever. The number of drugs available may need to continue to expand in order to address the needs of those experiencing side effects, and also to create more competition in the marketplace. In the meantime, a growing sentiment persists that, because of the millions of dollars raised by HIV activists, donors, and charitable organizations that has funded treatment research, drug manufacturers should be required to share profits with civilians and contribute more greatly towards making the drugs available to those who need it, a message sent via lawsuit initiated by the Trump administration against Gilead. Many Americans feel the patent should be ended early to allow for generic drugs to become available.
When using these methods, it is now very unlikely to become HIV positive by having sex with someone that is HIV positive if they're consistently taking the right meds for them and staying undetectable, and it is more likely to become positive by having unprotected sex with someone that is positive who doesn't know it, or may still in the window period of up to three months that most HIV tests need to detect the virus (The RNA test is also available, and is more expensive, but can confirm a status as early as 10 days after exposure).  
Now is the easiest it has ever been to have an intimate relationship with someone that has a different HIV status than you. New drug regimens are easier to adhere to, more effective, and make it possible for those taking them to live long and complete lives. Serodiscordance can be just one more part of dating life. Meanwhile, stigma continues and referring to people who are HIV negative, never had HPV, or don't currently have any of several treatable infections, as "clean" is degrading to others. Plus, the truth is that if a guy isn't using risk reduction methods, himself, then making assumptions about his own health would also be risky.
An important disclaimer to all this progress, however is that HIV and STD rates continue to rise. Individuals abandoning condom use and relying solely on PrEP leave themselves vulnerable to the gamut of bacterial infections like chlamydia and the developing drug resistant gonorrhea strains, as well as viral infections like HPV, hepatitis C, and herpes which may come with more expensive treatments and can require years or a lifetime of treatment, respectively. In some spaces, perhaps because of the complexities of these infections, the lack of understanding of how they work, and the longer term impacts, the stigmas around these STIs may be greater.
With that in mind, when it comes to HIV, the many health, financial, and socially stigmatized implications are not like what they used to be, the options available to avoid transmissions are greater than ever, and they're easier than ever to use. 
Please keep in mind, what I've written thus far mostly applies to communities where people have access to sexual health information, doctors, medications, and insurance coverage. Particularly in developing nations, poor people and women are disproportionately affected by HIV and due to lack of information, access to affordable care, and other factors, the UN estimates approximately 38 million people are living with HIV or AIDS and 19 million people around the world don't even know they have it. Of the estimated 1.1 million Americans who are HIV positive, 1 in 7 may not realize they have it. Here in the U.S., the Republican Party seems to have dropped efforts to repeal The Affordable Care Act, for now, though should they ever accomplish this it would leave millions of Americans without health insurance, vulnerable to denial of health insurance coverage due to pre-existing conditions (like being HIV positive), price gouging (remember Martin Shkreli?), and treatments that can cost thousands. President Trump's own relationship to the HIV crisis has been tumultuous. In 2017, six members of the Presidential Advisory Council on HIV and AIDS resigned citing President Trump's lack of initiative, action, or even "care" about this issue even when only 40% of Americans currently had access to the medications they need to live. Six months later, the remaining ten were fired. Funding proposals for the fight against HIV and AIDS have been dramatically back and forth, and a superficial reading of the news headlines can allow someone to push whichever narrative the prefer. Upon closer look, however funding for research, treatment, and prevention have included millions in funding, but only after billions were previously cut.
In February 2019, his State of The Union addressed he announced an intention to end HIV transmissions by 2030, which some experts said could be possible as plans by cities and states like Chicago, San Diego, San Francisco, and a Connecticut had already laid out such plans. achieving these goals is seen to be plausible only through rigorous action from the US in partnership with governments around the world. In contrast, Senator Lindsey Graham, and most congressional Republicans are supporting Trump's April 2020 intention to defund the World Health Organization, citing unverifiable disagreements on the President's handling of the coronavirus pandemic,
According to Newsweek, "The U.S. currently provides the WHO $122.6 million annually. Trump's 2021 budget proposed slashing the amount down to $57.9 million. Graham is proposing cutting the funding entirely." While Nancy Pelosi and others believe such decisions are not legally or entirely within the president's purview. It stands to be seen what will happen to global efforts to end HIV.
From the initial inaction by local and federal governments, at the dawn of the AIDS crisis in the 1980s, leaving thousands to die before efforts to care for or even acknowledge the sick and dying began, HIV and AIDS have always shared a precarious relationship with politics, and we can neither literally, nor figuratively, afford to take steps backwards.
My hope is that with continued research, community outreach and education, sex ed in schools, free condom programs, innovation with condoms and lubricants, increased availability of free HIV testing, advancements in treatments and prevention, and honest communication between partners, we'll one day close this chapter on human health. According to Michel Sidibé, Executive Director of UNAIDS, with increased efforts, we have the potential to do so by 2030, but again, only with increased funding and vigilance.
Bringing this back to my own life, I guess this isn't entirely a "grown up conversation." I originally wrote that disclaimer above because the conversation on my phone this evening ended so abruptly...and with such immaturity. However, since HIV does not discriminate, there are age-appropriate conversations about health and HIV, even for children, some addressed by the South African version of Sesame Street when they introduced an HIV positive monster named Kami. As a senior in high school, I started a group called Young Artists in Action that combined the efforts of students with all different artistic specialties. My sister kept it going after I graduated. We collaborated with Broadway Cares/Equity Fights AIDS and our school's drama program to raise funds for the fight against HIV. Between everything I learned from those charitable efforts in high school and later having a panic attack in college while rehearsing a monologue from "The Normal Heart", I have had a range of specific views on this whole topic. After getting through high school and college and rethinking the stigmas around HIV and STIs, I've always struggled with how to talk about this. This has been a conversation central to my LGBTQ community for decades and it's emotionally charged for all of us. I've struggled with how to discuss prevention in a way that makes clear its importance, honors those we've lost, but avoids some of the fear based talking points we've historically relied upon.
During our interview with Viktor, I asked him my long enduring question. I said, "When it comes to our health, whether it's about obesity or addiction, [and other health topics involving stigma], so much of the conversation is about consequences and fear. And especially with all these preventative measures we've talked about, how can we do a better job of creating an awareness about HIV in a way that will reduce new cases and continue to reduce stigma, but also to encourage people who are living with HIV and AIDS to care for themselves and live great lives?"
Every time I see a subway poster about the AIDS walk or a public service announcement about getting tested, or buy a ticket to Broadway Bares, I wonder if health advocacy groups, journalists, doctors, corporate sponsors, friends, families, and partners struggle with this question as well. How do we summarize all this succinctly? Could there be a simple phrase that addresses that duality, opens the door for larger conversations, and that we can keep on the tips of our tongues as we go through life?
What about using the phrase, "Be as healthy as you can be"? To be perfectly clear, I mean "healthy" comprehensively as in mind, body, heart, and soul inclusive and exclusive of one's HIV status. Healthy as in mentally "informed", physically "well", "open" to fulfilling relationships, and "compassionate" towards others and ourselves. The daily goal of being "healthy as you can be" applies every day in regards to which causes we support, how we vote, what we read, how we screen for fake news, how we talk about sex, how we care for our bodies, how we care for our emotional well-being and mental health, how we use social media and dating apps, who we choose to include, and how we treat one another.
We have a lot of work ahead of us, but I don't think it's too much to hope that all my friends, positive or negative, feel equally deserving of love.