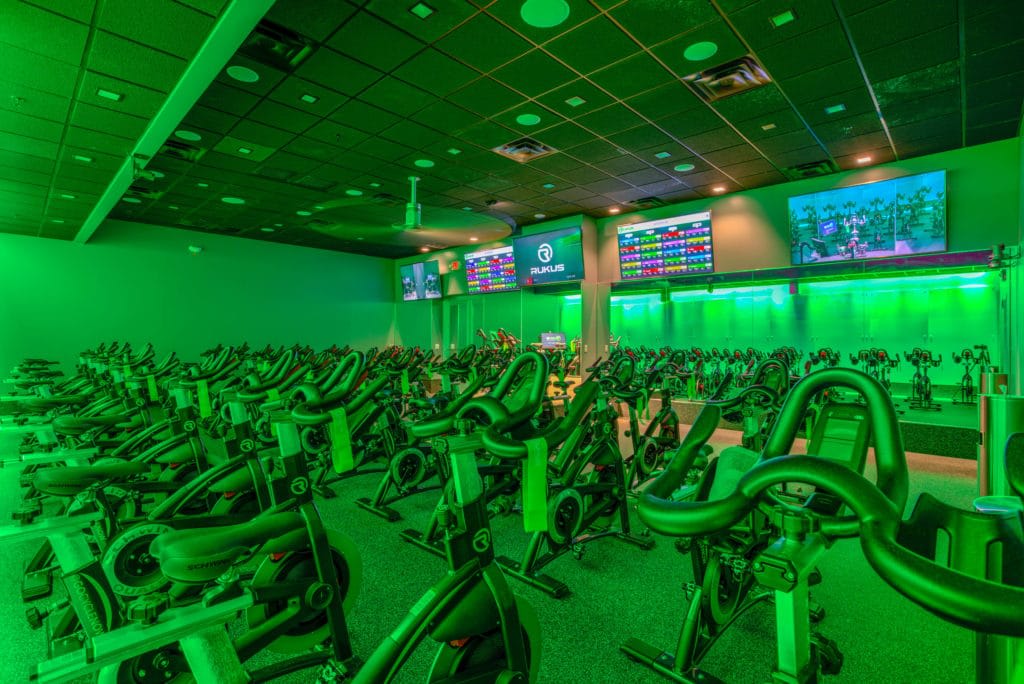 Rukus Studio Midtown Atlanta Location
Let me preface this article with this: I am not a world class cyclist. In fact, prior to this challenge, I had never taken a spin class. My adventure began after walking by Rukus Cycling Studios and noticing their advertisement for a first ride free special. Desperate to exercise again after recovering from an ankle injury, I decided to go ahead and give it a shot! After class, we were given the option to enroll in an unlimited monthly program for a deep discount—if we joined that day. Since my ankle felt okay, and the post workout rush felt amazing, I went for it!
I tend to go big or go home when it comes to life in general. Since I signed up for an unlimited plan, I wanted to take full advantage of it! I put my foot down and made the decision to take at least one class every day—for 30 days! I was not sure really what came over me, but I was ready to take on the challenge! Here is a little peek into my journey and all the amazing benefits (and struggles) I encountered along the way. I have also included some tips and tricks that will help you get the most out of your experience if you decide to follow in my footsteps (which I strongly encourage)!
First things first: It is hard. It is supposed to be hard. Stick it out—You are stronger than you think! The biggest discovery I made this past month is that this challenge is not just a physical one. This journey tested me emotionally, physically, and mentally. I had days where I beamed with pride, and days where I felt defeated. In the end, I walked out of that studio feeling strong, capable, and incredibly empowered.
Here is a quick break down of how the month went down, according to my mind and body and spirit:
Days 1-7: The Honeymoon
I was raring to go! I bought new workout clothes. I started meal prepping (to complement my fitness regimen). I told anyone and everyone that would listen about my challenge and I was already excited to boast about my accomplishments the following month. I came in 9th out of 10 in my first two classes and it did not phase me at all. I did not ride as far as the others, I did not accumulate as many points, and I barely tried the choreography because I knew I wasn't ready for it. I was just excited to be present. I was proud of myself for showing up and doing my best. I felt energized, healthy, and determined. I had this in the bag…
Days 8-15: The Shift
This was an interesting week for me. I was still motivated, and I was also improving. I was climbing up the leaderboard in class, I was able to tackle some of the choreography, and I was noticing positive changes in my body. Everything was going smoothly, and it was as if I set cruise control and my mind and body knew what they had to do to continue my journey. I finished the week strong and I was really starting to feel part of the amazing Rukus community! Coming up on day 15, though, I felt one subtle change; one that I did not think much of in the moment because I was still riding the high of making it halfway through my challenge. I was getting tired.
Days 16-23: The Breakdown
This was the week where I almost bailed. That slight tired feeling that crept in towards the end of week two was now full-blown exhaustion. I had set such specific goals with both diet and exercise (I was simultaneously participating in the Whole 30 program which eliminates all dairy, legumes, grains, added sugars and alcohol) that I started to feel resentful. I wondered why I attempted such a challenge in the first place. I was already embarrassed because I was convinced I would fail. There were days that I would get on the bike and think about how many "totally understandable" reasons (i.e. excuses) I could give to just get off the bike right in the middle of my ride and go home. I would grit my teeth when I heard people chat before class about going to brunch, happy hour, or anything that involved not doing the exact same thing every day. My ankle felt great, but my legs were sore. I fantasized about sitting on the couch watching television with a giant loaf of bread in my lap. I began floating around the idea of a "Whole 20" program and rationalizing giving up with sentiments like "Well, I lasted three weeks which is respectable" and "I can still be healthy without being on an eating regimen or sticking to a specific fitness schedule." It was rough. I will not lie to you---This week is a make it or break it week. But I made it through. And if you decide to take on this challenge after reading this article, trust me when I say, so can you!
This is where taking classes in a cycling community like Rukus, rather than just hopping on a spin bike at home, becomes essential. During that difficult week, I would wonder why I was even bothering. But I would still go. And then, the second I showed up to the studio, I would be greeted with warm smiles and words of encouragement! My newfound friends would cheer me on as I started closing in on my end goal. As I would contemplate my escape mid bike ride, I would hear "Yeah Tara!" and look up to see that I was first in the sprint portion. I would see my instructors smiling at me and pushing me to continue. By day 23, I realized that I was only 1 week away from my goal! I had been going every day for 3 weeks! That initial euphoria and strong sense of accomplishment came rushing back and I caught a glimpse of the girl who walked in on day 1 with absolutely no experience; just a goal and the willingness to work. She was back---and ready to crush it!
Days 23-30: The End of a Challenge, The Beginning of a Journey
For me, this was the best week of the challenge! Once I took a look at how far I had come and how there was 0% chance I was going to quit now, the joy of the whole experience came back! I could see the light at the end of the tunnel. Part of me started to wish the tunnel was a little bit longer—I got a bit of anxiety as I wondered what would happen after I reached my goal. Would I fall off the wagon? Would I set a new goal? Should I continue cycling or try a new exercise? The questions seemed endless. I declared all those anxieties "Future Tara's Problem" and sat back and enjoyed the ride—Literally and figuratively! The energy really picked up the last few days and I felt like I was a part of something special. It was no longer about this one goal I was working so hard to achieve. It became this journey of self-discovery, self-acceptance, and finding my place in a community filled with people who, like me, were working hard every day to better themselves not only physically, but spiritually.
Days 30 and beyond: What Happened? What's Next?
Day 30 was an amazing and emotional day! I completed my challenge! Additionally, I had taken on two other challenges of taking at least one 6am morning ride, and one double—and conquered both. I walked into my thirtieth class to a decorated locker, a Rukus tank top and an incredibly thoughtful card from the entire staff at the Midtown Rukus location. It was a moment I will take with me forever. The entire experience started as something so simple: A fitness goal. And yet, over the course of 30 days, it evolved into something so much more meaningful. I was able to see what my body could do when I pushed it. I better understood the true value in an inclusive and supportive community. and I learned that when faced with a challenge, if you think you can conquer it, or you think you cannot… you are right. In the end I believed I could. And I did. And for me, the journey has only just begun. I recently completed my 38th ride, and I have no intention of stopping any time soon!
Stats and Results:
I did experience several positive changes! In 30 days:
1. I improved my distance from 8.8miles in 45 minutes to 14 miles
2. My total points on the Rukus leader board day one was 139. My best score: 390
3. In the last 14 days I ranked #1 on the leaderboard 8 times!
4. I lost 18.5 lbs.
5. My quality of sleep improved
6. I lost 4 inches from my waist
7. My highest resistance score was 400 compared to 145 on day 1.
8. I went from not being able to do any choreography to completing all of it.
9. The low impact of the exercise along with the weight loss has significantly sped up the recovery of my previous ankle injury
10. My arms are far more toned and defined (Rukus includes a 3-5-minute arm work out in every class!)
In the end, I am extremely proud of all the positive changes listed above. But, most importantly, I feel more confident, I feel stronger, and I feel connected to an amazing group of people who make it their goal every day to provide people like me a safe and supportive environment where we feel comfortable pushing to be our very best selves.