Hygge: The Art of Being Cosy
Winter is here.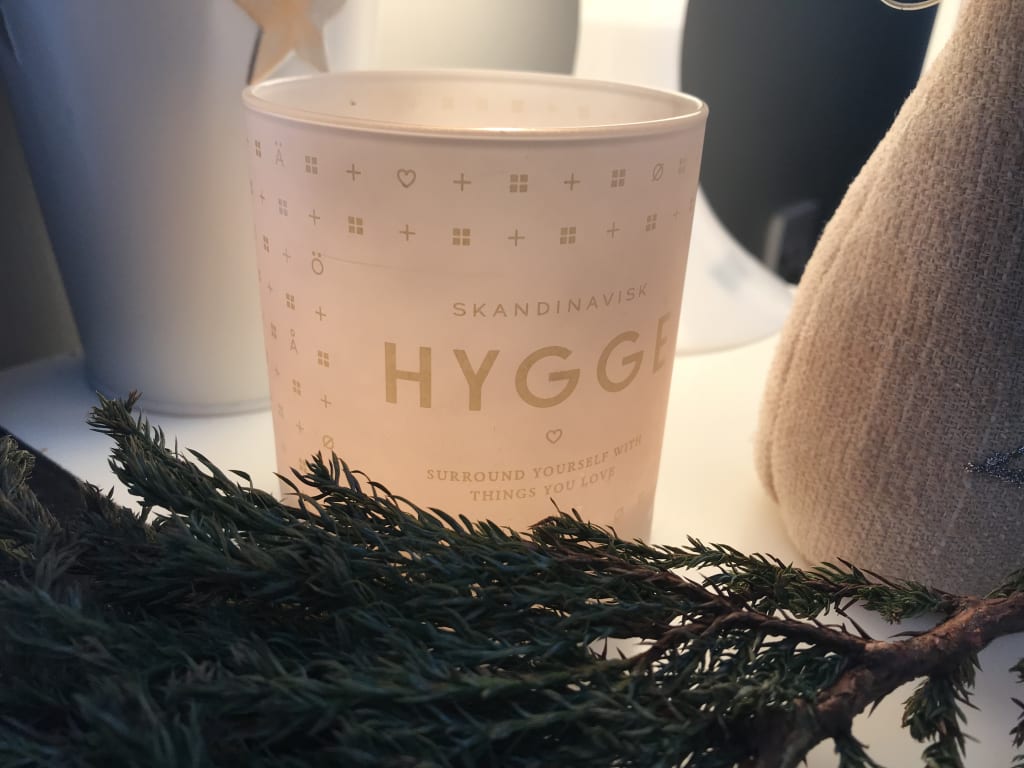 Cosiness is Key
Lots of great things come out of Scandinavia.
Sweden gave us IKEA and H&M, Norway gave us skiing and cute knit jumpers, Finland, the Moomins. But my personal favourite emerged from Denmark—the wonderful concept of Hygge.
Hvad er Hygge? / What is Hygge?
Hygge hit it big in 2016, becoming popular with hipsters and other creative nerds of society and trending on social media and lifestyle magazines. It became the new avocado for a short while before joining other trends in the social bin.
But what is hygge, and did it really deserve such a short shelf life?
There is no direct translation to English from Danish, but simply put it's a feeling of coziness created by our surroundings and attitudes. It's an exertion of positive thought, positive energy and proactive changes that turn our environment from one of blandness and stress into one of blissful coziness.
Hvordan og Hvorfor/ How to Hygge, and Why
Every year thousands of people across the northern hemisphere suffer from SAD—which is a very appropriate acronym for Seasonal Affective Disorder. I get it, my boyfriend gets it, and you probably get it.
SAD is a type of depression brought on by the short days, long nights and terrible weather that defines winter in the northern hemisphere. We feel our energy levels sinking, our motivation nose-diving, and our longing for summer days almost unbearable.
Winter in Britain alone is no easy feat.
Gone are the days of soft white snow and exciting Narnia-esque blizzards - now it's just rain, rain, rain and the inevitable ice slicks that make roads and pavements veritable death traps. And the worst part? It lasts for months and months and months. Sometimes it feels like it's going to last forever.
Personally, I find it hard to cope. Wearing a padded jacket every day and covering up with layers of restrictive, uncomfortable clothing isn't fun, and knowing that daylight comes to an end at 4 PM means you have much less time to do stuff. Suddenly you're on a timer.
Discovering Hygge was a bit of a life-saver for me, if I may use that cliché phrase. The soft colours, warm candlelight, and positive attitude really helped me to make the best of winter, and relish the time spent indoors instead of resenting it.
Creating Hygge is fairly easy but relies on the power of positive thought. You have to really throw yourself into it, and don't confuse with spiritualistic practices like feng shui.
Here are some tips to get you started.
Ryd Det Op/ Cleanliness is Next to Hyggeness
It's a pretty simple but crucial step to create Hygge for yourself—create a clean environment to start with.
With winter coming up, we may find our homes and gardens overcrowded with all the crap we bought over summer and didn't get round to selling at the car boot that never happened.
A cluttered room leads to a cluttered mind, makes it harder for us to focus and may lead to stress and insomnia.
First things first—grab a bin bag and get cleaning. Throw away things you don't need and consider donating old books, toys, and clothing to charity shops or the homeless in your area. That way you'll be making a positive change in the world and making space for Hygge.
Belysning/ Lighting
Now your environment is clean and clutter-free, it's time to add warmth.
Candles are an easy and relatively cheap addition to your room, but such an effective one.
Turn off the lights, add a low watt lamp, light a few scented candles and begin your evening in a relaxed way. A bit of soft candlelight adds instant warmth and calmness to a room, inviting you in from the cold, rainy evenings that winter brings.
Independent brand SKANDINAVISK creates wonderfully scented candles named after popular Scandinavian words—Fjord, Snö and of course, Hygge, are amongst them. They also produce household items that reflect the Scandinavian way of life, with simplicity and comfort at the heart. It's a good place to browse if you need inspiration.
Mad og Drykke/ Food and Drink
Hygge is like Christmas—warm, cosy, fun and an excuse to eat plenty of good food. A savory and satisfying meal does wonders to cheer us up, and usually, our bodies need a little extra fat to keep us warm during those long, chilly months.
Instead of reaching for the easy fast food or microwaveable mistakes, take some quality time to create your own healthy, tasty meals. Soups, meaty broths and stews are easy and full of the vitamins we struggle to find elsewhere. A healthy body is a happy body.
As for drykke, hot cocoa, tea and coffee are staples, but take time to really enjoy and savour a glass of red wine one evening in front of the fire.
We should really take time to enjoy our mad and drykke.
Life is too short to miss out on the little moments, so avoid getting dinner over with as quickly as possible—sit back, take your time, and appreciate exquisite tastes and flavours. Put work or studies to one side and let your food and drink digest in peace.
Venskab/ Friendship
Companionship is essential for good Hygge. After all, what is life if we cannot share it? Chris McCandless, the man who inspired popular movie Into the Wild, came to the conclusion after months of solitude that "Happiness is only real when shared."
We get it, people are busy. Work, babies, vacations, family obligations and more fill our friends' schedules, not to mention outs, and sometimes we can also go for months seemingly in solitude. But having people around to share Hygge is very important.
Scandinavians generally value family and friends very much, placing relationships over career. In Sweden, both mothers and fathers are entitled to nine months paid leave if they have a child, reiterating the importance of spending time with the people you love.
Relationships take effort to maintain, so take the first step and schedule some quality Hygge time with the people you care about. After all, firelight shared is twice as warm.
Hjem/ Home Comforts
How you decorate your hjem determines just how cosy you really feel when you kick your shoes off after a long day.
Take a tip from the Swedes, Norwegians and Danish when it comes to home decor—and I don't just mean take a trip to your local IKEA.
The Scandinavian style is minimalistic—wood, wool, cloth, bold patterns and a mix of bright and soft natural colours exude a feeling of welcome home.
Carpets or warm rugs underfoot feel great when you peel off the socks. Polished or natural wood surfaces echo days of cabin-dwelling in the dark and mysterious forests of Norway and Sweden, covered with thick woollen blankets or throws. Cushions are a given. Minimalistic, bright prints help give your room a finished, artsy look.
And of course, plants. Fill your house with green, living things, and take time watering and maintaining them. Bringing ourselves closer to nature helps reduce stress and blocks out the harshness of urban life.
Positivitet/ Positive Thinking
How happy we are is largely determined by the amount of effort we put into our lives. Of course, things happen beyond our control that threaten our happiness.
Breakups, unrequited love, deaths, loss of friendships, unemployment and other stresses make us feel miserable, and sometimes it can be hard to pull ourselves out of Depression Alley and back onto the Road to Happiness.
I find life is like holding onto a bunch of balloons—when one string is wrenched from our grasp, it becomes harder and harder to hold onto the others, and we watch helplessly as the building blocks of our life slip away from us and float into the sky, leaving us with little or nothing in our control.
Depression, and SAD, can leave us feeling that even small things, like taking out the trash, sending that email, or showering, are completely overwhelming. Slowly, we let even those parts of our lives slip away from our grasp.
In order to regain our happiness, therefore, we must strive to take control again, and like anything we must start small.
Changing our environment, looking after ourselves and appreciating the finer things in life are all steps towards this. Trying new hobbies, learning new skills or languages (Swedish anyone?) can really get us back on track for when we deal with the bigger things.
Gå ut/ Go Outside
It's freezing and our newly created Hygge living room calls to us, but trust me on this.
Nature is beautiful, in all its seasons and flavours. Just as the parched orange deserts are, in their way, gorgeous, so are the grey, cloudy-skied December afternoons over the wide open British countryside. And if we're lucky enough to get snow, or even just a good frost, take the plunge and go for a walk in the peacefulness that bad weather often brings. At the very least, it means less people on the hiking trails, right?
In September, there are tons of blackberries ripe for the picking, which is pretty cool considering small plastic tubs of the fruit are often expensive this time of year, despite the fact that they're literally growing for free in woodland areas and parks. So grab a basket and spend an afternoon harvesting nature's sweets. Just a tip: avoid picking fruit from roadsides, or below hip height (think of dogs peeing).
Lykke/ Happiness
Winter is coming, and every day we are reminded by it. The air is crisper, the ground is carpeted with dead leaves, and suddenly we find ourselves chopping logs for the squirrel wood-burner that has lain dormant since last February.
Time flies, and it's not always fun, but with a little Hygge in your life this winter, maybe it can be.
After all, the Scandinavians are experts when it comes to snö and is, that is, snow and ice. They know that happiness is key to a good life, and we all strive for it some way or another, so take a leaf out of their book and try Hygge for yourself.