How To Use Social Media To Benefit Your Mental Health
You might be used to scrolling through social media for hours without a plan, but with these tips, you'll see why it's much better to be intentional.
It's common to hear about social media and the negative effects it can have on chronic users. There's eye strain, heightened anxiety and depression, the fear of missing out, and more. But what about the ways it benefits mental health?
When used properly, social media can be a useful tool to enhance productivity, boost creativity, connect with friends, and make money. If you log on with a purpose instead of doing so just to pass the time, you're likelier to spend your time wisely.
You might be used to scrolling through social media for hours without a plan, but with these tips, you'll see why it's much better to be intentional. Let's get started.
Reduce Loneliness
Thanks to the pandemic, people are experiencing more loneliness than ever before. And because humans are social creatures by nature, it's become a growing problem across the globe.
In a new report by Harvard University, loneliness has greatly increased since the start of the pandemic, with young adults and single mothers being affected the most in the U.S.
Ongoing feelings of loneliness can lead to serious health issues like depression, anxiety, and stress. It's crucial to have a strong support system you can count on to live a healthy, fulfilling life full of meaningful connections.
Being socially connected to others can ease anxiety, boost self-worth, provide comfort and joy, prevent loneliness, and even add years to your life. Being able to connect with others in seconds on social media may not be the same as face-to-face interactions, but it's still an important line of communication.
You can meet similar people through social media or catch up with those you already know. It's also easier to stay up to date with people's lives as they post what's happening in their lives currently.
Build Meaningful Relationships
It's important not only to form meaningful connections, but to sustain them as well. Because so many people actively use social media, it's an easy way to stay connected and continue building healthy relationships. If you have trouble keeping up with friends and loved ones, social media can clue you in to what's going on in their lives and allow you to communicate at any time.
Social media also gives you access to people you otherwise wouldn't meet or know existed. You can find like-minded individuals who share the same interests, values, and goals as you. It's important to develop relationships with those we relate to so we can live fulfilling, meaningful lives.
Access Resources
In taking care of your mental health, it's important to practice lifelong learning to keep your mind healthy and active.
A simple search using keywords and hashtags is guaranteed to bring up relevant, useful results in your social media feed. Social platforms have become a popular way for people to access the information and media they need to excel.
Whether you're looking up how to grow a garden, start a podcast, or need user-generated content, the social media search tool is a great resource to use.
For example, let's say you're looking for nail inspiration before you go to the salon. Searching the keyword "fall acrylic nails" on Pinterest gives you tons of relevant images on the topic.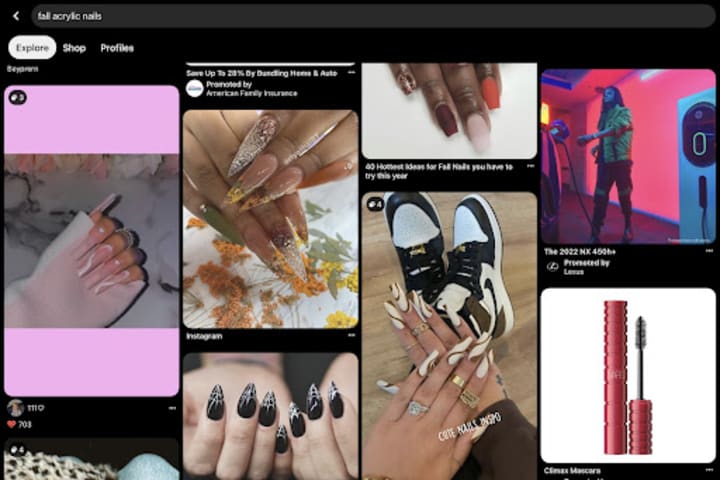 You can also use social media to ask questions and receive answers from your favorite brands as well as from other users like yourself. Simply searching the keywords will give you relevant results.
Develop Skills
Using social media, you can build your skills on pretty much any subject you choose. YouTube is filled with professional tutorials and how-to videos that guide you through processes step-by-step. Pinterest has beautiful images that inspire and give users creative ideas. Instagram is loaded with user-generated content.
No matter what platform you choose, social media apps are a great resource for improving your skillset and increasing your knowledge. Because there's so much information available, it's an endless resource for teaching people new things and encouraging them to step out of their comfort zones.
So whether you want to learn how to play the guitar, code a website, or help the environment, you can gain tips and tricks from users and brands on social media.
Over to You
If you're looking for helpful ways to use social media, these tips can help you get started. It's important to be mindful of how you spend time on different apps so you use them wisely and reap the benefits. How will you use social media to benefit your mental health?
social media
About the author
Syed Balkhi is the founder of WPBeginner, the largest free WordPress resource site. You can learn more about Syed and his portfolio of companies by following him on his social media networks.
Reader insights
Be the first to share your insights about this piece.
Add your insights