How To Manifest Travel
How to manifest more travel in your life using the Law of Vibration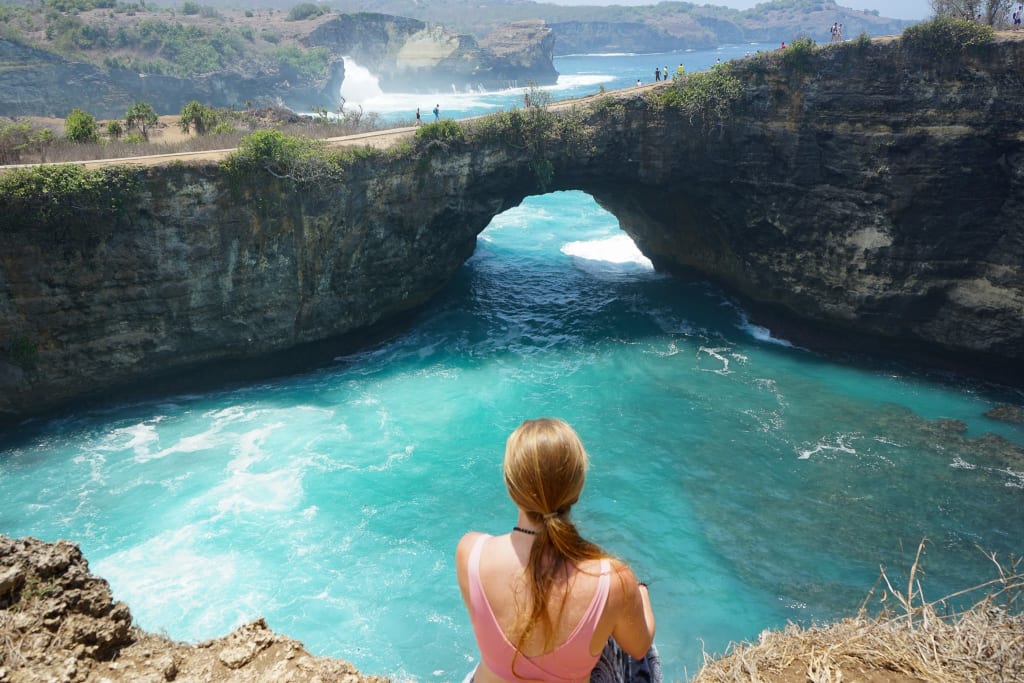 When you ask people what they want to manifest most into their lives, it seems that travel is among the top two, probably about even with money.
And I wont lie... I'm right there with you. I have had a DYING desire to travel for as long as I can remember. It seems it is my souls calling and I manage to make it happen while still maintaining a full-time 8-5 office job.
I used to think I needed a different type of job to travel often, like a remote job of some sorts but the truth is that was the exact thought that kept me from traveling in the first place. It was my own thoughts in my own way. Always thinking that I would travel SOME DAY.
Matching The Vibration Of Travel - AKA Freedom

The first step in anything manifestation, is realizing that you have manifested every aspect of your current life. That means if your not traveling, you manifested that... and you can also choose to manifest travel instead.
The most efficient way to manifest quickly is by using the Law of Vibration. This is one of the twelve Universal Laws that states everything has it's own vibration. Everything in our world is vibrating energy at it's core. Each is unique.
Emotions share a vibration as well, low vibrations are feelings such as sadness and depression, high vibrations are feelings of excitement and happiness.
It is these vibrations that open or close doors for us in the metaphysical world.
Dig deep and figure out what is it that drives you to travel, what is the feeling that travel gives you?
Usually this is a feeling of freedom... so to open up the energetic doors that match with the vibration of freedom, you need to make an extra effort to feel the feelings of freedom as much as you can NOW.
What is it that makes you feel free? Maybe it's cruising around town with no destination with your windows down. Maybe it's having a dance party in your living room when no one is around.
When you match the high vibrations of freedom in your life, you become a magnet for that feeling. Meaning that doors will open for travel in your life that may have never been there before.
You must do things that make you a little scared in able to move energy around in the Universe and prove that you are ready.

So now that we've covered the emotions you need to feel in able manifest travel. Let's talk about the more physical action because I feel this portion is often missed.
Here's the thing... the Universe responds to your decisions. If a door opens up for you to travel, you must say yes!
Sometimes taking a leap of faith to travel may be scary, your ego may pitch in and try to say that your not ready, that you don't have the finances, that you have no one to go with, that there's no way you'll find the time off of work, that you have no one to watch your cat!
This is when you step outside of your monkey mind and realize that, that is your ego talking. Your ego wants to keep you stagnate, safe and comfortable... but you cannot create any sort of change in your reality if you don't put out a different energy for the Universe to play with.
I always remind myself that if I am feeling a little scared and a little uncomfortable... to embrace that feeling because it is this exact feeling that brings growth.
If you say no to your first opportunity for travel... it will be a long time before you find it again. Why? Because you told the Universe no. You told the Universe you weren't ready.
You must make travel a RULE of your life. You must make freedom a RULE of your life.

To be honest... if you get your $1000 pay check, pay your bills, have $400 left over and blow it on makeup, clothes, getting your nails done and snacks... then you are not energetic match to travel. Your an energetic match to more makeup, clothing, ect., because that is exactly the energy you have put out.
AKA, if it's not a priority, it wont pop out of thin air, that's not what manifestation is all about.
Manifestation is about being OBSESSED with the thing you want to manifest, and putting every energy towards it, so that the Universe has no choice but to hand it to you.
I have managed to manifest several trips around the world while still managing my 8-5 job because I AM OBSESSED.
Travel is an energetic minimum to me, it's all I think about. It's all over my vision board, I research travel all the time, look up new destinations, watch documentaries and YouTube videos on travel constantly.
I've went on trips when it's scary, spent every last dime to travel and camped in a van while doing it... but it's gotten easier as I've gone. As I continue to tell the Universe that I am more than ready, it becomes easier to manifest.
I find cheap flights, meet people that own property in places, make connects that are willing to collaborate and I tell my job way ahead of time to make sure there are no hiccups.
A lot of the time, I do these things before I've even booked the flight? Why? Because I have already DECIDED THAT IT WILL HAPPEN REGARDLESS. And that shit is powerful!
Do I want to travel even more? ABSOLUTELY! But it is important to not get impatient and begin to focus on what you don't have... because this confuses the Universe to give you just that.


Another thing that can block you from manifesting travel is spiting on people that are already currently doing so.
If you see all these amazing videos and pictures of people traveling the world, instead of feeling envious, you must bless those people and send them love and positive energy.
Why? Because if you put out a negative emotion towards someone that has what you want to manifest, your correlating that negative energy with travel and the Universe and you are no longer an energetic match to it.

Always be in energetic alignment with the feelings that travel gives you.

Manifestation is an art... and it's important to start understanding how it works, as it is based around the Laws of the Universe. Whether you understand them or not, they are creating the world around us and constantly in action.
I hope that I've inspired you to make that trip that has been scaring you... because when you put trust in the Universe, it rewards you greatly.


Love + Light
-Shawntelle


Set your manifestations with rituals in my moon manifestation rituals ---> Click Here
Learn the Spiritual Basics ---> Click Here
Or join the wait list for my signature Chakra + Manifestation Energy Course to learn how to manifest effectively and learn all about your energetic powers. --->> Click Here
Reader insights
Be the first to share your insights about this piece.
Add your insights