How To Improve Your Week + How I Reset To Stay Productive
How to improve your week from the past ones. Here are some tips you can follow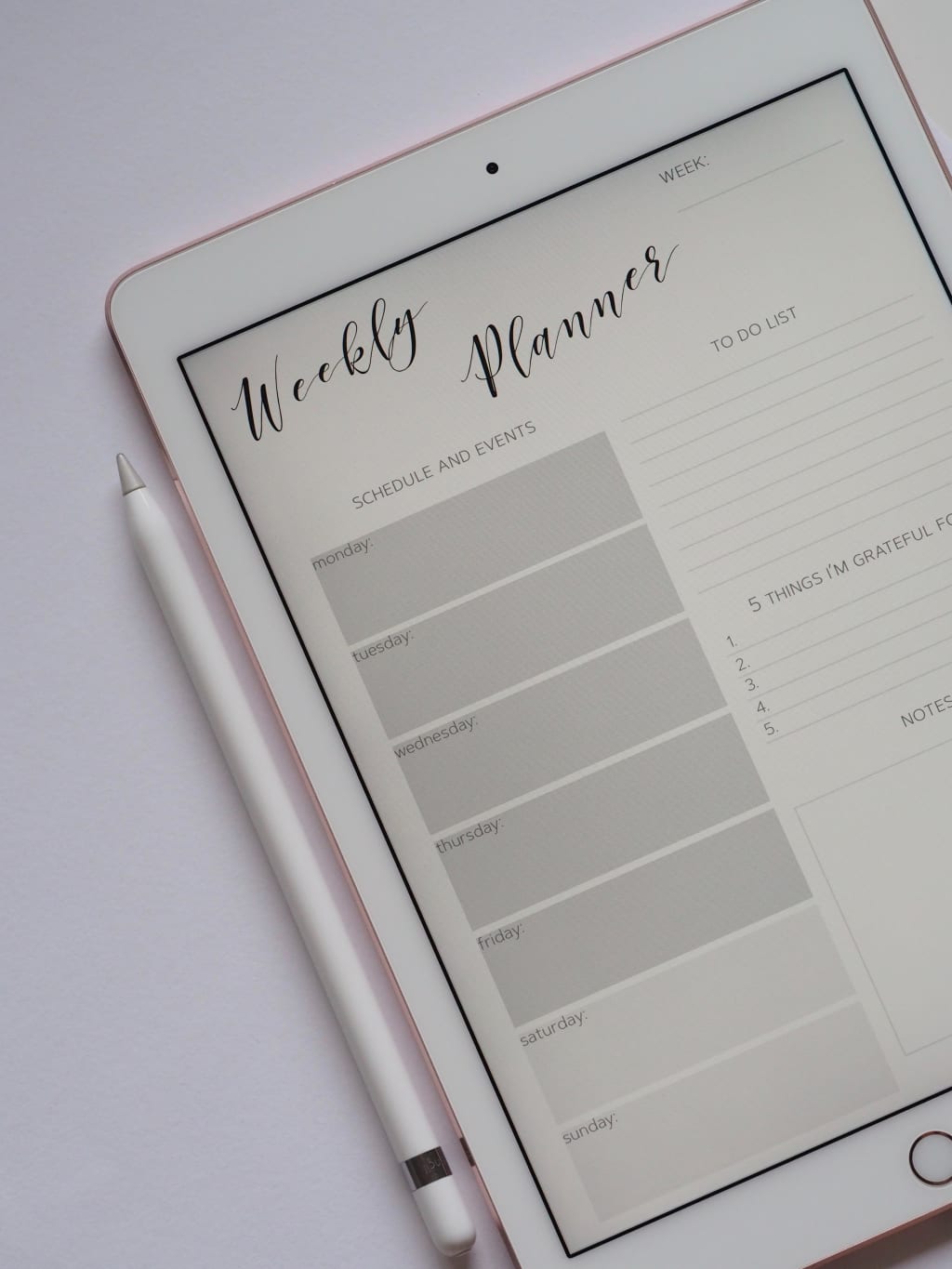 Do you have a particular day of the week that you finish everything? As far as I might be concerned, my day of the week to get my sh*t together is unquestionably Sunday! This is the day where I list everything out and get everything coordinated for the impending week. So for the present post, I figured I would share how I deal with work on my week ahead every Sunday and the standard that resets my week to make a more useful, tranquil, centered, and solid week.
Without devoting every Sunday to this daily practice, I in a real sense feel like my life would be a confused wreck haha. Nonetheless, you can enhance anytime to do this, I simply feel like Sunday works the best for me! However, pick whatever day turns out best for you and your timetable. A few groups love resetting their week in the week, toward the week's end, or toward the end of the week. So whatever day turns out best for you, have a go at devoting that day to work on the forthcoming days ahead and adhering to a timetable that motivates efficiency and wellbeing! I trust this post motivates you!
First of all, there are 3 classifications I like to part my Sunday into:
Cleaning + Organizing
Planning
Self-Care
1. CLEANING + ORGANIZING
Cleaning:
Every Sunday, I love to start my day by fixing up my home and room. Actually I feel like if my space is muddled my brain feels untidy. In this way, I think that it is practically unwinding and helpful to clean in the mornings. With this current, Sunday's are the days where I like to accomplish to a greater extent a profound clean around my home. For instance, I decided to profoundly clean my restroom on this day, I ensure the entirety of my dishes are done, I wipe out the refrigerator (particularly on the grounds that our trash day is on Monday morning), and I wash my bedding. Obviously, during the week I clean up my space (vacuum, wipe down ledges, clothing, and so on) yet Sundays are my day to be profoundly clean!
As far as I might be concerned, I want to devote every Sunday to a profound clean that truly establishes the vibe for the impending week. In addition, it permits me to start my week feeling all the more light, new, coordinated, useful, and centered.
With that, I like to devote around 3 hours of my morning to this. Accordingly, my morning schedule on Sunday's typically resemble this once I begin cleaning:
7 am: Wake up
7:15: Yoga or take a walk (Sundays are typically my "active rest" days so I don't usually workout.)
7:45: Skincare routine & shower
8 am: Make coffee and eat breakfast
8:30: Start on my Sunday schedule with cleaning. End around 11 am.
Organizing:
Then, I require an hour during this segment of my day to prepare/plan out my dinners for the week and make my basic food item list. Since I do my shopping for food on Monday mornings, I like to set aside effort to plunk down and work out a menu for the week and the food sources that I need to get at the supermarket. In case you are keen on seeing what is typically on my basic food item list, unquestionably look at this post!
Alongside this, I likewise prescribe supper preparing to assist save with timing consistently. I love doing this for quite a long time that I work or days I realize I'll be really occupied. For instance, I like to cook my protein in mass, for example, chicken or ground turkey to have for a few days of the week. This way I don't need to cook each and every day. Moreover, I feast prep sim
plea, in and out snacks like my overnight oats! Making every dinner at home can be tedious consistently. In this manner, I feel that supper preparation (regardless of whether it's simply something basic) can truly save you time and energy during the week.
2. PLANNING
After I'm finished cleaning, I like to plunk down and set aside effort to design out the assignments that I need to achieve before the week's over. This generally comprises my tasks for school, my exercises for every day of the week, blog work that I need to finish, reacting to messages, plans with my companions, and so on. This is the time I as a rule work out my plan for the day for Monday too. Actually, I don't care to make a daily agenda for every day of the week since plans may change or things might come up. Nonetheless, I do work out all that I intend to accomplish for Monday and I make my plans for the day step by step after that.
I likewise get my organizer and work out any greater objectives that I need to handle on explicit days. Or on the other hand, in the event that I have any booked occasions coming up like lunch with a companion or an arrangement, I will in general compose those in my organizer first, that way I can work my day around that occasion. This permits me to make a base and strong establishment for my week and assist me with keeping on track and coordinating on the things I need to finish.
3. SELF-CARE
The last segment that I require some investment to zero in on every Sunday evening is self-care! This varies every week, except typically what I will in general zero in on is my skincare routine and saving a huge segment of time to unwind a lot. This is your chance to relax, practice care, to get some lucidity, or to just do whatever satisfies you!
I like to set aside this effort to expand my typical skincare routine and put on a facemask. Additionally, in the event that I have additional time I love to do a hair veil too since I normally do a face cover and hair cover one time each week. Alongside this, on the off chance that I feel such as self-tanning a specific week, I will save time Sunday evening to do as such. Nonetheless, presently that it's late spring, I haven't been self-tanning however much I ordinarily would since I invest more energy outside and tan normally.
Some different things I love to do on Sundays are to wash up with Epsom salt, diary, paint my nails, watch a film, read… genuinely anything that will cause me to feel quiet, loose, and glad on that given Sunday. Essentially, utilize this chance to compensate yourself in the wake of a difficult day of getting your sh*t together haha!
lifestyle
I'm Aryan Pandey. I'm a full time content writer. I research for current news and events and try to give correct information to my readers because I strongly believe in the power of words. I also do travel and food blogging little bit.