How To Boost Your Immune System
Easy tips to boost your immune system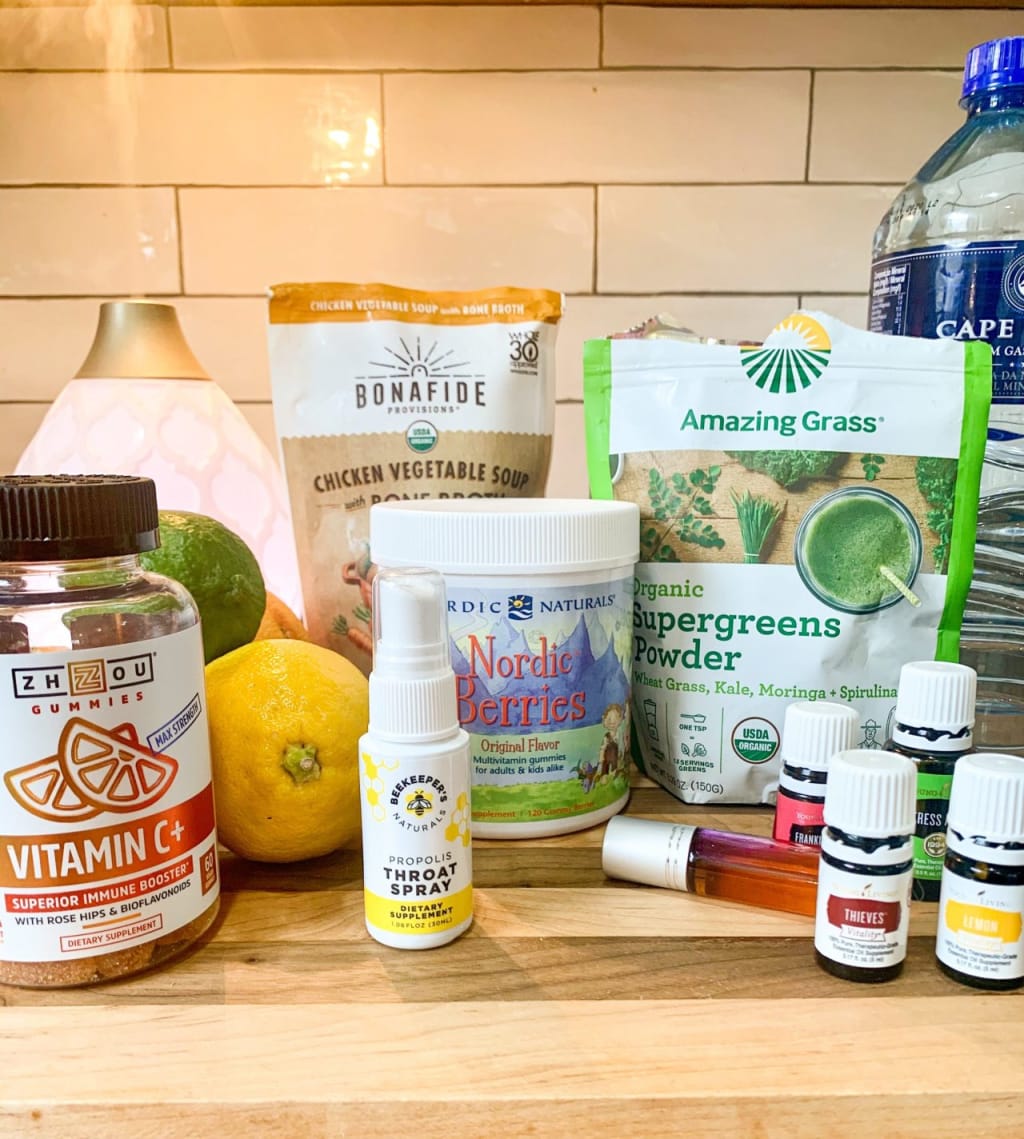 Now is definitely the time to pull out all the stops to stay above the wellness line. And strengthening your immune is the best route to take. Here are a few things that we are doing…
Sipping on… Bone Broth. Bone broth is a great way to reduce inflammation and heal the gut. It's loaded with vitamins and nutrients. It also aids in digestion and a liver detoxifier. And it's easy to make at home. But there are also great store bought brands. Right now, we've been drinking Bonafide Provisions Organic Chicken Vegetable Soup with Bone Broth.
Taking… Multivitamins along with an extra boost of Vitamin C. I've tried a few different brands of multivitamins. But the kids seem to like Nordic Naturals Nordic Berries. It's a gummy vitamin that's suggested for 2 years and over. There is no artificial coloring, flavoring or preservatives. And it has all the important vitamins including Vitamin C, Vitamin D3, Magnesium and Zinc. I've also decided to increase our Vitamin C intake. So, we've been taking Zhou Vitamin C+, Superior Immune Booster with Rose Hips and Bioflavonoids. FYI… Vitamin C is water-soluble, so any excess is usually excreted in the urine rather than stored in the body.
Also Taking… Beekeeper's Naturals Propolis Spray. I've heard a lot a great things about this product and finally decided to give it a try. Its made from bee propolis extract which is what bees use to build their hive. Cool, right?! And it's an antioxidant and has inflammatory properties. And Beekeeper's spray is great for scratchy throats and overall immune support. So we've been taking 4 sprays for daily immune support.
Drinking… Smoothies with Supergreens. Amazing Grass has a great Organic Supergreens Powder that I've been throwing in our fruit smoothies. It has wheat grass, kale, moringa and spiralina. 1 teaspoon is 1.5 servings of greens. And a great source of Vitamins A and K plus minerals and amino acids which can help support overall health and wellness.
Also drinking… Organic Matcha Green Tea. Now, we are a tea family. So, tea is always on in our house. But recently, I've started drinking Celestial Seasoning Tea Well Organic Matcha Green Tea. It has green rooibos for antioxidant support, elderberry for immune support, dandelion root for digestion and panax ginseng for mental vitality.
Eating more fruit and veggies… As you know, fruits and vegetables are loaded with vitamins, minerals and antioxidants that are essential for a healthy immune system. So we've been loading up on healthy greens, berries, citrus fruits, etc. The more fruit and veggies, the better!
Getting more… Sleep. Sleep is also essential to a healthy immune system. We have to rest and recharge, right? According to the National Sleep Foundation, without sufficient sleep, your body makes fewer cytokines, a type of protein that targets infection and inflammation, effectively creating an immune response. So, I've been trying to get to bed by 10:30pm. Trying is the key word. But I'm working on it 😀. And the kids are in bed by 8:30pm.
Diffusing… Thieves Essential Oil. Thieves is a blend of clove, cinnamon, eucalyptus, rosemary and lemon essential oils. It has a spicy, earthy aroma. And is good for neutralizing and purifying the air.
Using… A Wellness Roller. So, I made a wellness roller with thieves, lemon and frankincense essential oils along with grapeseed oil. And we've been rolling it the bottom of our feet for immune support.
And of course, Keeping.. Our Hands Clean. Hand washing is so important. And we're making it a top priority. But when we can't get to soap and water, Thieves Hand Purifier has been coming in handy.
With these few things along with throwing in a lot of dance breaks, meditation and spending time in nature, your immune system will be up for any challenge!
About the Creator
Hi! I'm Jade. I'm a wife and mother of 2 little girls and 1 bonus son. I love all things plant based. Essential oils are my jam. And I'm having fun learning more about crystals, Ayurveda, yoga, meditation and self healing.
Reader insights
Be the first to share your insights about this piece.
Add your insights