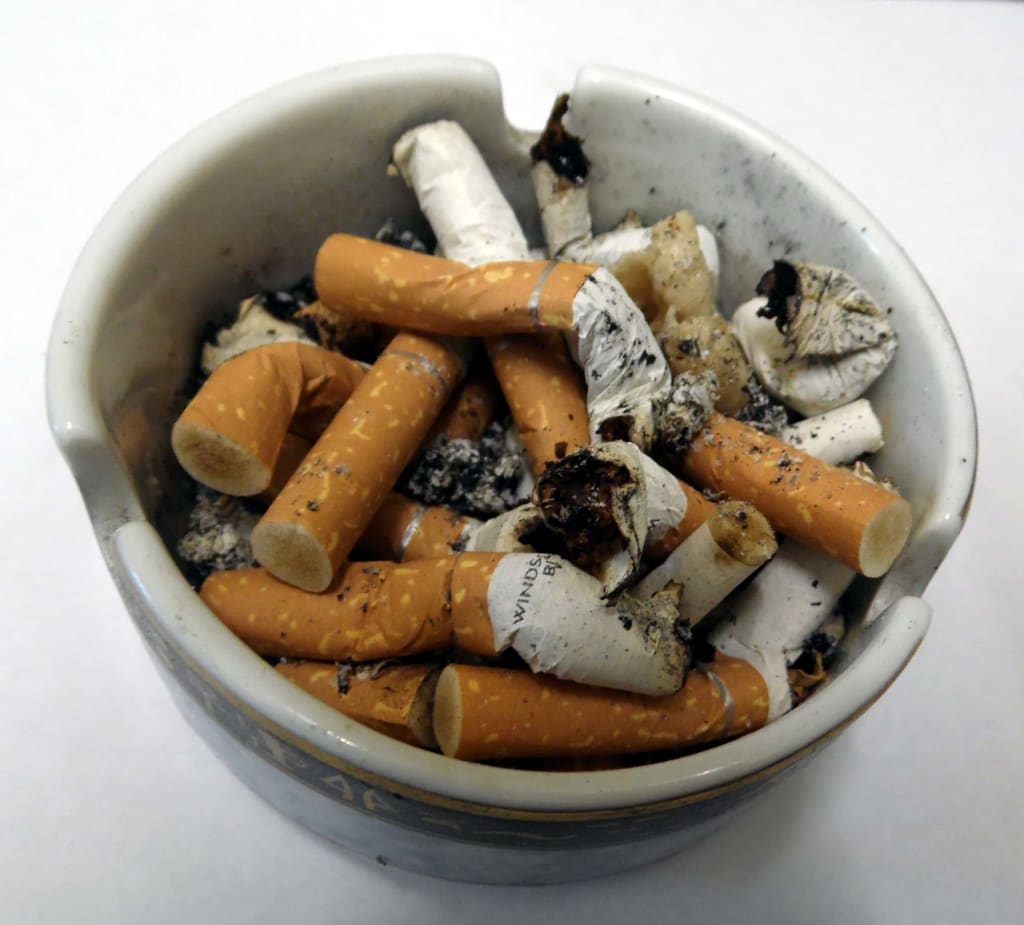 Goodbye to all that (My own photo)
Looking back, I suppose it was inevitable that I would take up smoking. I'd grown up in a house full of puffers, and I'd been a passive smoker since infancy. When our living room underwent its annual redecoration, there were gasps every time, the wall clock was taken down, to reveal a circular patch several shades lighter than the rest of the walls, which had been darkened by a year's worth of cigarette smoke.
And so, to no one's surprise, I demonstrated the validity of the old saying, the child is father to the man when I gave in to the lure of tobacco, aged about fourteen. Of course, I had to pursue my new habit away from the eyes and nostrils of my parents, for they expressly forbade smoking under the age of sixteen.
Smokers' cough starter kit
However, as it had been they who introduced me to the smell of burning tobacco, and they who were responsible for presenting me with a smokers' cough starter kit, via my inhalation of their exhalations, I felt they had forfeited their right to lecture me on that particular subject.
But, I wasn't long into my smoking apprenticeship when I started having doubts about its worth. It was an expensive habit to maintain, and the negative effects of smoking on my health became a constant nagging presence. I needed to quit.
The main problem was that I could never put myself forward as a champion of willpower, possessed of an iron resolve. Far from it. I only need to see an advert for beer on the TV, and I'm putting my shoes on in readiness for a walk to the local bar.
So, each of my numerous well-intentioned attempts to kick the smoking habit over the years failed miserably, often only a few hours after they'd begun. I usually succumbed in a moment of weakness, during which the long term health and financial benefits of quitting were shouted down by the quick and pleasurable fix of a nicotine rush. I could always quit another day.
The evil weed
That day came when the chancellor raised the price of my preferred brand of cigarette to £1.30 for ten, I determined that I'd free myself from the clutches of the evil weed once and for all. Despite my poor track record in that area, I embarked on my latest attempt with a degree of confidence.
Because this time around I was to take a different approach; I would address the dual temptations of craving and impulse, one or both of which had scuppered each of my previous attempts to quit. With that in mind, I set up a strict regimen.
When the first impulsive thought entered my consciousness saying I could really do with a cigarette right now, I extinguished the craving by popping a Jolly Rancher hard candy sweet into my mouth. That would keep my jaw occupied for a good ten minutes, long enough for the craving to pass.
This new method was very effective, and, as the days turned into weeks, I knew I had those cravings licked.
An analogy
By way of analogy, allow me to remind you of a scene in the 1987 film Barfly.
Drunken brawler Henry (Mickey Rourke) is constantly getting into, and losing, fist fights with burly bartender Eddie (Frank Stallone). My previous attempts at quitting smoking were Henry, and the cravings that always won were Eddie.
But, in the film one night Henry doesn't go down under Eddie's fists. Instead, he stands firm, and Eddie is the loser. At one stage of that unexpected turnaround, Eddie asks, what's holding you up, sucker?
And that's how it was. My willpower was the new, reinvigorated Henry, whom the cravings could no longer beat. It got to the stage where I'd actually enjoy the challenge of entering a situation where in the past I may have weakened, say a busy bar or a coffee shop. I just knew that this time around, Henry was going to beat Eddie down.
That mental mindset was the key that opened the door to a smoke-free future for me. Once I'd determined absolutely that no craving would ever get the better of me, giving up was relatively simple. And, as the cravings faded, the weeks turned to months, which turned to years, which turned to decades; two of those and counting.
When I attended a recent annual health review at a local clinic, the nurse asked me to take deep breaths while she held a stethoscope to my back.
"Clear as a bell," she said, putting away the instrument.
And therein lay the fruits of my efforts.
(Originally published in Medium)
Reader insights
Be the first to share your insights about this piece.
Add your insights