How I Became The Best Version of Myself, Mentally and Physically
Now that summer is coming I want to share with you how I got in shape. Here's the true story.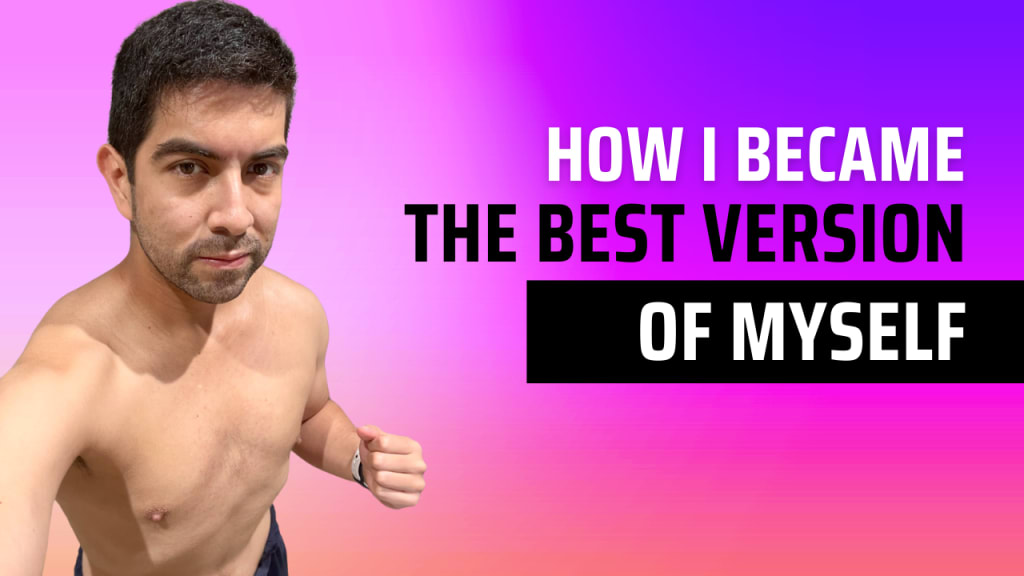 Picture provided by the author and created with Canva.
I want to share with you one of my greatest successes and secrets on a personal level. And it has nothing to do with finances, but with something much more important… my health.
I began my physical transformation in the months that we were stuck at home during the Covid-19 pandemic. In those months that we could only go out to the supermarket or the pharmacies, it was clear to me that by spending so much time at home there were only two paths: either I would gain weight or I would get in shape.
I chose the second one.
At that moment I decided that I didn't want to make physical exercise a routine, I wanted to make it part of my life.
Never in my life had I had the discipline to consistently work out.
First, because of laziness, and second, because I was so out of shape that my body was weak. And third (perhaps most importantly), I didn't have the mental preparation to face such a big commitment.
And now that I look back, the key was the mentality of facing the challenge that has made me get here. We'll talk about that in a moment.
Look, to give you an idea of ​​how weak I was, I remember that months ago (August 2019) I had bought my set of dumbbells and ordered them on Amazon.
By that time I already had the desire to work out and get in shape.
I didn't have the commitment to myself that I have now, but I was beginning to have the motivation.
There was nobody at home, and here in Spain (I don't know how it works in other countries) if you are not at home when your order is going to be delivered, they leave you a notification so that you can then go to the nearest post office to pick up your package.
The next day I went to pick up my package at the post office (approximately five blocks away from home), it was a hot summer day.
When the package was delivered to me, it was a huge box that I couldn't carry on my own because of its size and weight.
The dumbbell kit was 20 Kg.
I had to take the content out of the box (which was a dumbbell bag) and throw the box away. I started walking carrying the 20 kg briefcase and after two blocks I had to stop because I couldn't bear its weight.
I began to sweat a lot because of the effort of carrying that weight and from the heat, we were around 36ºC [around 97 ºF].
I was three streets away from home, and being already on the last street my arms stopped working. I couldn't lift the briefcase anymore…it was so heavy, and my arms were weaker than… noodles.
I had to start moving the suitcase by pushing it with my foot on that last street.
Can you imagine the number of looks I felt towards me? Just imagine seeing a sweaty, tired guy pushing a black briefcase down the street with his feet… mmm… that doesn't look good, does it?
I think many people thought I was a terrorist or something like that.
When I got home I open the door, entered the lobby and decided to go up to the seventh floor (where I live). Btw…In Barcelona, many buildings are so old that there is not even an elevator.
And guess who doesn't have an elevator in his building?…
I don't know either. That's why I said, "guess".
LOL.
Luckily, I do have an elevator in my building, if not… I'd better give myself a shot.
I finally got home, took the dumbbells to my room, took a shower, and told myself "tomorrow you start your new lifestyle".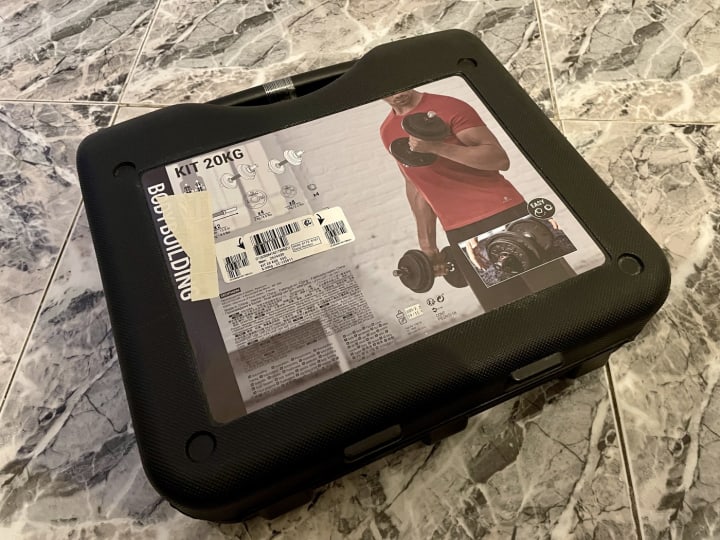 The next day I couldn't even lift my arms, possibly tore several muscles… they hurt so much that I cursed the moment I decided to buy some fucking dumbbells and not be home to receive them.
And there my story ends.
Kidding…
But, I spent several days sore that I didn't even want to try to work out.
Eight months later we were in the middle of a pandemic, stucked at home 24/7. And this is where we return to the beginning of the story.
I had just finished reading Atomic Habits by James Clear and it changed my mentality about how to face any type of challenge.
I don't want to delve into the subject because just talking about this book implies writing a separate article, but what I do want you to know is that really focusing on systems is the key to achieving your goals.
If you build a good system, reaching your goals will be much easier and much more satisfying.
I will tell you briefly how I applied the theory of this book to practice IRL.
We were locked up at home due to the pandemic and we didn't know when we would go out on the street again. We thought it would last for many years, like the world wars.
So I got the idea that I was not in a hurry to have immediate results and I focused a lot on building a system that would help me not only to get in shape but also to keep me motivated and give it continuity and consistency.
The first thing I did was have a talk with myself (perhaps the most honest of all) and make it clear that if I was going to start working out it wasn't going to be because I wanted to have a six-pack and like a male model.
I was going to do it to feel good about myself (to take care of my health) and not gain weight during the pandemic. That was it.
The goal was not to become Thor or Dwayne Johnson, because I know myself, and I am a person who usually seeks effectiveness and immediate results (I am an engineer).
And I know that getting to that level takes a lot of effort, time and dedication. And I know that if I didn't see quick results by putting in so much effort I would be disappointed and lose motivation quickly. So I had to be super honest, that regardless of the outcome, I was going to continue to exercise because my real goal was to make it a part of my life.
Therefore, the real goal was to create a system that would allow me to enjoy (but to really love it, make it fun) working out and make it more than just a routine, I wanted to make it as natural a part of my daily life as taking a daily shower, eating, and brushing my teeth or sleeping.
I remember telling to myself "you didn't go through that pain and embarrassment eight months ago for nothing", and "those dumbbells cost you money so it's time to use them".
I had the greatest of lucks to find out this Personal Trainer and YouTuber named Caroline Girvan, who in a pandemic decided to start an work out program called Epic.
And she solved my second problem.
I didn't know where to start. Neither what routine to follow, nor how long a complete session should last… I knew nothing.
And this woman is a saint because she decided to start her program really from the beginning. She took the time to create a program for newbies and wimps like me so we could build strength and endurance in our bodies.
And she really made it fun. I suffered but I enjoyed it. I still do.
Even so, what I do personally is that I put her training on my television, and meanwhile, on my MacBook, I put on a TV show or a movie that I like and I watch it. Or if not, I listen to a podcast that I really like.
So I feel the training time brief.
The third issue was food.
I didn't know if what I was eating was good or bad.
The Mediterranean diet (the one here in Spain) is ranked as the healthiest in the world, but even so, I didn't know if I was eating properly.
It never crossed my mind to go hungry or reduce the amount of food I ate (I didn't eat large amounts), I just wanted to know if my diet was adequate. And again, this woman pulled out a PDF with feeding suggestions.
I don't want to dwell too much on the subject, but what I did was compare what she suggested to eat and what I ate, and there wasn't much difference, so I practically didn't change my diet. I didn't reduce it either, but as I told you, I don't eat much, or exaggerated amounts.
So… "How do I know if what I eat is too much?" You may be wondering.
I'll give you an example for you to compare.
If you live in the United States and go to the movies and you buy a menu of normal-sized popcorn (no extras of anything), that, here in Europe is the Jumbo size.
And by the way, there is no Jumbo menu here, so it would actually be the XL.
Anyway…If you want to see her food plan I leave you her Epic I PDF here.
As the days and weeks went by, I felt much more energetic, more active, and happier. And I remind you that we were locked down at home all the time.
I finished the first program and lost a lot of weight. I lost a lot of weight and gained muscle. I didn't get a six-pack but I did lose a lot of fat from my belly and reduced its volume.
I liked her first program so much that I decided to do the second one. Then the third… then the fourth.
Right now I have lost count of how many programs we have done, but today I continue to exercise constantly, I have managed to make it a natural part of my life.
In fact, I'm at a point where the day I don't exercise I feel like something is missing. Imagine that Sunday that you decide to sleep all day and in the end you don't take a shower… the next day you feel the urge to take a shower because you feel dirty.
Well, it's the same feeling.
I could spend hours talking to you about the benefits of exercising, but if I learned something for myself, it is that it doesn't matter how many self-help articles you read, or how many videos on YouTube you watch about all this.
You have to live it for yourself.
Working out changed my life.
It improved my physical, mental and spiritual health.
It allowed me to reduce my anxiety due to the pandemic lockdown.
It gave me mental strength in knowing that I can accomplish anything (if I was able to endure those workouts, everything else that lay ahead for the rest of the day was a piece of cake).
My self-confidence increased
I discovered that I am a constant and persevering person.
I found out that I am not afraid of commitment.
I became a strong person physically and mentally.
The key to changing and improving your lifestyle is, to be honest with yourself and truly commit to doing it.
Create a system that works for you.
Think about what your weaknesses are and what are the real reasons why they would discourage you to continue working out and create something that allows you to hack your brain so that this doesn't happen and in those moments of weakness apply that trick to stay motivated.
I share my story, and I share Caroline's program because it was what worked for me. She doesn't sponsor me, she didn't ask me to advertise and she doesn't need it. Her work speaks for itself.
I hope my story has helped you, and if you want me to share my exercise routine and eating plan in more detail, leave me a comment below and let me know.
My last advice would be… Stop reading this, stop watching more videos on YouTube and get to work, now!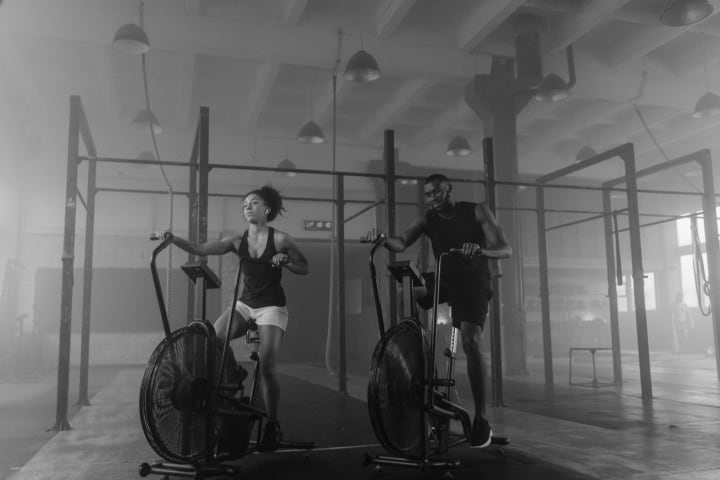 Just do it!
Your future self will thank you forever.
A BONUS
By the way, one thing that really helped me stay motivated and have visual support to see my progress is my Apple Watch. It has definitely helped me a lot and is my inseparable gym buddy.
More than an accessory, it is a tool.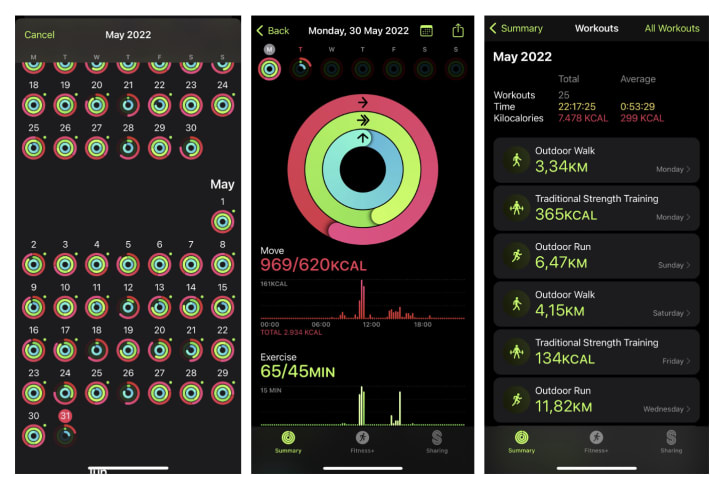 For me, it is the most useful Apple device of all after the iPhone. If you don't have one, and you are part of the Apple ecosystem you should consider buying one, it will help you stay motivated.
See you next time,
Peace.
P.S.: This article was previously published on Medium.com by the same author.
Join 1K+ other entrepreneurs for weekly exclusive content on your email 📨
About the Creator
Engineer + Author + Entrepreneur| Founder of @KeepingCryptos and Apple Newsweek on Medium | #Bitcoin is the king 👑
Reader insights
Be the first to share your insights about this piece.
Add your insights