How A Hybrid Mattress Helped My Sleep Deprivation
Struggling to choose between a spring or memory foam mattress? Hybrid mattresses offer the best of both worlds.

Supported ByLull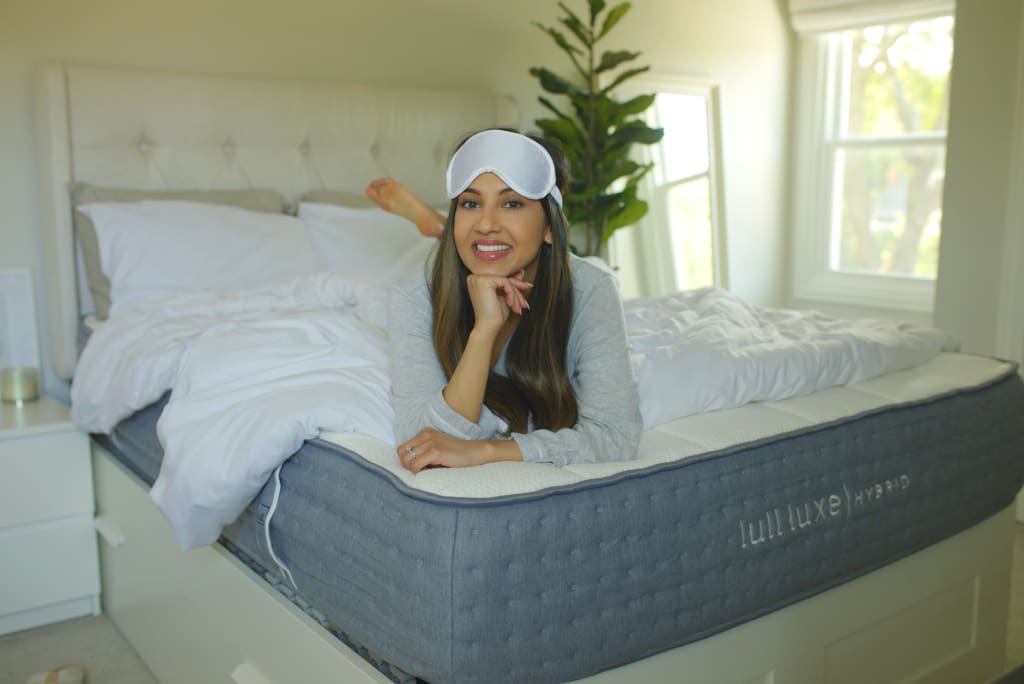 It's no surprise that as parents of a one-year old, the days are long and filled with taking care of Kayden, working, household chores, prepping for the next day, and countless things to do. There are many new things that we are learning about parenting. Parenting is an absolute blessing and Malick and I are loving every minute of it! At the same time, it's also very tiring; now it all makes sense when everyone told us to sleep when the baby sleeps!
Speaking of sleep, Kayden is currently going through sleep training and we have been sleeping in our guest bedroom since his crib is in our master bedroom. He has been doing great sleeping through the night, but Malick and myself have been tossing and turning all night long. At first we figured it was an adjustment simply because we "thought" that Kayden had been crying and needed a diaper change or was hungry, but he was actually sound asleep each time we checked. So what was it that kept us from sleeping through the night? That's when we realized that our firm and old queen mattress from when we first got married needed to be replaced!
Let's be honest, there are enough things to think about regularly, and having to think or worry about the mattress we were sleeping on was the least of our concerns before. That's until we realized how valuable sleep was even more so, and decided to make the upgrade to a Lull Luxe Mattress. Getting enough rest every night is key, because every extra minute allows us to be refreshed and avoid being sleep deprived. On days where I know I didn't get enough sleep the night before, I'm never able to function as well or as efficiently. Malick and I both agree that we can't take sleep for granted; it's too important of a necessity for everyone. Once we recognized the value of quality sleep for our overall health, happiness, and ability to parent, we knew we had to switch out our old, lumpy mattress for a new mattress from Lull.
Now you all know how much time and energy is spent into putting a home together, and that includes the types of linens, bedding, and of course mattresses you choose. Before we chose a new king mattress for our master bedroom, we did our research and weren't exactly sure whether or not to get a memory foam or spring mattress. Since we were still sleeping on the old queen bed from our apartment, I wouldn't be as comfortable since I was carrying Kayden at the time. This led to sleep deprivation, and we knew we had to solve that fast! Turns out that every great review led us to decide on Lull. Naturally when it came time to replace our queen mattress in the guest bedroom, Malick and I wanted to extend the same level of comfort to our eventual house guests. Have you ever visited family and friends and stayed the night only to sleep in a mediocre bed because you didn't have a choice? We've all been there.
The best part about us getting a new mattress for our eventual guests is that we actually got to enjoy the new queen size Lull Luxe Mattress since we are sleep training Kayden - it's the best of both worlds!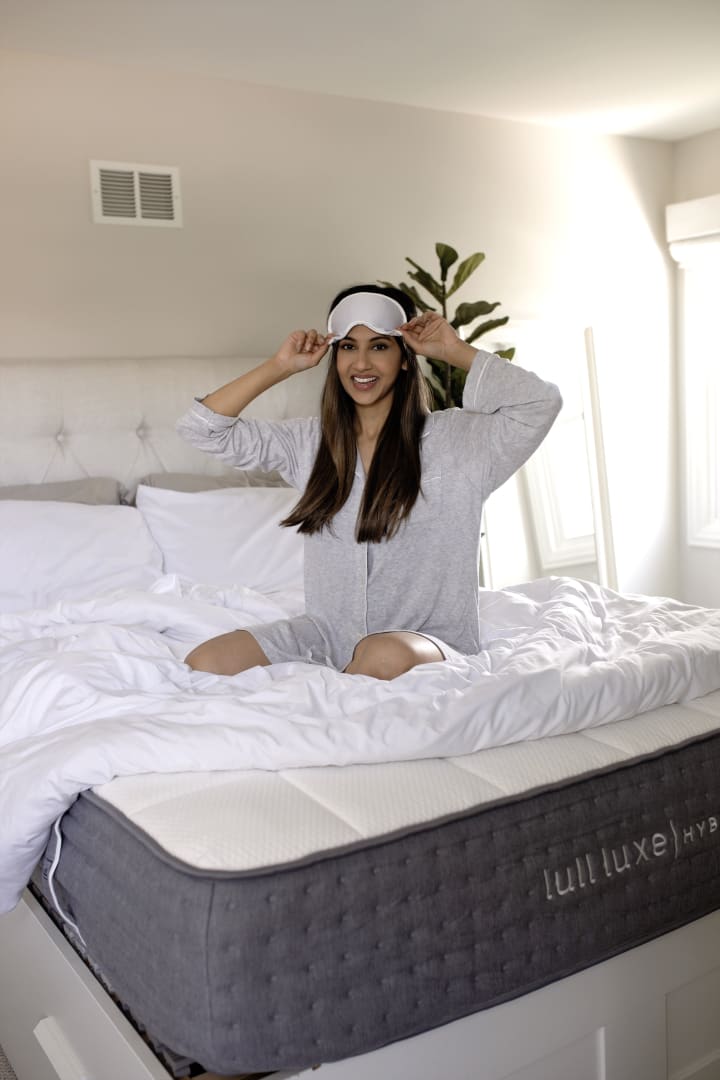 There are a variety of benefits that both memory foam and spring mattresses offer. Memory foam mattresses contour to your body, generally keep you feeling wrapped and warmer, and allow for an even distribution of support. Spring mattresses, on the other hand, offer great back support, come in several firmness options, and are typically more cooling on the body. But, why not choose both? There's no doubt that hybrid mattresses offer the best of both worlds. With the perfect balance of innerspring support and memory foam comfort, hybrid mattresses offer a new level of feel-goodness that allows us to actually get a good night's sleep, no matter how busy we are as parents! The first night with our new Lull Luxe Mattress, Malick was snoring before I even got a chance to say goodnight! (True story!) No tossing, no turning, and he definitely was sound asleep in no time! He woke up the next morning asking, "Wow I feel amazing, how did you sleep?" I had no idea what we were missing until we replaced our old mattress — I must admit, the Lull Luxe Hybrid Mattress is VERY comfy!
Shopping for a new mattress isn't as daunting as you would think, either. With a 365 night risk-free trial and free delivery directly to your doorstep, what's not to love about Lull? Honestly, don't just take my word for it. Give it a shot yourself and I guarantee you will love it too! Let me know your thoughts and your experience with the new Lull Luxe Hybrid Mattress!
About the Creator
My name is Farheen Valliani, founder of Farh from Ordinary - sharing all aspects of my life from the best beauty/fashion/ home finds to motherhood essentials!
Come visit farhfromordinary.com or DM me on IG, @farhfromordinary.
Reader insights
Be the first to share your insights about this piece.
Add your insights