3 Important Things You Should Consider When Purchasing Your Wedding Bands: Beauty, Quality, and Price
Buying a gemstone is almost always a significant financial undertaking that you want to get right, and now it's easy!

Supported byCharles & Colvard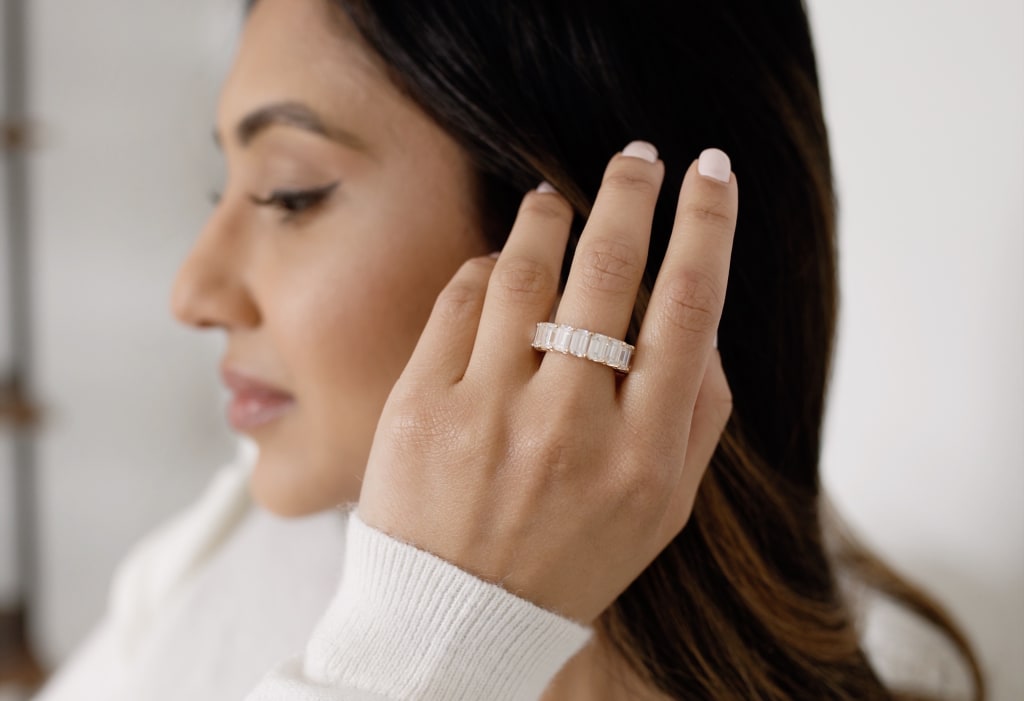 One of my favorite memories in life is the day Malick proposed to me. It was a symbol of our love that will be cherished forever! For those of you who have been following my journey for the last several years, you know how special the trip was; Malick proposed at sunset in a beautiful cliff-side restaurant in Santorini, Greece! After Malick and I got engaged, I couldn't help but catch myself staring down at my beautiful engagement ring—it was the most magical and perfect day. Fast forward to today, I still remember our engagement, one of the happiest moments of my life, like it was yesterday every time I glance down at my left hand.
Considering all of the great memories and lifelong promises associated with that trip, it's safe to say that my engagement ring is my most cherished piece of jewelry. This is usually the case for most women. While I wouldn't change that day for anything, Malick and I know now more than ever that buying an engagement ring and wedding band is a big financial investment.
Below are important factors you should consider to help throughout the engagement process. Here are the three primary things to consider when purchasing your wedding bands and engagement rings: beauty, quality, and price!
Step 1: Selecting the most beautiful ring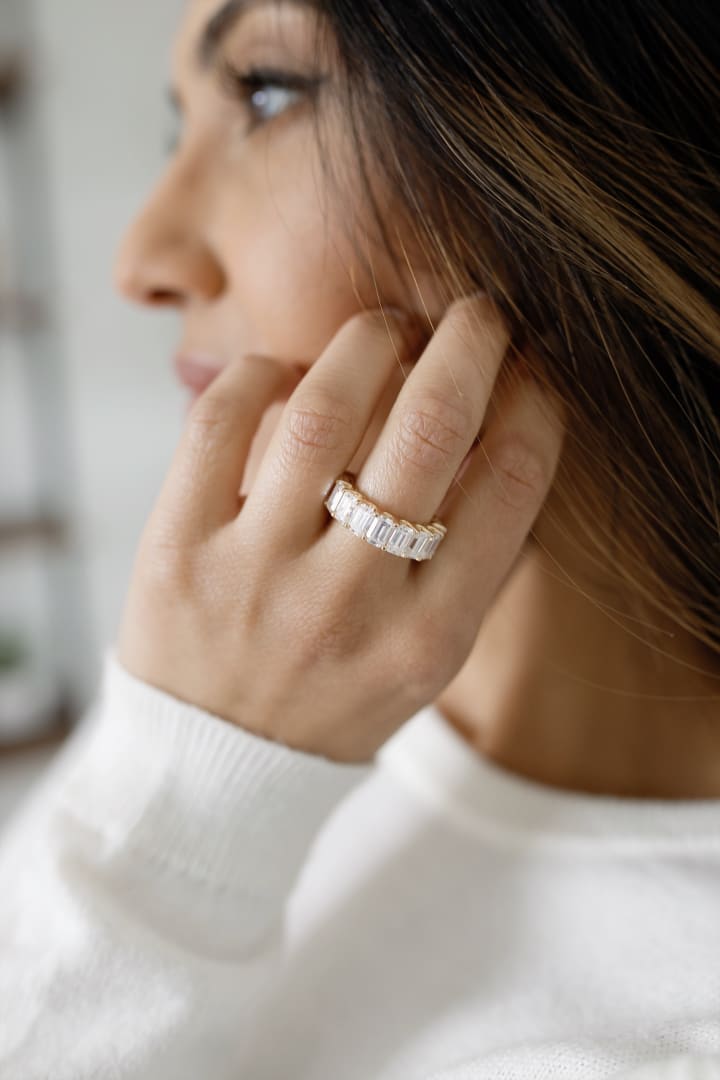 Every girl dreams of her wedding ring! Though, it's tough to narrow in on what exactly makes a wedding ring beautiful. Everyone wants the perfect gemstone, but with so many options, choosing a quality stone can feel overwhelming. While everyone's search for their perfect gemstone is unique, it helps to understand the basics of what goes into comparing one gemstone to another so you can have an easier time communicating and ultimately deciding on the ring that will impress you for a lifetime!
Let's talk about the "4 Cs," and how they play a role in choosing the perfect wedding ring. High quality cut, color, clarity, and carat are among the most important elements to consider when selecting the most beautiful ring.
Cut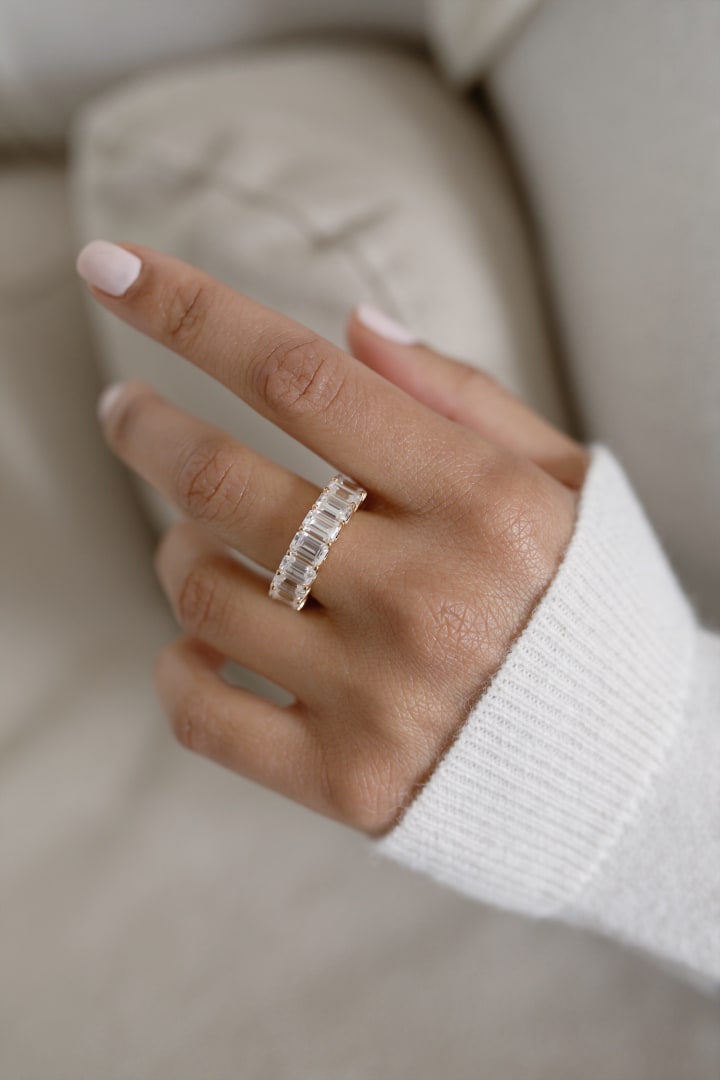 When most people think about the cut of a gemstone, the actual shape of the stone (round, oval, heart, etc.) comes to mind. The cut, however, refers to the precise angles and facets that are placed on each gemstone. While beauty is in the eye of the beholder, the more symmetrical and proportional the cut, the more optically beautiful the gemstone. Malick and I found that the expertly cut Moissanite that Charles & Colvard offers in a wide variety of shapes, gives extensive options for both engagement rings and wedding bands!
Color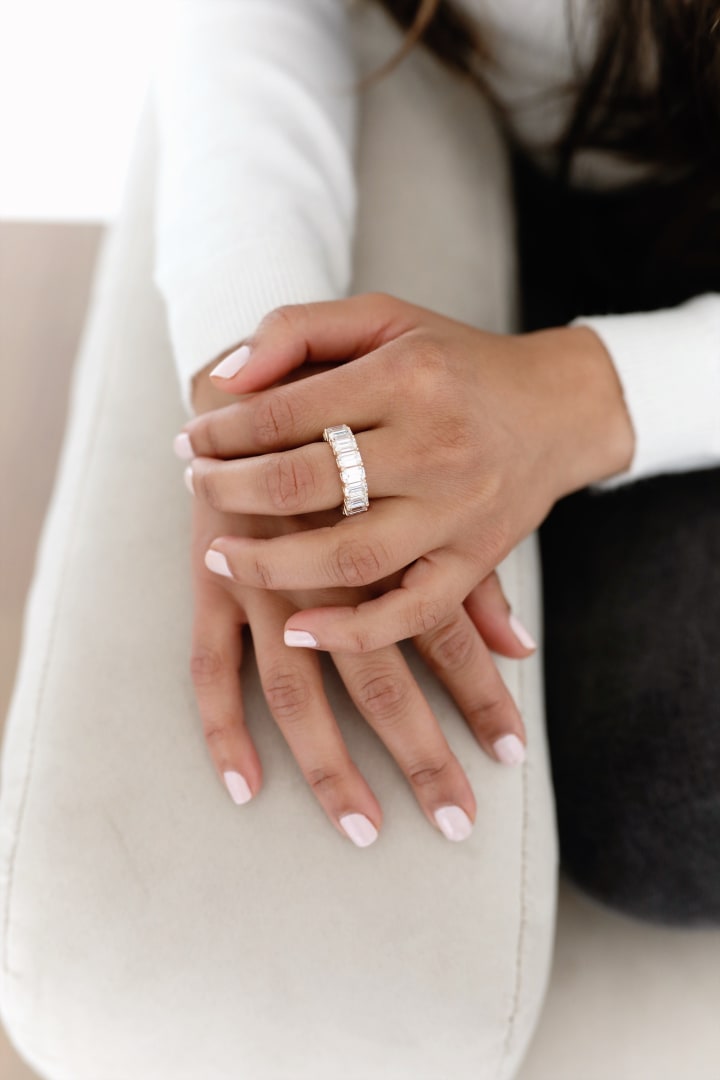 Charles & Colvard offers two color options for Moissanite. For my Forever One ring, Malick and I got to choose between colorless (D-E-F) and near colorless (G-H-I). Moissanite's color grade is based upon GIA's D-Z color grading scale, where D is colorless and each following letter displays slightly more of a hue. We decided to purchase a near colorless stone, because we loved that it emits a beautiful warm hue. Charles & Colvard offers Caydia lab-grown diamonds in the color options: E, F and G.
Clarity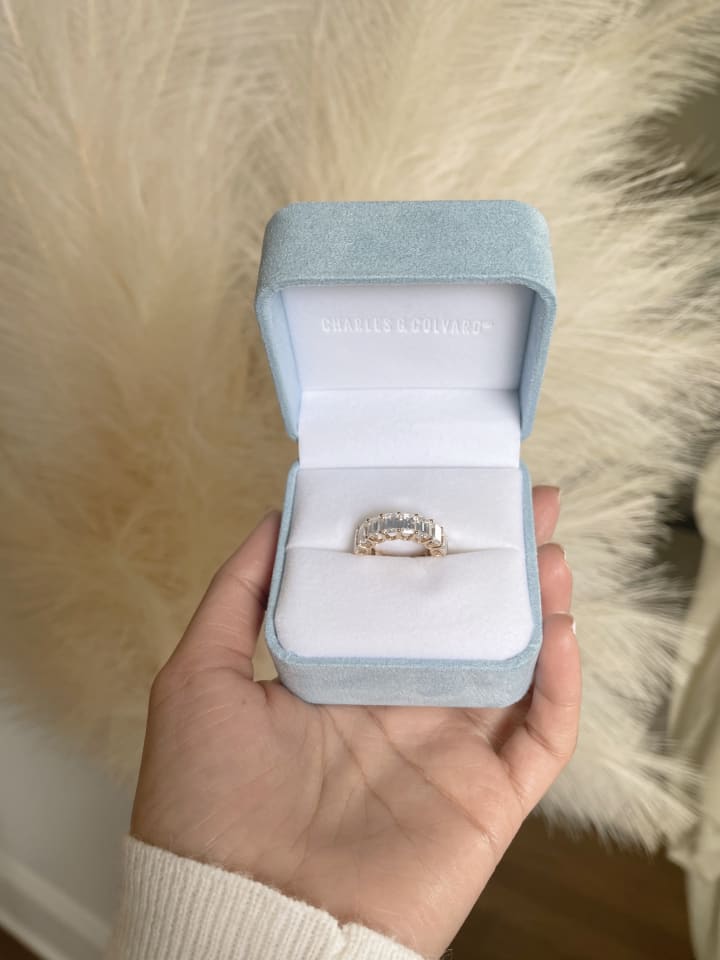 Each Forever One Moissanite is clarity graded by trained experts, who look for any imperfections and only the gemstones with the best clarity grades are considered Forever One. All Forever One gemstones fall within the range of Internally Flawless (IF) to Very Slightly Included (VS1) classification. If there are any inclusions present, they are not visible to the naked eye. It would actually take a skilled gemstone grader to be able to see the inclusion with a 10x magnification!
Carat
Through my research, I learned that Moissanite weighs approximately 10% less than a diamond of the same diameter. Since the traditional unit of measurement for a diamond is the carat, Charles & Colvard use a Diamond Equivalent Weight (DEW) to give their customers a comparative estimate of the gemstones size. For example, a 6.5mm round diamond would weigh 1.0 carat, while a 6.5mm moissanite would weigh 0.88 carats. Malick and I decided on a gorgeous 8.0mm round stone, which has a diamond Equivalent Weight of 2.0 carats!
Because moissanite is a lab-grown gemstone, the controlled environment allows for more opportunity to perfect the 4 C's. No matter which cut, color, clarity or carat catches your eye, with the variety that Charles & Colvard offers, you are bound to find the perfect gemstone for you and your loved one!
Step 2: Search search search for the BEST quality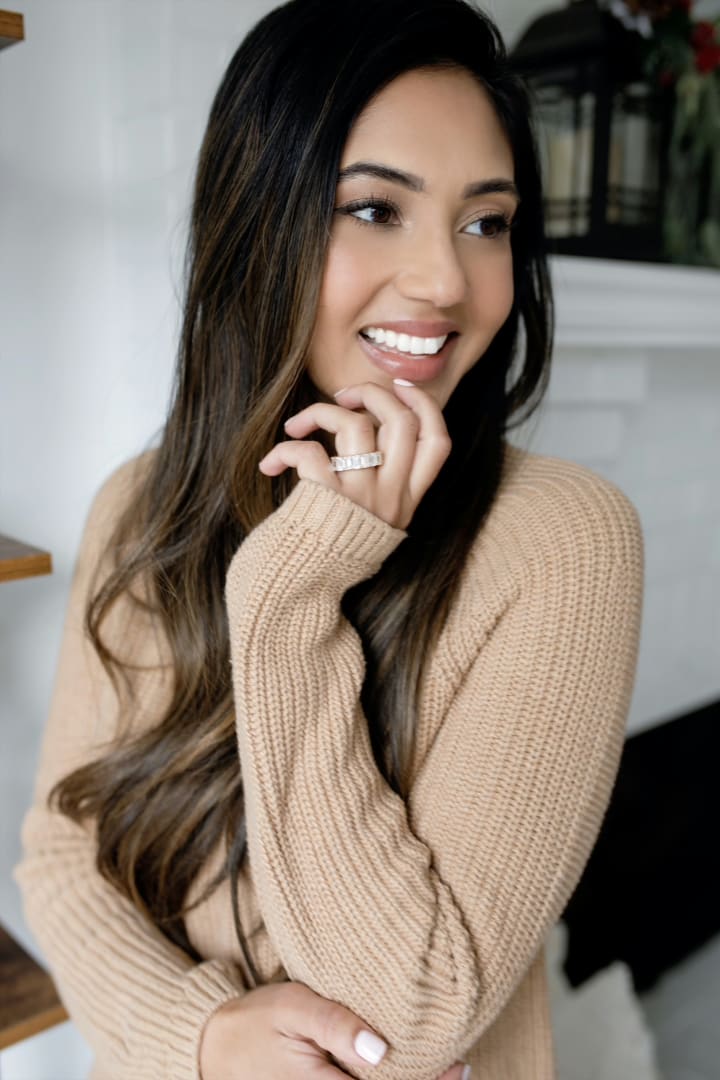 Quality over quantity is what I always say. A sparkly ring with the highest quality is so much more worthy in my opinion than a ring that is big, but dull. While this balance between quality and quantity might seem tricky to find, don't worry, you won't have to search too hard. I can personally attest to the quality of the rings that Charles & Colvard offers. The cuts and finishes of the gemstones are precisely stunning; and, not to mention, one-of-a-kind. Their vast selection of lab-created gemstones (which are made, not mined) have all the elegance, sparkle, and quality you're looking for!
I decided to choose a timeless ring; the Forever One Moissanite emerald cut eternity band in 14k yellow gold! The design of the ring is beautiful, with moissanite gemstones all the way around in yellow gold. It's classic, timeless, and makes the perfect wedding band. Every gemstone in the ring is of the highest quality and nearly colorless! It is such an elegant ring that truly shines bright—I receive compliments on it nearly every time I wear it (every day)! It adds some extra bling and compliments my existing engagement ring and wedding band nicely. It's a great eye catcher and can be worn separately or stacked with my wedding ring!
Step 3: At Charles & Colvard beautiful is affordable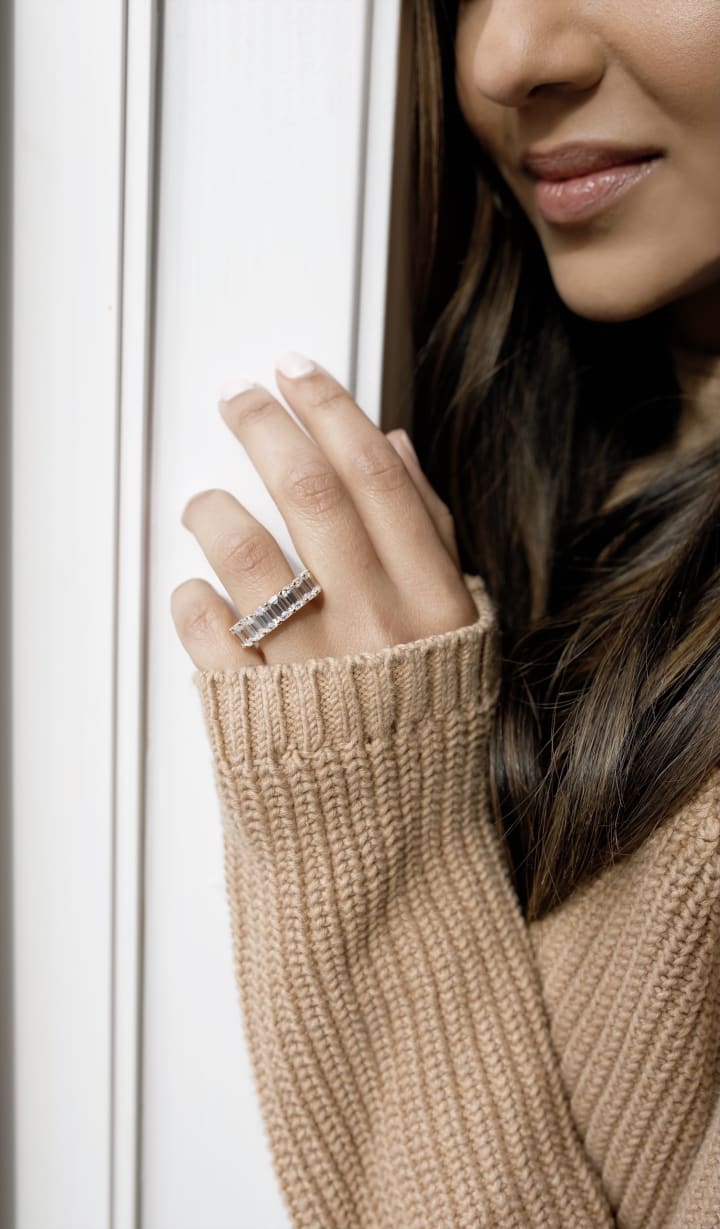 Lastly, price is always something to consider when purchasing your forever ring. Did I mention that the Charles & Colvard collection is cost effective, and best of all, eco-friendly?
To be honest, I hadn't done much research on lab grown vs. natural diamonds, but if we had to do it all over again, I told Malick that I would have preferred a lab grown solitaire in my engagement ring! Lab-grown quality is just as good as natural diamonds at a fraction of the price. After all, they are 100% real diamonds! For example, a 1 carat Charles & Colvard diamond solitaire ring starts around $2,500. A natural diamond of the same composition could be up to five times the price. Plus, you can't even tell the difference between a lab-grown vs. a natural diamond by the naked eye.
Buying a gemstone is almost always a significant financial undertaking that you want to get right, and now it's easy! Don't be fooled—expensive jewelry and quality jewelry don't always go hand-in-hand. Charles & Colvard is an example of GREAT quality and affordable fine jewelry featuring lab grown gemstones.
The Charles & Colvard collection of beautifully crafted jewelry is every girl's dream! With their exquisite and vast catalog of Forever One Moissanite and Caydia lab-grown diamonds, there is definitely something for everyone. If you are like me and take pride in the things you worked hard for, and you want to give yourself or someone special a beautiful piece of jewelry that they'll remember forever (like I will), take a look at the collections from Charles & Colvard to spread the love!
About the Creator
My name is Farheen Valliani, founder of Farh from Ordinary - sharing all aspects of my life from the best beauty/fashion/ home finds to motherhood essentials!
Come visit farhfromordinary.com or DM me on IG, @farhfromordinary.