Home Modifications for elderly at your home
Addressing the mobility related concerns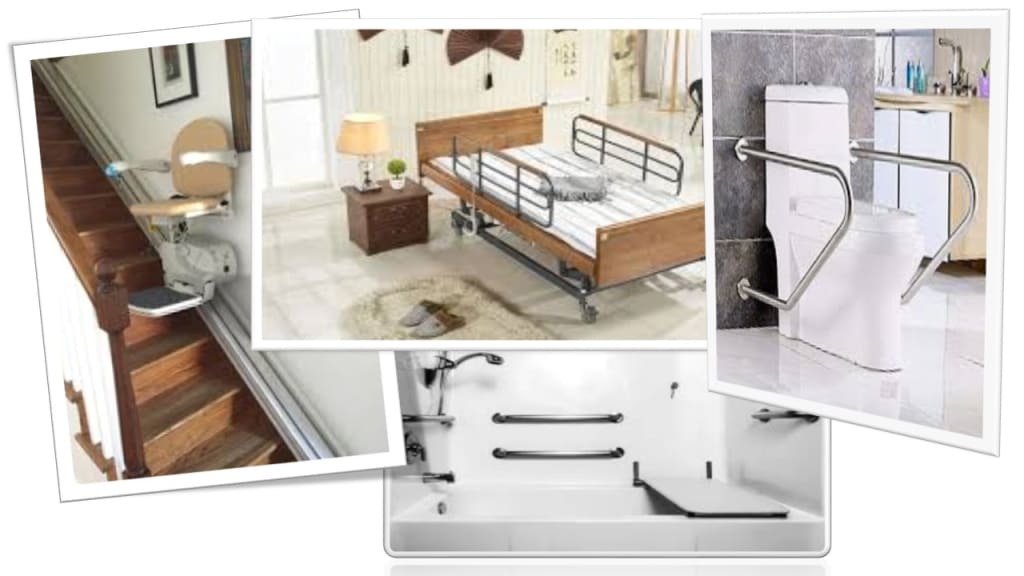 With a population of around 12 million "handicapped" elderly people in India, locomotor disability is one of the major disabilities among them. In this regard, we have initiated a series of articles highlighting precautionary measures and modifications of home, aimed at providing an insight to the elderly people and their children to help significantly reduce the risks of different types related to old age.
We shall be concentrating on mobility related concerns, challenges and problems in this very first article and shall be mentioning the various ways to overcome the same.
For those aged people for whom staying at Ground floor of the house is not an option, walking up & down the stairs poses a major concern. And for those senior citizens who do not have a Ground floor challenge, there are different issues like problem with balance, knee and back problem, heart & lung issues or other mobility related problem. In all such houses, Stair lift designs are a solution whether it be a standing platform, a full seated lift or a lift with perch-style seat, rail shape lifts and others. There are many types available with costs varying from reasonable to expensive.
A majority of the time is spent by the old people in the bedroom and it make it inevitable to ensure ease of movement and a hassle free walk around the bedroom. Besides this, a well maintained bedroom also increases independence and reduces the risk of life threatening accidents. Clear walkways are important as well as it is important to organise the spaces properly for a free movement. Be sure to check the room's flooring/carpeting. Health experts say that a loose rug or an unsecured carpet can be an environmental hazard leading to a fall or a related problem, for old people. Besides this, any curled up edge can pose a severe trip risk. Apart from above, doors and windows are an essential check to do. Windows should have a secure screen and lock, especially at ground floor bedrooms. The fittings at door and windows should be easy to operate, considering the pain it would take for people with arthritis or visual impairment.
Further in bedroom care, the furniture should be sturdy without any chance of a tip-over. There have been cases reported in thousands where an elder person was a subject of severe physical pain just because getting tripped while sitting on a sofa with loose legs or damaged cushion. Apart from this, basic care includes ensuring daily use items are within reach, electronic and medical equipment are electrically secured, there is no loose cable, etc. Safety protocols for all medical equipment need to be read carefully and need to be followed even more cautiously. For an example, oxygen cylinder should be kept at least five feet away from all heat sources.
For bathrooms especially those that are used by senior persons living independently, there are some important modifications needed. Handrails are highly preferred to ensure a proper support and reducing the risk of slipping. Bathroom commode chairs are a great tool that can be extremely useful. Lighting plays a crucial role whether visually impaired or not. The number of light fittings, ideally, need to be three times more than a normal bathroom. Energy efficient LED bulbs ensure that the light bill increases only marginally.
As a last piece of information of this article, bed is the heart of essential furniture in the bedroom and is more essential a piece to provide a sleeping comfort for the senior grown-ups, as the sleeping patterns often change with aging resulting in older people finding it relatively difficult to fall asleep or stay asleep. For this reason, bed upgrade/change is a perfect start for bedroom care/modification. A hospital style bed is an ideal choice as it provides adjustments to head and feet that helps in a customised bed position as per the individual's choice for a comfortable posture. Moreover, the adjustments can be made for different postures of sitting and sleeping. For those willing to go for an extra budget, there are beds available which can embed wireless controls for lights, fans, etc. apart from having massage features or even an ability to adjust the firmness of the mattresses. That's sounds cuddly! In addition this, for those willing to shell out extra money, motion sensor based bed light either under the bed or above it, can be an advantage for those who have a habit of getting up in the night. Bed rails are a significant part of any bed upgrade. Side rails are a must in this regard to not just ensure safety but peace of mind as well. These rails also come with variation in height and angle. Some of them require to be operated by a caregiver while others can be self-operated with easy to use levers. An assist rail helps in getting in and out of the bed without any problem. All these rails can be upgraded as well with bumper pads, that act as a cushion to provide a soft touch. As a general care precaution, avoid bed skirting/railing or any type of bedspread, comforter, or duvet that reaches all the way to the floor. Feet can get tangled in these types of bedclothes and a fall can result.
Hope this reading proves beneficial to you and further adds the convenience, safety and comfort elements to the second innings of your wonderful life.
Keep visiting this space for more articles in the series.