HealthyWage Will Pay Me $1,174 to Lose Weight-Care to Join?
How you can make money by reaching your health and fitness goals.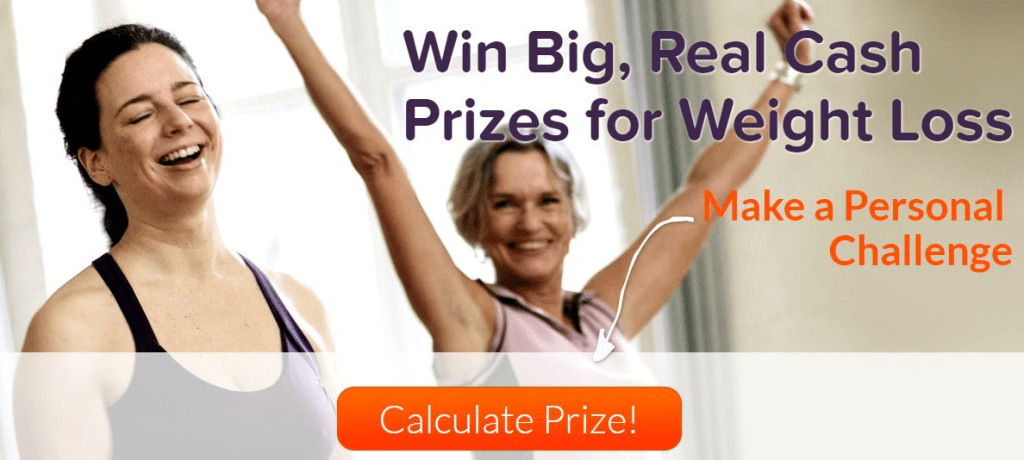 I saw an ad for HealthyWage on my Facebook feed. I'm a writer and editor by trade, and I'm always reading health and fitness articles in the hopes that I'll somehow magically absorb willpower from the words. Since switching to a full-time job chained to a desk, I've gained 60 pounds. The gain was over a pretty short period of time, and the weight didn't seem to be going anywhere soon. The following piece tracks my epic journey with HW. It's been truly life changing.
About HealthyWage
The company was created in 2009. Its concept is based on academic research that found cash rewards can increase the effectiveness of weight loss and inspire active lifestyles. HealthyWage is committed to finding "innovative ways to have a measurable impact on the growing obesity epidemic and help get people moving."
Before committing, I used the HealthyWage calculator to look into what I could earn. It depends on how much you want to lose, how much money you bet, and the amount of time you set to reach your goal. For me, betting $75 a month for 7 months to lose 40 pounds felt like the right fit. It was definitely a challenging number and time span, but I have always thrived on a challenge. If challenge isn't your cup of tea, HealthyWage might not be your thing. But you could also bet the minimum amount of $20 per month for the minimum time span (6 months) and bet to lose less. It's all about what works for you.

Food is my addiction of choice. Preferably fried food, processed sugar, bricks of cheese, etc. By all accounts, the fact that my energy was low and my health was affected by my bad habits should have been enough to motivate me. I'm a mom, I work full time—self-care is important if I'm going to support my family and build my business.
But somehow the call of anything bread-related always won out. Food let me decompress when I was stressed. But then it also made me feel like complete garbage after those few fleeting moments of sugar haze, and the sluggishness made me less productive. I'd turn into a crabby mom-monster who didn't feel like getting off the couch to play with my son.
Around July of last year, I started putting some real effort into a healthier lifestyle. This included trying to cook more and getting back into running. Needing to work was always an excuse to avoid such things, but if I don't care of my health, I won't be as sharp for the mental demands of my job, so sometimes taking an extra hour to myself to go running is just worth it. Those ten emails can wait an hour.
I had already lost about 7 pounds when I came across the HealthyWage website. Research and fact checking are aspects of my job I love, and I applied that to look into HealthWage's legitimacy full force.
I read through the entire website and their rules and regulations. You have to provide a before photo and a video weigh-in for your first official weigh-in. Another option is to provide your weight from your doctor or certified trainer. You will also have to provide a final verified weigh-in at the end of your bet to show that you've reached your goal. I had a few questions, and when I emailed HW, I got a response within 24 hours (before I had even started the program). I even found people who were already in the program and talked to them online about how they liked it. I also spoke with those who had won their cash prize. It was the real deal. You can find true success stories on the website here.
I needed that financial incentive. Something just clicked there. It seemed to give me new superpowers, like the will to avoid garlic bread and the strength to run like a badass. I'm putting up $525 (broken into 7 monthly payments), and my prize amount is $1,174. You tell me what menu item at Olive Garden is worth losing $1,174 of your hard-earned cash? Is that fudge brownie or Taco Bell combo worth over a grand? No. I started HW, and the late-night second dinner paired with a bottle of wine just wasn't appealing anymore.
I do allow myself to cheat from time to time. What is life without pasta and Pinot? But I know I have a goal to reach. I have increased my running distance (up to 9 miles), and I've upped my gym workouts and my cooking game. Vegetables and salads with light dressing get a LOT of love from me. I have decreased calories and incorporated Zumba classes into my schedule to create a deficit and shed the weight. So far I've lost 30 pounds. I have 10 more pounds to go with only 60 days left. Here is a handy little tracker tool direct from my HW profile that shows my progress: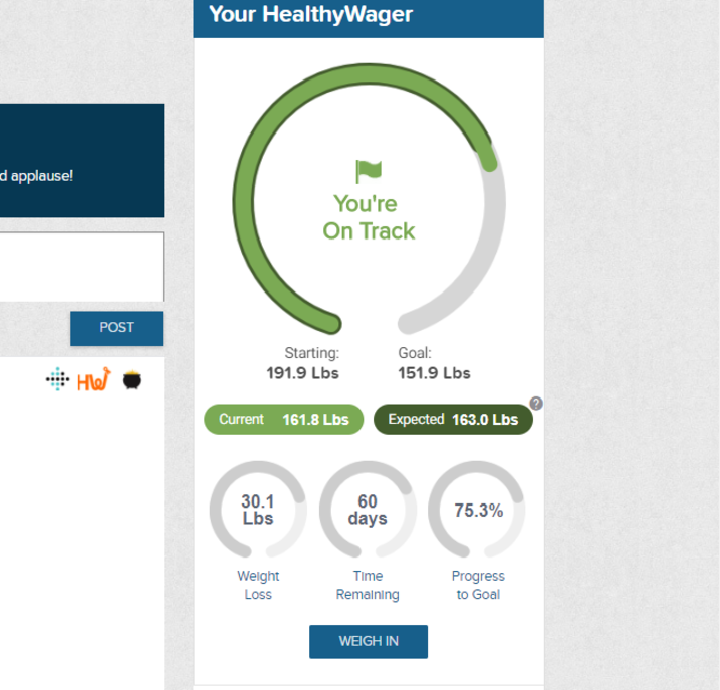 The tracker has been a dream tool. You can enter your weight whenever you want and see how your progress is measuring up against the time you have left. When you fall behind, the green circle becomes yellow. When you fall behind even more, it becomes red. Honestly, I've been in the yellow more than once these past months. Oh, the beginning is all fun and games until you hit those plateaus and have to step it up! But there is nothing so satisfying as weighing in and seeing that green, meaning you are on track. The visual and the action of measuring progress just motivates me and is super fun. But I'm one of those strange people who like to write lists.
Finding Friendship and Support
Another thing that will stay with me after the bet is the social aspect and supportive community. Pretty much nobody in my day-to-day life had ever heard of HealthyWage, but there is a committed and growing group of people out there who use the program and love it. We join forces online (both in the HealthyWage forum and the Facebook group I started) and support each other. We share photos, flaws, successes, failures, complaints, recipes, exercise and nutrition tips—all in the name of improving our health and killing old bad habits. We are moms, single dudes, college students, grandparents—it's a vast range of ages and types, and I've made so many great friends. HW has found that social media can play a large role in reversing obesity. I've found the social media presence of HealthyWage participants has been incredibly inspiring. And it's made the program really fun for me.
Even More Ways to Make Money
I love how HW runs their company. If I ever have questions, they respond quickly. I've even called them and received fantastic customer service over the phone. My own HW experience inspired me to apply to be an affiliate. On top of your prize money, there is also the opportunity for referral payments. You receive a $40 payment for each referral. It can really add up.
Another way to earn extra cash is by participating in other challenges. There are group challenges as well as activity challenges (increasing your daily steps, for example). You can do those along with your individual bet to stay motivated during the long haul.
For those of you who shy away from gambling, you could also think of it as an investment in yourself. You are putting away a certain amount of money each month, and if you make your weight loss goal, you get back more than you put in. You could more than double your money, depending on the wage. As Lin-Manuel says in Hamilton, "You got skin in the game, you stay in the game." HW made me work hard to take care of myself for more than a week (the usual lifespan of my "diets"). I'm still going.
Are you ready to start your health and fitness journey this year? Do you need that swift kick in the pants? If you are serious about getting healthy, why not get paid for it? Visit HealthyWage.com to get started.
weight loss