Hari Kirin and Ajeet Kaur in Taiwan
Sacred Art and Yoga Teacher Training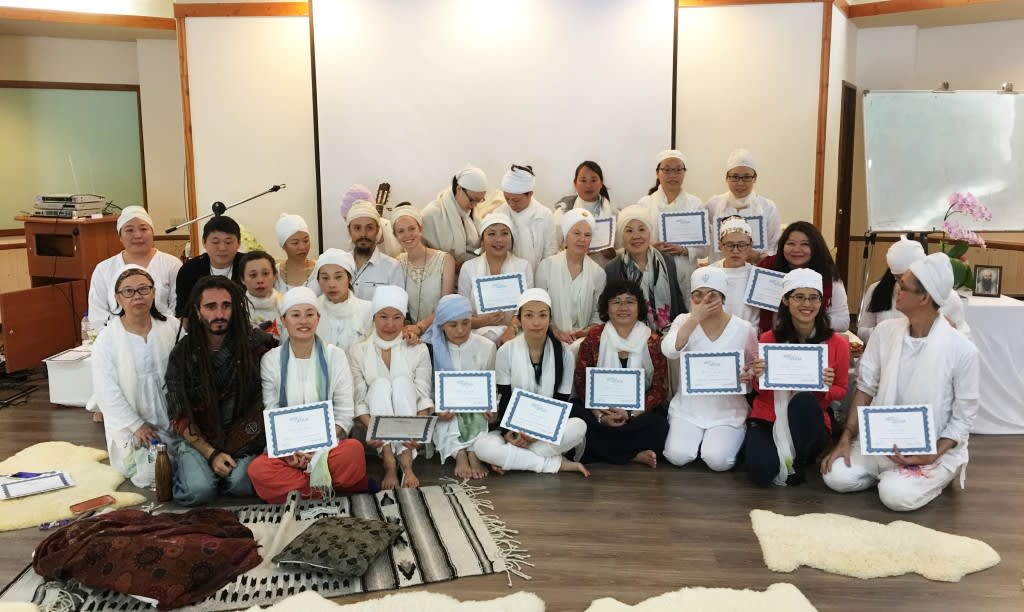 Having traveled from Maui to Taiwan (an 18-hour time difference), it took a little adjusting to, especially given I had never practiced Kundalini Yoga before EVER! We drove a couple of hours from the Taiwan airport to a spa and sculpture park. New Era Art Resort and Spa up in the mountains near Nantou.
The New Era Art Resort & Spa in Puli, Taiwan was established in 1987 to display the work of renowned Taiwanese sculptor Lin Yuan. In addition to its original function as a sculpture park, the 6.6-hectare sculpture park has evolved over the years into a resort area with vacation cabins, conference facilities, a spa and restaurant specializing in healthy cuisine. The tung blossoms are another major attraction at this resort and center of art.
The spa offers everything in terms of treatments and every conceivable plunge pool. All temperatures of water and powerful water jets. Not for the faint hearted.
Hari Kirin and her daughter Ajeet Kaur were hosting a retreat there incorporating art, creativity, and yoga, a primary focus of Hari Kirin's. She travels extensively to teach her courses related to the messages in her beautiful book, Art and Yoga, and Ajeet co-facilitates some of these workshops. She is very familiar with Asia and teaches there a lot.
Although initially Hari Kirin was employed by the "Village Voice" many years ago in New York City. Before meeting her teacher Yogi Bhajan.
She has been a professional artist since finishing her BFA at Hartford Art School in 1976. Her twenties were spent between NY, at the School of Visual Arts or Columbia University, and Hartford, CT, where she participated in Real Art Ways. During this time she met her spiritual mentor, Yogi Bhajan. In 1986 she moved to Cambridge MA to pursue her interest in art, healing and spirituality. In 1988 she received an MA in Creative Arts Therapies from Lesley University. At Lesley she was deeply influenced by psychologist James Hillman and writer Thomas Moore's ideas about images. She began exploring these ideas in her painting, collaborative group performances, and therapeutic art events. She returned to graduate school and received an MFA degree from Vermont College in 2001
Ajeet Kaur's music is a meeting of rivers. Her love of meditation and sacred music meet her upbringing with traditional Irish music and her unwavering love of poetry through song. Growing up in a musical and eclectically spiritual home, music has always been present. Ajeet found her way to the magic of sacred music at a young age, leading her to fall in love with the songs, stories and sense of mystery in the folk traditions. Collaboration is central in her work, and some of her collaborators include Snatam Kaur, Trevor Hall, Rising Appalachia and Peia. She has released five albums, which have been celebrated as #1 on the iTunes world chart, and Billboard Top 10 new age chart. Ajeet makes her debut as a producer on her latest album, "Indigo Sea" which was self created and funded by fans and listeners worldwide. Join Ajeet and her band as they weave together ancient rhythms and melodies, deep meditative spaces and heart-opening songs to bring you on a journey through music.
Our days started early in Taiwan with reciting Jai Ji before moving into a gentle set of Kundalini yoga kriyas. Taking charcoal and paint to paper at this retreat was quite a challenge initially for many of us. But, when we created from a deep place we all overcame our blocks effortlessly.
There were an eclectic group of students from fine artists to florists to computer game graphic designers to phycologists. The Spa added another element, along with the sculpture park and art gallery on site.
Hasaya means she rises and is the name of Ajeet's last album. It is becoming an anthem of the feminine rising. In the Aquarian age, where we find ourselves presently. This is the age of cooperation, understanding and compassion. A sensitive age, a new phase were we need to learn to work together more as a collective.
Hari Kirin believes the spirit of Taiwan is very creative and resilient, having been through a lot. The days start with Jap Ji followed by kriyas (yoga sets), I never realized that there are over 3,000 kriyas to choose from the kundalini yoga tradition. Then, into meditation incorporating mudras. With art practices throughout the day and the spa to enjoy in the evenings.
I would encourage you all to get a copy of Hari Kirin's book Art and Yoga and to take her teacher training. You won't regret it!
She runs this course at Kripalu and other centres throughout the world. She also has another book on the horizon, along with the online courses available through her website.