Finding a Dream and Keeping It Alive
A Journey of creating hand made paper bouquets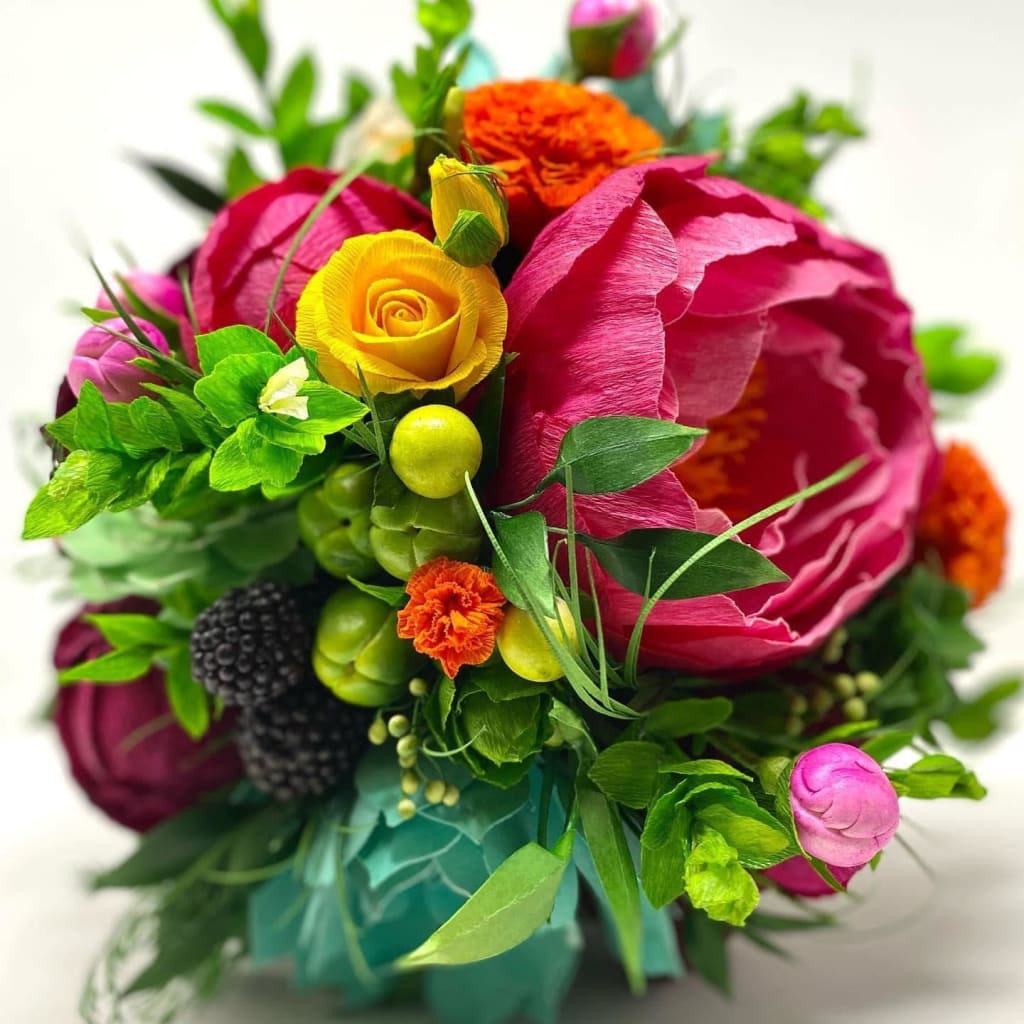 Handmade Paper Flower Bouquet
In my time of being an artist, I have taken on a lot of different disciplines and found that paper was my favorite medium. What started as a hobby in folding modular Origami projects, came a new expressive passion that is constantly challenging and exciting me: paper flower making.
Over nine years ago, I was in the midst of creating Origami lamps and finding designs to keep myself busy, when a friend had asked if I could create flowers out of paper for her Mother. For me, it was a fun challenge to take on, and notably, since it was a meaningful project for an upcoming holiday, I said yes. I began cutting each of the flowers by hand, watching videos of popular experts in their field, and finding ways to make my first ever bouquet. As I stood back and looked at the final product, I knew this would be the next big part of my journey in life. I spent the next couple of years, studying and refining my craft. Then I opened PaperBlooms Design LLC, a professional paper flower and plant making business.
There have been a tremendous amount of challenges in keeping my business going, whether it was gaining exposure or keeping relevant. But simply just becoming established enough that the flow of income would support ongoing material purchases, in addition to financially supporting myself and the business combined, was probably the hardest part of the journey even still.
Fast forward to now, I have had several exhibitions, I am locally established and my work has even appeared on an episode of TLC network's "Dragnificent". I have created works for a multitude of weddings, interior installations for both residential and commercial and recreated bouquets for events that have already happened. I have also donated large works to several charity organizations to help raise funds for the research of Cancer and the support of the LGBTQ community in getting proper and fair healthcare. I also teach several workshops per month, in hopes to share the joy I get in creating my craft.
All things considered, I am truly blessed and am so grateful to be able to continue creating special and meaningful gifts and displays. But to keep the business flowing, I feel that having a competitive edge is necessary for any business model.
And as far as keeping things interesting, I consider myself an alchemist in the endeavors of paper botanical creation. I find unorthodox materials to create layers of color and texture to bring each paper flower and plant to life. I use all kinds of materials and methods, from hair products to various aerosol paints and clays, to dying and baking refined papers. Aside from all of the experimentation in creating paper bouquets specifically, it is in the way that I cut each petal that serves as a defining characteristic of my work. I do not use patterns to cut around, rather, I cut each petal using a real petal or leaf observation. I find the curvature and shape of the petal, and emulate in the chosen paper for that flower. This gives each petal an organic look and helps my work flow naturally, as nature intended.
This way of cutting flowers ensures that my personality can come out through the paper, and that my voice can stand out from the rest of the paper flower making community. As big of a community as it is, I feel proud that I can imbue myself into my work, and create a defined style that nobody else can behold. Rather than using machines to cut patterns, or even stencils to cut each part of the flower, I am relying on my visual study to connect to the medium, to define the shape and the final outcome.
Having this ability to separate my work from others, and have a clear, definitive voice, allows for a sustainability in my business and a security for keeping my dream alive. I know I will be a paper botanical creator for the rest of my life, because it is not just a dream, but a profound passion. And for me, to have a business that continues to strive, gives me an opportunity to leave a legacy behind as well.
diy
About the author
Lea Gray, owner and creator of PaperBlooms Design LLC, creates hyper-realistic trees, plants and flowers from paper. Residing in Columbus, Ohio, she has created and established her local business for 8 years, continuing to hone her craft.
Reader insights
Be the first to share your insights about this piece.
Add your insights