FACT: You Can Quit the Caffeine! I Did...
The T&C's of quitting the caffeine, and how to survive without your daily Starbucks hit!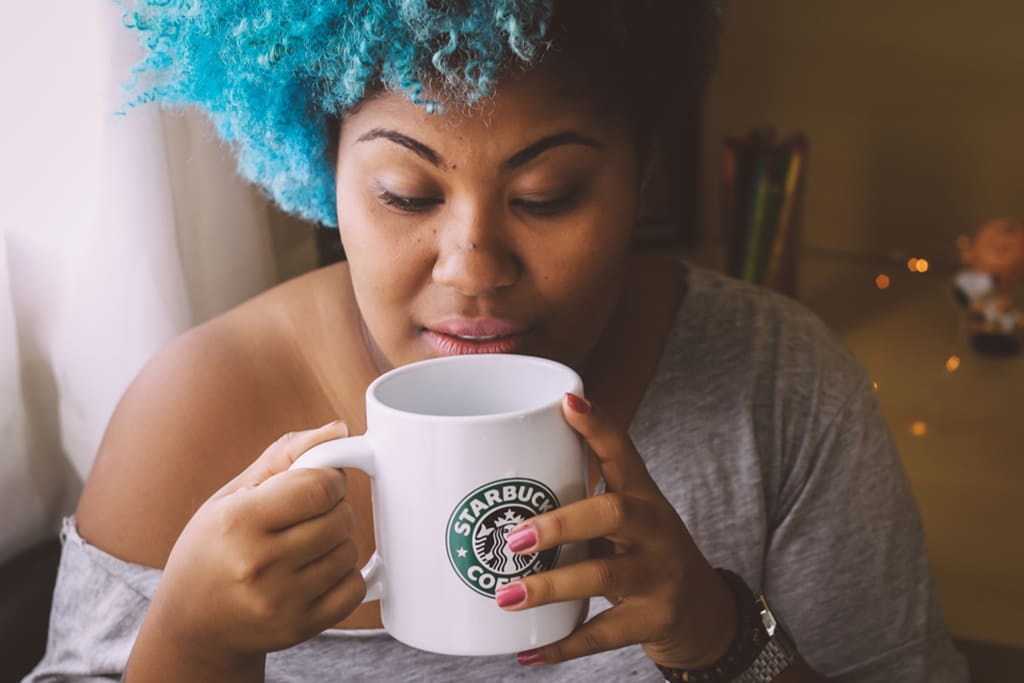 I started the new year unconsciously skipping out on my normal cups of tea and coffee. I think it must be something to do with the ever popular motivator "New year, New me"...
I'll admit: I'm not one to drink a dozen cups every day, but I do enjoy a nice brew from time to time.
Coffee, unlike tea has been a fairly new venture for me. Before 2014, I rarely drank the stuff. I'd always thought the taste and smell was overpowering. But of course, like most young adults who absentmindedly adapt to their new working environment, and follow their superiors to the coffeehouses and vending machines pre nine AM, I have now changed my mind. I have succumbed to the addiction that fuels thousands of westerns to power through endless day and night shifts.
It was only after completing an entry in my food diary one day that I realised I hadn't drank any caffeine for several days. And of course, I was well chuffed with myself 🙂 Go me!
And then, it dawned on me.
It is TOTALLY possible to survive a full day without loading up on on caffeine, and still have enough energy and motivation to get up and conquer the next day, especially as a young inexperienced commuter on a cold balmy morning.
So I vowed, there and then, to continue in the way I had started. To rise to the challenge, and see how long I could last without slurping down mugs of my T&C favs.
Ditching caffeine is not a loss! The best thing about the challenge is that I get to try a whole new range of "alternative" drinks. The non-caffeine world has really opened up over the last few years. Oolong, chicory root, and peppermint have never been as cool as they are today. And don't get me started on the alternative lattes. Turmeric, matcha... the possibilities are endless!
My top three caffeine alternatives:
1. Going Green
In the UK, the hardest thing about getting up in the morning for work is that it is often bitterly cold, especially in the wintertime. Not sure what the weather's like where you live, but here on this island, we get our fair share of galeforce winds, and freezing rain pretty much all year round (Summer, where?)
I always turn to a mug of something comforting and steamy to kick start my day, and warm me from the inside out.
I've been loving Green Tea as a hot beverage caffeine alternative.
Okay, I know, I know—green tea DOES have traces of caffeine in it. But the caffeine content is minuscule, almost ineffective, compared to regular tea and coffee. Fun fact: I used to LOATHE green tea. The first time I tried it, it made me so hungry, I wanted to throw up. But now I think my sensitive stomach has settled down, and is starting to get used to green tea's cleansing benefits. I find a cup of green satisfyingly refreshing.
2. Going Organic
My mum recently brought home a box of Moringa Tea when she found out I was on a caffeine ban. I think she's feeling inspired to do the same!
If you haven't heard or tried it, Moringa tea has a very earthy aroma and taste. The tea is apparently S U P E R, because it claims to be, not only caffeine-free, but also organic, and contains a whole range of nutritional properties. One online source boasts that Moringa tea has:
17x more Calcium than that of Milk
25x more Iron than that in Spinach
15x the Potassium in a Banana
Now, that's impressive; pass me another mug! Moringa Tea = the chia seed of the beverage world!
3. Going Fruity
Now, I have a huge sweet tooth. If I could eat cake, cookies, and ice cream forever, I would. So naturally, sugar in my tea or coffee is a must.
Fruit tea, and in particular, FruitBroos's Hotties, have fast taken over my preference for a sweet milky tea or coffee in the morning. Tea syrups are even better. Not only are they great at satisying my desire for something hot and sweet, but of course they are caffeine free, and fruit teas potentially contain few calories #winwin! Simply pour a teaspoon (or tablespoon/ladle if you're like me) of the syrup into your mug, add hot water, and have yourself a delicious fruity drink!
Check out FruitBroo's tea selection here.
————————————————————————————————————
Can I be honest? Some days I REALLY, REALLY crave a Starbucks. #mochaalltheway.
But I'm staying strong. Everyone at my church, and my workplace now knows I'm doing this caffeine ban, so I'm sure they'll be keeping me in check...
So, is it worth kicking the caffeine?
In short: Yes!
It's so worth giving caffeine the kick!
Since quitting tea and coffee, I've felt:
more awake and energised
healthier
less "ratty"/ calmer and happier.
If you're thinking about ditching your beloved T&C, don't be intimidated. The non-caffeine world isn't all as bland and exclusive as it seems...
All Power to the Non-Caffeinators! :P