Everything's Better Upside Down
How a Handstand Saved Me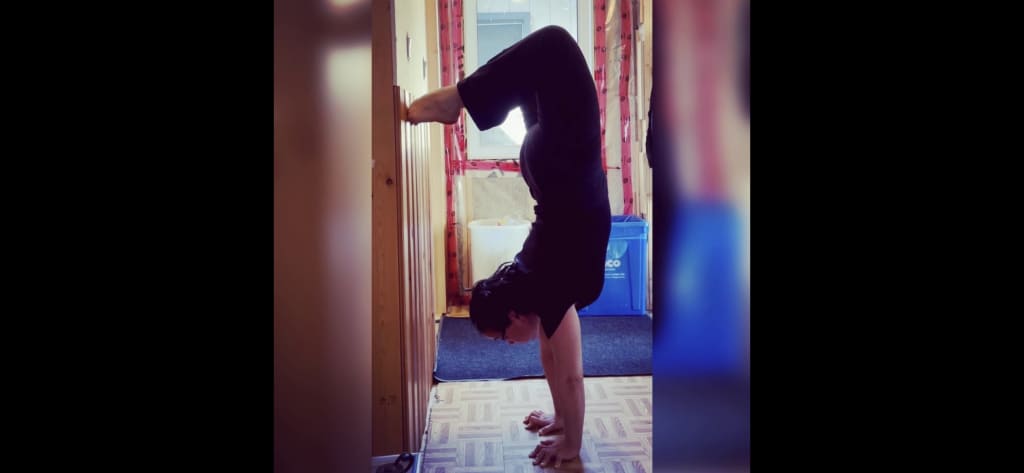 Handstand fun
I was forty-four but felt eighty. No energy. No joy. No hope. My joints ached like I was an octogenarian. (No offense to you hale and healthy octogenarians.) My back hurt. My hips hurt. My Achilles tendon hurt. But I hadn't injured them. Some people will say that I was just getting old. It happens to the best of us.
But I knew better. For years I had studied nutrition and health. I knew that our choices determine how we experience life. My body was a product of my own poor choices. Lately the decisions I was making had led me away from health, instead of toward it. Seems that knowing better doesn't always mean doing better.
But my job is demanding and exhausting. It seems it's always pushing me to the limit of what I am capable of — and not in a good way. I find it stressful and filled with difficult decisions. And so I had been making choices that made me feel good in the moment but terrible later on.
And I love my family — so much — but once I'm done with work and spending time with them, there's precious little left over for myself. I only have a certain amount of non-work time and if I choose to spend it on me, it feels like I'm skimping on family time, which I am loathe to do.
I knew I was doing things wrong but I couldn't seem to change my path. Too much Netflix. Too much couch. Too much staring at a little phone screen.
Then one day it occurred to me if I spent less time watching movies and tv shows, I would have more time for something else. And I wouldn't have to miss out on any family time!
I decided I was going to start doing yoga again. I would do some every day. I would take a mindful yoga break at work, instead of checking my email. Any amount counted, even if it was only one forward fold.
Well, one forward fold led to being able to touch my toes again. Being able to touch my toes again led me to Yoga With Adriene, whose chill Youtube classes and "I believe in you." attitude made all the difference. She said, "A little goes a long way." And I took that to heart. But already I wanted to do more than a little.
Yoga became a way to unplug myself from both the digital and the real world. It grounded me and allowed me to turn inwards. It was a way to stop my monkey mind for a few breaths and disconnect from my problems. As I did more and more, I found it truly eased my stress and my body was beginning to feel good again. Like when I was younger. No. Better than when I was younger.
I started an Instagram account to document my yoga progress and found a cool, welcoming community. Instagram became not only a record of my progress but also inspiration, accountability, and support. Curious byproducts of my yoga practice were that I wanted to get a good night's sleep and eat healthier. My outlook on life improved. Moving my body replaced a lot of the time I had once spent on the couch. And miraculously I started to feel better, if you can believe it.
Of course you can believe it. We all know what to do. We just don't do it.
Then I found handstands and my practice really took off.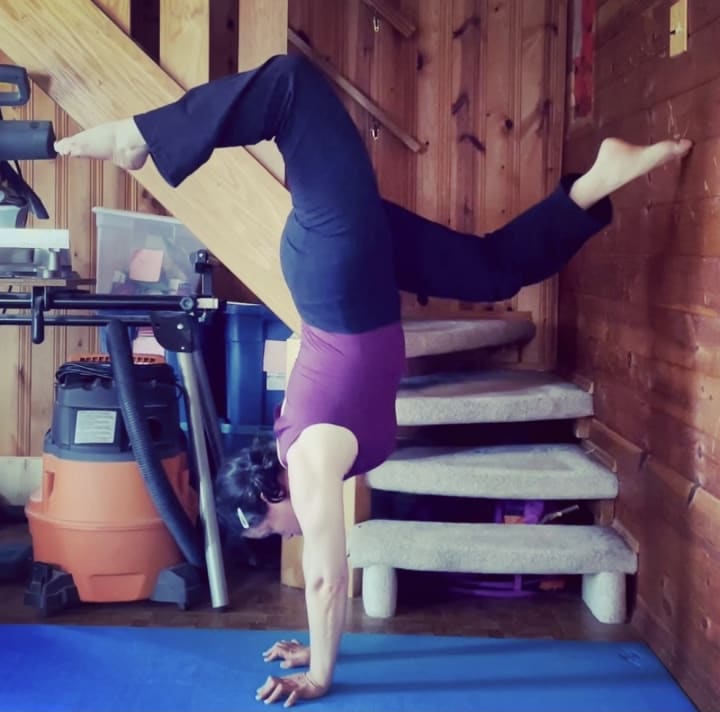 That one handstand I tried on April 3, 2021 changed everything. It really took things up a notch. Or more accurately several notches.
Learning the particular skill of handstand (and other inversions like headstand and forearm stand) enthralled me. I wanted to be able to do it so much that everything in my life began to support that goal.
Yoga was as good as ever but it also had an added goal of helping me improve my handstands. Sleeping and eating well meant I had more energy for when I did my handstand practice. Each day I looked forward to doing yoga and then getting on my hands.
As the months went by I found other unexpected bonuses. I was stronger. I was leaner. I was more flexible. For goodness sake, I was even thinner — though that had never been what I was trying to achieve.
What I had wanted back at the beginning was to feel good again and that I had certainly accomplished.
I learned new hashtags like… #ilovehandstands, #handstandjourney, and #happyupsidedown.
I "met" new people from all over the world who shared my interest in all things inverted. Slowly life began to return to my weary body. A spark lit in my eyes that hadn't been there in a long time. And a deep joy filled me that I hadn't felt since I was a child.
Before I started doing yoga and handstands again, I was sore all the time. And now that I'm doing yoga and handstands… Yeah, I'm sore all the time. It's true. But it's a good sore. It's a building up ache, instead of the pain that comes from your body breaking down into ill health.
And yes, my life has begun to revolve around handstands. I plan my day with great consideration of when I will do yoga and practise my inversions. At work, I take a handstand break to perk me up, instead of getting a coffee.
Some people might think that's weird or strange but those people don't understand the magic that happens when your perspective gets flipped. The world looks different. And you see the world differently. Better. With fresh eyes. All things seem new.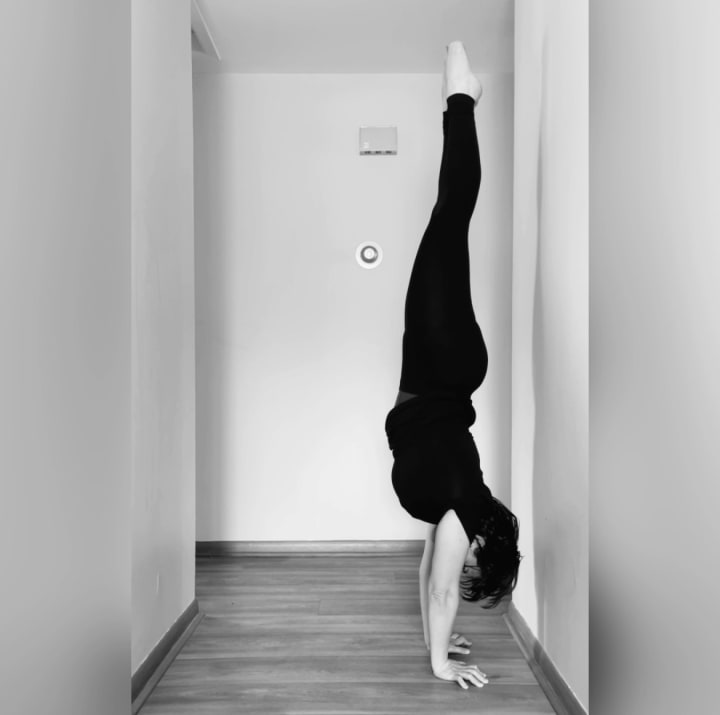 I feel younger these days than I have in a long time. I feel more energetic and lighter of spirit. Handstands keep me inspired to keep moving, learning, and improving.
And all because I put my hands down and my legs up. Handstands helped me find strength. They helped me find balance. They helped me find inner peace.
And they helped me find myself.
I hadn't known what I was missing… I hadn't known that I was missing until I did the first handstand that changed it all.
But now I understand — and I truly believe — that everything's better when you live life upside down.
yoga
I write dystopian, post-apocalyptic, time travel, fantasy, and sci fi romance stories and novels. For more post-apocalyptic goodness, try the Drastic Times series. For more dystopian, check out the Forbidden Minds series.