Disorders of protein metabolism
Medicine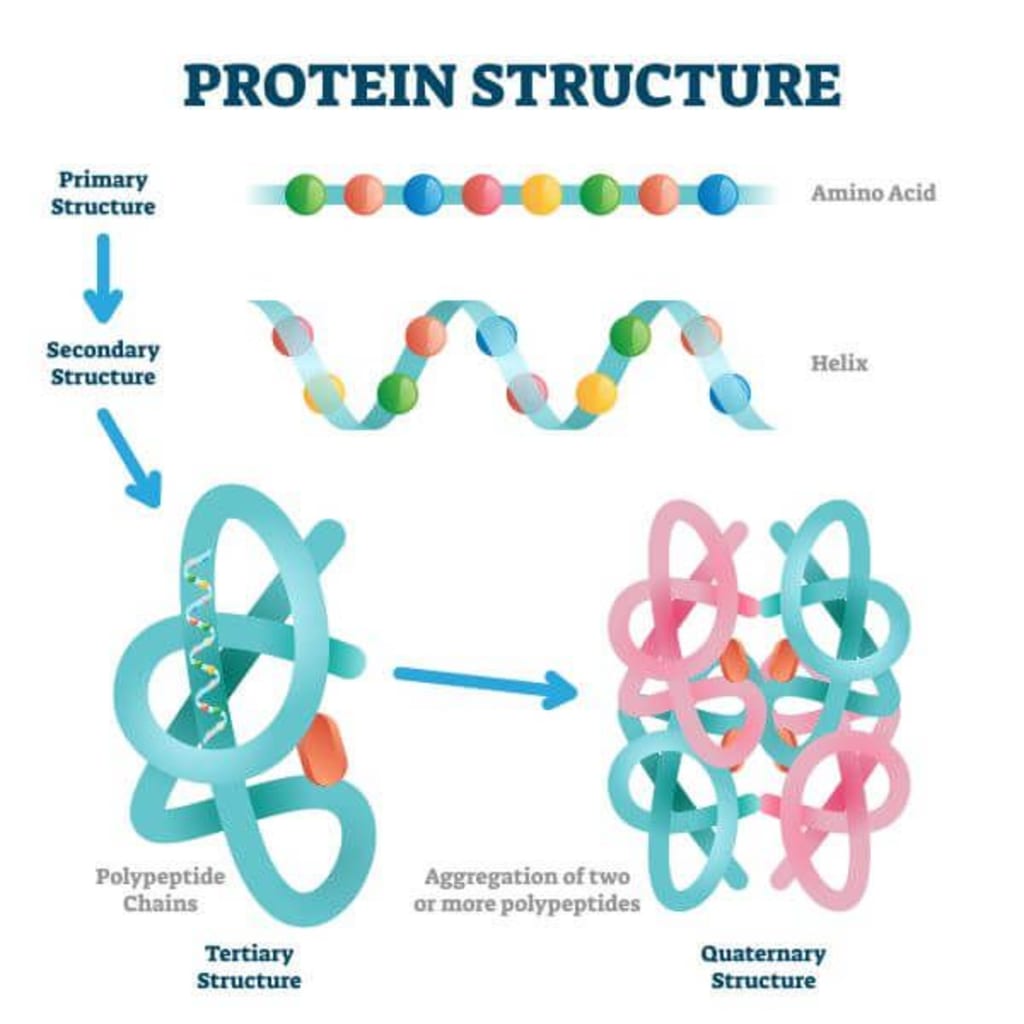 Proteins
= complex organic substances that have amino acids in their structure
 Functions of proteins:
- energy role - by burning a gram of protein => 4.3 cal
- structural role
- enzymatic role
- role of hormone
- role in maintaining osmotic colloid pressure
- role in maintaining the acid-base balance
- role in defense
Proteins are:
- of animal origin
- of vegetable origin
 balanced diet contains: -60% protein of vegetable origin
-40% vegetable protein
Catabolism products
= substances that are released as a result of protein metabolism and which are normally released through the kidneys
 The normal protein intake is 1g / kg body weight.
 All proteins are made up of amino acids and have different functions => protein specificity is given by the sequencing of amino acids in the protein structure - the sequence of amino acids in the protein structure is responsible for the specificity of each protein.
 Normal value of total serum proteins - 6-8.5g%
Electrophoresis
= separation of protein fractions in the electric field; it is based on the different migration rate of proteins that depends on the number of electrical charges of the protein molecules.
o Separate the following fractions:
• albumin 45-60%
• globulins:
 α1-3-7%
 α2-8-12%
 β- 10-14%
 γ- 18-23%
a. By immunoelectrophoresis (coupling with antibodies after separation in the electric field) γ globulins are separated into the following immunoglobulins: IgA, IgM, IgD, IgE, IgG.
o Almost all proteins are synthesized in the liver except for globulins which are synthesized in the lymphoplasmacytic system.
Plasma protein systems
Renin-angiotensin-aldosterone system
- involved in homeostasis of blood pressure
- when we have an arterial hypoirrigation-> hemorrhage that leads to decreased blood levels or fluid loss => hemoconcentration- stasis occurs and renal hyperperfusion occurs- stimulates the production of renin that acts on the angiotensinogen in the liver; angiotensinogen leads to the formation of angiotensin1 which under the action of a conversion enzyme is transformed into angiotensin2 (it has 8 amino acids and is one of the most powerful vasoconstrictors in the body); angiotensin 2 increases adrenal production in the adrenal gland; Aldosterone promotes sodium reabsorption followed by water reabsorption
- activation of the renin-angiotensin-aldosterone system will result in increased sodium reabsorption followed by increased water reabsorption => increased blood volume => increased angiotensin production2
 There is a system of plasma quinines - bradykinin, lysyl bradykinin, methionylisyl bradykinin.
Disorders of protein metabolism
1. Hyperproteinemia - increase in proteinemia over 8.5g%
2. Hypoproteinemia - decrease in proteinemia below 6g%.
o Both hyperproteinemias and hypoproteinemias are of two types: - apparent and real.
a. Apparent hyperproteinemia - blood serum concentration
b. Real hyperproteinemia - by intensifying the synthesis - monoclonal gamopathies - during this condition there is an anarchic (malignant) tumor proliferation of an Ig clone - a single fraction of Ig (IgM and IgG) grows
Ex: multiple myeloma, plasmacytoma
Hypoproteinemia
 Causes:
 deficient protein intake-in terms of quantity (uncommon) -insufficient intake: prolonged fasting, pers. with mental and neurological disorders.
 In terms of quality
a. poor absorption:
- in inflammatory bowel disease
- glutemic enteropathy
- intestinal resections
- exacerbation of intestinal bacterial flora
b. synthesis deficiency - liver cirrhosis, liver cancer, acute hepatitis.
c. exaggerated losses
- renal (nephrotic syndrome - 3.5 grams of protein are lost)
- digestive (exudative enteropathy)
- plasmorrhea
- skin (burns)
 Proteins are filtered glomerularly, but all are reabsorbed at the level of the proximal convoluted tube => in the final urine there are fine traces of proteins (tubular proteins, IgA).
 In nephrotic syndrome, proteins appear in the final urine with low molecular weight - pure nephrotic syndrome; or high molecular weight - impure nephrotic syndrome
dysproteinaemias
= change in the concentration of serum protein fractions.
- can be: hereditary and secondary.
1. Inheritance:
 are based on the lack of a protein fraction.
 Example:
 Analbunimenia, atransferinemia, transcobalamin deficiency (manifested by megaloblastic anemia) etc.
2. Secondary
a. Reactive dysproteinemia from acute inflammation
 Alpha 1 and alpha 2 globulins increase, albumin decreases.
b. Dysproteinemia in liver disease
 In chronic hepatitis and liver cirrhosis, polyclonal hyperimmunoglobulinemia occurs as a result of the chronic inflammatory process.
list
About the author
Reader insights
Be the first to share your insights about this piece.
Add your insights