Cutting Out Junk Food Eliminated My Asthma
A change of diet transformed Vic's life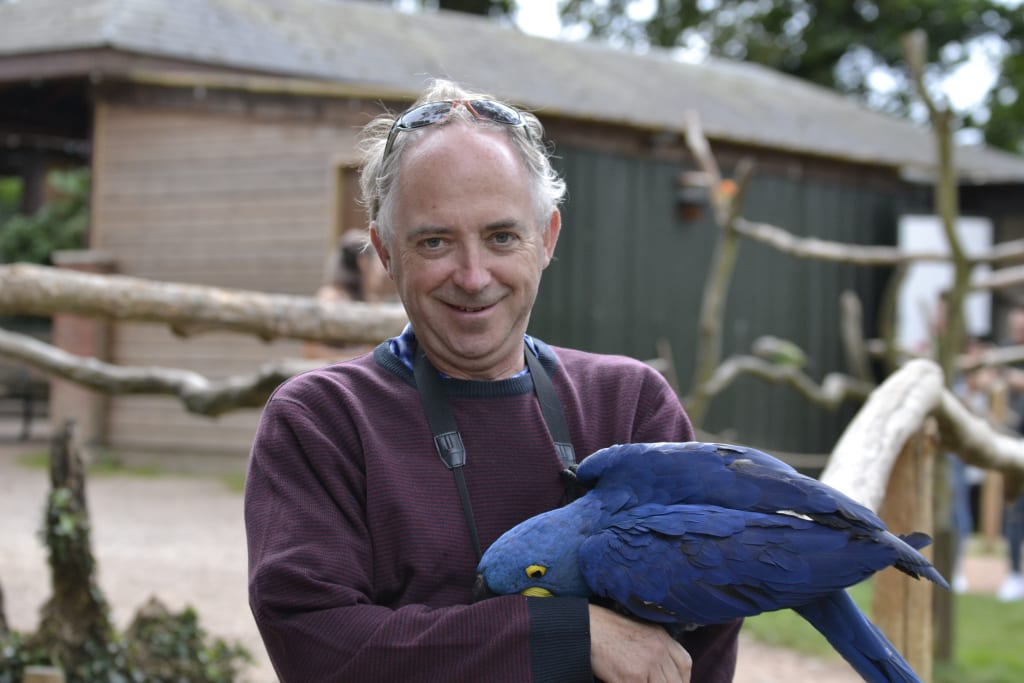 A change of diet transformed Vic's life (c) Susie Kearley
Vic Kearley spent his childhood ill. He was frequently hospitalised with asthma, and had to take a lot of time off school with respiratory problems. Asthma continued to plague his life until his wife (that's me) decided to go on a health kick and took him along for the journey. This is Vic's story in his own words…
"From about the age of three, until my forties, I suffered from quite severe asthma. As a child, I was in and out of hospital and was eventually put on experimental steroids (ACTH synacthen) which I had to inject.
"I went through various treatments, eventually ending up on Becotide 50 and Ventolin. By my 40s I had progressed to four puffs of Becotide 200 a day and still needed Ventolin at least two or three times a day.
"Then my wife undertook a nutrition course and started to improve our diet. At about the same time I read a great book by Patrick McKeown — 'Asthma Free Naturally'. For different reasons my wife and I both tried to improve our diet.
"I particularly cut down on dairy, animal protein, sugar, sweeteners and we both cut down on processed/junk food generally. We increased the amount of fruit and vegetables we ate, although my wife was vegetarian already, so we usually had more than our five-a-day anyway.
"Gradually after a few months I found I was needing my Ventolin less and less. I also started to reduce my Becotide, eventually weaning myself off it altogether. For the last 15 years or so, I've probably used my Ventolin no more than three or four times a year, instead of three or four times a day. My last prescription was in 2007!
"All I take now is an occasional anti-histamine as I still suffer from hayfever and am still allergic to animals and dust. After so many years on a much cleaner diet I really notice a tightening in my chest if I eat too much junk food, particularly sugar and dairy products, but I can enjoy an occasional treat without suffering too much effect, as long as I go straight back to healthy eating afterwards.
"After being a drug dependent asthmatic for so many years, it is a great feeling not to need them. In the old days I would panic if I found myself without an inhaler, and whilst I've still usually got one nearby, I have been on overseas business trips without one, by accident, without any issues. I don't need them any more.
"To sum up, I achieved this by minimising dairy, animal protein, sugar, sweeteners, chemical additives, E numbers, and processed food generally. I maximised fruit, salad, vegetables, and ate organic where possible. We always choose whole grains (flour, rice, pasta, bread), rather than white flour products. We have soya milk and make our own soya yogurt.
"We make as much of everything as possible from scratch, so we know there's nothing added, and we've replaced a lot of animal protein with vegetable protein (nuts, lentils etc). We check labels and choose products with as little junk added as possible."
Vic's life experience has been transformed from one of life-limiting drug dependency, to coming off his medication and achieving better health. Last year, as covid spread around the globe, his damaged lungs and history of asthma were a worry, but he's a much healthier person now than he used to be. He's also a big convert to healthy eating.
We're being careful during the pandemic, because we know he could still be at risk of severe disease from covid, but it's nice to have him fit and healthy, and able to enjoy long walks in the sunshine.... socially distanced from everyone else!
(c) Susie Kearley 2022, All Rights Reserved.