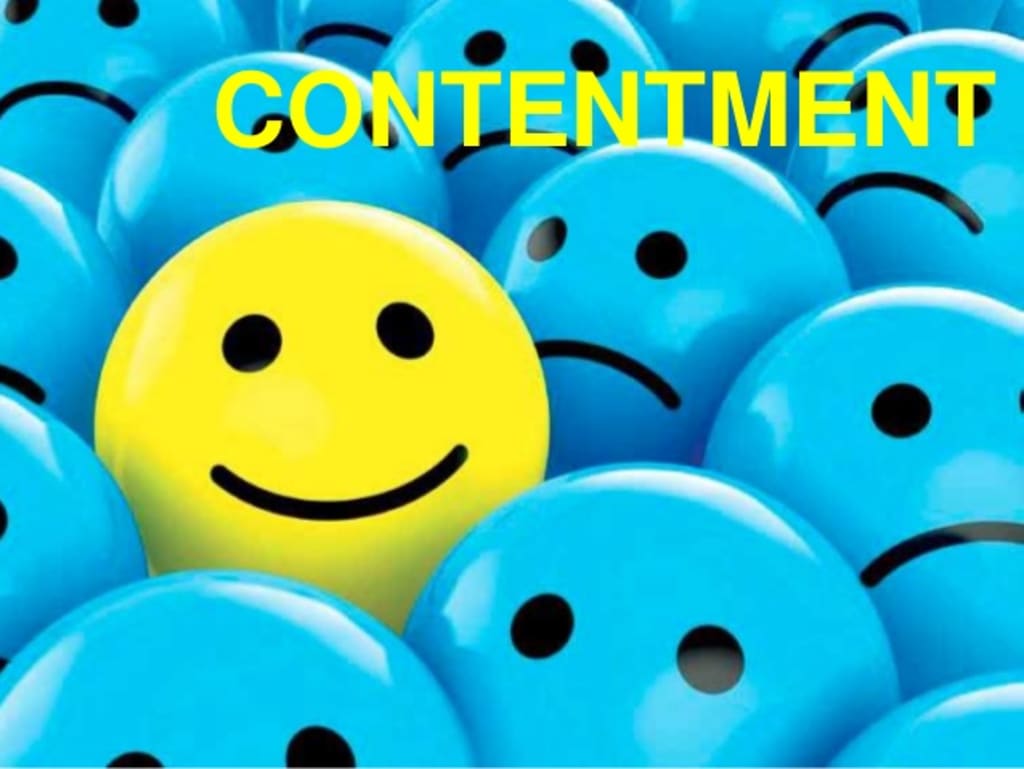 Can we ever have it all? NO. Can we be satisfied with what we have? Yes.
It is a truth that human wants are insatiable, but then there must be a balance. We all must know when to make do and be happy with what we have at the moment. In the world we live in today, our society is filled with numerous people who lack contentment.
I ask within myself how can we teach contentment? Both to the younger and older generations. It is no news that we have a lot of adults lacking contentment. All they have ever cared about is how to get what they want, and also what they can do to have that which is not theirs. They always want more and more. They would not stop until they have actually realized and gained what they want, It doesn't matter how they make the other person feel, so far they are satisfied they don't care. Now the most worrisome part of it all is the fact that they are also parents. What then do they want to teach their kids? How will they ensure their kids are taught the basic morals of life? Such people bring and train up kids the same way they are. A lion will always give birth to its kind and nothing more than that. So basically such people reproduce themselves in their kids and the society is filled with more discontent people.
It is very obvious and of a truth that a person who lacks contentment has no friend or helper. And the reason why is simple, a discontent person will always want to have what belongs to the other person, even if the person is trying so hard to please the discontent. A discontented person is blinded to all the good things that had been done to him, rather he rants and makes false claims hammering on the fact that he requested that you do something for him and you didn't do it. Such relationships are bound to wear out because the more you give the more a discontented person wants more. So it is glaring why such people don't have anyone to call friends. If by chance you see a discontented person telling you he has a friend, then you must know that they are of the same traits and being, birds of a feather they say flock together.
Always be active to watch your space, study clearly who you choose to call a friend, because once that person decides to perch on you and make you his host then i must say that is the end. He won't stop until he has seen the end of it all. There is also one more thing you need to know, lack of contentment brings a sense of entitlement. Every discontented person has these attributes to their name. A very huge display of entitlement is always the best way they think they can get you to do something for them. They feel you were created for them. They will try anything to make you do something for them, above all they are not always grateful.
Only the content is grateful for what he has per time. A grateful soul is always filled with gratitude at any point and stage of their lives. They are content with what they have at different times of their lives and see the need to be thankful.
You can't entice a content person, you can't force such person to do or go outside their ethics, morals, or conducts. They stick to what they have and they are always satisfied with it.
Never be ungrateful, be grateful and satisfied with all you have, because a grateful heart is prone to having more.
Let's take it upon ourselves to teach content today.
humanity
Olalekan Adeeko is an author, podcaster, public speaker, and he advocates for gender equality.
He loves traveling, and meeting people.
He is the author of the best-selling book "Success is free; only if you are ready to pay the price."
Receive stories by Olalekan Adeeko in

your feed