Butterfly Bill & the Magical Butterfly Birthing Tree
Messages from the natural world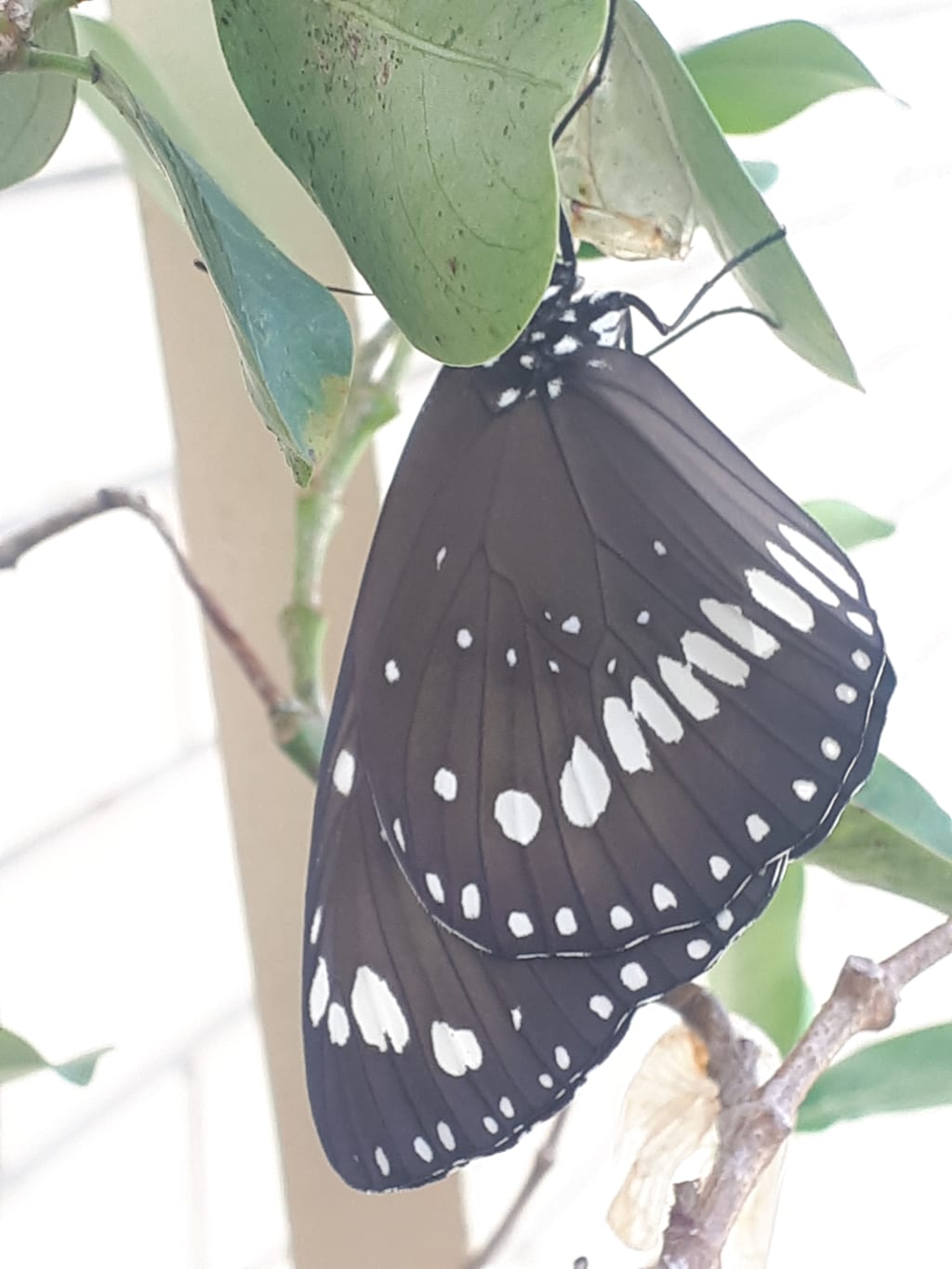 I have a magical butterfly birthing tree on my balcony. When I first witnessed a butterfly being born on one December morning before Christmas it felt like a gentle miracle. It was the messenger of hope-fullness, transformation & beauty I didn't know I had needed so much until it arrived, coaxed into a premature departure from 'the womb' by my Staffy X, Crumpet, who'd taken an interest in the butterfly hatching, his wet nose nudging it into first flight, an unlikely kind of midwife...and then she was gone, on her way to greet the wild world.
I wasn't expecting a Ground Hog Day to be made of this tiny miracle, so when I glanced over to the Mandevilla plant on my balcony this morning I did a double-take. There was Butterfly II, hanging upside down on the very same branchlet fresh from its chrysalis. No nosy hound to prompt it into an early getaway this time, so more space for me to watch and smile at the new life quietly unfolding into being, oblivious to the busy-ness & silly imperatives of the human world. This one, I've given a name - Butterfly Bill, hoping that in noticing & naming + the receptive little branches of my humble Mandevilla will make for a warm & welcoming place for many butterfly births to come. More Butterfly Bills and Belindas.
When gratitude feels a little out of reach, it's always nature that's the path of least resistance to a state of deep appreciation and thankfulness for me - 'noticing in nature' is my surefire shortcut to a calm & smiling heart. I don't do it as much as I'd like to, but sitting out on my balcony each morning with my coffee, up amongst the birds, noticing (on a good day) these tiny majestic moments unfold around me, even if only for a minute or two reminds me that this is my meditation - it's the gentle & ease-full practice that has brought about more comfort, stillness & contentment with so much less resistance from mind or body than any other form of mindfulness practice.
Does meditation or mindfulness feel a little like another 'should' on the to-do of life for you too? Perhaps this 'un-practice' of simply being in nature & noticing what's there could be a more effortless (and pleasant) path to presence & peace for you and me both?
Go well Butterfly Bill
#meditation #mindfulness #nature