Bridging the Gap Between Disabled Rights and Reality
What we can do to help the disabled.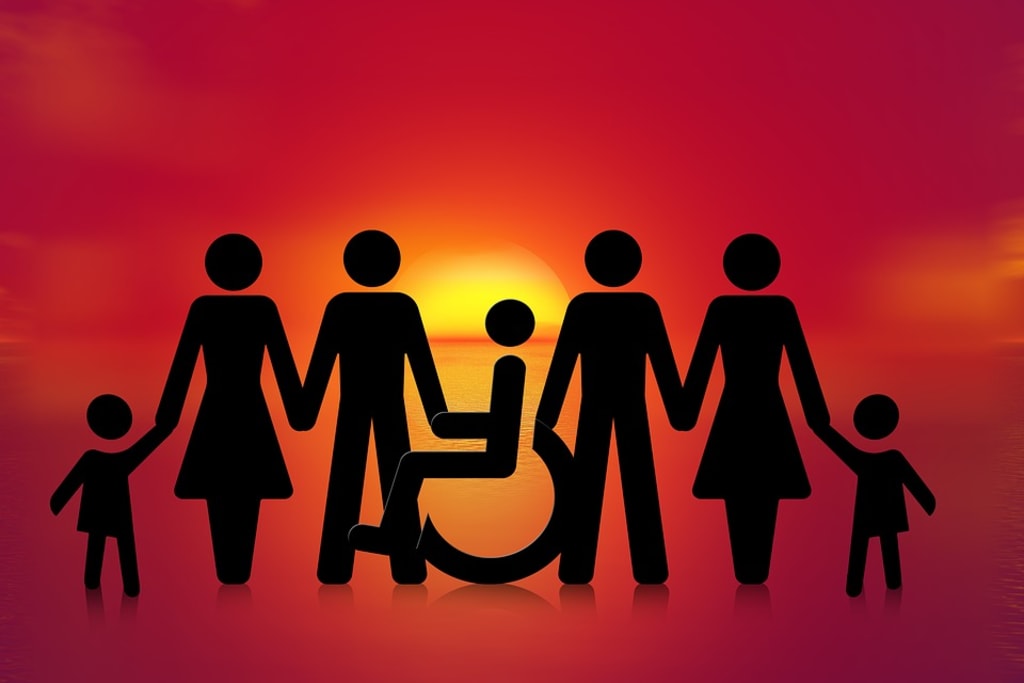 It's a worrying fact that in 2018, we as a society are still wondering what we can do to help the disabled. On the bright side, at least the public is aware there is much more to be achieved with this pressing matter.
We're going to provide you with some basic, everyday pieces of advice on how to show empathy. But more importantly, to learn about long-term, serious projects which could be executed if we all put in an effort.
People with disabilities are still coping with daily matters that we take for granted. In 1990, the ADA (Americans with Disabilities Act) was officially introduced. This speaks volumes about the society which prides itself with promoting human rights and freedoms. However, it takes a lot of time for the instructions on paper to be implemented in real life. Here is how you can contribute to improve the welfare of disabled people and their standard of living, either as a group, or an individual.
Avoid Staring
Let's start with the basics before introducing more ambitious steps, no matter how obvious it may seem. It's impolite to gaze at anyone, let alone someone who is physically or mentally challenged.
Equality Is the Key
What disabled people want more than anything else is to be treated as any other abled human being. Always ask before you help if you see someone struggling, but also avoid the pitiful look if they reject a helping hand sometimes. Because everyone loves to be independent.
Respect Their Personal Space
It's critical to offer them personal space, especially when it comes to people with a social disability. Also, bear in mind that someone's mobility aids are a part of their personal space, too. This includes long white canes for vision impaired people, as well as their guide assistance dogs. It may be tempting to pat the dogs but this will distract them from their duties of protecting their owner.
Now, let's take the prospective enhancements to a whole different level:
Employ Them
If you're a business owner, you're in a great position to reach out to those who are struggling to make a living on their own. Only 17.9% of disabled people had jobs in 2016, not to mention that on they are earning less on average compared to the rest of the nation. There are so many careers out there for aspiring, hardworking people, but they are usually overlooked due to their physical or other challenges.
Become a Professional
A great opportunity for all of you feeling great empathy for those with special needs. You can apply for a special course and build a career in empowering and assisting those who are disadvantaged. This is one of the most noble and rewarding professions a person can choose.
Acknowledge the Special Niche
While we have mentioned employment problems, it's equally as important to value them as customers and recognize their needs. If you have the chance, try manufacturing products designed for the largest minority population in the world. Admittedly, there is a lot of diversity to take into consideration, but something so trivial as being able to find the right clothes that fit goes a long way in making them feel treated as equals.
Give Them a Right to Vote
Even though every American citizen who has come of age is fully eligible to vote, in practice the polling places are usually ill-equipped for people with disabilities. In addition, there is rarely a politician who has focused on the disabled and resolving their issues in their program.
Help Provide College Scholarships
The US has so many disabled athletes who are pushing their boundaries, competing and winning medals. Strangely enough, colleges still fail to recognize their success and offer financial help during their studies. This is certainly an inequality issue and it should be solved sooner rather than later so the younger generations could be granted the same treatment.
Developing a truly inclusive society and improving quality of life for people with disabilities is a lengthy process. However, every step in that direction, even the smallest one, can make a huge difference for the person. We should all work together towards this common goal as it will bring positive changes and eventually reshape society.