A New Meaning of "Clean"
A New Survey Indicates that COVID-19 is Changing American Sanitation and Hygiene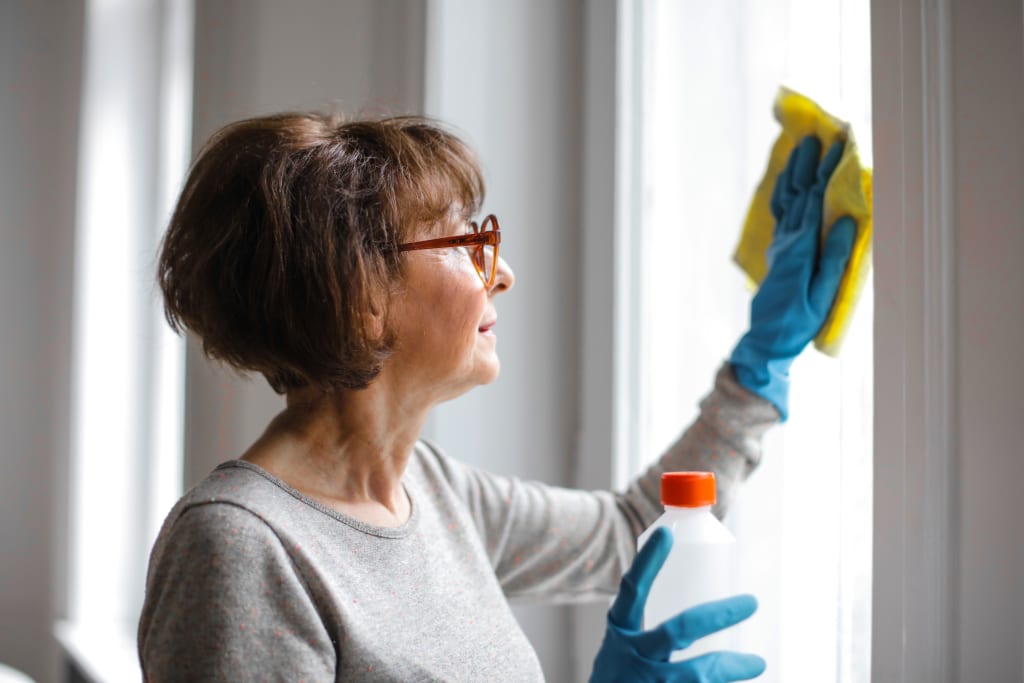 Photo by Andrea Piacquadio from Pexels
There's no other way to say it. COVID-19 is scary.
Unquestionably, one of the most frightening factors of the coronavirus is its invisible transference across people and surfaces that seem clean. Taking care to be especially clean provides different challenges and costs for different Americans, but almost everyone has changed their cleaning habits in some ways.
But how exactly are Americans adjusting their cleaning habits to face the virus? Thanks to a new survey from Homes.com, which surveyed over 1,000 Americans about their COVID-19 cleaning habits, we have some answers.
First, the survey asked about behaviors around cleaning in the home.
Notably, the survey reported that nearly 60% of Americans are cleaning more since sheltering in place. To those cleaning their homes more, the CDC has recommended special focus on "high touch surfaces" the most, including door knobs, countertops and keyboards.
Despite increased cleaning behind closed doors, other reports of contamination in multi-unit buildings suggest that cleaning in entire buildings is necessary for reduced contamination.
As noted above, despite an effort to keep cleaner homes, added challenges of accessibility and financial difficulty have prevented Americans from cleaning along guidelines. Forty percent of Americans haven't found disinfectant in stores and over 34% of Americans haven't cleaned with CDC-approved products.
Nevertheless, Americans are taking on additional behaviors within their control to try to mitigate the spread of the coronavirus. Only 8% have stopped ordering online. While stopping orders may mitigate COVID-19 spread in the postal system, online orders help Americans attempting to decrease transmission in high-traffic stores.
For those that do make trips out to the store, almost 32% leave "dirty" items like backpacks and shoes they bring at the door. Finally, a sizable 47% wipe down groceries at home, even though the FDA doesn't see this as necessary.
The report then turned to personal hygiene. The survey reported that while some personal hygiene behaviors have been ramped up during self-isolation, other hygienic habits are lacking.
First, Americans are taking care to avoid picking up COVID-19. The survey reports that two-thirds of Americans have more actively avoided touching public surfaces. Indeed, avoiding touching surfaces all together seems to be a better strategy than expecting protection from rubber gloves if people aren't trained in using and disposing of gloves properly.
However, despite increased efforts by the public to avoid passing coronavirus with their hands, efforts to prevent airborne contagion are behind.
At the time of the survey, only 23% of Americans had masks in their possession. Further, those who are wearing masks, by choice or by state law, may not be wearing masks correctly in ways that will best protect individuals from the virus.
While low counts for Americans in masks may be closely linked to PPE availability, other hygienic measures that are far more accessible are being abandoned as well. Notably, nearly two-thirds of Americans surveyed had worn the same outfit repeatedly without washing it during self-isolation. This is likely due to lack of pressure to present oneself in public, so hopefully Americans are keeping clean when and if they leave their homes.
If there are discrepancies in how people are choosing to stay hygienic in and out of the home, one overwhelming statistic shows that the most basic personal hygiene behavior is being embraced.
Nearly 90% of Americans have been washing their hands more often since the COVID-19 pandemic began. A practice so basic that the friends on Sesame Street can help with it, hand-washing has been a major way that Americans are trying to keep themselves and their neighbors clean.
While there are still many questions surrounding COVID-19, it is necessary to continue to learn about cleanliness and use what we know to keep ourselves and our neighbors safe.